Birthday Cake Pancakes – Funfetti Pancakes
Filled with your favorite fun sprinkles, these birthday cake pancakes are a celebration in every bite!
Everyone loves an easy birthday treat, and these funfetti pancakes are the perfect way to celebrate.
My neighbor makes these for every birthday in her house (including the dog's!) and her whole family looks forward to this simple but special tradition. The kids always request a tall stack of confetti pancakes to start their birthdays off right, but there's no wrong time to whip up a batch.You'll love how quickly and easily they come together, whether it's on a busy school morning or at the end of the day for a birthday brinner (breakfast for dinner!).
Topped with a little whipped cream, candles and a few extra sprinkles, a stack of these colorful cakes even looks like a breakfast–or brinner–birthday cake.
About these birthday cake pancakes
Birthday cake pancakes are light and fluffy, making them perfect for cake-like layers. They're also easy to customize to meet your dietary preferences. With a hint of vanilla and almond, these pancakes definitely deliver a sophisticated twist on their funfetti feel.
These sprinkle-filled pancakes cook up smooth on the outside with a cake-y texture on the inside that pops with color and flavor.
Perfect for any celebration, these cakes come together effortlessly with ingredients you already have on hand, making it easy to treat your loved ones.
Tip: Try adding festive red, white, and blue sprinkles for 4th of July pancakes, or pink and red sprinkles for Valentine's Day pancakes!
Who knows, you might even ditch the traditional cake mix in favor of these flavorful, stackable cakes.
PS: If you love this idea but don't want to stand at the stove flipping pancakes, try funfetti sheet pan pancakes!
What you need
There aren't any crazy ingredients in these pancakes, but be prepared to break out the sprinkles! Here's what you need:
Dry Ingredients: Flour, sugar, baking powder, baking soda, salt. All the normal pancake ingredients!
Wet Ingredients: Eggs, melted butter, milk – again, nothing crazy here! If you prefer oil, you can use that instead of butter but we love how butter is reminiscent of the flavor of birthday cake.
Cake Flavors: A combination of almond extract and vanilla extract make these taste just like birthday cake. Don't forget the sprinkles, because they're just fun!
How to make birthday cake pancakes
Gather all your ingredients and a large mixing bowl! Combine dry ingredients.
Add wet ingredients to dry ingredients.
Mix until just combined, but don't over mix. Over-mixing will lead to tough pancakes.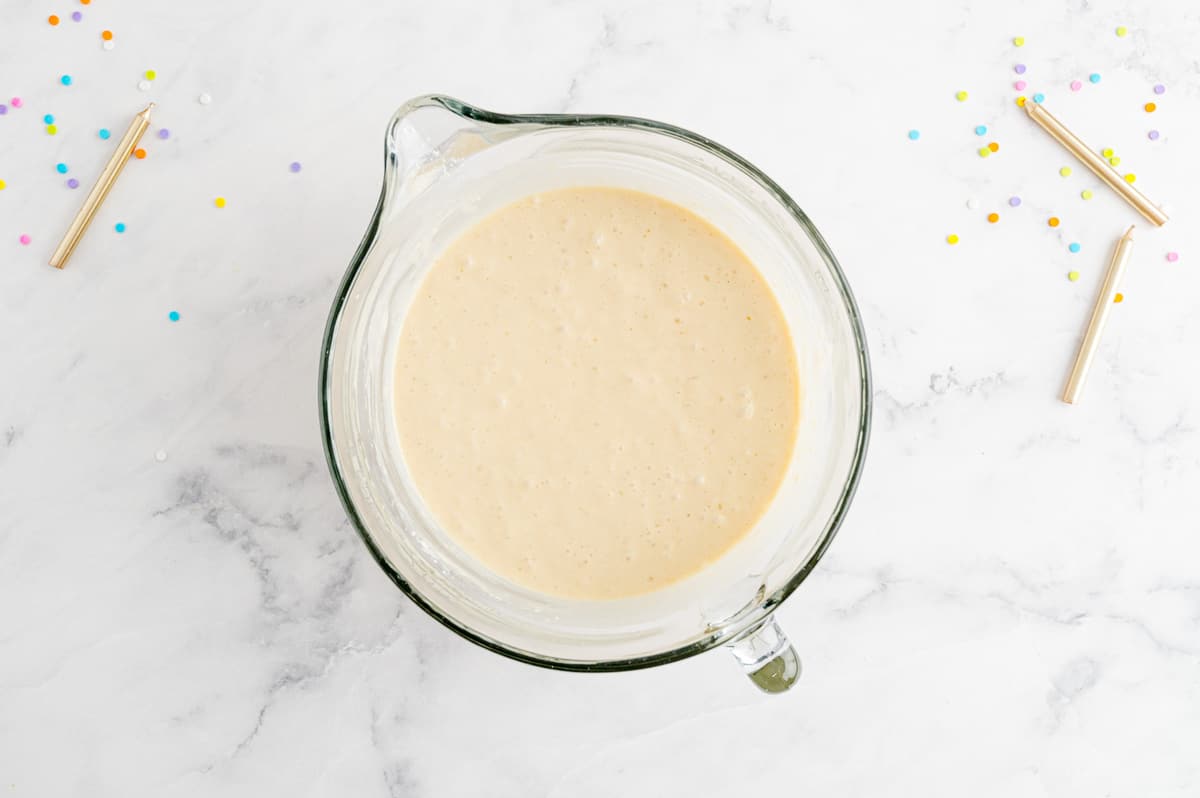 Next, add those fun sprinkles!
Mix in the sprinkles, but don't over-mix because they could lose their color, depending on the brand you buy.
All that's left to do now is to cook them!
How to make these birthday cake pancakes your own:
To give your pancakes a birthday cake feel, add a little more milk (a 1/4 cup should do the trick!) to thin the batter slightly. Then, layer your cakes with frosting and top with candles. You can even cut your birthday cake pancakes into slices like a cake. For extra excitement, consider adding food coloring to the layers of frosting. We also love these with whipped cream or cream cheese glaze. If you love chocolate, try them with homemade chocolate syrup!
Birthday cake pancakes are great for other celebrations, too! You can use themed sprinkles like star shapes for the Fourth of July or hearts for Valentine's Day.
Since these don't rely on a cake pan, you choose the size and shape of your cakes! If you make 2" cakes and serve them in stacks, everyone can have a mini-cake to call their own.
These pancakes freeze great and can be easily reheated in a toaster (see storage instructions below), so you can pull out just a few for an impromptu party–if your kids are like mine, they like to have tea parties and birthday parties for dolls and stuffed animals–these cakes are perfect for imaginative play.
If you're on a health kick, you can pack a protein punch by subbing vanilla protein powder for some of the flour, or try a little whole wheat, almond, or buckwheat flour to create a healthy and flavorful cake.
If you're looking for a topping other than syrup, these cakes also taste great and look great dusted with powdered sugar and topped with sliced walnuts, almonds, coconut flakes, or fresh fruit. They're amazing with maple cinnamon vanilla butter, too!
Make Ahead Ideas
To make your next birthday morning even easier, you can mix the dry ingredients ahead of time and store in an air-tight container.
Storage Suggestions
Don't be afraid to make extras! These pancakes can be stored in a zip-top freezer bag for up to 5 days in the refrigerator or 2 months in the freezer.
Freezer Tip: Freeze these pancakes in a single layers, separated by parchment paper. Once they're frozen, move them to a freezer bag or an airtight freezer container. This will prevent them from sticking to each other.
Reheating Tips
To reheat from the fridge or freezer, you can pop them in a toaster until warmed through. You can also use the microwave, but you won't get the same fresh-off-the-griddle crispy outside texture.
Get the Recipe: Birthday Cake Pancakes
Filled with your favorite fun sprinkles, these birthday cake pancakes are a celebration in every bite!
Ingredients
2 1/2 cups all-purpose flour
2 tablespoons granulated sugar
1 tablespoon baking powder
1/2 tablespoon baking soda
1/4 teaspoon salt
2 eggs lightly beaten with a whisk
1/4 cup butter, melted
2 cups milk
1/2 teaspoon almond extract
1 teaspoon pure vanilla extract
4-5 tablespoons fun sprinkles
Instructions
Preheat griddle to 325ºF.

In a bowl, whisk together flour, sugar, baking powder, baking soda and salt.

In a separate bowl, mix lightly beaten eggs, milk, almond extract, vanilla extract and melted butter.

Once mixed thoroughly, add the wet ingredients into the dry ingredient bowl. Don't over mix, you just want to make sure the batter is smooth.

Fold in sprinkles. Once the sprinkles are folded into the batter, pour 2 oz of batter onto the griddle for each pancake. Flip the pancakes once they are bubbly on top.

Once pancakes are done, serve with syrup and whipped cream!
Notes
Birthday cake pancakes are great for other celebrations, too! You can use themed sprinkles like star shapes for the Fourth of July or hearts for Valentine's Day.
Serving: 2g, Calories: 150kcal, Carbohydrates: 22g, Protein: 4g, Fat: 5g, Saturated Fat: 2g, Cholesterol: 25mg, Sodium: 291mg, Potassium: 73mg, Fiber: 1g, Sugar: 6g, Vitamin A: 220IU, Calcium: 91mg, Iron: 1mg