Lemon Blueberry Pancakes
Filled with fresh berries and a sprinkle of lemon zest, these lemon blueberry pancakes are sure to brighten your day.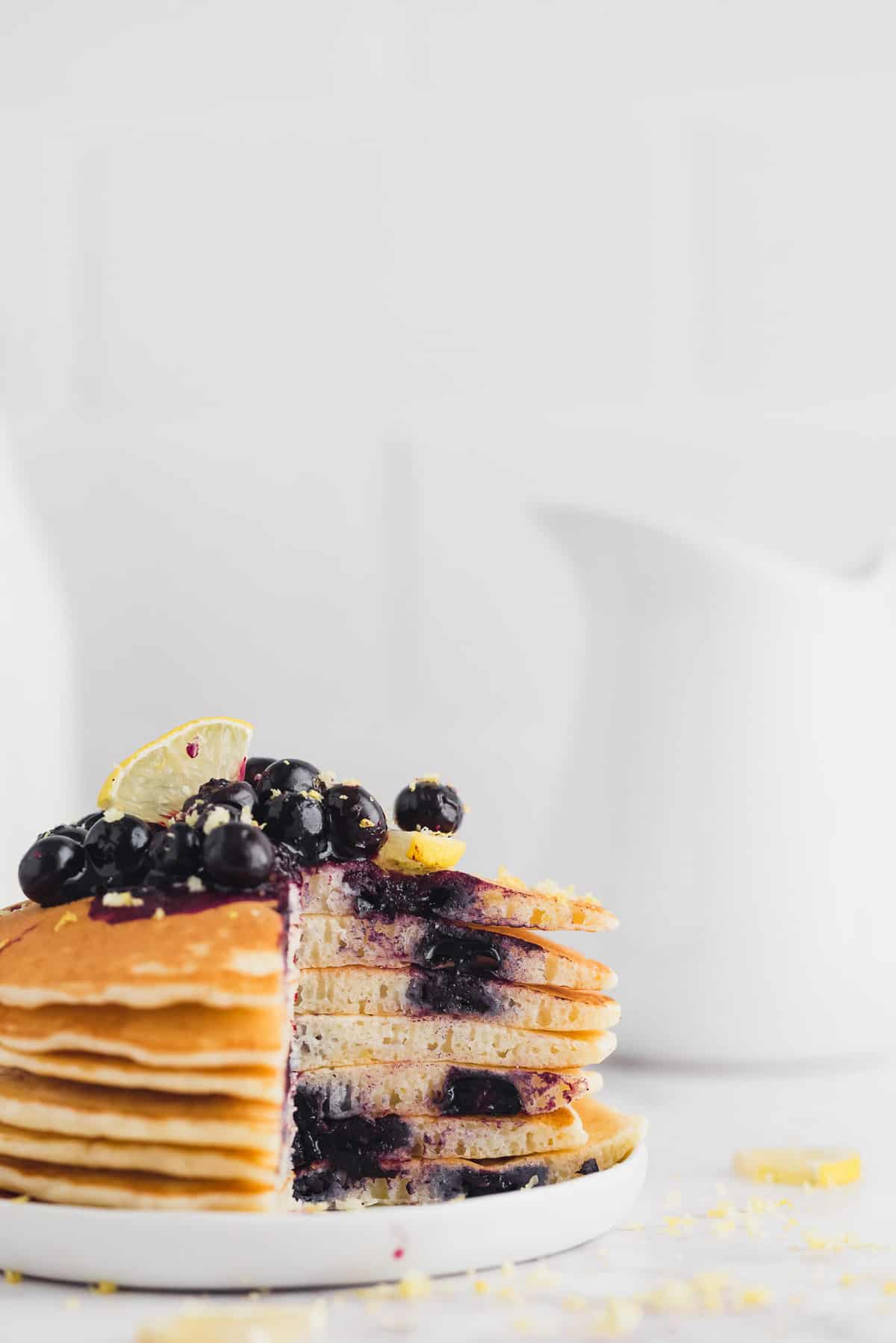 Picking fresh blueberries is one of those classic summertime activities where we live in the midwest. There are several great family-owned U-Pick farms nearby, and kids and adults alike love to hunt for the biggest berries.
If you're like me, you sometimes pick more berries than you can use right away, which means it's time to cook what you can and freeze what you can't!
Blueberry lemon pancakes are the perfect way to make use of any blueberries you have on hand.
Fresh blueberries literally burst with flavor when you cook them in your pancakes, but this recipe can accommodate frozen berries too (see the storage tips below for advice on freezing berries and using them in this recipe!).
About this lemon blueberry pancakes recipe:
Lemon blueberry pancakes are an easy, healthy way to start your day.
Loaded with antioxidants and vitamin C, blueberries are a favorite superfood for a reason. Try them in a blueberry smoothie, too!
These lemon blueberry pancakes are slightly different than traditional blueberry pancakes and also packed with flavor thanks to the bright citrus zest and the bold ripe berries. There's just something about the combination of tart lemon and the subtly-sweet blueberries that works out deliciously every single time.
If you're looking to sneak a little extra protein into your day, you can make these blueberry lemon pancakes with almond flour and top them with ricotta or yogurt and slivered almonds or walnuts.
On the other hand, if you want to transform these pancakes into a dessert, top them with butter mixed with a little brown sugar, and then drizzle with your favorite sauce, like strawberry sauce, blueberry sauce, healthy mixed berry jam, or lemon curd.
The butter and sugar will melt into the pancakes (think blueberry lemon crumb cake flavors), and the sauce will give you something to swirl those perfect pancake bites into. Coffee is optional, but highly recommended!
Be sure to try my sheet pan blueberry lemon pancakes, too!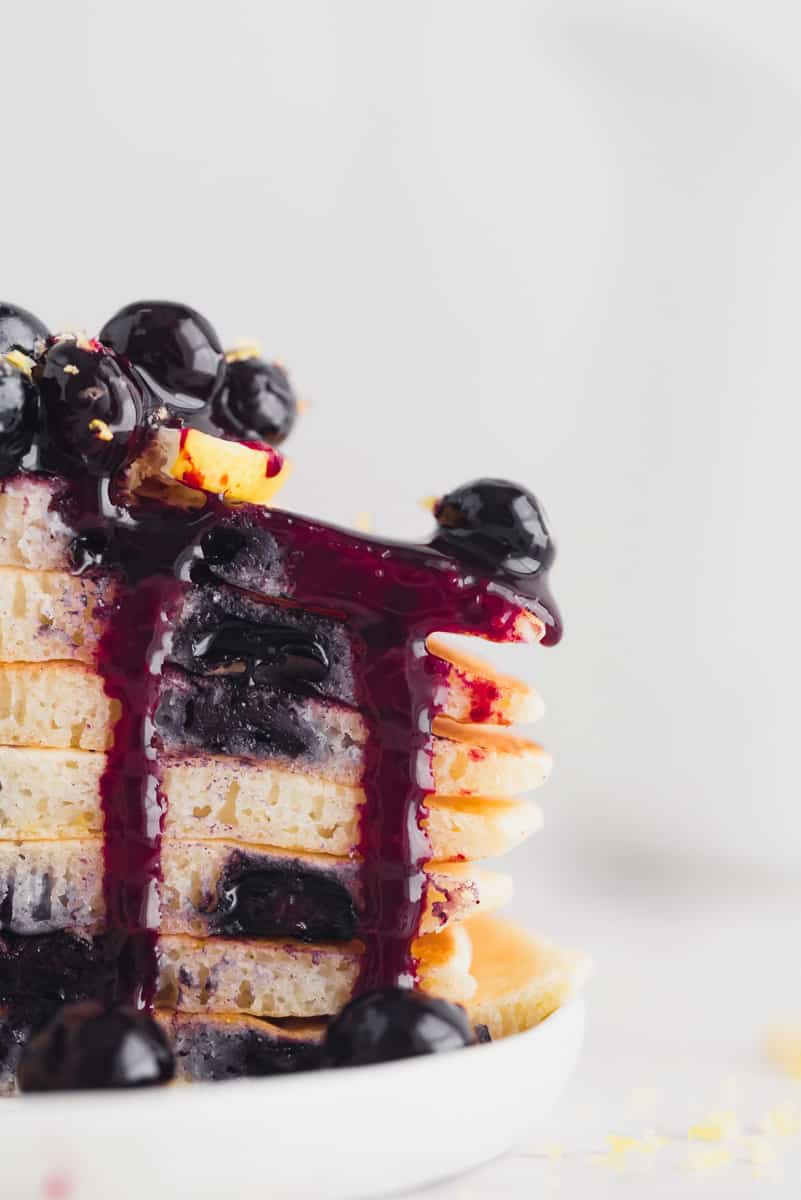 What's in lemon blueberry pancakes
These pancakes are made with you usual pancake suspects, with the addition of blueberries and lemon! Scroll down for the printable recipe with measurements!
flour
sugar
baking powder
baking soda
salt
milk
lemon zest
eggs
vanilla extract
melted butter
lemon juice
blueberries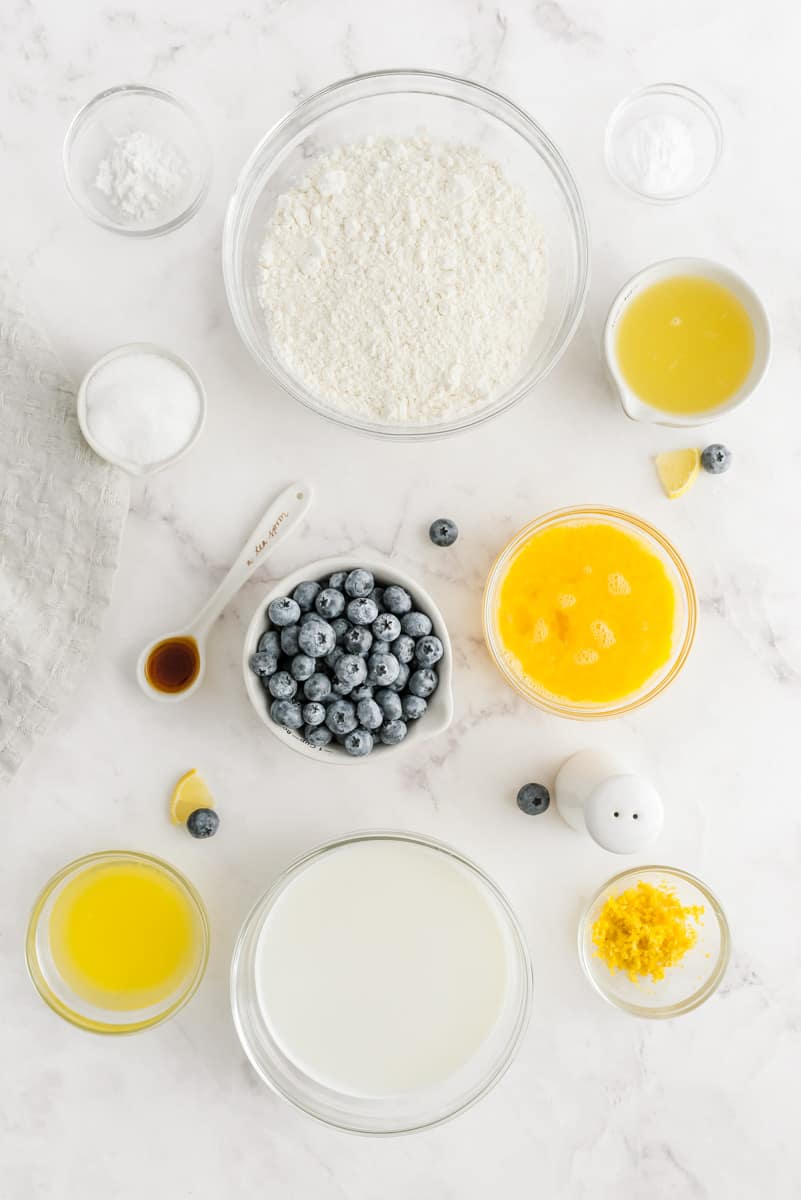 How to make lemon pancakes with blueberries
Super simple to make, they're going to become a morning favorite! You can start preheating your griddle right away, because the batter comes together very quickly.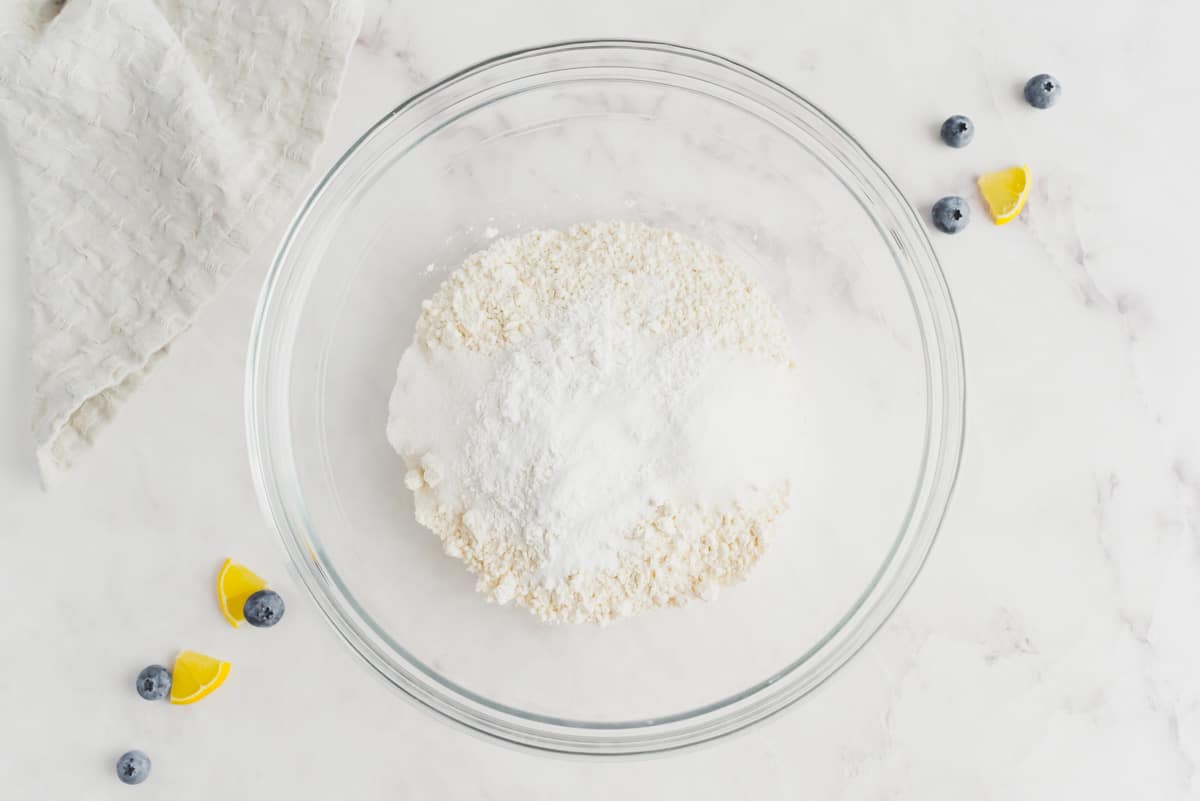 Mix together dry ingredients in a large bowl.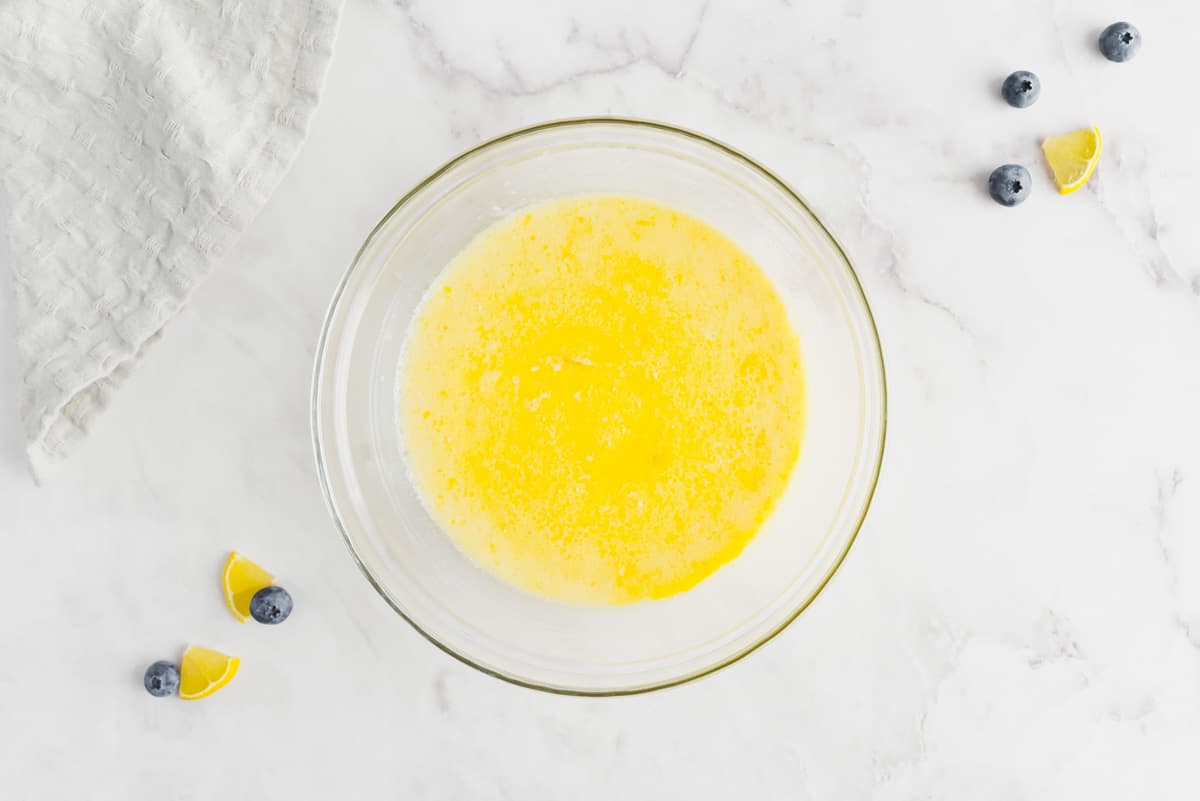 In a separate bowl, combine wet ingredients. Add wet ingredients to dry ingredients.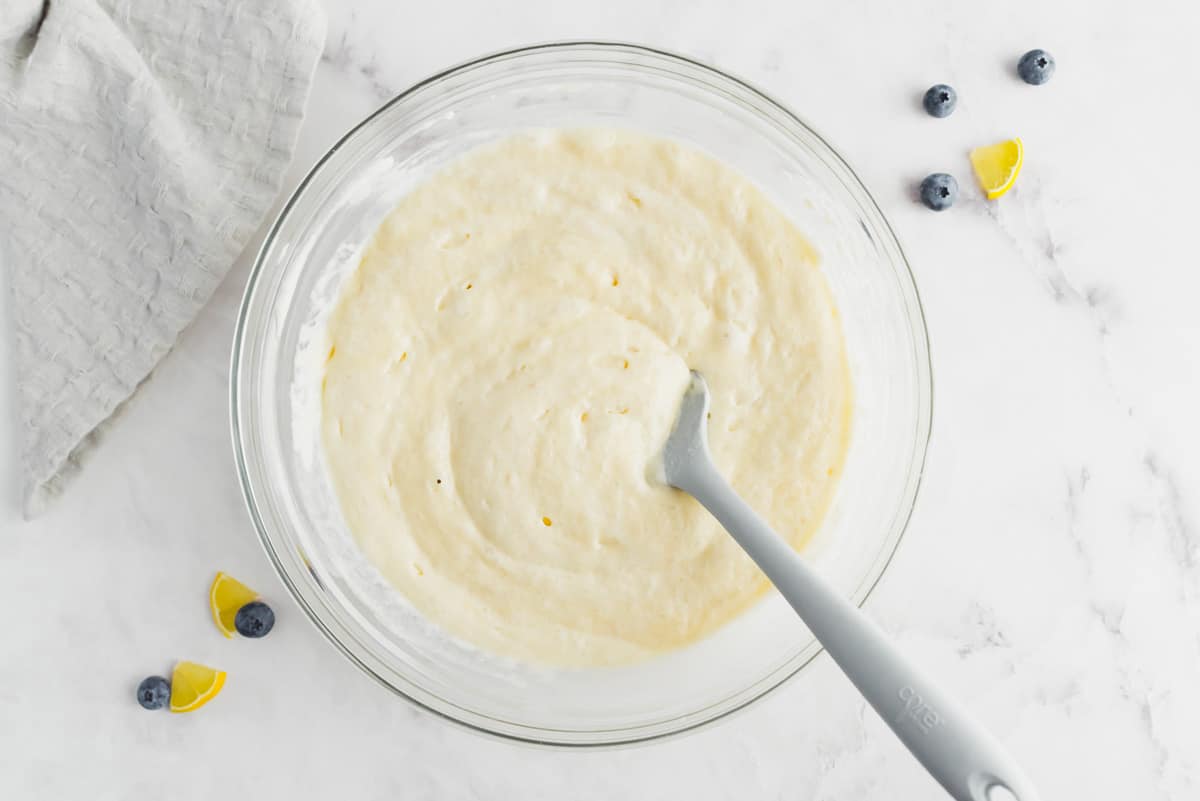 The mixture will bubble up quite a bit, so make sure to choose a large bowl! These bubbles will make your pancakes super light and fluffy, so don't over-stir – you want those bubbles to remain.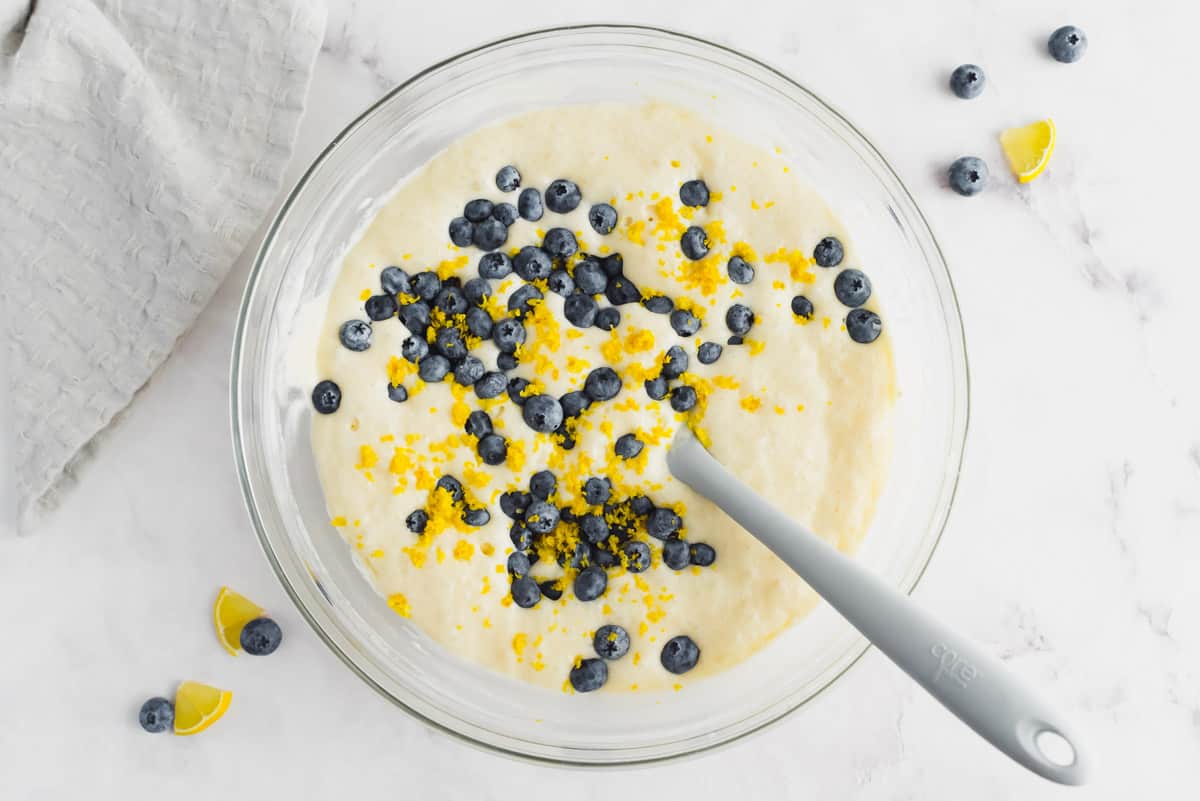 Fold in blueberries gently.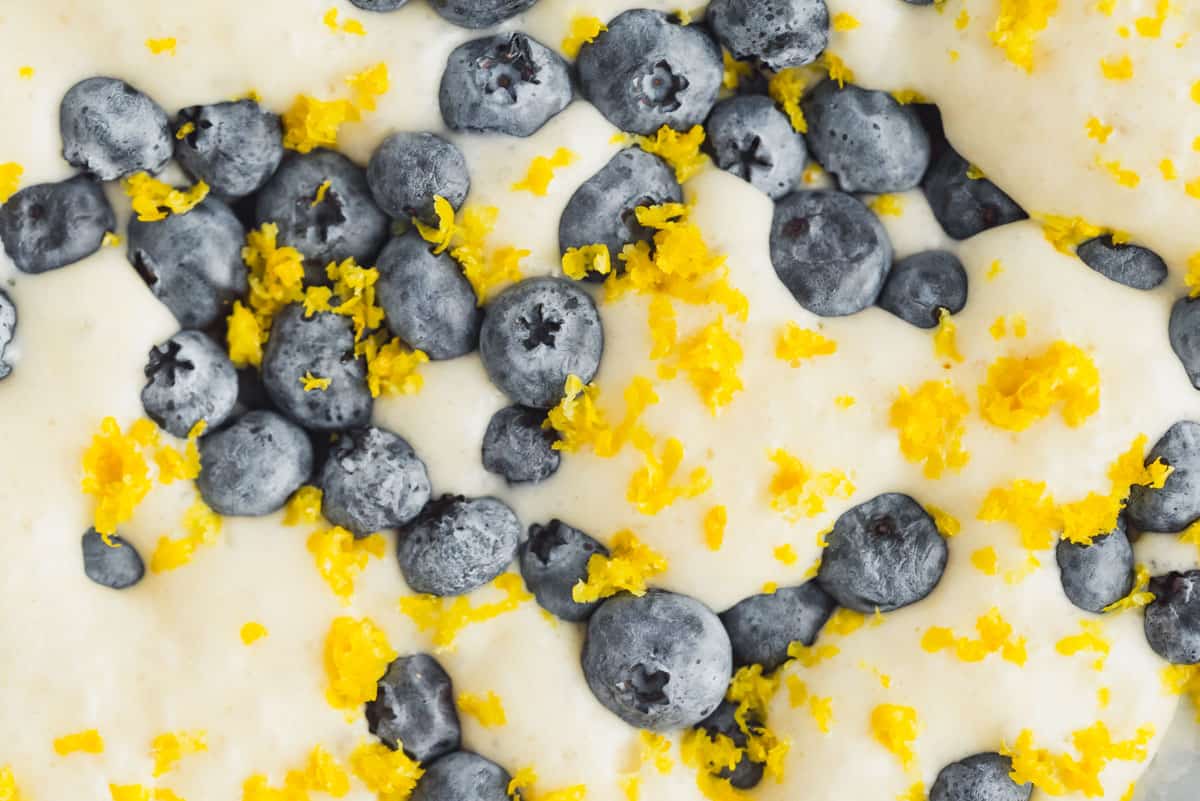 All that's left to do is cook and enjoy!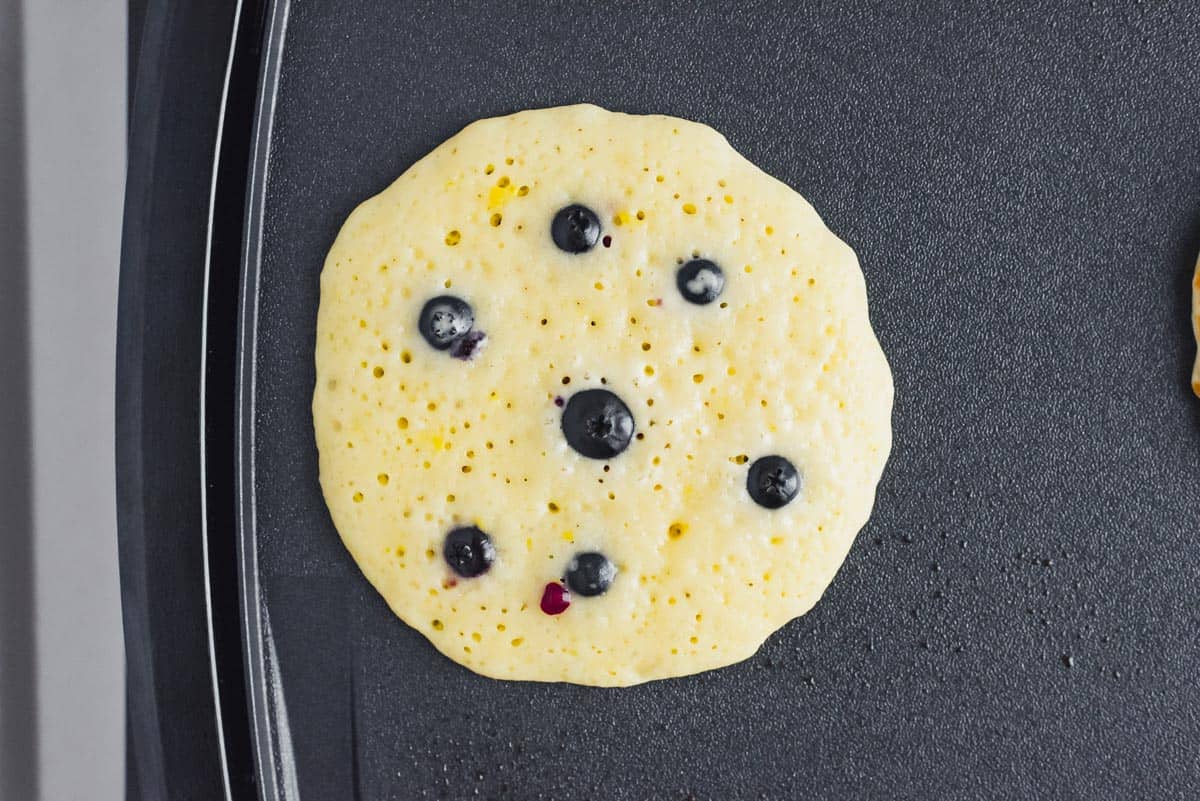 How to make these pancakes your own:
Add more blueberries: If you prefer even more blueberries, you can add them. Just be sure to let the pancakes cook a full 3 to 4 minutes before you flip them to be sure that they will hold together.
Make buttermilk pancakes: For a really flavorful and tender blueberry lemon pancake, use buttermilk in place of milk. It adds a rich depth of flavor.
Healthier options: If you are watching your sugar or carbs, you can reduce the amount of sugar in this recipe and use a lower-carb flour, such as buckwheat flour (low), coconut flour (lower), or almond flour (lowest!).
Topping Ideas: These lemon blueberry pancakes are delicious topped with more fresh fruit, or spread with fruit preserves! Great combinations include raspberries, blueberries, strawberries, and blackberry or rhubarb preserves.
Add frosting: If you want your pancake to look more cake-like, you can spread with cream cheese frosting and then arrange fruit on top.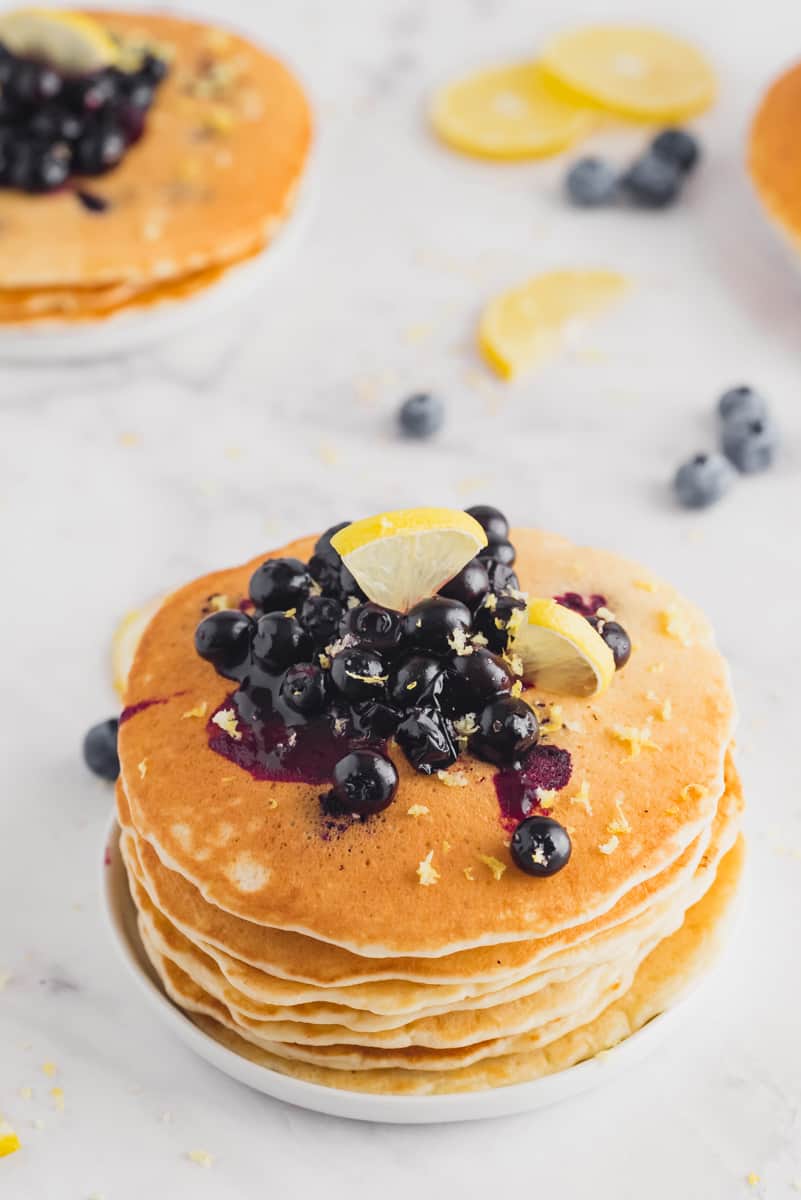 Make-Ahead, Storage, and Reheating Tips
Leftover pancakes can be stored in the refrigerator for up to 4 days. Rather than reheating these in the toaster, you may want to reheat them on the stovetop to prevent fruit from landing in the bottom of your toaster and burning. You could also use a toaster oven.
Fresh berries are delicious, but in the midwest, sometimes we have to take what we can get! If you're using frozen berries, there's no need to let the berries thaw. Turn down the heat to let the pancakes cook a little slower and longer, and add the berries directly to the pancakes on the pan, not into your bowl of batter. (If you add frozen berries to your batter they will start to thaw and color your batter blue. If you like your lemon blueberry pancakes to be blue, then I guess this is the way to go!)
To freeze fresh berries, rinse them thoroughly and allow them to dry completely. Then freeze in a single layer on a sheet pan. Once frozen, you can transfer them into a zip-top freezer storage bag. This method prevents the berries from freezing into one giant blueberry-blob, making it easy to whip up a batch of these pancakes even when fresh berries are hard to find!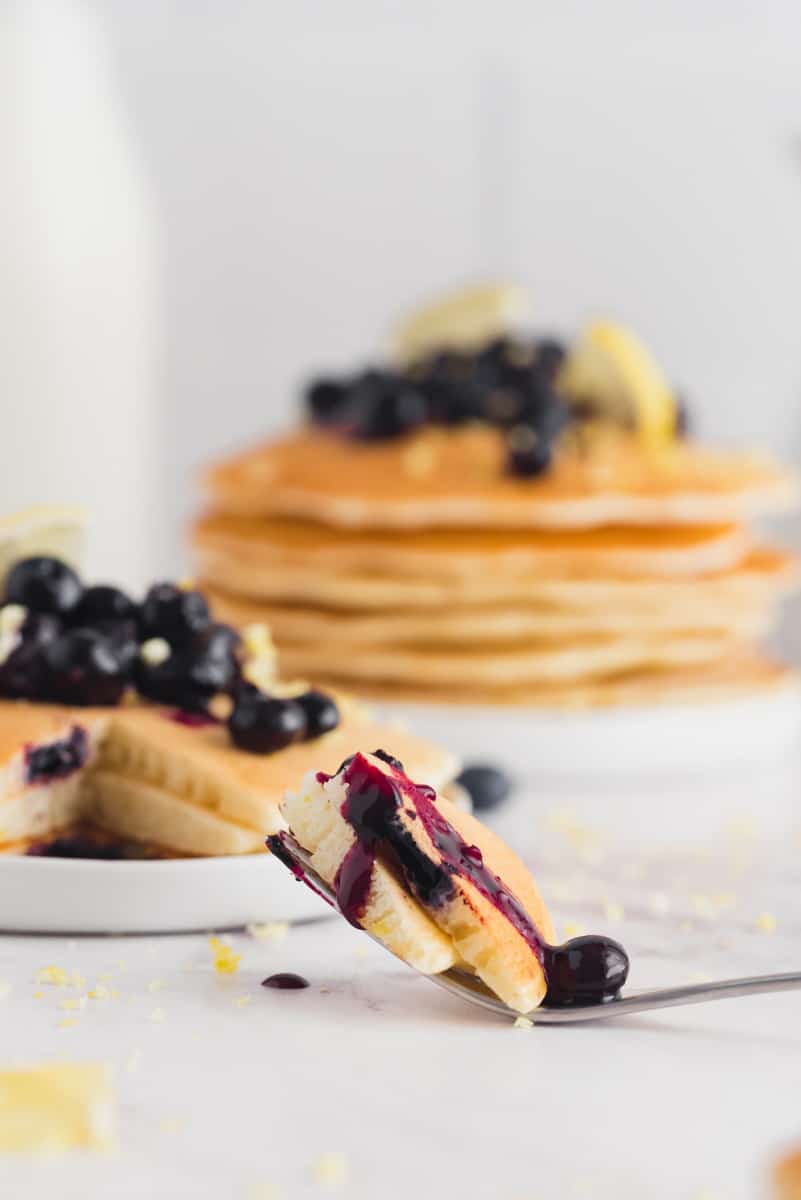 Tip!

You can leave blueberries out and sprinkle them on after pouring batter onto griddle if you prefer a more uniform distribution of the berries.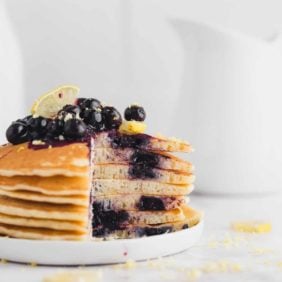 Get the Recipe: Lemon Blueberry Pancakes
Filled with fresh berries and a sprinkle of lemon zest, these lemon blueberry pancakes are sure to brighten your day.
Ingredients
2 cups all-purpose flour
3 tablespoons granulated sugar
2 teaspoons baking powder
1 teaspoon baking soda
¼ teaspoon salt
1 ¼ cup milk
1 tablespoon lemon zest from 1 lemon
2 large eggs lightly beaten
1 teaspoon pure vanilla extract
3 tablespoons unsalted butter melted and cooled slightly
½ cup freshly squeezed lemon juice (2 lemons)
1 cup blueberries fresh or frozen
Instructions
Preheat griddle to medium heat. In a large bowl, mix flour, sugar, baking powder, baking soda and salt.

In a separate bowl, whisk together eggs, vanilla, butter.

Add to dry ingredients, mix lightly. Fold in lemon juice. Mixture will bubble up and get somewhat fluffy. Do not overstir.

Gently fold in blueberries (see note).

Drop batter by ¼ cupfuls onto hot griddle.

Cook 3-4 minutes or until bubbles appear on top and don't pop. Flip, and cook 3-4 more minutes or until golden brown.
Notes
You can leave blueberries out and sprinkle them on after pouring batter onto griddle if you prefer a more uniform distribution of the berries.
Makes 20-24 pancakes.
Serving: 1serving, Calories: 224kcal, Carbohydrates: 34g, Protein: 6g, Fat: 7g, Saturated Fat: 4g, Cholesterol: 56mg, Sodium: 349mg, Potassium: 129mg, Fiber: 1g, Sugar: 9g, Vitamin A: 262IU, Vitamin C: 9mg, Calcium: 114mg, Iron: 2mg