Chocolate Whipped Cream
Chocolate whipped cream is a simple luxury. Rich, creamy, and chocolatey, this quick and easy whipped topping is the perfect topping for pancakes, waffles, or crepes.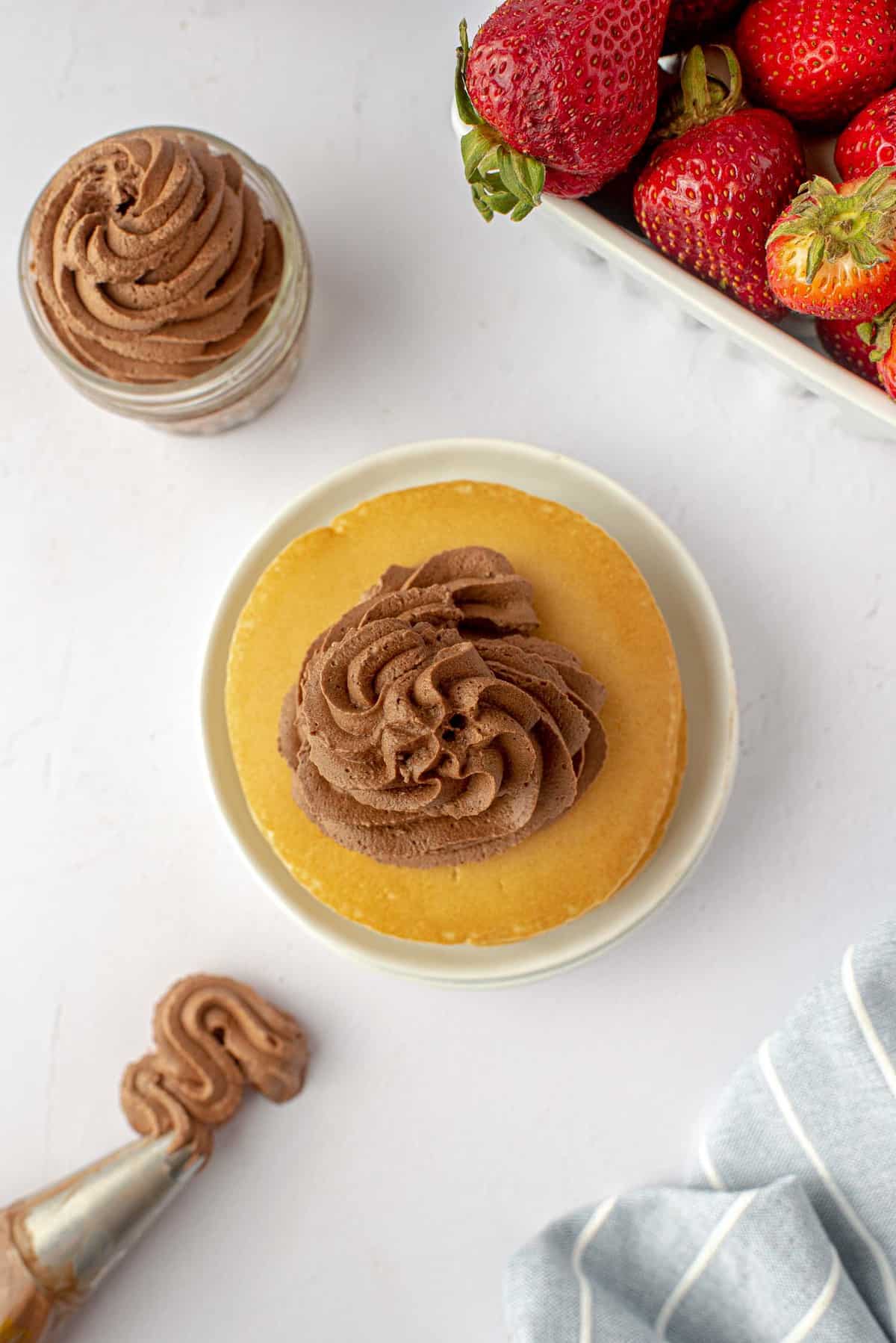 What does chocolate do to whipped cream? Well, the same thing it does to anything and everything, makes it even BETTER of course! Chocolate whipped cream is rich, but still light and fluffy. It's so easy to make but gives any dessert, baked good, or breakfast item a total makeover. With the addition of just one simple pantry ingredient, you can completely change the flavor of traditional whipped cream. If you love the idea of flavored whipped cream, don't miss our lemon whipped cream and cinnamon whipped cream. And of course there's coffee whipped cream, perfect for your next caramel latte!
About this chocolate whipped cream
Whipped cream on anything is delicious but chocolate whipped cream? Amazing! It's made with 4 ingredients in 4 minutes and is an easy way to jazz up your already luscious whipped cream.
It's turn-around-over-the-sink-so-no-one-can-see-you-lick-the-bowl kind of good, and what's great about making it yourself is you can add any additional flavors you like. Perhaps a little espresso powder, a dash of cinnamon, a splash of rum, you name it!
Once you learn how to make it, you'll find yourself going back to it again and again for cakes, cupcakes, pies, ice cream, hot chocolate, waffles, pancakes, crepes, and as a dip for fresh fruit. You may even want to add a little extra chocolate syrup.
From this day forward, you won't be able to imagine buying it ready-made at the store. A homemade whipped cream can't be beat (well, actually, you do have to beat it!).
What you need
Heavy Cream – It has a higher fat content than whipping cream, so use heavy cream or heavy whipping cream that has at least 30% fat. Make sure it's very cold, as it will hold its structure better.
Confectioners' Sugar – Sugar adds sweetness, of course, but commercial confectioners' sugar (aka powdered sugar) also has cornstarch in it, so it helps stabilize the whipped cream.
Unsweetened Cocoa Powder – Use unsweetened cocoa powder (baking cocoa). We recommend sifting the cocoa powder to avoid having lumps in your whipped cream.
Pure Vanilla Extract – Vanilla is optional in this recipe but it adds a delicious dimension of flavor.
How to make it
TIP: Chill a stainless steel or glass bowl and the beaters ahead of time (in the fridge or freezer) for at least an hour. Getting everything nice and cold before you're ready to start is a great way to ensure your whipped cream whips up really quickly and gets super fluffy!
Pour cream into a cold bowl and mix with chilled beaters (whether a stand mixer or hand mixer) on medium speed. At the two-minute mark, you should see peaks beginning to form. If you are using a stand mixer, this may happen more quickly. Be careful not to over-beat the cream, or you'll end up with butter.
Add the vanilla, and then gradually add the powdered sugar and sifted cocoa powder.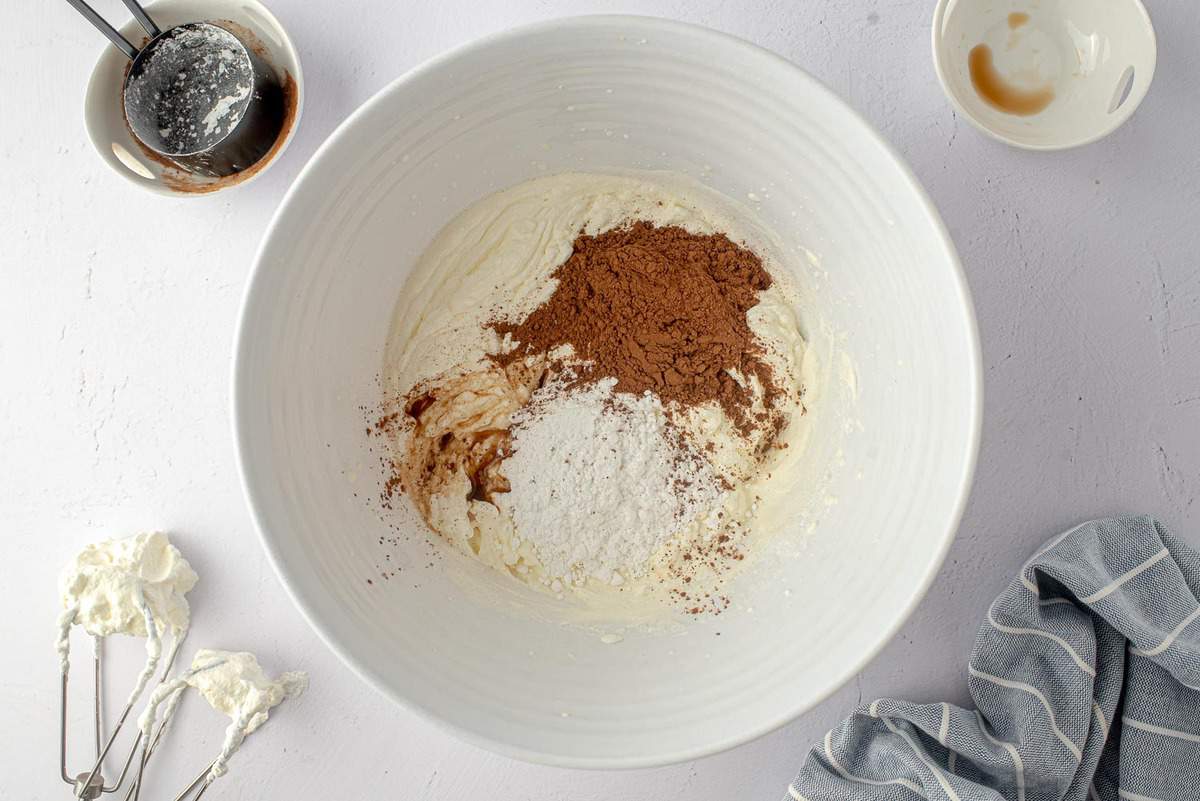 Continue to beat until soft peaks form, making sure to not over mix.
Enjoy immediately!
FAQs
What are the differences between the different types of cocoa powder?
Anytime you see unsweetened cocoa powder on the label there are some things to consider. Obviously, there is no added sugar in the cocoa powder. Secondly, the cocoa powder is either regular or dutch processed. The difference between the two types of unsweetened cocoa powder is in their chemical properties. The dutch process involves neutralizing the acidity of the cocoa beans by washing them in a salt solution called sodium bicarbonate.

Neutralizing means it no longer reacts with baking soda, which doesn't matter in this case but it's a fun fact, and important to know when you're baking.

Dutch-processed cocoa powder is dark, slightly milder in taste, and dissolves easier in liquids. Natural unsweetened cocoa powder is cocoa powder that hasn't gone through this process and is stronger and deeper in flavor.

This recipe doesn't use either baking powder or baking soda so it's up to you which you prefer to use. Both will work.

Why does my whipped cream look grainy and not smooth?
This is probably due to overmixing. Mixing to the point of stiff peaks is as far as you want to go. Anything more than that, the whipped cream may become lumpy, buttery, or grainy. A quick fix for this is to add a little more heavy cream and mix to incorporate. Hopefully, that will do the trick.
How to make chocolate whipped cream your own
A little bit of espresso powder (instant coffee) will give your chocolate whipped cream a mocha flavor. Add it to the cream before whipping so that it has a chance to dissolve.
Add a dash of cinnamon or nutmeg for delicious next-level flavor. Or, try our cinnamon whipped cream.
Need something a little fancier for a wedding shower or adult birthday party? Drop a bit of liqueur in there! Don't use more than a tablespoon, or the whipped cream won't firm up.
Storage Suggestions
Whipped cream is generally best used right away; however, if you do have some leftover it will keep in the fridge for up to 2 days in a tightly covered container. The consistency may change, becoming slightly watery and less fluffy.
Did you know? Adding 1/4 cup of full-fat sour cream or whole milk Greek yogurt will help your whipped cream last longer in the refrigerator.
What to put chocolate whipped cream on
Get the Recipe: Chocolate Whipped Cream
Chocolate whipped cream is a simple luxury. Rich, creamy, and chocolatey, this quick and easy whipped topping is the perfect topping for pancakes, waffles, or crepes.
Ingredients
1 cup heavy cream, cold
¼ cup confectioners' sugar
2 tablespoons unsweetened cocoa powder (sifted)
1 teaspoon pure vanilla extract (optional)
Instructions
For best results, chill a medium sized bowl (see note) and beaters for at least one hour in refrigerator or freezer.

Remove bowl and cream from refrigerator. Pour cream into bowl.

With hand mixer or stand mixer on medium speed, beat cream for 2 minutes or until peaks begin to form.

Add vanilla and gradually add powdered sugar and cocoa powder; beat until soft peaks form. Don't over beat or your whipped cream will separate and turn into butter. Best served immediately.
Notes
Whipping cream will double in size when whipped, so use a large enough bowl.
Adding 1/4 cup of full fat sour cream or whole milk Greek yogurt will help your whipped cream last longer in the refrigerator.
Serving: 0.25cup, Calories: 107kcal, Carbohydrates: 6g, Protein: 1g, Fat: 11g, Saturated Fat: 7g, Polyunsaturated Fat: 1g, Monounsaturated Fat: 3g, Cholesterol: 41mg, Sodium: 12mg, Potassium: 42mg, Fiber: 1g, Sugar: 1g, Vitamin A: 437IU, Vitamin C: 1mg, Calcium: 21mg, Iron: 1mg