How to Make Almond Milk
Homemade almond milk is creamy, healthy, and it can be customized to your own tastes and preferences. Here's how to make almond milk at home!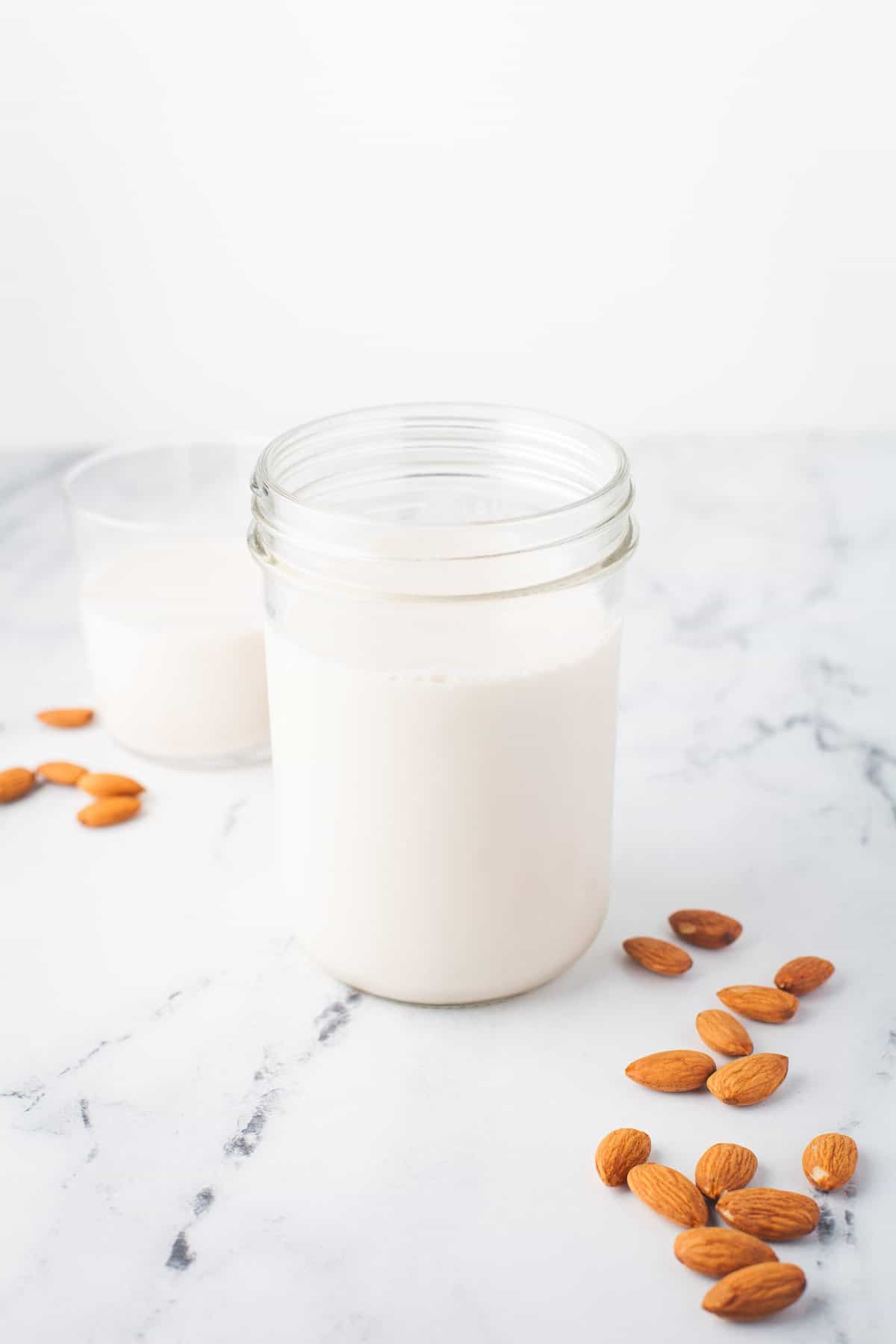 You know that saying about how if you teach a man to fish, he'll eat for a lifetime? Of course you do.
Well, the same thing is true for almond milk. Teach a person how to make almond milk, and they'll… well, they'll be able to enjoy almond milk anytime they like. (Okay, maybe the almond milk version of this saying isn't quite as catchy.)
Homemade almond milk is the best almond milk, so you'll want to know how to make it yourself. You can be certain of the ingredients—a lot of store-bought almond milk contains carrageenan, which gives some people an upset stomach!—and you can make your DIY almond milk as creamy and sweet as you want.
About this almond milk recipe
Just like apple butter, whipped cream, or almond butter, almond milk is something you can easily buy, but it's kind of satisfying to make it yourself.
Most plant milks are made by blending a plant product—nuts, oats, coconut, soy beans, etc.—with water. Once you have the right proportions down, you pretty much know how to make almond milk!
Use your homemade almond milk for smoothies (we love it in our cherry smoothie!), oatmeal, or in coffee and tea, and try customizing it by adding different flavorings and sweeteners. So good!
What you need
Raw almonds – For the best deal, buy these from the bulk section of your grocery store.
Cold filtered water – You'll want to use filtered or bottled water for the best flavor.
Natural maple syrup – Stevia or other sweeteners can be used instead, or you can make an unsweetened almond milk by omitting the maple syrup.
Vanilla extract – This can also be omitted, or you can try another extract.
Sea salt – This is optional, but it enhances the overall flavor of your almond milk.
How to make it
Soak the almonds. Place the almonds in filtered water for 18 to 24 hours; this makes it easier to blend them smoothly.
Drain and rinse. Drain off the water and discard it; rinse the almonds well.
Blend. Place the almonds in a blender with the fresh water, maple syrup, and vanilla.
Blend for 2 to 3 minutes, or until the mixture is creamy. It doesn't have to be completely smooth, since you'll strain out the solids, but you should blend it until it's as smooth as possible, without any large pieces of almonds.
Strain. Pour the almond milk through a nut bag into an airtight container, squeezing to extract as much liquid as possible.
Tip: A nut bag is a specialized cloth bag made for straining the solids off of nut milk. You can make almond milk without a nut bag by pouring it through a very fine mesh strainer.
FAQs
Is it cheaper to make your own almond milk?
If you're able to buy almonds on sale, making your own almond milk might be cheaper than store-bought. But, generally speaking, homemade almond milk isn't about saving money, but about making almond milk with wholesome ingredients and that tastes better than store-bought.
Is homemade almond milk healthier?
The answer to this question depends on the type of store-bought almond milk you're comparing it to, but in general, homemade almond milk will have less added sugar and it won't have any added thickeners or preservatives.
How to make this almond milk your own
Now that you know how to make almond milk, it's time to customize the recipe! Here are some variations to try.
Add some spices. A generous pinch of cinnamon or cardamom is delicious in almond milk.
Make it caffeinated. Blend matcha powder with the almonds and water for green tea flavored almond milk—and yes, it has caffeine!
Make it thicker. Use less water or more almonds for a thicker, creamier almond milk.
Blend it with fruit. You can blend your almond milk with a banana, a handful of strawberries, blueberries, or sliced peaches. This makes a delicious fruit-flavored almond milk, but note that it will decrease the storage life a bit so you'll have to use it faster or freeze it.
Storage Suggestions
Store the almond milk in the refrigerator for up to 4 days. You can also freeze homemade almond milk for up to 3 months; let it thaw in the refrigerator before using.
More breakfast drink recipes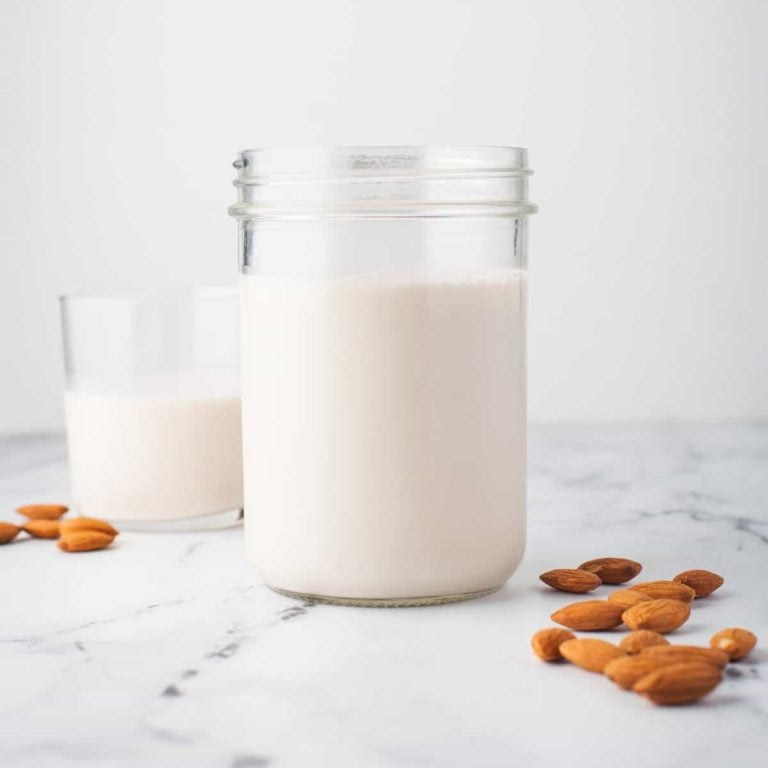 Get the Recipe: How to Make Almond Milk
Homemade almond milk is creamy, healthy, and it can be customized to your own tastes and preferences. Here's how to make almond milk at home!
Ingredients
1 cup raw almonds
3 ½ cups cold filtered water
1 tablespoon natural maple syrup (more or less, depending on how sweet you want it)
1 teaspoon vanilla extract
pinch of sea salt (optional)
Instructions
Place your almonds in water overnight for 18 – 24 hours.

Drain the soaked almonds and rinse them well. (Discard that water)

Place your drained almonds in your blender, with your fresh water, maple syrup and vanilla. Blend until creamy or about 3 minutes.

Strain your almond milk using a nut bag strainer or an ultra fine mesh strainer into an airtight container. Squeeze well to extract the extra liquid.

Store the almond milk in the fridge for up to 4 days.
Notes
Makes about 3 ½ cups.
You can also strain your milk into a measuring bowl so it's easier to pour into your carafe to avoid making a mess.
You can also add a pinch of salt to heighten the almond flavor.
If you want the almond milk to be unsweetened, leave out the maple syrup.
Serving: 1cup, Calories: 255kcal, Carbohydrates: 13g, Protein: 9g, Fat: 20g, Saturated Fat: 2g, Polyunsaturated Fat: 5g, Monounsaturated Fat: 13g, Trans Fat: 0.01g, Sodium: 13mg, Potassium: 314mg, Fiber: 5g, Sugar: 5g, Vitamin A: 0.4IU, Calcium: 123mg, Iron: 2mg