Lemon Poppy Seed Pancakes
Fresh and zesty with just a hint of nutty sweetness, these lemon poppy seed pancakes are sure to become an instant favorite.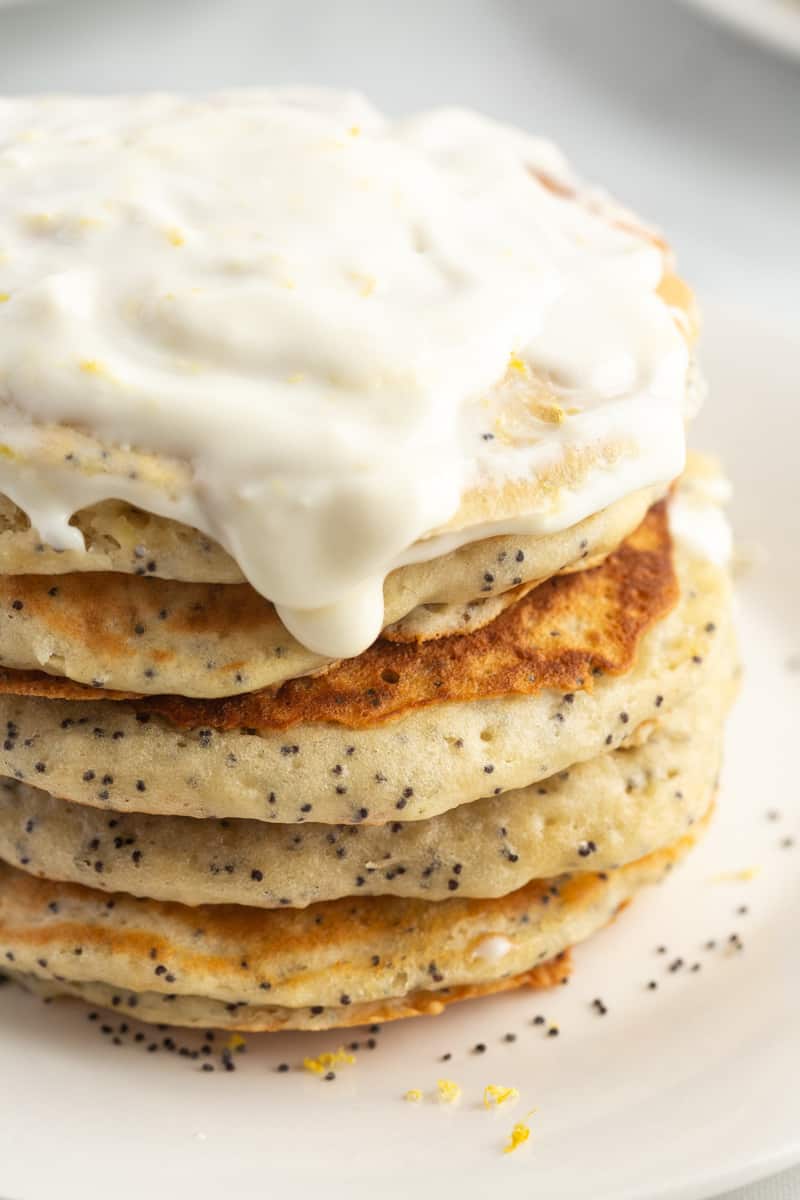 One of our favorite treats in the summer is a slice of bright lemon poppy seed bread. Paired with morning coffee or an evening beverage, you just can't go wrong!
This pancake recipe delivers all the flavors of a lemon poppy seed muffin or a quick bread without all the added sugar, making these cakes a great alternative to traditional baked goods.
They also take less time to cook than a sweet bread, so you'll be enjoying these cakes in no time.
Lemon poppy seed pancakes are the perfect meal all on their own, or you can pile on the flavors and textures by adding chopped, crisp apples (sweet or tart!) and a handful of walnuts.
If you're looking for a decadent treat, top your pancakes with apples and walnuts and add a drizzle of lemon glaze, strawberry sauce, or blueberry sauce for a simple and original dessert dish. If you're looking for a dessert that falls a little more to the savory side, add a spoonful of mascarpone and reduce or skip the sauce.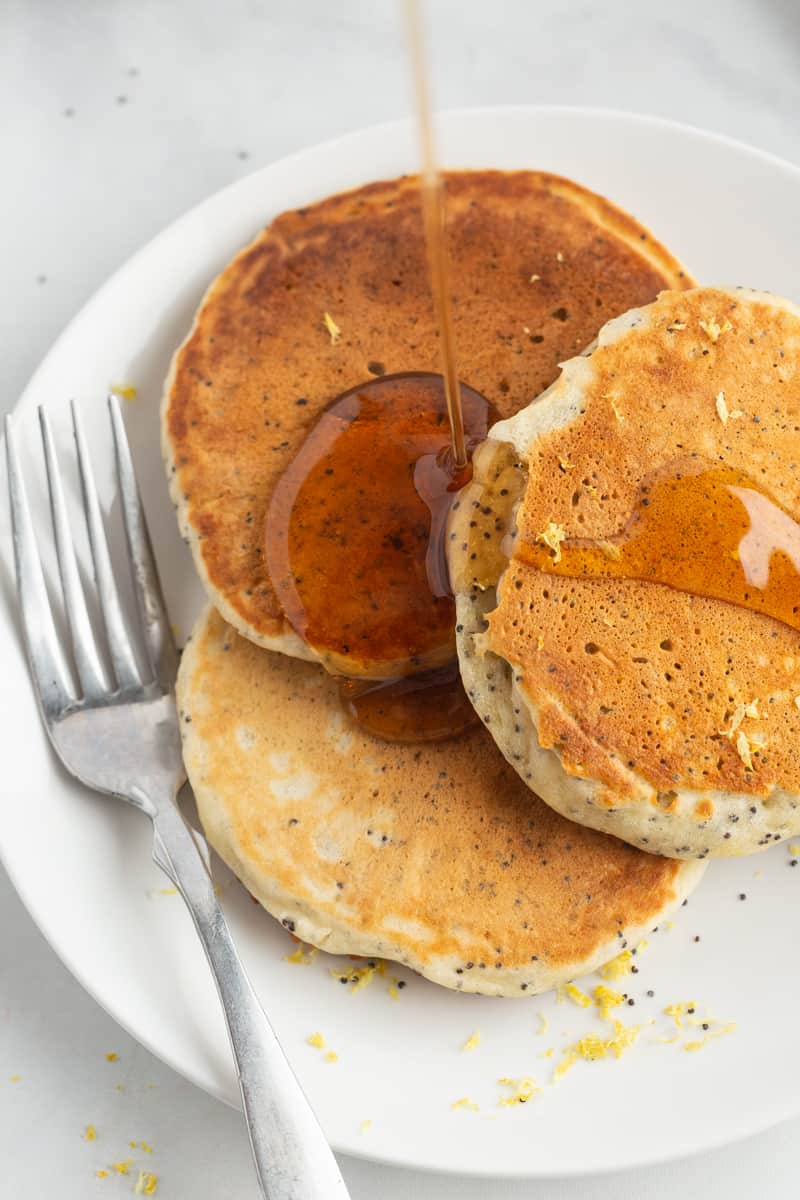 About this lemon poppy seed pancake recipe:
Lemon and poppy seeds are a favorite combination for a reason! The lemon batter bakes up sweet and tart, and the poppy seeds add the perfect nutty flavor.
These cakes are tender and flavorful, sure to brighten your Monday morning or liven up your Saturday brunch.
Lemon poppy seed pancakes also make the perfect base for a savory dish. Topped with salty nuts or crumbled bacon, those poppy seeds really pop.
Pancakes may be the star of the show in the morning, but you'll also love how they support the perfect lunch or dinner, too. Try spooning a protein-packed chicken salad over these pancakes for lunch, or serve them up as a side with a sweet barbecue pulled pork for dinner.
For a modern and easy twist on a lemon layer cake, try spreading layers of lemon cream cheese frosting and fruit preserves or fresh berries between your lemon poppy seed pancakes to create a beautiful and delicious layer cake.
One taste and you'll agree: there's no wrong way to enjoy these zesty cakes!
What's in lemon poppy seed pancakes
Aside from the obvious lemons and poppy seeds, you're looking at a pretty straight-forward pancake recipe. Here's what you'll need:
all-purpose flour
granulated sugar
poppy seeds
baking powder
baking soda
salt
milk
eggs
vanilla extract
butter
lemon juice
lemon zest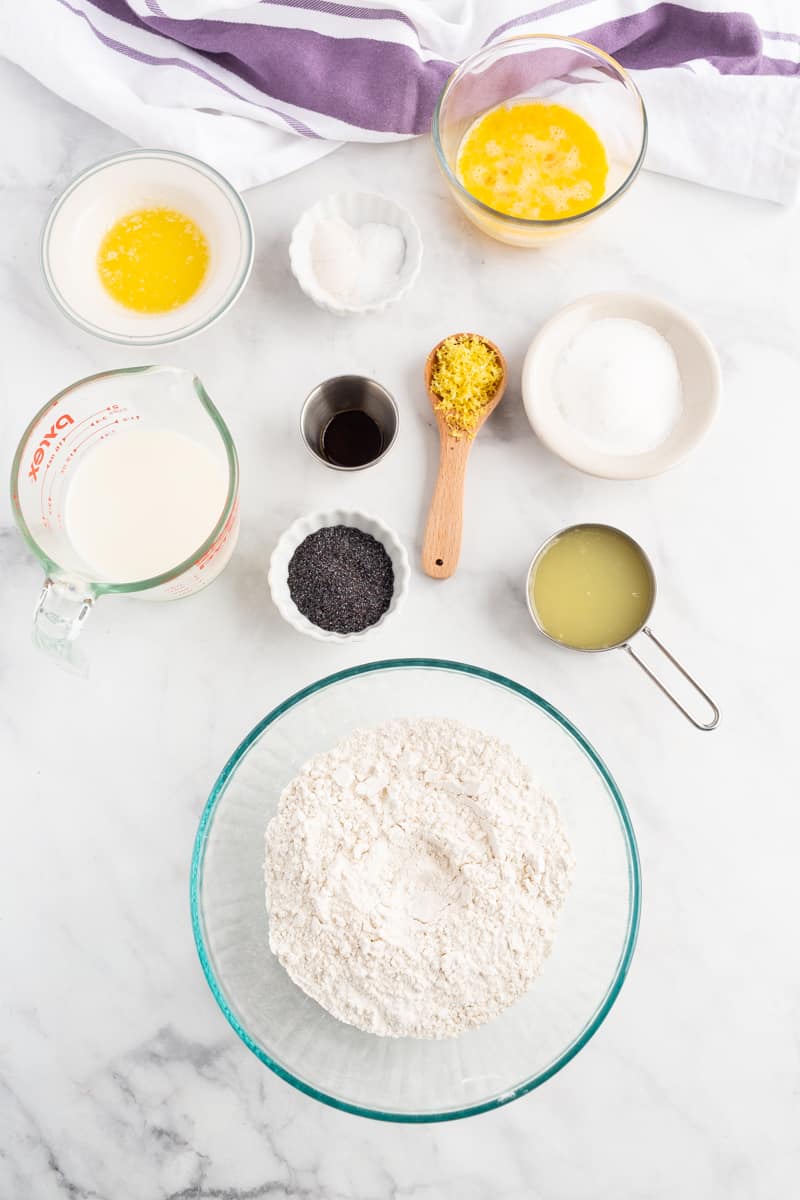 How to make these pancakes
To make these pancakes, you'll start by grabbing a big bowl and. mixing your dry ingredients. This is also where you'll add the poppy seeds.
In a separate bowl, mix up the wet ingredients: milk, eggs, butter, and vanilla.
Combine wet and dry ingredients, mixing until just combined.
Add lemon juice and lemon zest, folding them in. The mixture will bubble up, don't over mix it! These bubbles will make your pancakes incredibly fluffy.
Cook on a griddle over medium heat and serve with your desired toppings!
Tip!
Store poppy seeds in the fridge to prevent them from become rancid.
How to make these lemon poppy seed pancakes your own:
If you're looking to skip the syrup, these pancakes taste great topped with a little mascarpone mixed with a drizzle of honey.
The lemon flavor is really highlighted by the addition of fresh berries. Add a few raspberries and blueberries to your plate to heighten the sweet-tart combination.
These healthy pancakes are already low in sugar. You can boost the nutrition by using almond flour, whole wheat flour, or your favorite wheat-free flour for those who prefer to skip the gluten. You can also top with sliced almonds, chopped walnuts, or a sprinkle of chia for even more protein power.
It's easy to make substitutions to meet everyone's dietary preferences. These pancakes taste great when made with flax eggs, unsweetened almond milk, and non-dairy butter.
Love the lemon but aren't sure about the poppy seeds? Try these lemon blueberry pancakes!
Make-Ahead, Storage, and Reheating Tips
To speed the prep time on a busy morning, consider mixing the dry ingredients the night before and storing in an airtight container.
You can also squeeze the lemon juice up to 24 hours in advance and store in the refrigerator in an airtight container or jar. (If you find that you use a lot of lemon juice, you can freeze it in ice cube trays and store in your freezer for up to three months!)
These pancakes can be stored in a storage container or a zip-top bag in the refrigerator for 4-5 days. To reheat, simply pop them in the toaster or microwave.
This recipe yields 20-24 pancakes. Just the right amount for leftovers, so you can try them savory and sweet!
Get the Recipe: Lemon Poppy Seed Pancakes
Fresh and zesty with just a hint of nutty sweetness, these lemon poppy seed pancakes are sure to become an instant favorite.
Ingredients
2 cups all purpose flour
3 tablespoons granulated sugar
2 tablespoons poppy seeds
2 teaspoons baking powder
1 teaspoon baking soda
¼ teaspoon salt
1 ¼ cup milk
2 eggs, beaten
3 tablespoons unsalted butter, melted and cooled slightly
1 teaspoon pure vanilla extract
½ cup freshly squeezed lemon juice (2-3 lemons)
1 tablespoon lemon zest (1 lemon)
Instructions
Preheat griddle to medium heat. In a large bowl, mix flour, sugar, poppy seeds, baking powder, baking soda, and salt.

In a separate bowl, whisk together milk, eggs, butter, and vanilla. Add to dry ingredients, mix lightly.

Fold in lemon juice and lemon zest. Mixture will bubble up and get somewhat fluffy. Do not overstir.

Drop batter by ¼ cupfuls onto hot griddle.

Cook 3-4 minutes or until bubbles appear on top and don't pop. Flip, and cook 3-4 more minutes or until golden brown. Serve with desired toppings.
Serving: 2pancakes, Calories: 150kcal, Carbohydrates: 22g, Protein: 4g, Fat: 5g, Saturated Fat: 3g, Cholesterol: 37mg, Sodium: 233mg, Potassium: 87mg, Fiber: 1g, Sugar: 5g, Vitamin A: 168IU, Vitamin C: 5mg, Calcium: 98mg, Iron: 1mg