Maple Cream Cheese Glaze
Maple cream cheese glaze is made with only 3 ingredients and tastes incredible! It is to drizzle on all of your cinnamon rolls, cakes, and pancakes. With a hint of delicious maple, it's the perfect finishing touch to all of your holiday baking!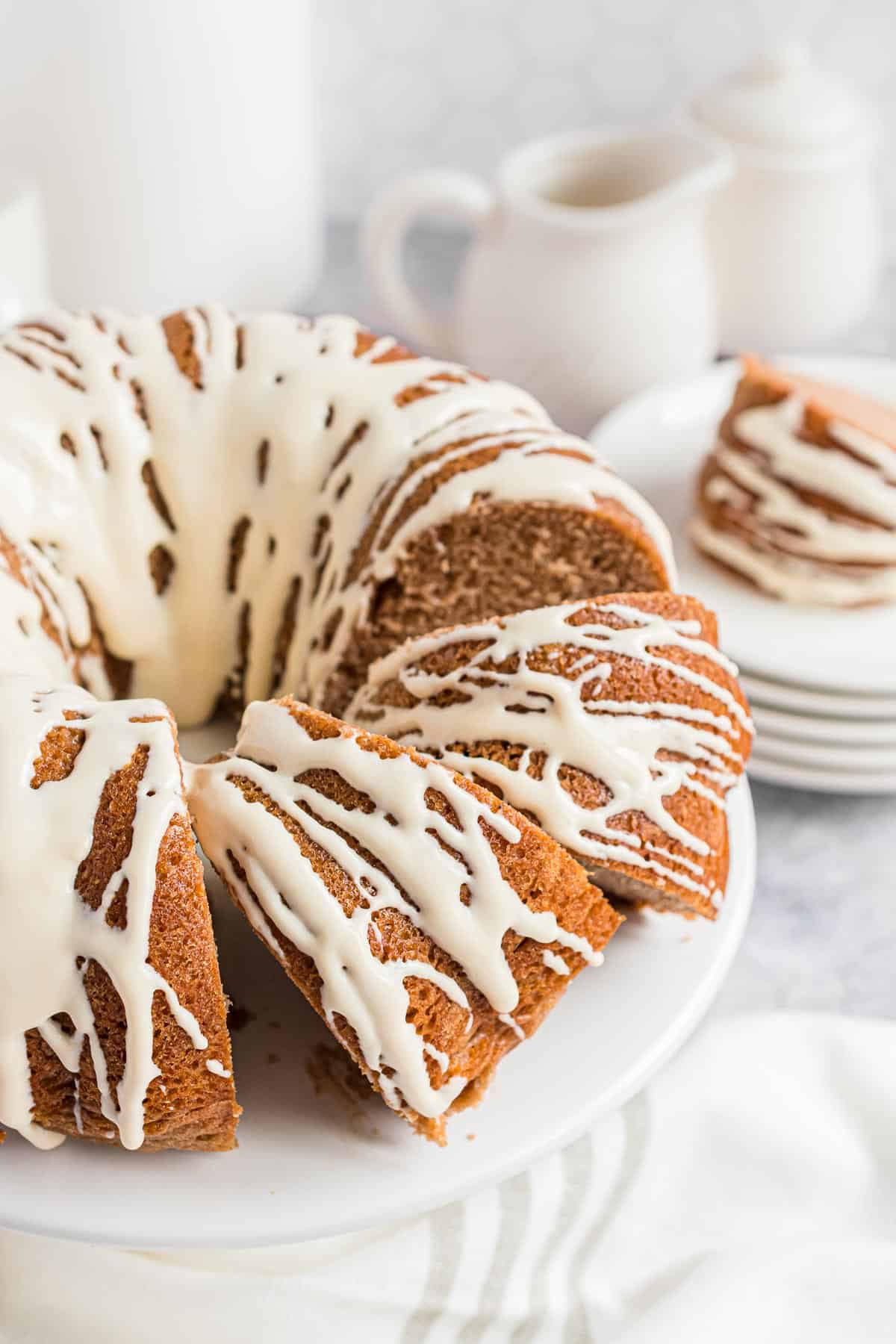 Serving a family brunch this Christmas? The sweet and tangy blend of the maple syrup and the cream cheese creates a silky smooth glaze perfect for slathering donuts (try it on these apple cider donuts), drizzling over danishes, or pouring all over your fluffy pancakes (it's amazing on pumpkin pancakes). Serve with a side of bacon and eggs and some freshly squeezed orange juice or orangeade and you'll have everyone in ooey-gooey sticky fingers heaven.
About this glaze
Maple glaze is an easy way to add another layer of flavor to your breakfast pancakes or to add a hint of maple syrup to your everyday cream cheese frosting. With hardly any prep time, you can whip up a batch in 5 minutes with ingredients you probably already have in your kitchen. It will last in the fridge for up to a week, so you can make this ahead of time to have it ready for when you need it!
Make this simple glaze just once and you'll understand why you should always have a batch at the ready!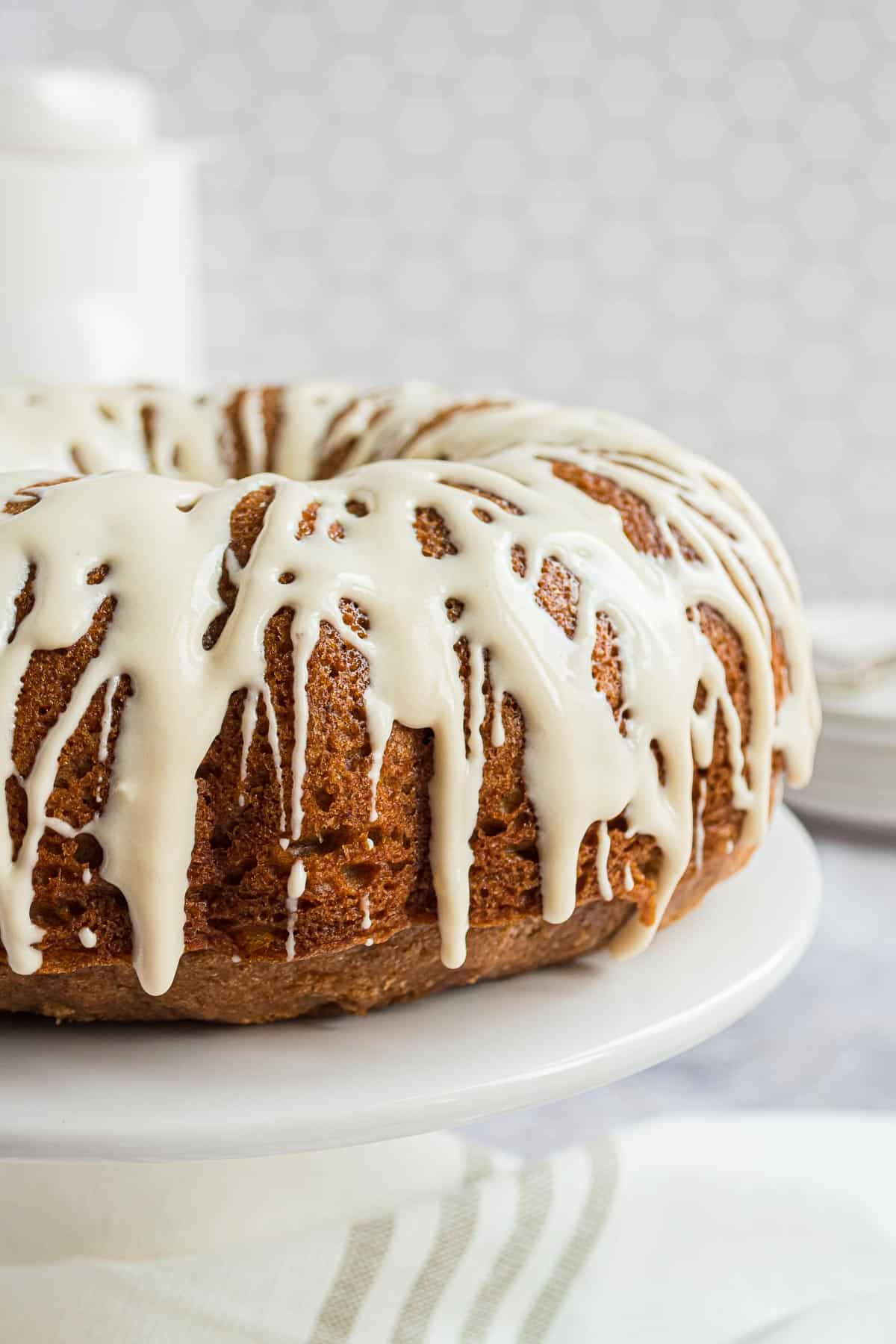 What's the difference between a frosting and a glaze?
More than taste, it's the consistency that is the biggest difference. You'll notice that the frosting is thicker. You have more control over where it goes, how to spread it, and depending on the recipe used, how to decorate with it. It's usually used as a topping on a baked good or sometimes used as a filling.
A glaze is thin enough that you can't exactly spread it with any sort of control. It will drip down, it can be poured and if it's thin enough, sometimes it can create an almost invisible sheen. It's also not usually made with butter, whereas many frostings are.
What's in this recipe?
Cream Cheese – You'll want to make sure your cream cheese is softened so that it incorporates easily with the other ingredients.
Pure Maple Syrup – The maple flavor in this recipe! We (always) recommend using pure maple syrup rather than artificial which is mainly made of high fructose corn syrup. If you want to amp up the maple flavor a bit more, try adding a dash of maple extract.
Milk – Milk is used to thin out the thick cream cheese to make this a perfectly drippy glaze.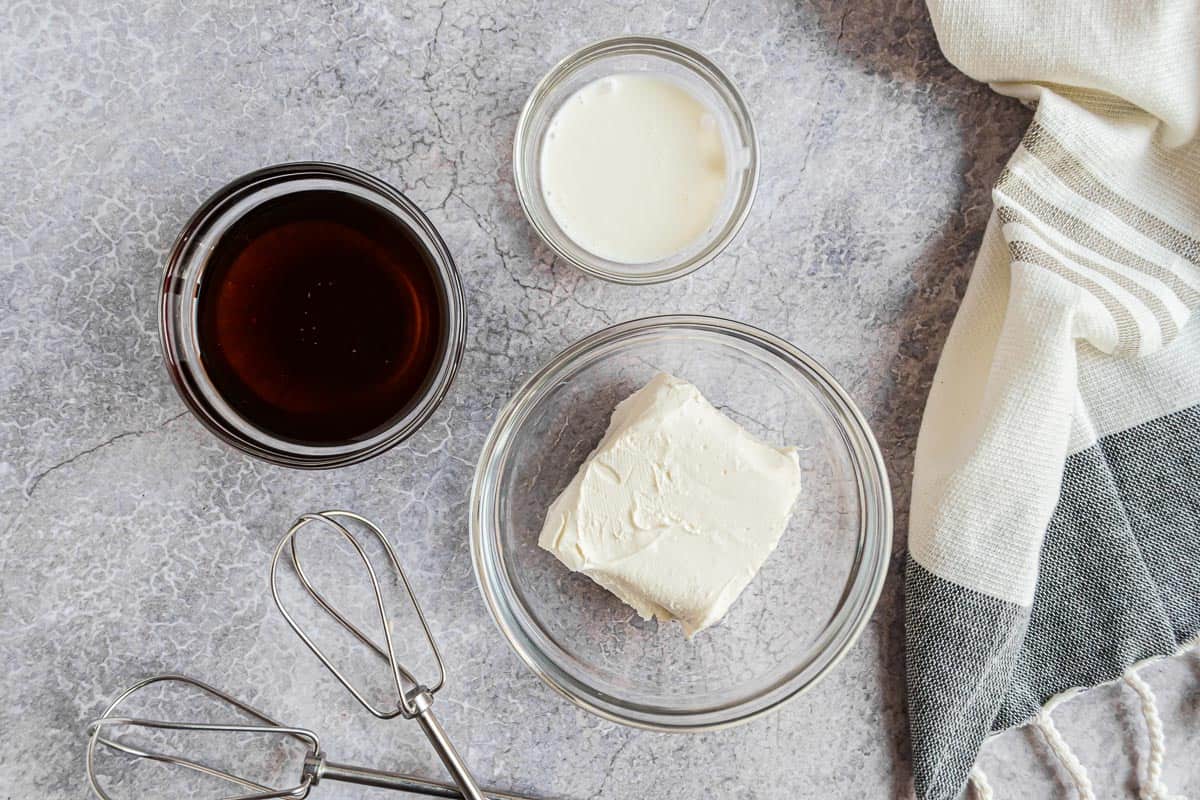 How to make it
When I said this recipe was easy, I wasn't kidding!
Before you begin, you want your cream cheese at room temperature. Take it out about 20 minutes before you begin (even sooner if your house is cool), that way you'll be able to achieve a nice smooth texture.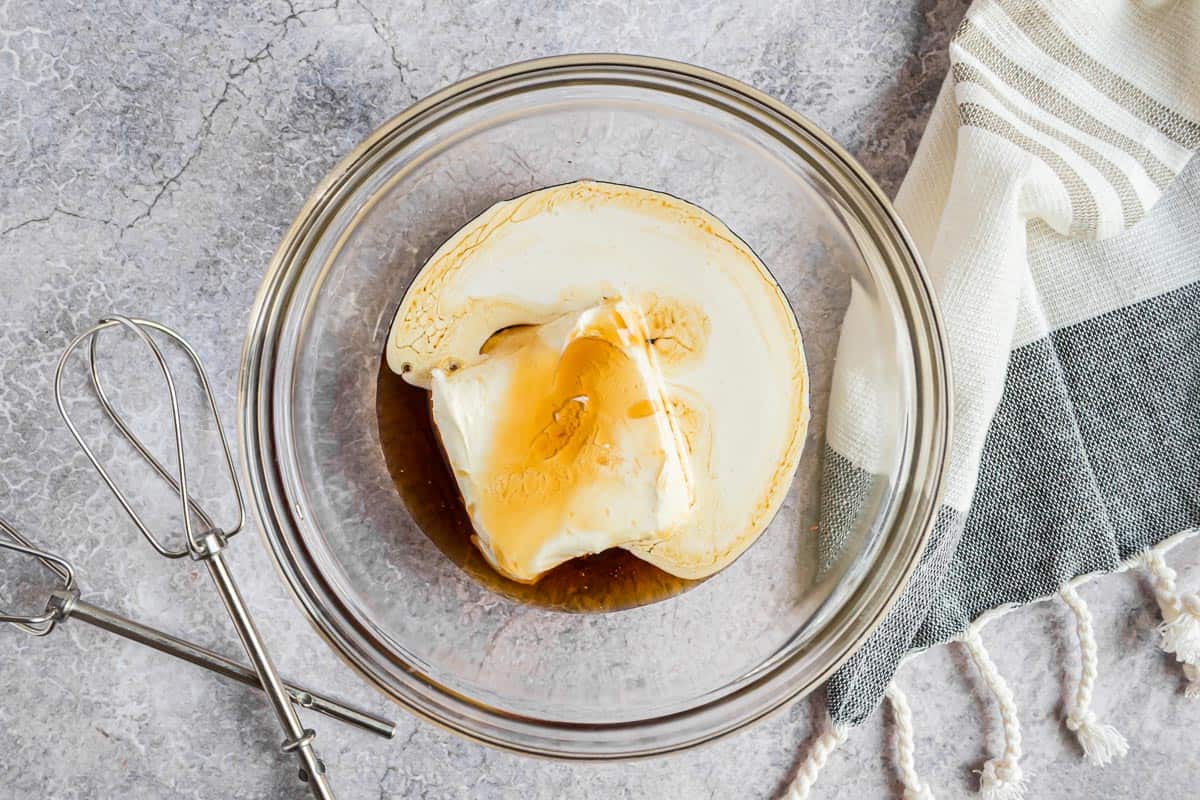 Combine all ingredients in a medium bowl and use an electric mixer to beat everything together until smooth.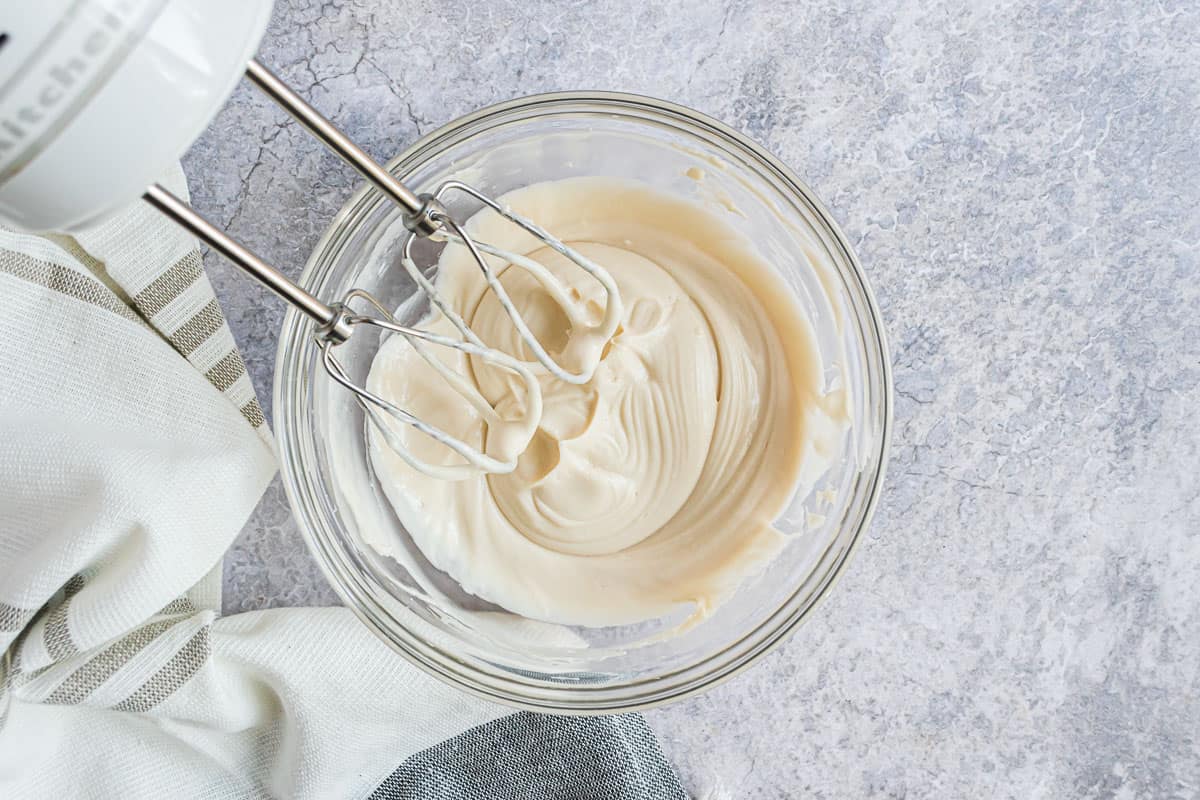 At this point, feel free to add a little more milk if you want it thinner. If you find it's too thin, you could add a bit of confectioner's sugar to thicken it up. Keep in mind it may be quite sweet!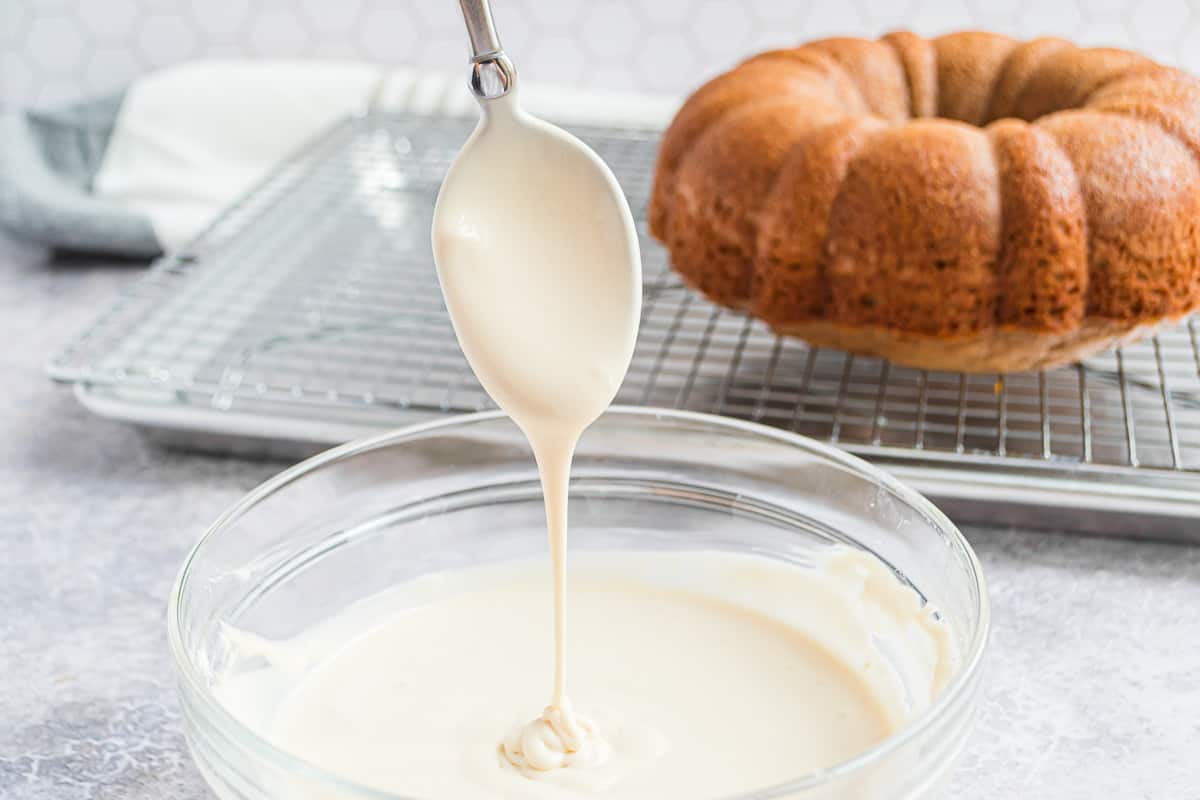 Depending on how strong you want the maple flavor to be, you may want to add a bit of maple extract to suit your preference.
It is ready to be used immediately, so enjoy!
How to make this maple glaze your own
With the addition of butter and confectioner's sugar, you not only know how to make a glaze, you now know how to make a maple cream cheese frosting!
Add a bit of orange zest (or any citrus). It brightens up all the flavors and adds another tasty layer.
Other possible additions could be hints of cinnamon, vanilla, or for a cream cheese honey glaze swap out the maple syrup for honey!
Make-Ahead & Storage Tips
This glaze is ready immediately, but if you're not ready to use it, keep it in an airtight container for up to 5 days in the fridge. Give it a stir before you use it.
Heat it on the stovetop on low just to heat through if you want to serve it warm.
More easy glaze recipes
Get the Recipe: Maple Cream Cheese Glaze
Maple Cream Cheese Glaze is made with only 3 ingredients and tastes incredible! It is to drizzle on all of your cinnamon rolls, cakes, and pancakes.
Ingredients
4 ounces cream cheese, softened
4 tablespoons pure maple syrup (more as needed)
2 tablespoons milk (more or less as desired)
Instructions
Add ingredients to medium sized mixing bowl. Using electric mixer, beat until smooth. Add more or less milk if necessary to achieve desired consistency.

Serve immediately or store in a covered container in the fridge for up to a week.
Notes
For extra maple flavor, add 1/2 teaspoon maple extract. Add more to taste.
Serving: 2tablespoons, Calories: 158kcal, Carbohydrates: 15g, Protein: 2g, Fat: 10g, Saturated Fat: 6g, Polyunsaturated Fat: 0.4g, Monounsaturated Fat: 3g, Cholesterol: 30mg, Sodium: 94mg, Potassium: 94mg, Sugar: 13g, Vitamin A: 393IU, Calcium: 59mg, Iron: 0.1mg