Nectarine Smoothie
This sweet, tart and creamy smoothie is rejuvenating, vibrant, and loaded with delicious fruit flavor! Made simply with a few ingredients and a quick blend, it's the best way to kickstart your day!
Nectarines sometimes take a backseat to our other favorite summer fruit, the peach, but not this time! This nectarine smoothie is a cold, creamy, and refreshing smoothie made with fresh sweet nectarines, juicy oranges, and a ripe banana to help thicken it up. It's naturally sweetened without refined sugars and is full of protein and good fats to keep you fueled for hours!
About this smoothie recipe
If you've noticed smoothies taking on a life of their own lately, it's because they can be incredibly healthy and delicious. People are getting so creative with flavors. There are so many delicious fruit smoothies like blueberry smoothies, cherry smoothies, mango smoothies and pineapple smoothies. And don't forget veggie smoothies! Combinations of fruit and veggies made into smoothies are popping up giving us life!
They're a quick and easy way to get so much nutrition and great flavor first thing in the morning, after a workout, or just because we love the taste and need an energy boost.

This smoothie is made with just 6 easy ingredients, one of them being ice cubes, but we'll still call it an ingredient because it helps to make it super chilled. The coconut milk keeps it dairy-free but also adds a cooling richness and a tropical flair, perfect for a hot day!
Enjoy your smoothie on the go first thing in the morning, or pour it into a smoothie bowl for a sit-down breakfast and top with extra goodies like chia seeds, pumpkin seeds, coconut flakes, chocolate chips, a drizzle of nut butter, and more!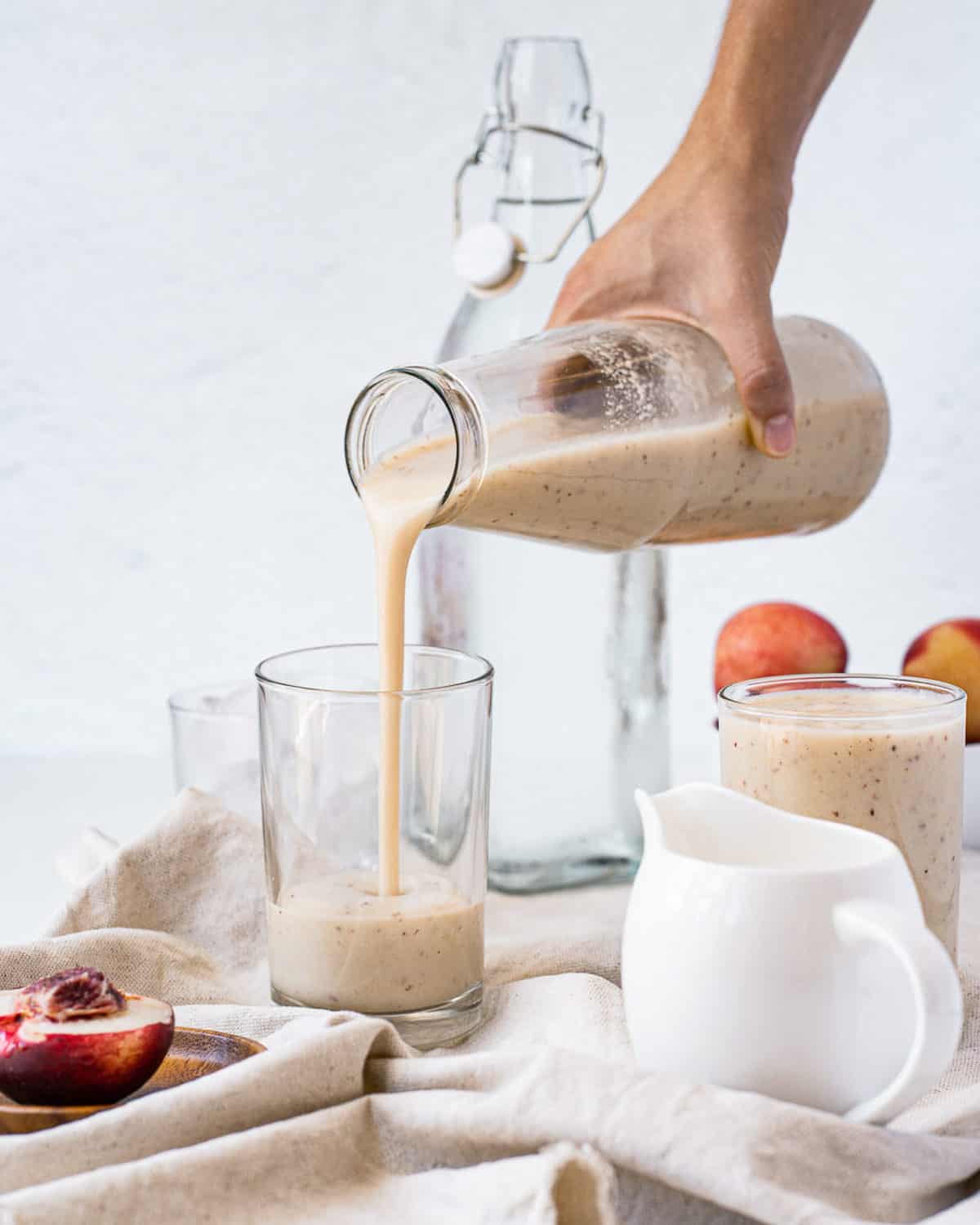 What you need
Ripe Nectarines – Look for nectarines that have tiny white "sweet spots" and have a slight give to them when pressed. They should also smell like delicious nectarine.
Ripe Banana – The ripeness of the banana can be flexible. The riper it is, the sweeter it is. If you have frozen bananas, you could use those, possibly replacing some of the ice cubes.
Juice from Oranges – You'll need about 2 regular-sized oranges. In a pinch, you could use packaged orange juice.
Coconut Milk – It's up to you whether you want to add the coconut cream that comes at the top of the can. It adds thickness and fat but you can leave it out if you'd prefer a thinner consistency. If you'd like to use cow's milk or another non-dairy milk, those will also work in this recipe.
Ice Cubes – Ice keeps it nice and cold without having to chill it first. When you put a smoothie in the fridge sometimes it settles. This way you can drink it right away.
Maple Syrup – A natural sweetener that gives smoothies flavor and is always a nice pairing with any fruit. Honey also works really well in this smoothie.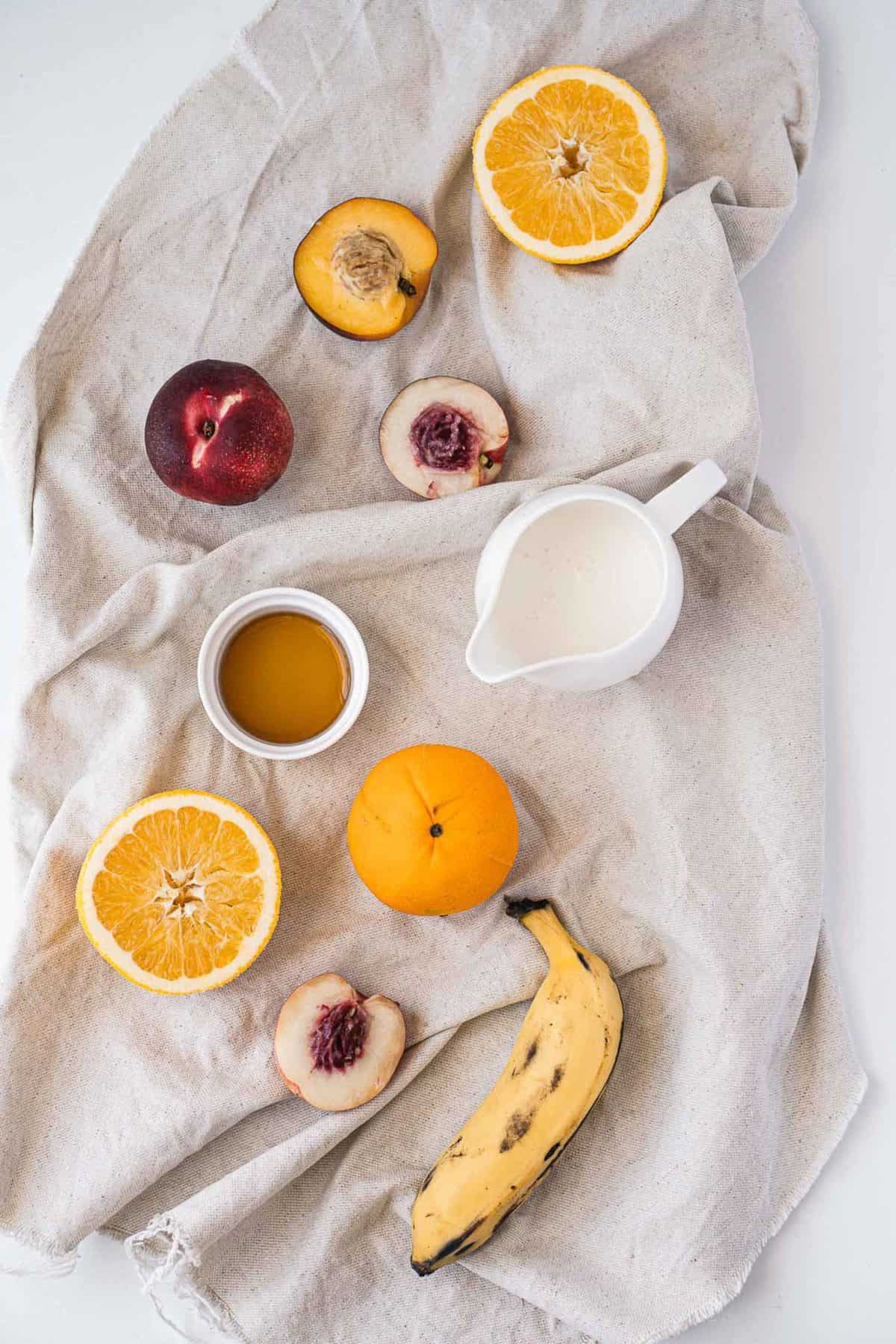 How to make it
Wash the nectarines and cut in half to remove the pits. Slice in quarters and add to the blender.
Peel banana, break in half, and add both halves to the blender.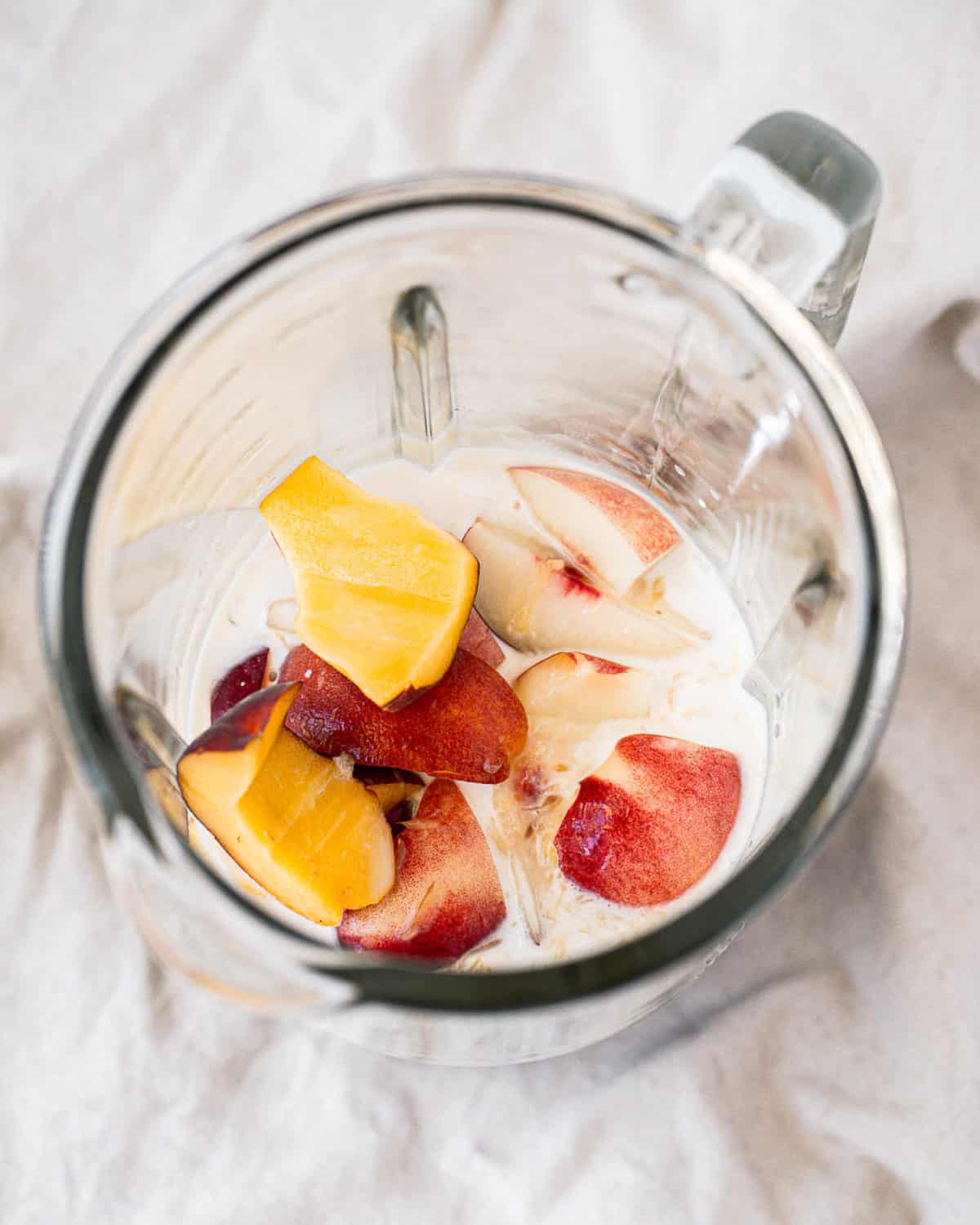 Add remaining ingredients and blend until smooth.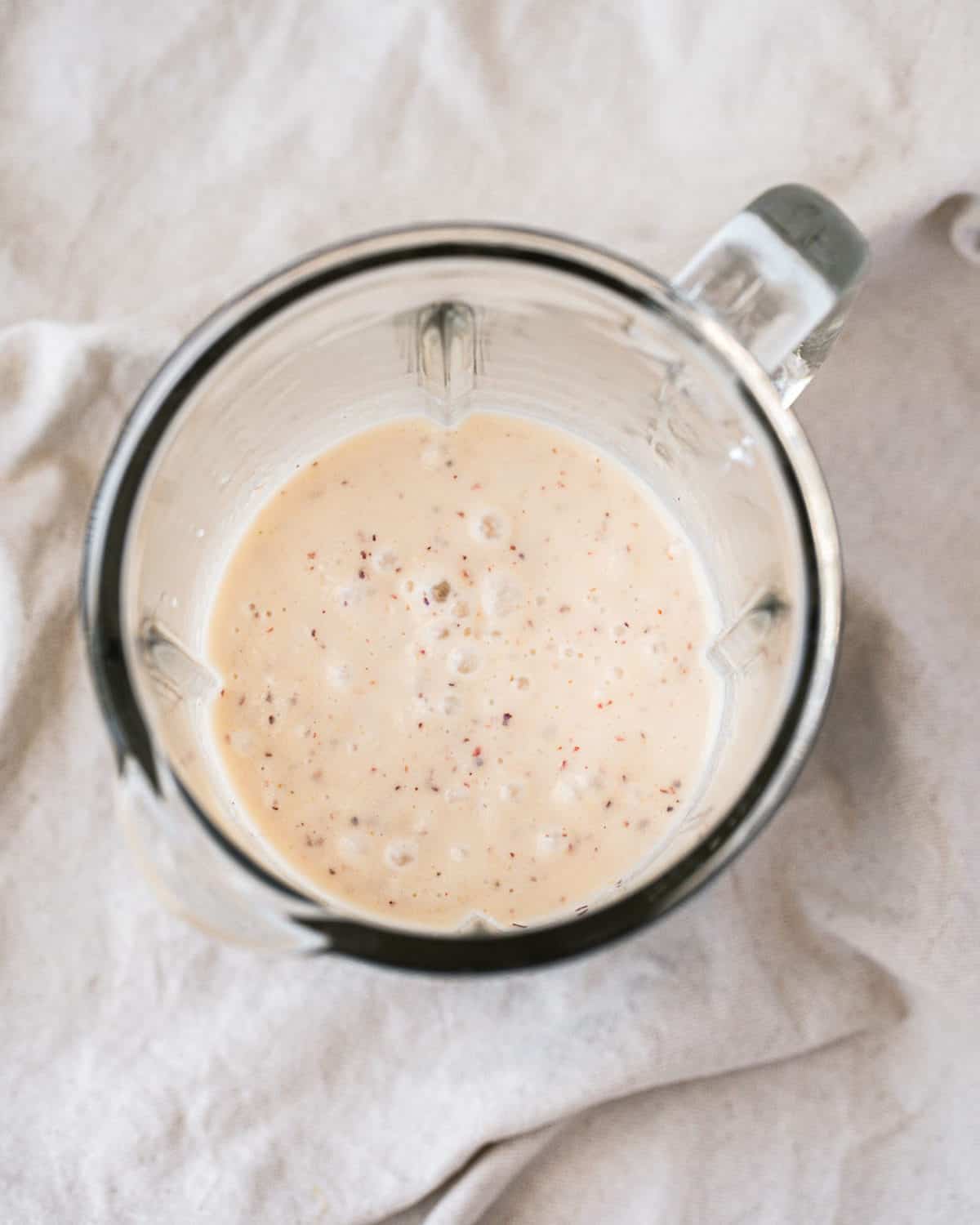 Serve immediately on its own or alongside a stack of gluten-free pancakes, lemon ricotta pancakes, or whole wheat banana bread pancakes.
FAQs
What fruit goes well with nectarines?
Blueberry, watermelon, and pear to name a few. Of course bananas and oranges are awesome. You could also try strawberries, blackberries, cherries and even lemon.
Do you have to peel nectarines for smoothies?
You don't. Nectarine skin is very fine, soft, and edible. You can, of course, if you prefer not to add it, but with a good blender, you won't find bits of it and even if you do, the flecks look kind of nice and they're easily digestible.
What is the difference between a nectarine and a peach?
You can imagine how easy it is to get the two confused because they look so similar. The main difference is that a peach has the fuzz on the outside and a nectarine does not. There is a slight difference in flavor as well, but not enough to say you have to use one over the other. They definitely can be used interchangeably in most recipes.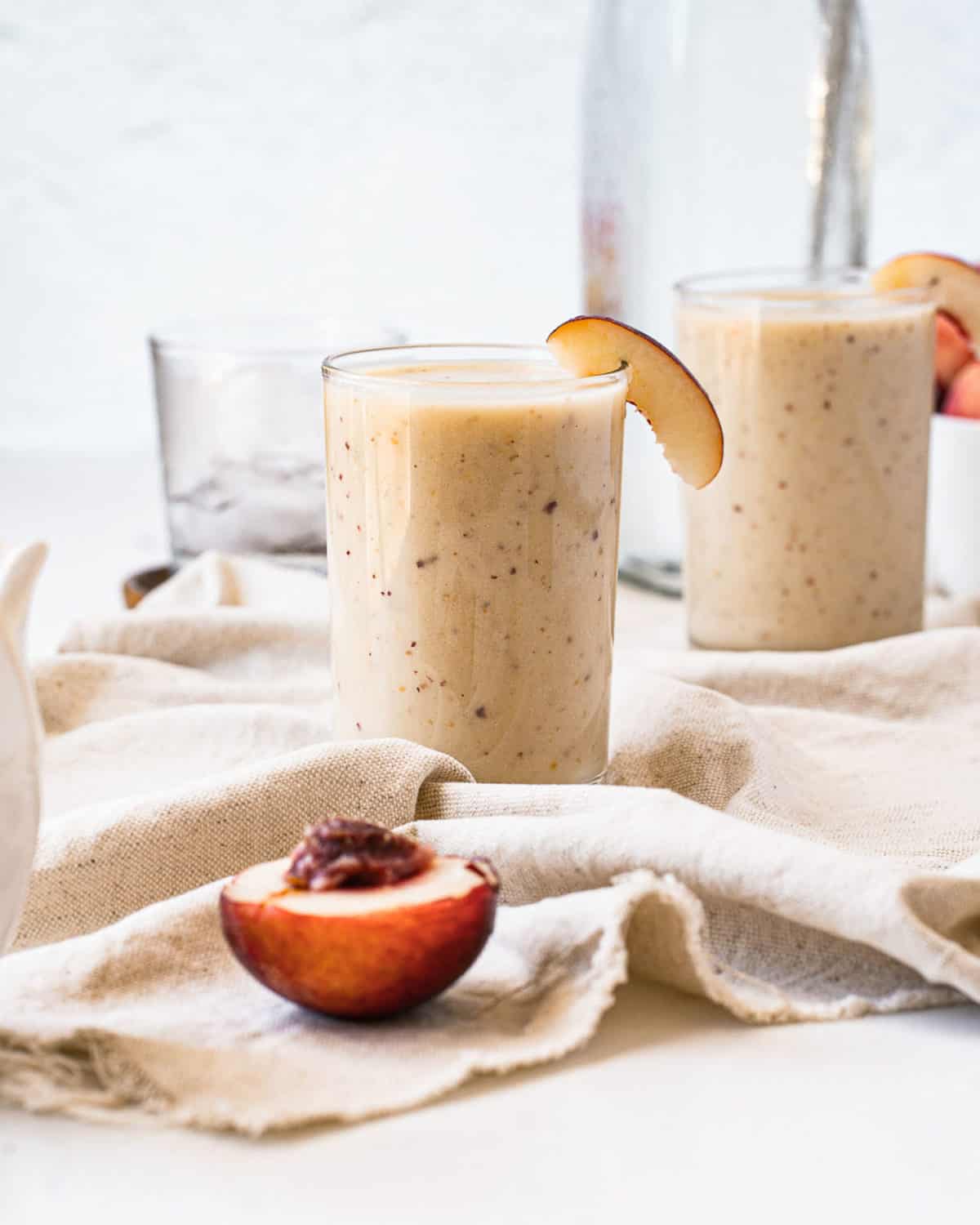 How to make this nectarine smoothie your own
Turn it into a smoothie bowl and top with additional nuts, seeds, chocolate chips, dried fruit, and oats.
Serve as part of a smoothie board when hosting a brunch or larger crowd.
Swap honey for the maple syrup to give it a difference in flavor. If your fruit is ripe, you may be able to skip the sweetener completely.
Use remaining nectarine slices to serve as a fun garnish on the rim of the glass.
If you're not concerned with keeping it dairy-free, you can use milk in place of coconut milk or yogurt for a thicker smoothie.
Try using almond milk, oat milk, or any other non-dairy milk if coconut milk isn't your fave.
If peaches are much more your jam, go ahead and use them instead of nectarines.
Storage Suggestions
Smoothies are always best served immediately for optimal taste and nutritional benefit. If you do have leftovers, they will keep in the fridge for up to 2 days stored in a jar or container with a lid. You'll need to shake it up again before consuming or serving. You could also blend leftovers with additional ice to thicken them up again.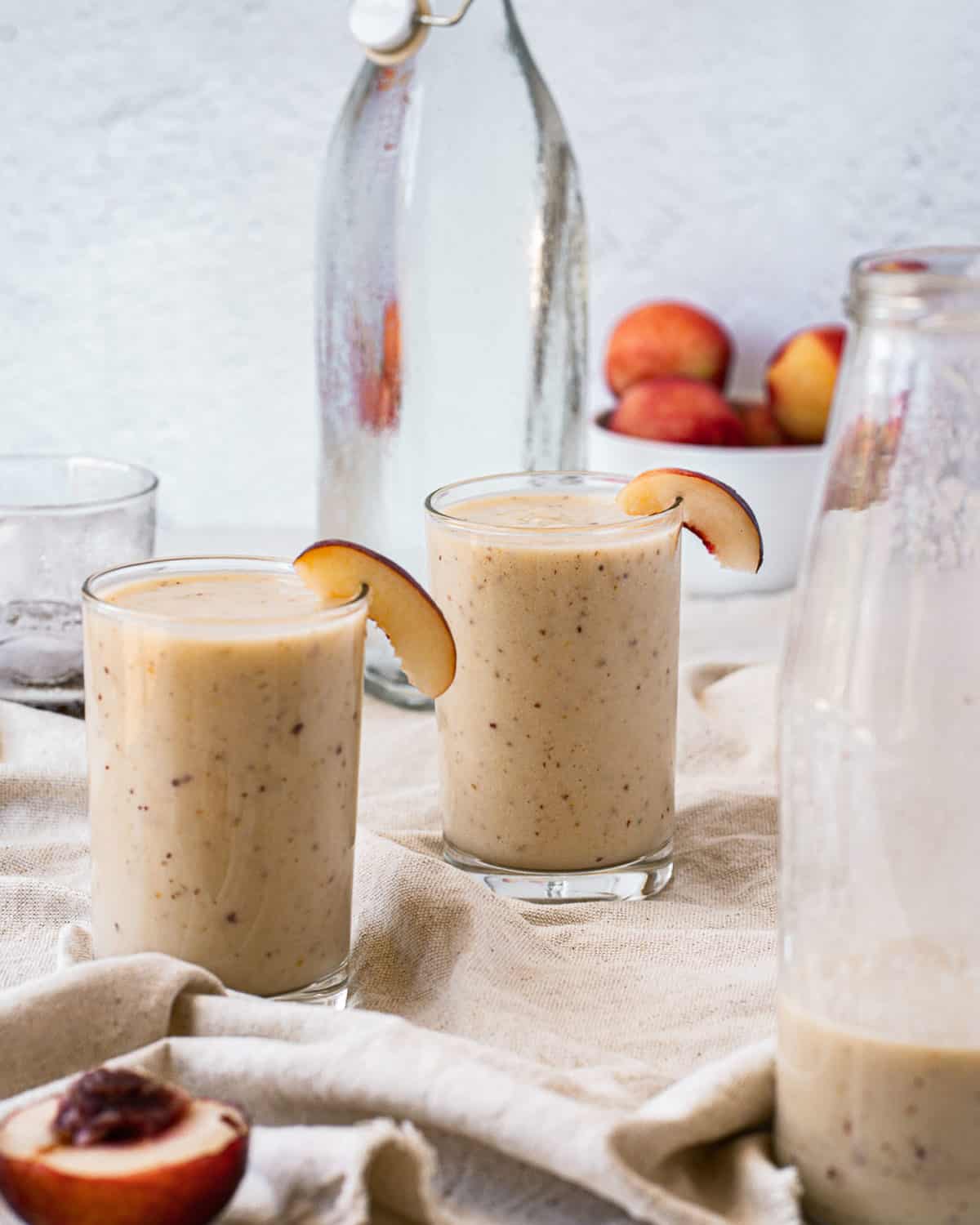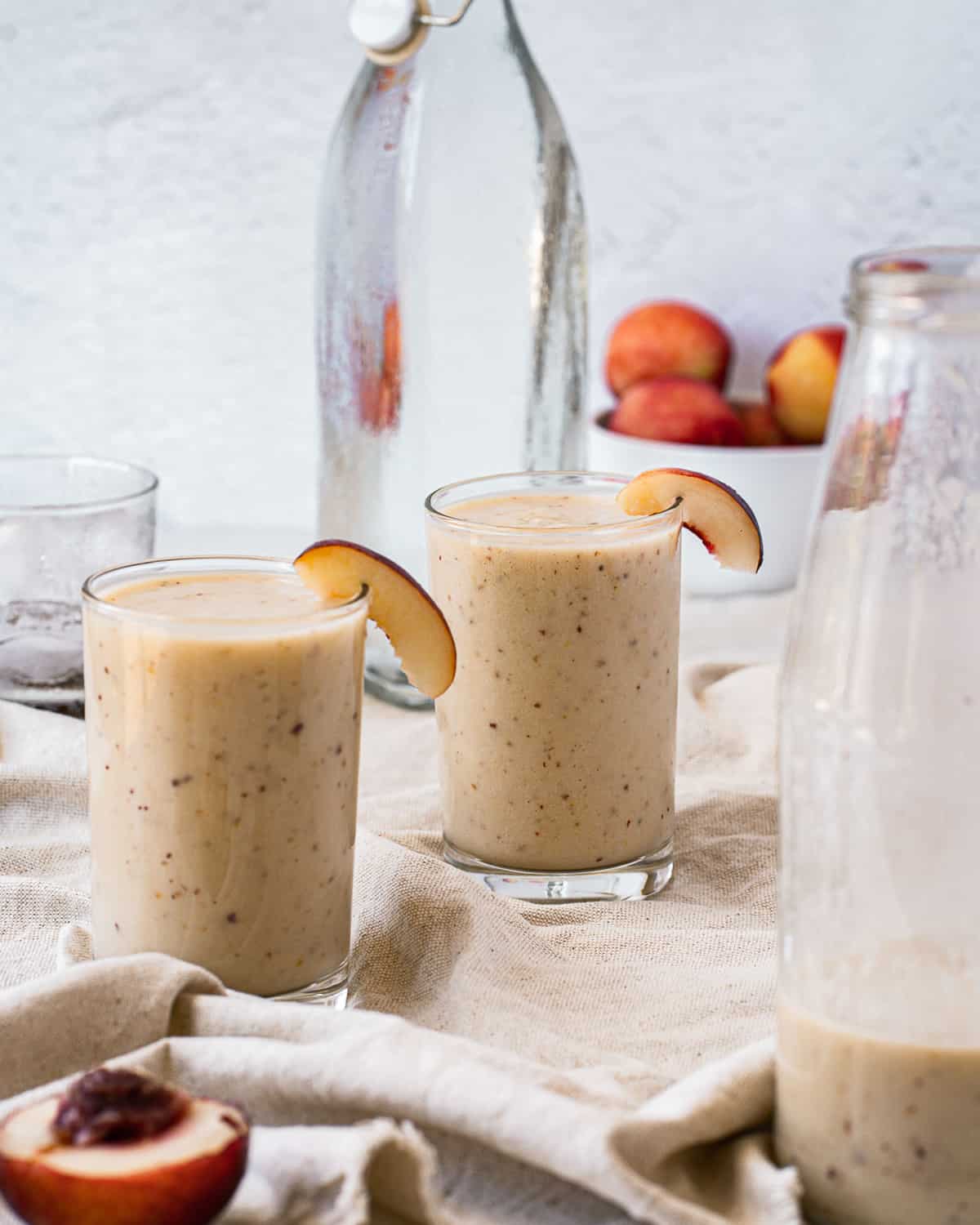 Get the Recipe: Nectarine Smoothie
This sweet, tart and creamy smoothie is rejuvenating, vibrant, and loaded with delicious fruit flavor! Made simply with a few ingredients and a quick blend, it's the best way to kickstart your day!
Ingredients
4 ripe nectarines
1 small ripe banana
juice of 2 oranges, between 1/2 and 3/4 cup juice
1 cup coconut milk
1 cup ice cubes
2 tablespoons maple syrup
Instructions
Remove the nectarine pits, and peel the banana.

Place all the ingredients in a blender and pulse until smooth.

Serve immediately.
Notes
Keep leftovers in the fridge for up to 2 days.
Peaches can be substituted for the nectarines.
If desired, replace coconut milk with yogurt, almond milk, or another type of milk.
Calories: 454kcal, Carbohydrates: 60g, Protein: 6g, Fat: 25g, Saturated Fat: 22g, Polyunsaturated Fat: 1g, Monounsaturated Fat: 1g, Sodium: 23mg, Potassium: 1076mg, Fiber: 6g, Sugar: 42g, Vitamin A: 981IU, Vitamin C: 22mg, Calcium: 66mg, Iron: 5mg