Fall Brunch Board
A fall brunch board is the perfect way to please all of your brunch guests. With fluffy waffles, a variety of toppings, and fresh fruit, there's something for everyone here.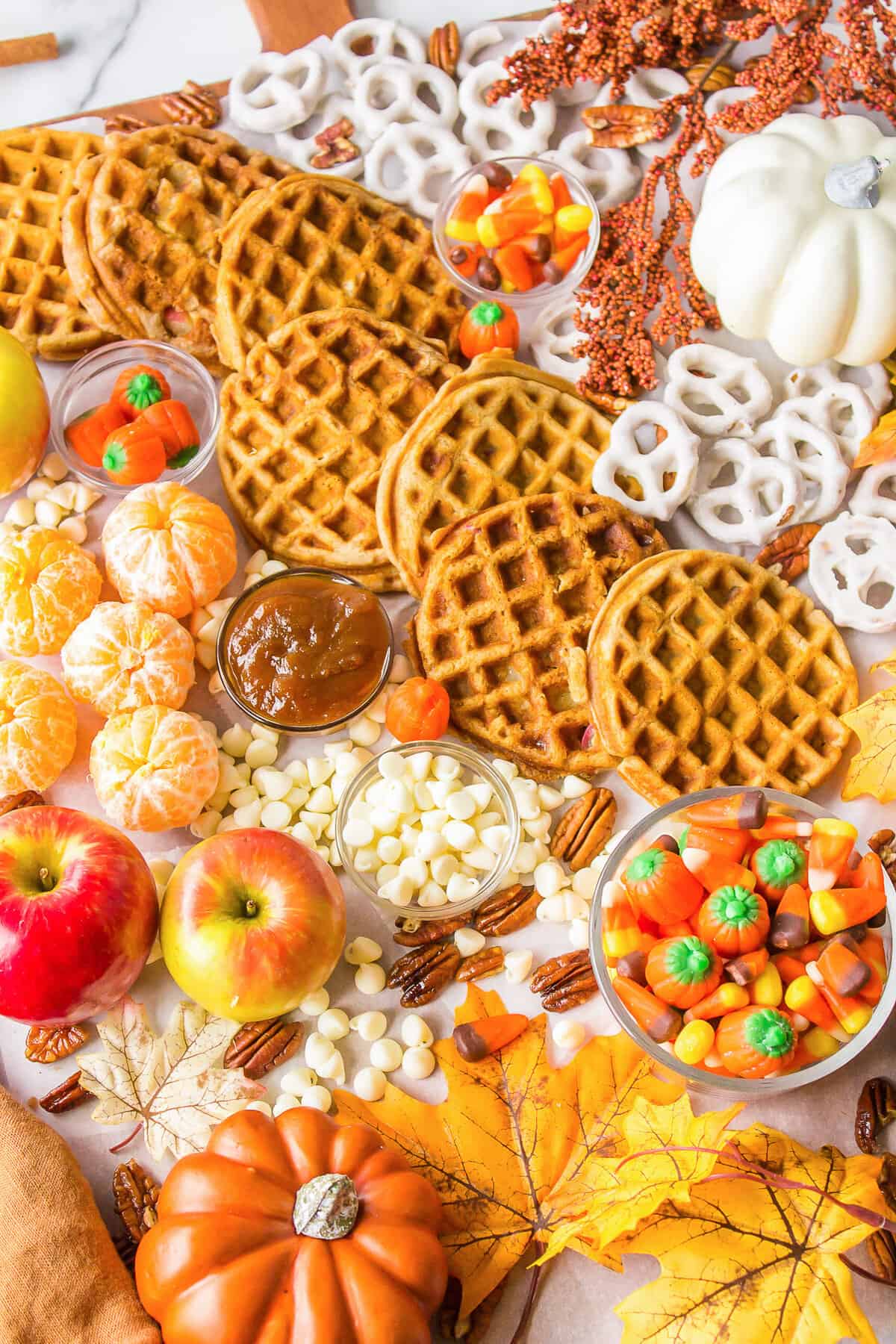 Some people are born to entertain and delight in creating elaborate meals, tablescapes, and themed cocktail lineups with tiny paper umbrellas. And then there's the rest of us—those who dread having people over, or who like the idea of it, but then panic at the thought of putting it all together. Enter: the fall brunch board.
Your guests will ooh and ahh over this brunch board, but only you will know how easy it was to assemble everything and make it look pretty. If you're feeling extra ambitious, you can pair it with a mimosa bar or Bloody Mary bar on a board and then your guests will be really impressed. If you're not feeling ambitious, pair it with apple cider mimosas and call it a day.
About this fall brunch board
We've done savory breakfast sandwich boards and bagel boards in the past, but this fall brunch board is all about the sweet side of breakfast. The star of the show is our fluffy apple cider waffles; once you make a batch of those, assembly is quick and easy. (Don't worry, we've got plenty of tips below to help you make it look perfect!)
This fall brunch board is made for those beginning-of-fall outdoor parties when the weather is juuust starting to cool down, but the cozy flavors will take you all the way through to Thanksgiving, which means you can get a lot of mileage out of this one simple brunch idea!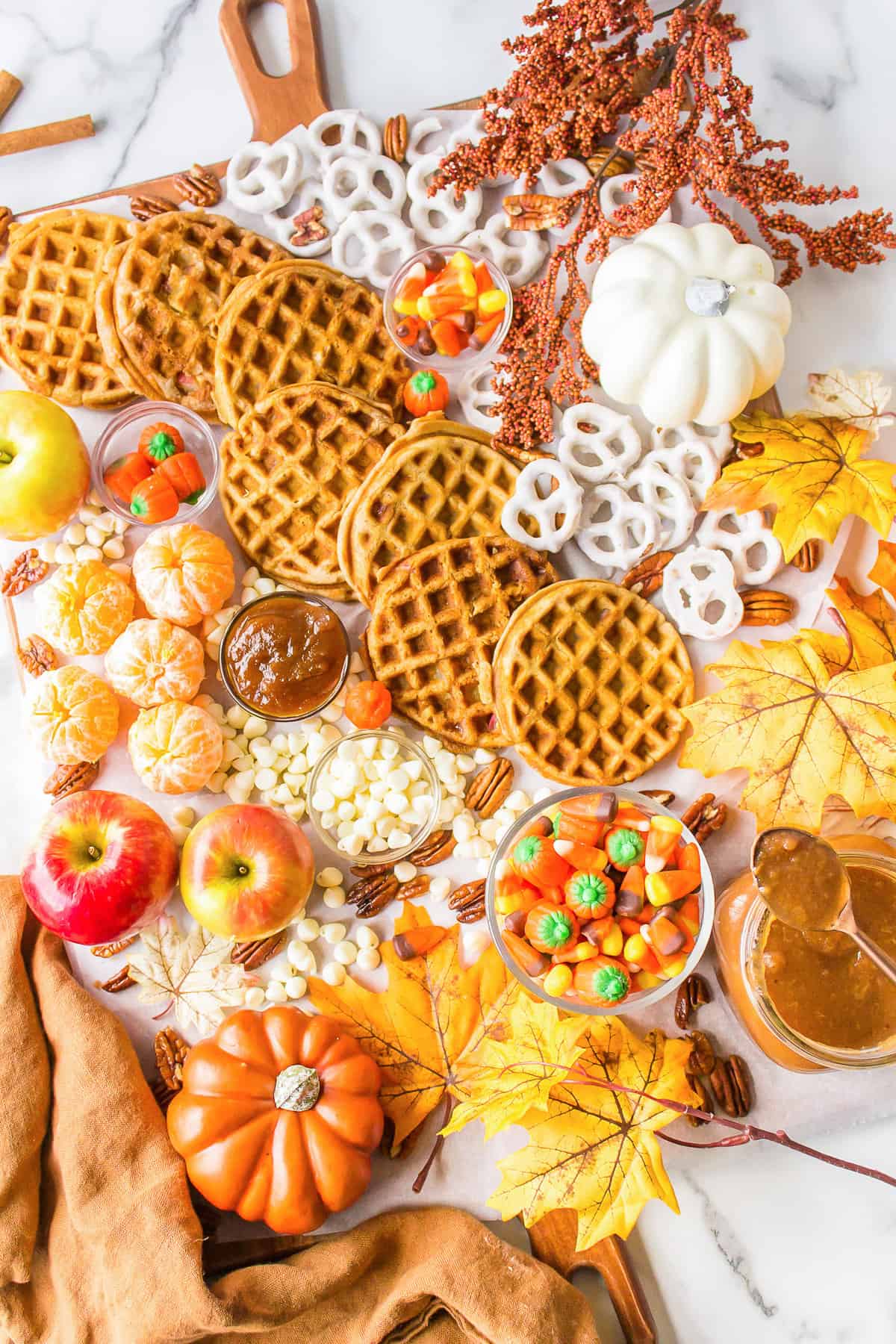 What you need
This is just a starting point of ideas – feel free to add or subtract to make it perfect for your crowd!
Candy corn
Pumpkin candy corn
White chocolate pretzels
Pumpkin butter
Pecans
Apples – Choose small apples so you can fit more of them on the board. Or, slice them so they're easy to grab!
Clementines – If you can get your hands on some persimmons, those are a fun seasonal swap for the clementines! Figs are fun, too!
Pumpkins for decor – You know the little non-edible kind they sell in big bins for under $1? Those are perfect, but you could also use real ones! Just make sure to wash the dirt off so you don't get any grit in your other food.
The fun of a fall brunch board is that you can customize it with anything you like or whatever is in season, so don't think you have to stick with what we have here. Work with fall colors and ingredients and you can't go wrong!
How to make it
Prepare. Choose a large charcuterie board or cutting board. Cut a piece of parchment paper to fit the board for easy cleanup.
Note: The parchment paper is optional; if you want a more rustic look (or if you have a board you want to show off), you can skip it. But since you're jam-packing all the brunch components onto the board, you won't have much white space showing, as you can see in these pictures! The white background actually kind of helps the items on the board "pop" visually since they're mostly orange and brown hues, similar to wood.
Arrange the ingredients. Place the waffles diagonally down the center of the board. Scoop the apple butter and pumpkin butter into serving bowls or jars, and fill in the empty space by grouping the candy corns, fruit, and pretzels together, as pictured. Add the pumpkins, foliage, and any other decorative touches.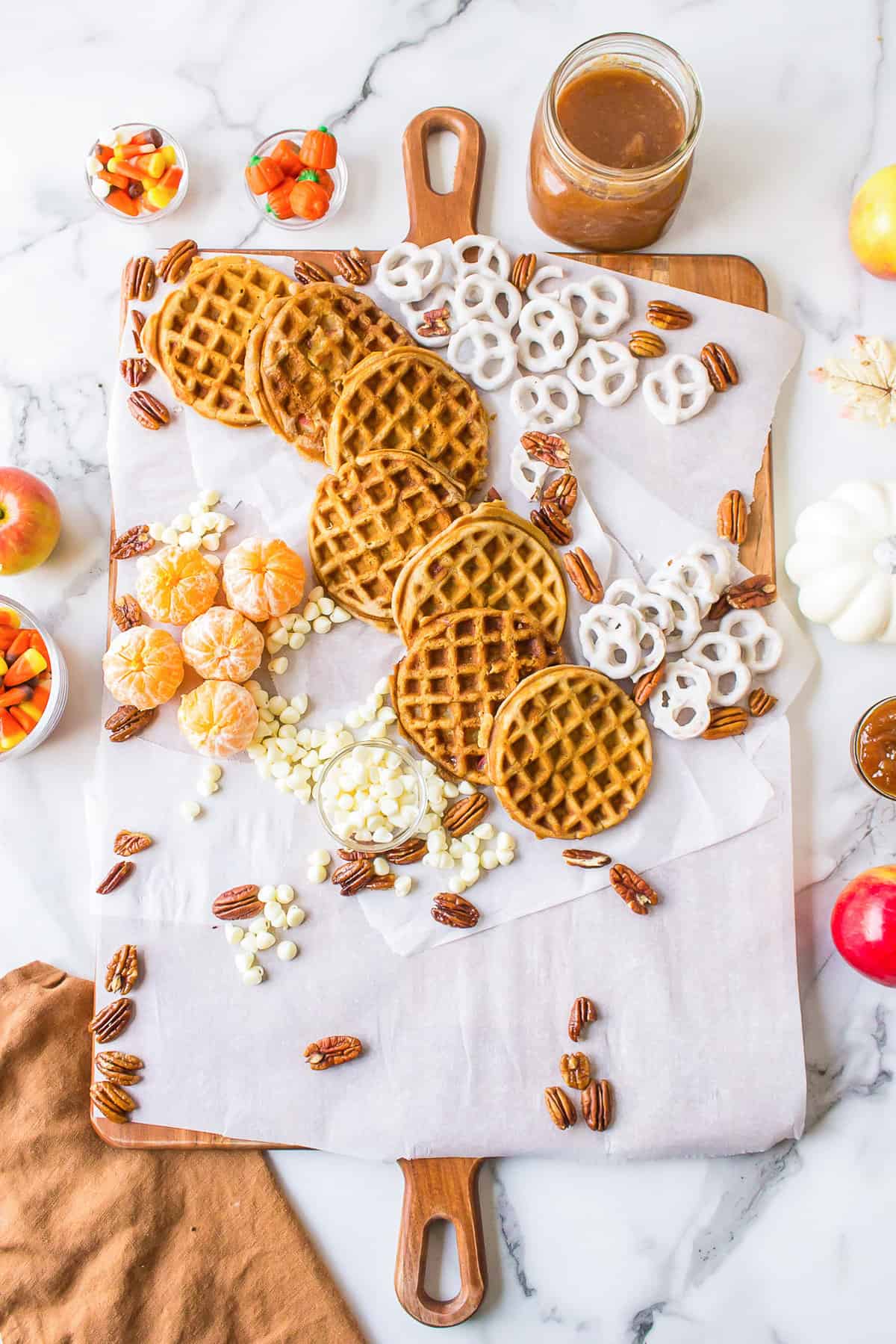 Serve. Set your fall brunch board on your buffet or table, along with plates, napkins, forks, and knives.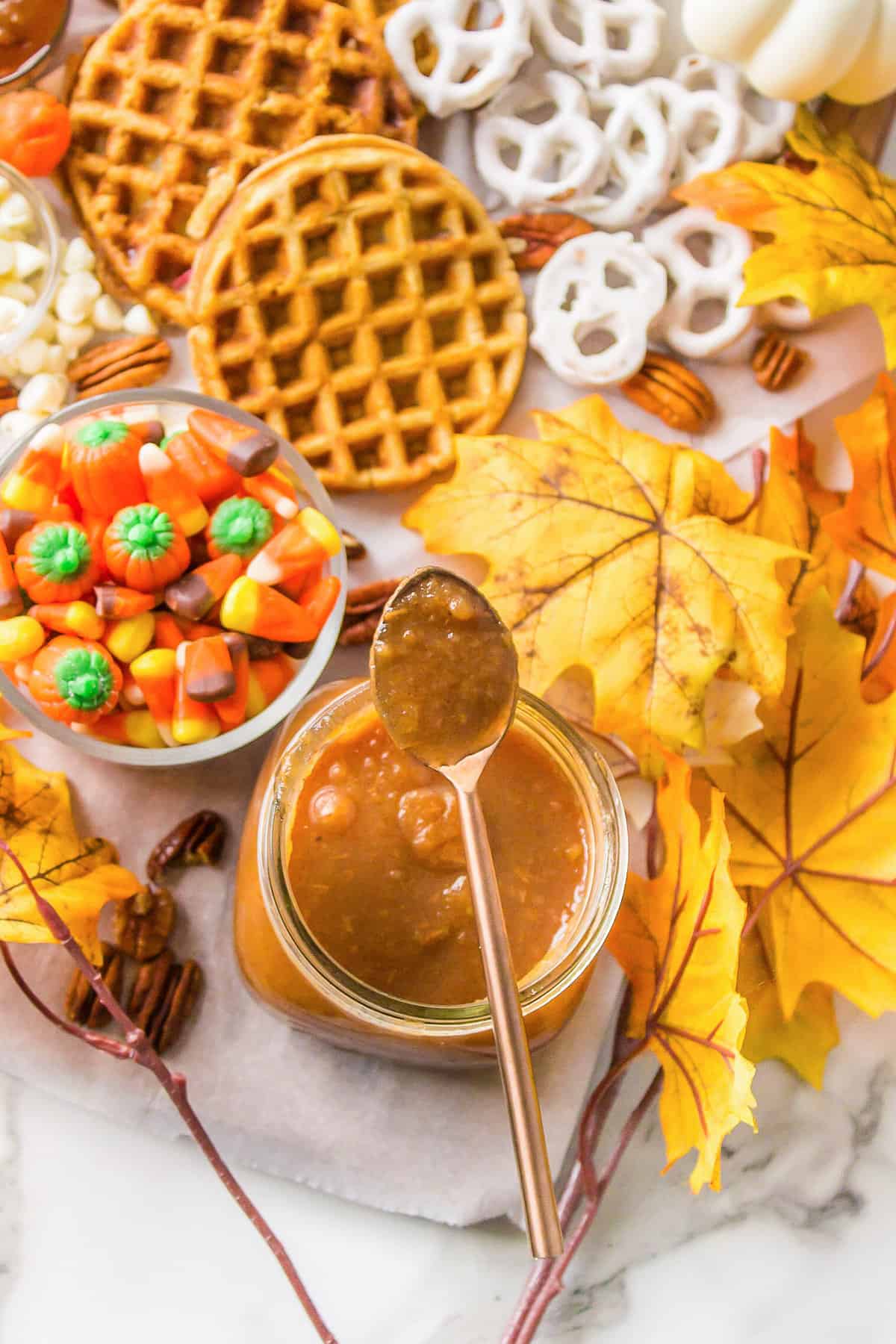 FAQs
How do you keep a breakfast charcuterie board warm?
You can keep the waffles in a 200ºF oven just until you're ready to set out your brunch board. If you're having an open house type of party where people come and go and eat when they like, you can set a toaster next to the board so guests can warm up their waffles.
What is in a brunch charcuterie board?
The world is your oyster when it comes to brunch charcuterie boards—you can customize them with any breakfast or bunch items you like. This fall brunch board pairs apple cider waffles with fresh fruit and other fall favorites, but it can be easily tailored to your own tastes and preferences.
How to make this fall brunch board your own
Here are some tasty ideas to change up this fall brunch board.
Make Ahead Ideas
You can prep all of the items for your fall brunch board so they are ready to assemble when your guests arrive. The waffles are best fresh, but you can reheat them in a toaster oven and add to the board.
Storage Suggestions
You can store the waffles in an airtight container or large zip-top bag in the fridge for up to 3 days or freeze them for up to 3 months.
More board and bar ideas
Get the Recipe: Fall Brunch Board
A fall brunch board is the perfect way to please all of your brunch guests. With fluffy waffles, a variety of toppings, and fresh fruit, there's something for everyone here.
Ingredients
1/2 cup candy corn
1/2 cup pumpkin candy corn
1 cup white chocolate pretzels
1/2 cup apple butter
1/2 cup pumpkin butter
1 cup pecans
4 apples
5 clementines
pumpkins for decor
Instructions
Add parchment paper to fit your board. This helps with easy clean up. Place desired waffles, pancakes, or fall breakfast items diagonally down the center of your board. Place your pumpkin butter and apple butter in serving jars or bowls.

Arrange toppings around your breakfast item. Add in a few pumpkins, fall foliage, candy corn, or white chocolate chips to any blank spaces!
Notes
Amounts are approximate – use what you need to serve your crowd. Similarly, nutrition information is very approximate and will vary based on brands and amounts used, as well as amounts and items consumed.
Calories: 343kcal, Carbohydrates: 59g, Protein: 5g, Fat: 11g, Saturated Fat: 2g, Polyunsaturated Fat: 4g, Monounsaturated Fat: 5g, Trans Fat: 0.1g, Cholesterol: 9mg, Sodium: 355mg, Potassium: 269mg, Fiber: 4g, Sugar: 32g, Vitamin A: 1324IU, Vitamin C: 23mg, Calcium: 111mg, Iron: 3mg