Maple Cinnamon Butter – easy & delicious!
This fresh maple cinnamon butter is flavorful with a hint of syrup, making it the perfect pancake companion. It comes together in minutes and adds a spicy-sweet warmth to any bread, muffin, or cake, making this the recipe you'll reach for time and time again.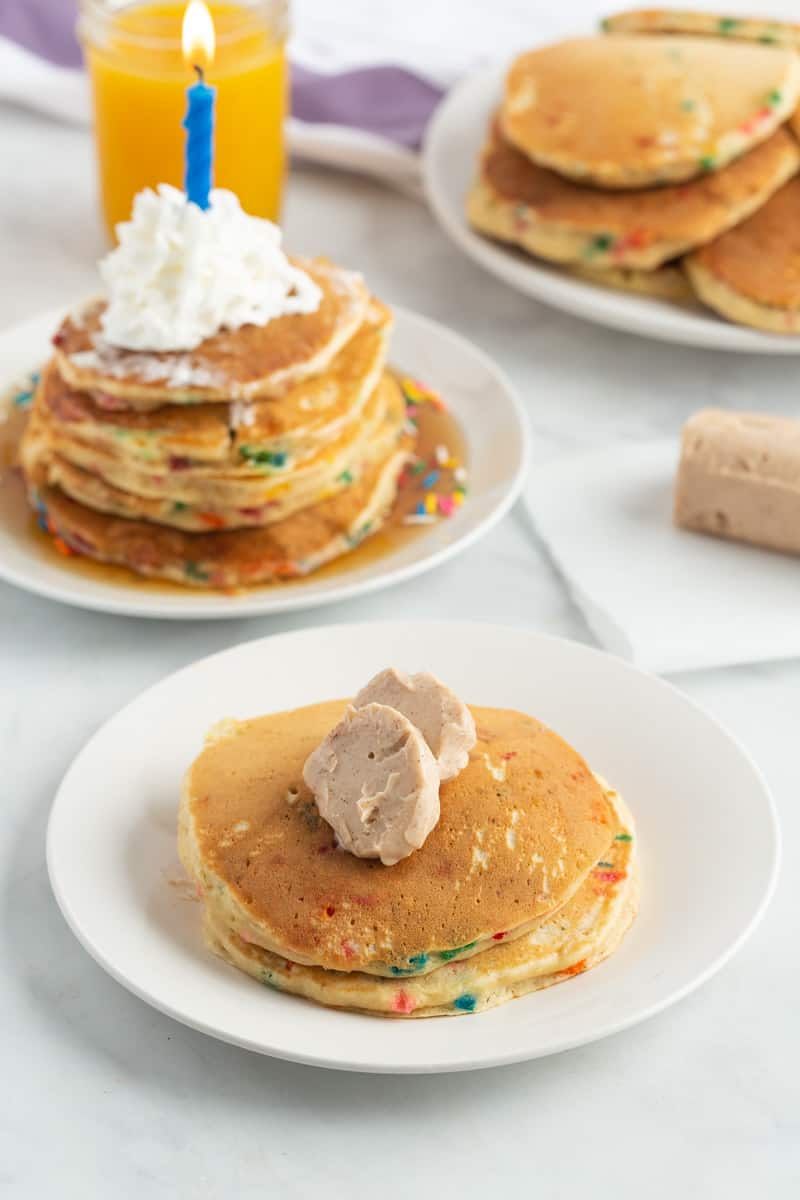 Elevate your favorite pancakes with this super-simple maple compound butter.
Smooth, satisfying, and ridiculously easy to make, this sweetened butter has so many uses in your kitchen.
If you're like me, you grew up topping your pancakes with plenty of butter and maple syrup. This maple cinnamon butter combines the best of these classic flavors in one smooth spread.
You'll love the maple undertones as it melts through these vanilla-infused birthday cake pancakes or buttermilk pancakes, or try it on a slice of cinnamon raisin toast or an English muffin for a sophisticated flavor twist on your favorite easy breakfast bread.
However you use it, you'll be sure to reach for this whipped butter over and over.
You might also like orange honey butter!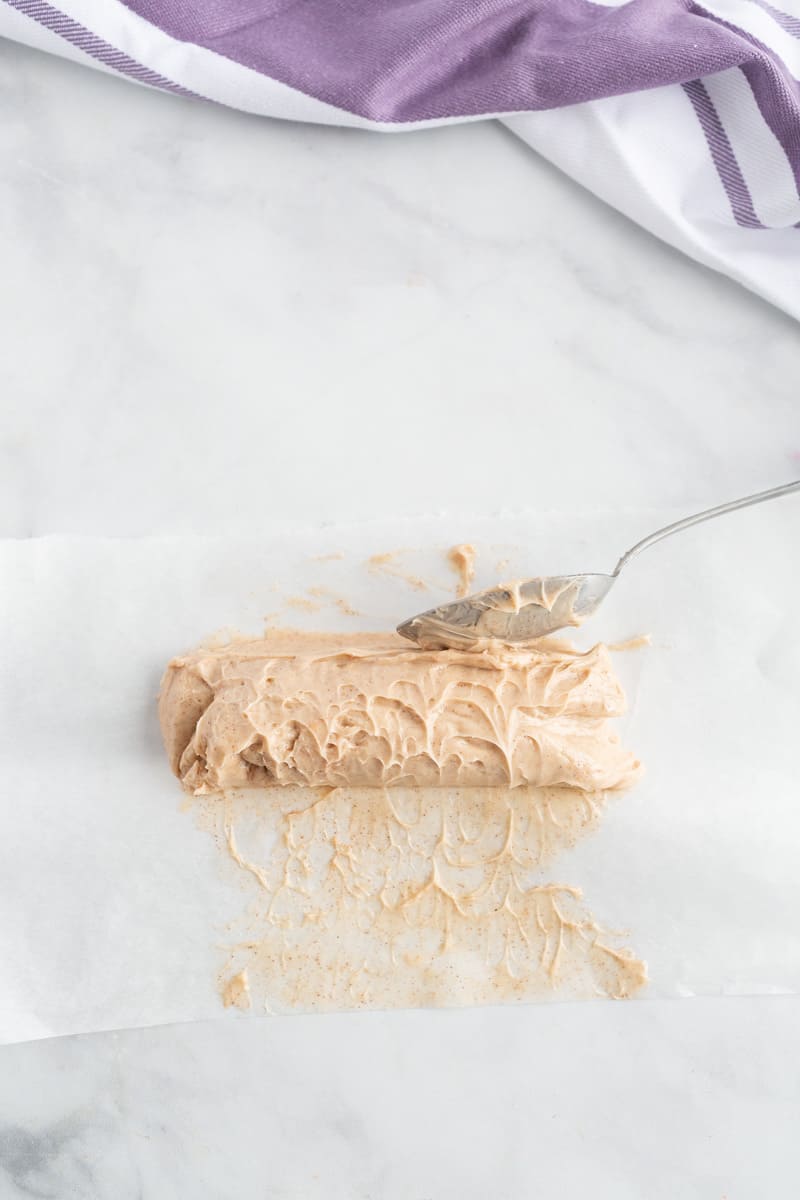 About this maple cinnamon butter:
Maple and butter may be the classic pancake pairing, but this recipe, swirled with sweet vanilla and spicy cinnamon, will quickly become your go-to pancake topper.
This recipe is endlessly adaptable, so you can increase, decrease, or even swap the spices to strike the perfect balance of flavors to suit any bread, muffin, cake, or pancake.
Not huge on maple syrup? Try it with honey instead!
Looking for a fresh fall pairing? Look no farther than pumpkin pie spice! This butter even pairs well with fresh cornbread and a bowl of rich beef chili.
Maple cinnamon butter comes together in a single bowl in five minutes flat, making prep and clean-up a breeze. You won't believe that a recipe this simple will add such a complexity of flavors to your dish.
If you like the classic pad of butter on your pancakes, then be sure to follow our easy directions for rolling your butter in parchment paper. If you prefer the ease of the single-bowl method, then this dippable, spreadable butter can be stored in your refrigerator right in the mixing bowl.
Either way, you'll want to take it out of the fridge about an hour before you plan to use it so that it can become perfectly spreadable.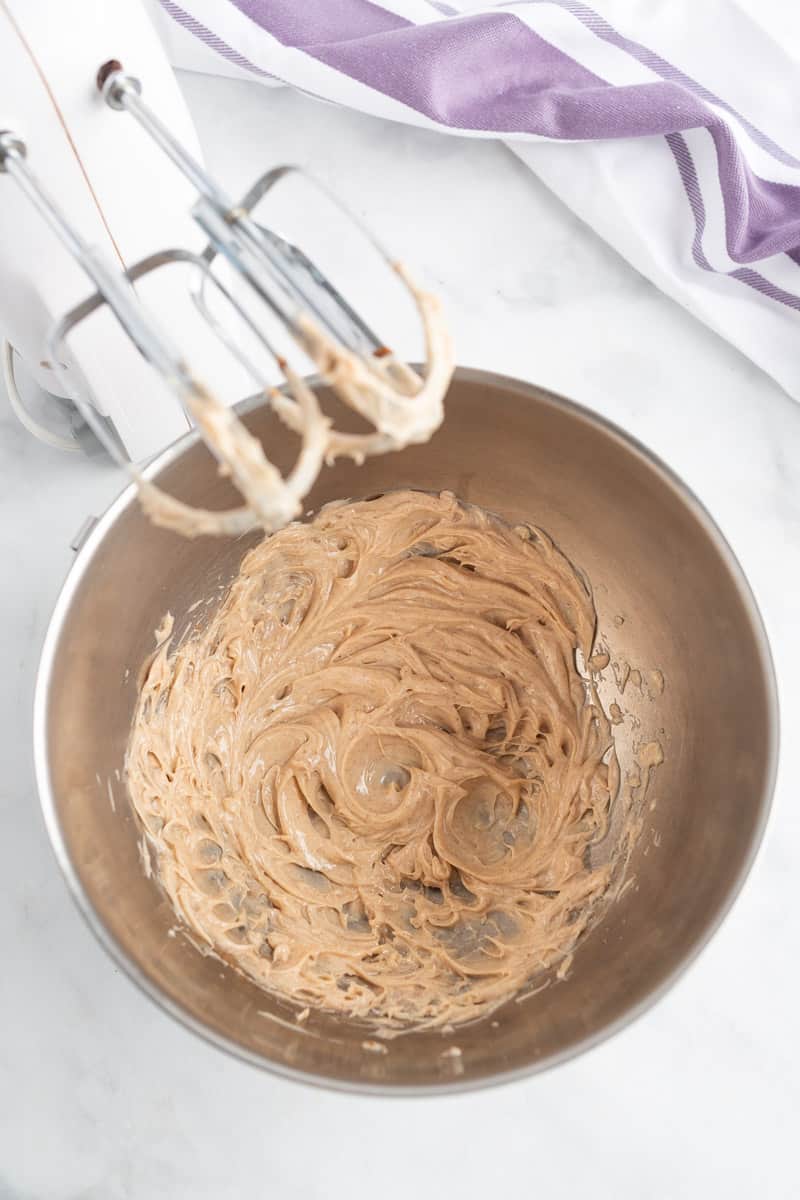 What you need
butter, at room temperature
maple syrup
vanilla extract
ground cinnamon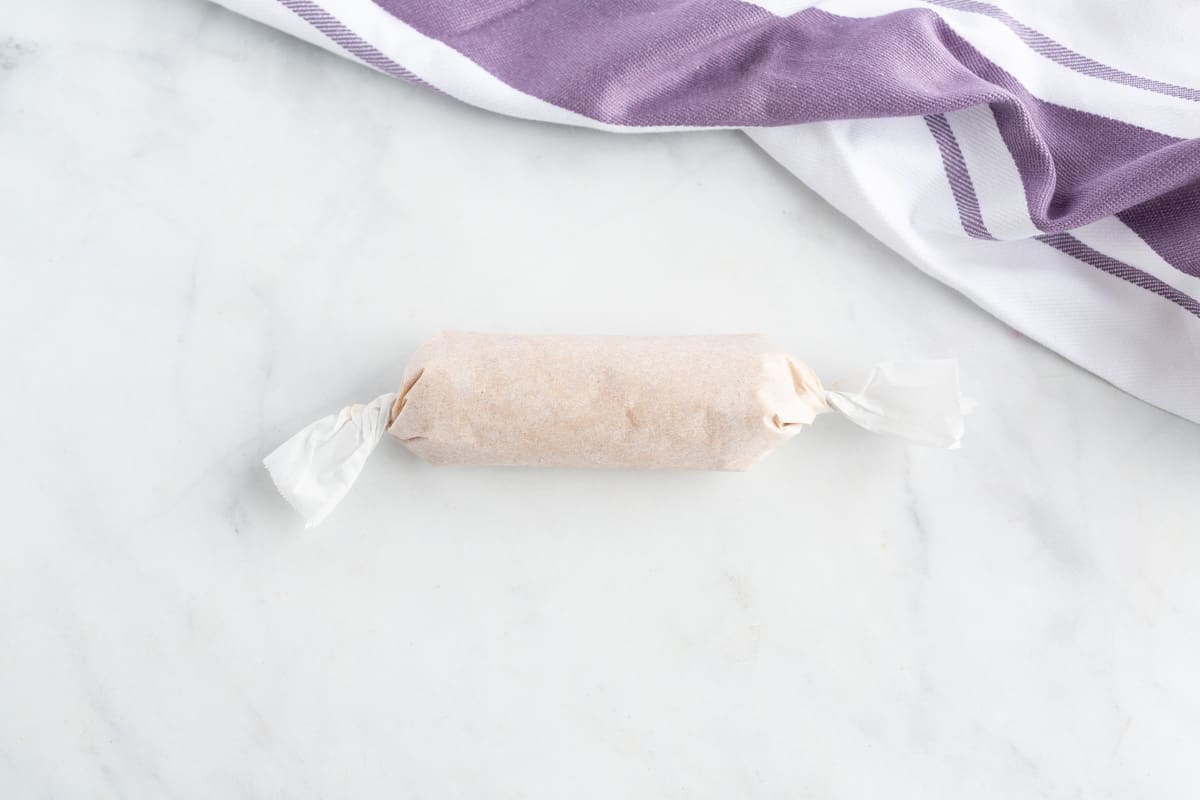 FAQ
What happens if butter sat out to soften too long?
Simply put it back in the fridge for a few minutes to harden.
I whipped the butter and all the ingredients but it is too soft/runny what did I do wrong?
Most likely, nothing!
If you found this to happen during the process simply put the butter into the refrigerator for a few minutes until it is hard enough to work with again.
Can I use salted butter?
You can use either but we recommend unsalted for this recipe.
How to make this your own
If you like a little heat, try subbing out the cinnamon for nutmeg, allspice, or even a pinch of cayenne pepper.
If you can't get enough pumpkin-spice everything, go ahead and swap the cinnamon for pumpkin pie seasoning. Topped with a dollop of whipped cream and a dash of allspice, you've transformed your dish into pumpkin-spice pancakes!
Need a great sweetened butter without the maple flavor? Use honey instead of syrup to preserve the creamy texture. You could also use powdered sugar for a nearly flavorless sweetener.
Hosting a pancake brunch is an easy way to feed a crowd while keeping everyone's dietary needs in mind. Consider placing several butters, syrups, and other toppings out so everyone can build their own brunch plate.
This recipe works well with vegan butter too, like Earth Balance. Give it a try with your favorite butter-alternative.
Looking for a trendy hostess gift? This butter looks great in a mini mason jar and makes the perfect gift when paired with a loaf of fresh bakery bread, jam, local syrup, or a dry mix of one of your favorite pancake recipes!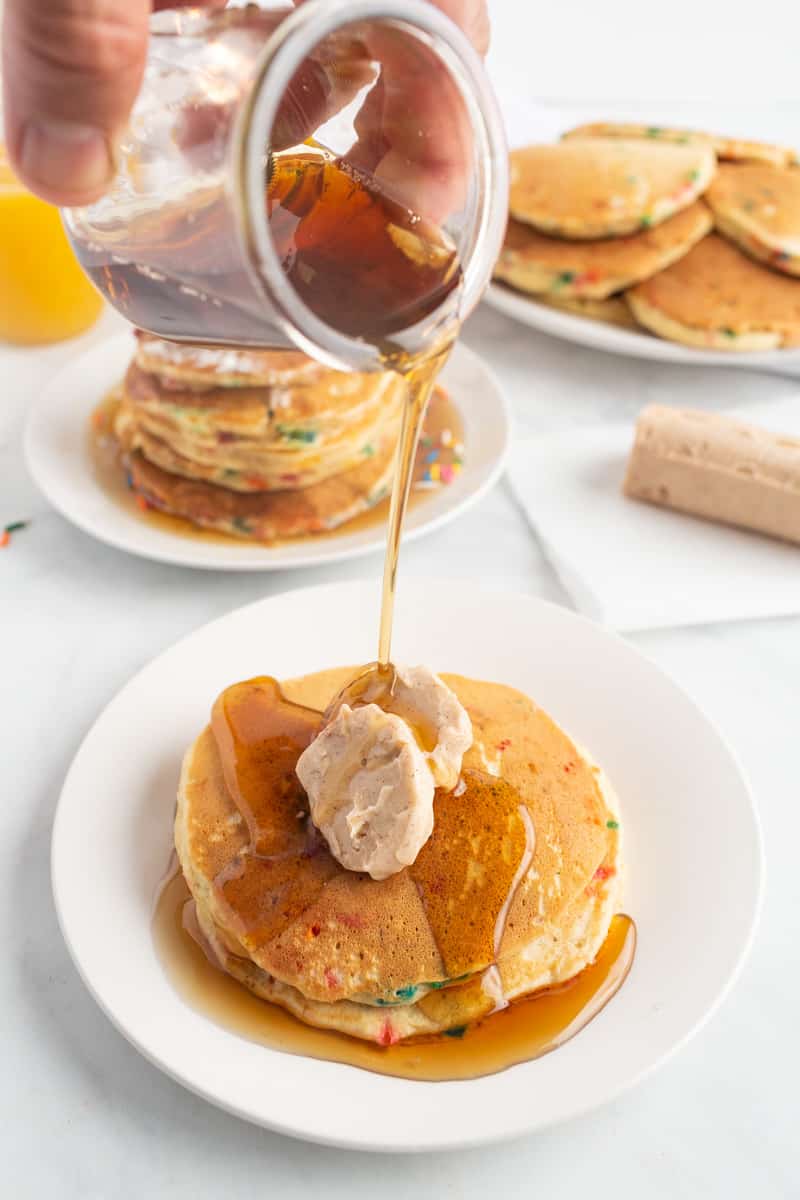 Storage Suggestions
Maple cinnamon butter lasts for two weeks when stored in the refrigerator. You can also freeze this!
For a pad or medallion of butter, you can shape it in parchment paper and let it firm up in the fridge. Otherwise, just cover your mixing bowl with plastic wrap and store in the fridge, or transfer to a container with a tight fitting lid.
This make-ahead butter mixes best at room temperature. You'll want to remove it from the fridge 1-2 hours before you plan to use it.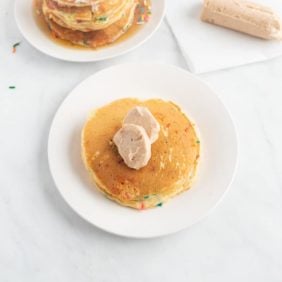 Get the Recipe: Maple Cinnamon Butter
This fresh maple cinnamon butter is flavorful with a hint of syrup, making it the perfect pancake companion. It comes together in minutes and adds a spicy-sweet warmth to any bread, muffin, or cake, making this the recipe you'll reach for time and time again.
Ingredients
1 stick unsalted butter softened
2 teaspoons real maple syrup
1/2 teaspoon pure vanilla extract
1/2 teaspoon ground cinnamon
Instructions
In a bowl add all the ingredients and mix with either a food processor or a hand mixer, scraping sides as needed.

Use a spatula and scrape the contents onto a sheet of parchment paper or plastic wrap. Make a roll, and twist the ends together (similar to the way a tootsie roll looks). Alternately, store in a small bowl or container.

Store in the fridge for up to a week.
Serving: 1tablespoon, Calories: 107kcal, Carbohydrates: 1g, Protein: 1g, Fat: 11g, Saturated Fat: 7g, Cholesterol: 30mg, Sodium: 2mg, Fiber: 1g, Sugar: 1g, Vitamin A: 353IU, Calcium: 5mg