Homemade Nutella – Hazelnut Chocolate Spread
Homemade Nutella is a rich hazelnut chocolate spread to add to toast, fruit, pancakes, and more. You might even want to eat it with a spoon! It's healthier than store-bought, and so easy to make!
Italy is responsible for a lot of our favorite foods, from pasta to gelato, but Nutella definitely ranks up there as one of the country's best food exports. A chocolate hazelnut spread that tastes like frosting, but is totally acceptable as a breakfast food? Yes please!
Once you got over the initial thrill of putting Nutella on bagels, bananas, buttermilk pancakes (or stuffing Nutella inside pancakes), and waffles, you might have noticed that it's not exactly healthy, and the fact that it contains palm oil makes it a little bit controversial, too.
But, oh, do we have a solution for you! Make homemade Nutella at home!
About this homemade Nutella
Homemade Nutella is every bit as chocolatey and creamy as the original, with that signature toasted hazelnut flavor—but it's made without palm oil. If you're watching your sugar intake, you can also use less sugar here, or even make it sugar-free.
This recipe for homemade Nutella is made with everyday ingredients, and it comes together super easily. You'll just need a high-powered blender or food processor to get it nice and smooth! The process of making it is similar to making homemade almond butter or peanut butter.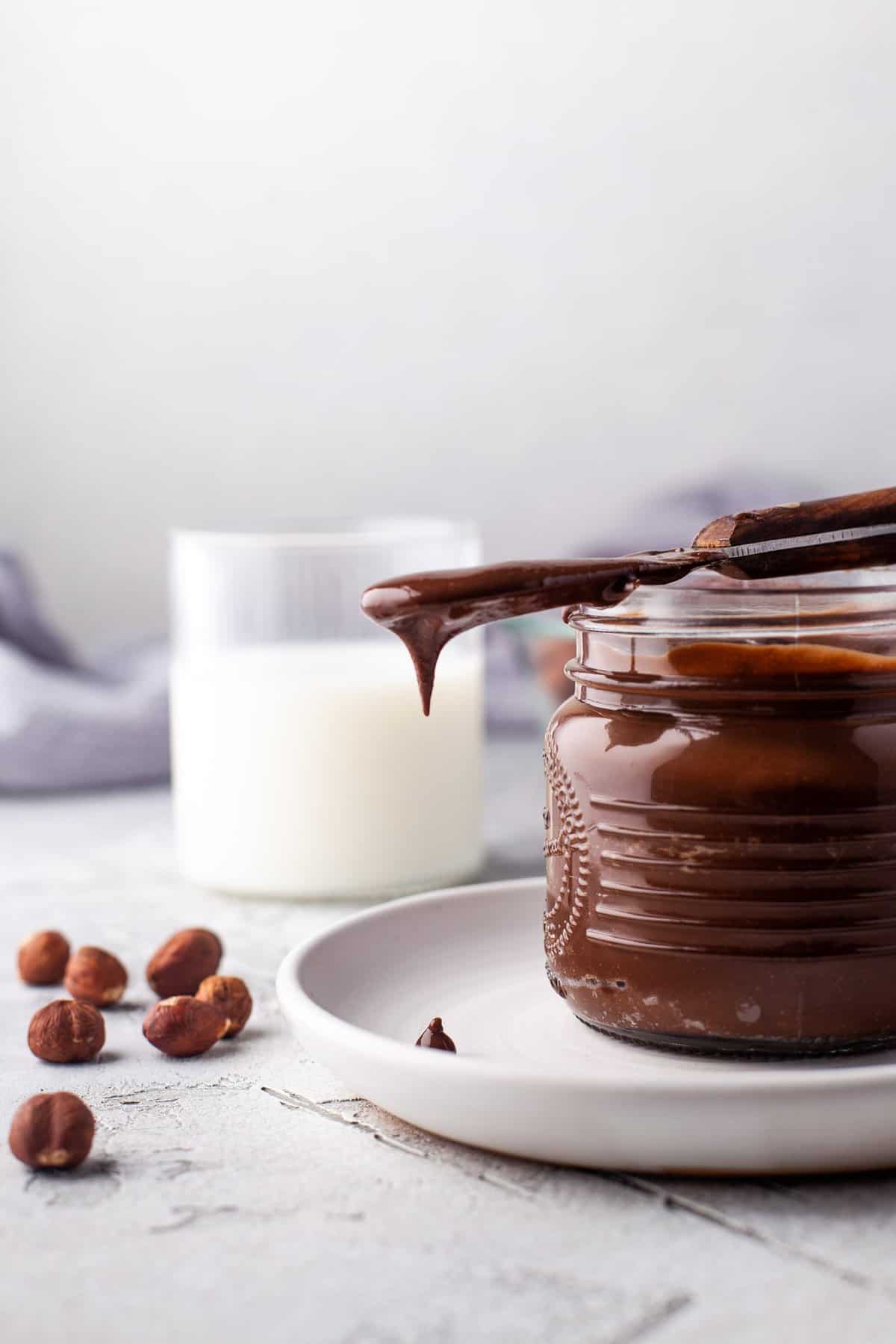 What you need
You only need a handful of ingredients to make your own homemade Nutella!
Hazelnuts
Powdered sugar – Also known as confectioners' sugar. Other types of sugar won't blend nicely into a smooth spread and will be grainy.
Unsweetened cocoa powder – Dutch process or natural cocoa powder will work here.
Vanilla extract – Vanilla adds depth to the flavor, don't skip it!
Coconut oil – You need an oil that's solid at room temperature, so don't swap this for another type of oil.
Semi-sweet chocolate chips – For a more intense chocolate flavor, use only semi-sweet chocolate chips and skip the milk chocolate chips.
Milk chocolate chips – You can use all milk chocolate chips for a sweeter hazelnut chocolate spread.
How to make it
Toast the hazelnuts. Set a large frying pan over high heat. Once it's warm, add the hazelnuts. Cook, stirring or moving the pan constantly, for 8 to 10 minutes, or until you notice the skin beginning to peel off and the nuts are brown and fragrant.
Remove the hazelnut skins. Transfer the hazelnuts to a clean, lint-free kitchen towel. Gently rub them with the towel to remove most of the skin.
Tip: You can use a knife to help get the skin off, but it's okay if some of the skin remains on the nuts.
Blend the nuts. Place the hazelnuts in a high-powered blender or food processor. Turn it on and blend until a smooth, creamy nut butter forms, scraping down the sides if necessary.
Blend in the powdered sugar, cocoa powder, vanilla, and coconut oil, followed by the melted chocolate. Continue to blend until the mixture is smooth.
Tip: To melt the chocolate, place the chocolate chips in a microwave-safe bowl and heat in 20-second intervals, stirring between each until the chips have melted.
Strain, serve, and store. If you want to nail the smooth, creamy consistency of store-bought Nutella, you can squeeze it through a cheesecloth to remove any bits of nuts.
Otherwise, serve or store your homemade Nutella in a jar in the refrigerator.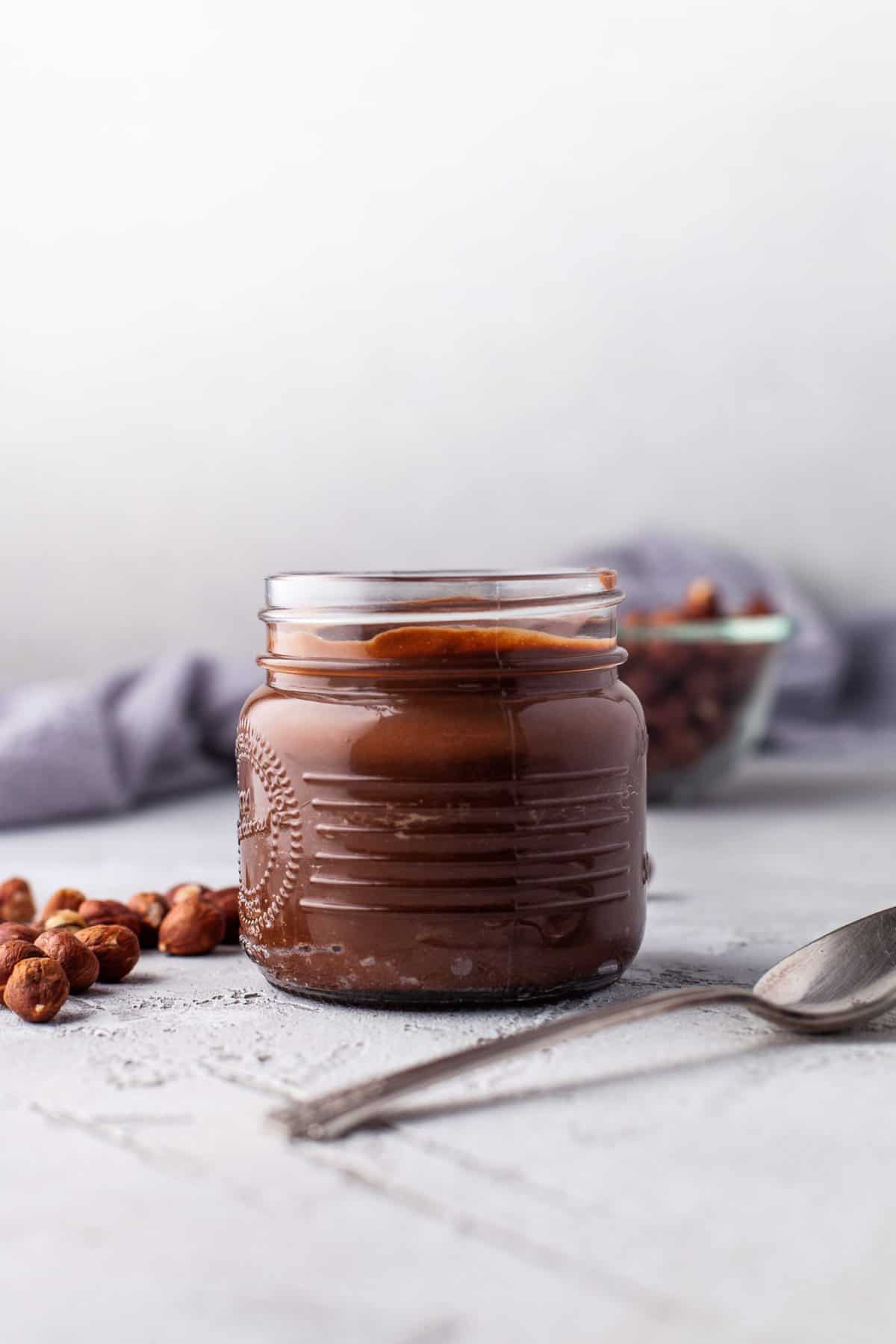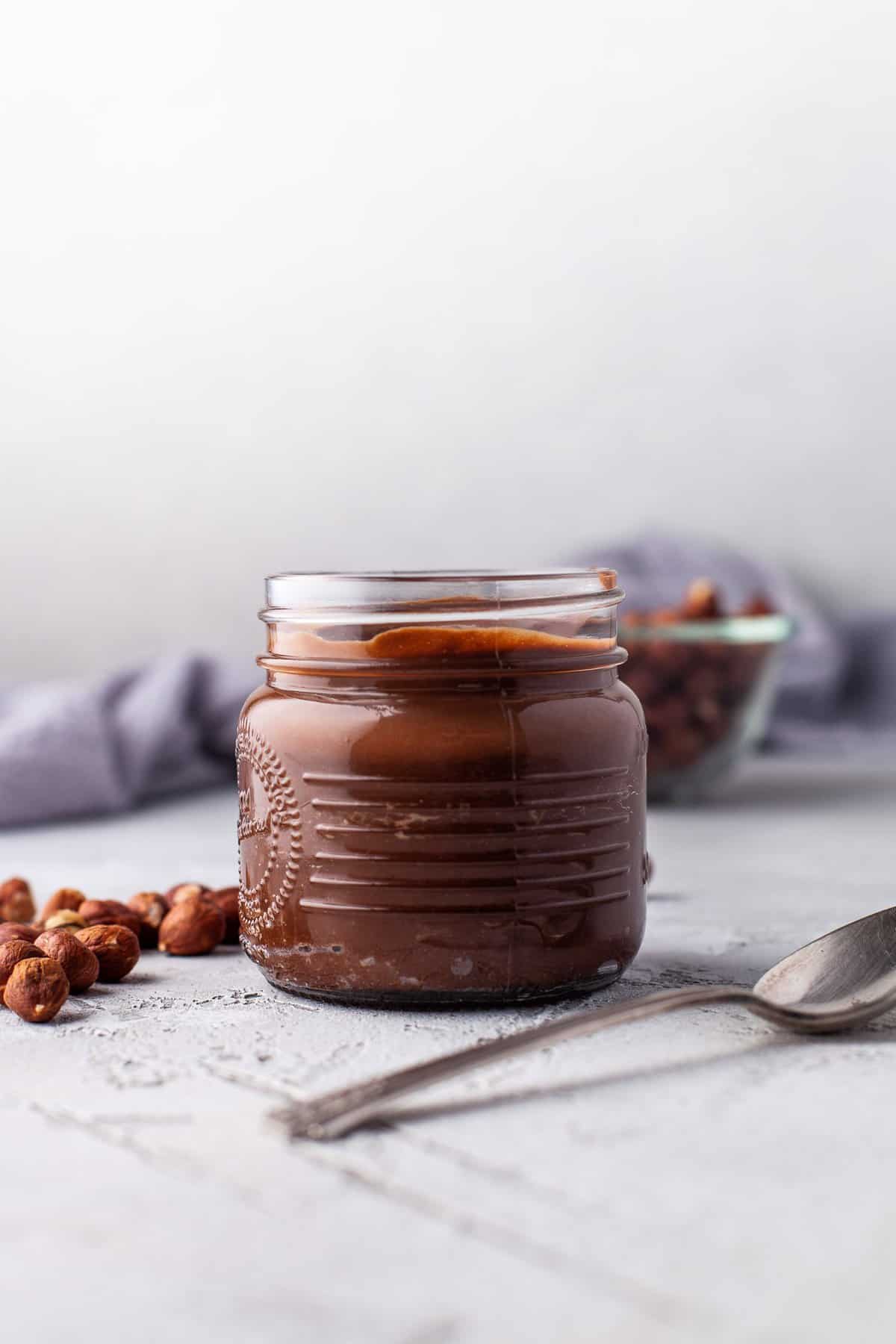 FAQs
Can Nutella be made without palm oil?
Yes, Nutella can be made with coconut oil instead of palm oil. You'll still get a rich, creamy hazelnut spread, and you won't even notice the difference!
What ingredients make up Nutella?
Store-bought Nutella is made with cocoa powder, hazelnuts, sugar, palm oil, milk powder, lecithin, and artificial vanilla flavor. Homemade versions are typically much simpler and made with everyday ingredients you can find at any grocery store.
Is Nutella healthy?
No, traditional Nutella isn't really a healthy food. (Sorry to be the bearer of bad news!) It's high in calories, sugar, and fat. In fact, sugar is the primary ingredient in store-bought Nutella! This homemade Nutella is much healthier.
How to make this homemade Nutella your own
Here are some ways to switch up this recipe, along with our favorite ways to use it!
Make "Nutella" with peanut butter. Okay, it's not exactly Nutella because it's not made with hazelnuts, but you can swap the hazelnuts for peanuts and make a peanut-based chocolate spread instead. You can even use sunflower seeds if you or someone you love has an allergy to nuts.
Create a sugar-free version. Use a sugar-free powdered sugar (like Swerve) and sugar-free chocolate chips (like Lily's) for a no-sugar version of Nutella. Perfect for adding to keto pancakes! Keep in mind that the consistency may be slightly different.
Spread it on everything. Strawberries and bananas are especially good with Nutella, but you'll also love it with brown butter banana pancakes, French toast, Dutch baby pancakes, banana fritters, and more!
Not a fan of hazelnuts? Learn how to make almond butter or sweet and salty almond butter.
Storage Suggestions
You can store homemade Nutella in a jar in the refrigerator for up to a month. Set it on the counter to soften up a bit before you use it, if needed.
More decadent topping and spread recipes
Get the Recipe: Homemade Nutella – Hazelnut Chocolate Spread
Who knew making your own Nutella at home was so easy!? (Bonus: It's also healthier and palm-oil-free!)
Ingredients
1 cup hazelnuts
1/3 cup powdered sugar
1 tablespoon unsweetened cocoa powder
1 teaspoon vanilla extract
1 1/2 tablespoons coconut oil
3/4 cup semi-sweet chocolate chips
¼ cup milk chocolate chips
Instructions
Heat a large frying pan over high heat and add the hazelnuts. Cook, stirring or moving the pan constantly for 8 to 10 minutes, or until you notice some of the skin is coming off and they start to brown.

Remove from the heat and transfer them onto a clean lint-free kitchen towel.

Gently rub them together with the towel until most of the skin comes off. You might need a bit of help with a knife to get most or all of the skin off of the hazelnuts. If some remains, it's okay.

Place hazelnuts in a high powered blender (such as vitamix) or food processor and mix until it starts to liquify and look like butter. Scrape the sides as needed to make sure you get all of the nuts.

Add the powdered sugar, cocoa powder, vanilla, and coconut oil and blend until combined.

Melt the chocolate in the microwave for 20 second intervals, stirring between each interval, until completely melted. Make sure you don't burn the chocolate – if it's nearly melted, let it just sit on the counter for a minute. When you stir it again, any remaining chunks will likely be melted.

Pour the chocolate into your hazelnut mixture and continue blending until it is evenly combined.

Once you have the mixture you can use a strainer with tiny holes or a cheesecloth to better strain the nutella if desired.

Pour into a clean jar and let it cool completely. Store in the refrigerator.
Notes
Makes about 1 cup of Nutella.
I recommend straining it with a strainer and then with a cheesecloth if you want it super smooth.
If you prefer, you can use all milk chocolate or all semi-sweet chocolate to change the flavor of your homemade Nutella. Milk chocolate will make it sweeter.
Serving: 1tablespoon, Calories: 127kcal, Carbohydrates: 10g, Protein: 2g, Fat: 10g, Saturated Fat: 4g, Polyunsaturated Fat: 1g, Monounsaturated Fat: 4g, Trans Fat: 0.01g, Cholesterol: 1mg, Sodium: 2mg, Potassium: 104mg, Fiber: 2g, Sugar: 7g, Vitamin A: 6IU, Vitamin C: 0.5mg, Calcium: 14mg, Iron: 1mg