Lemonade Mimosa
A lemonade mimosa is a summery twist on the traditional mimosa recipe! Champagne and lemonade pair up to make a fizzy, citrusy cocktail perfect for brunch parties.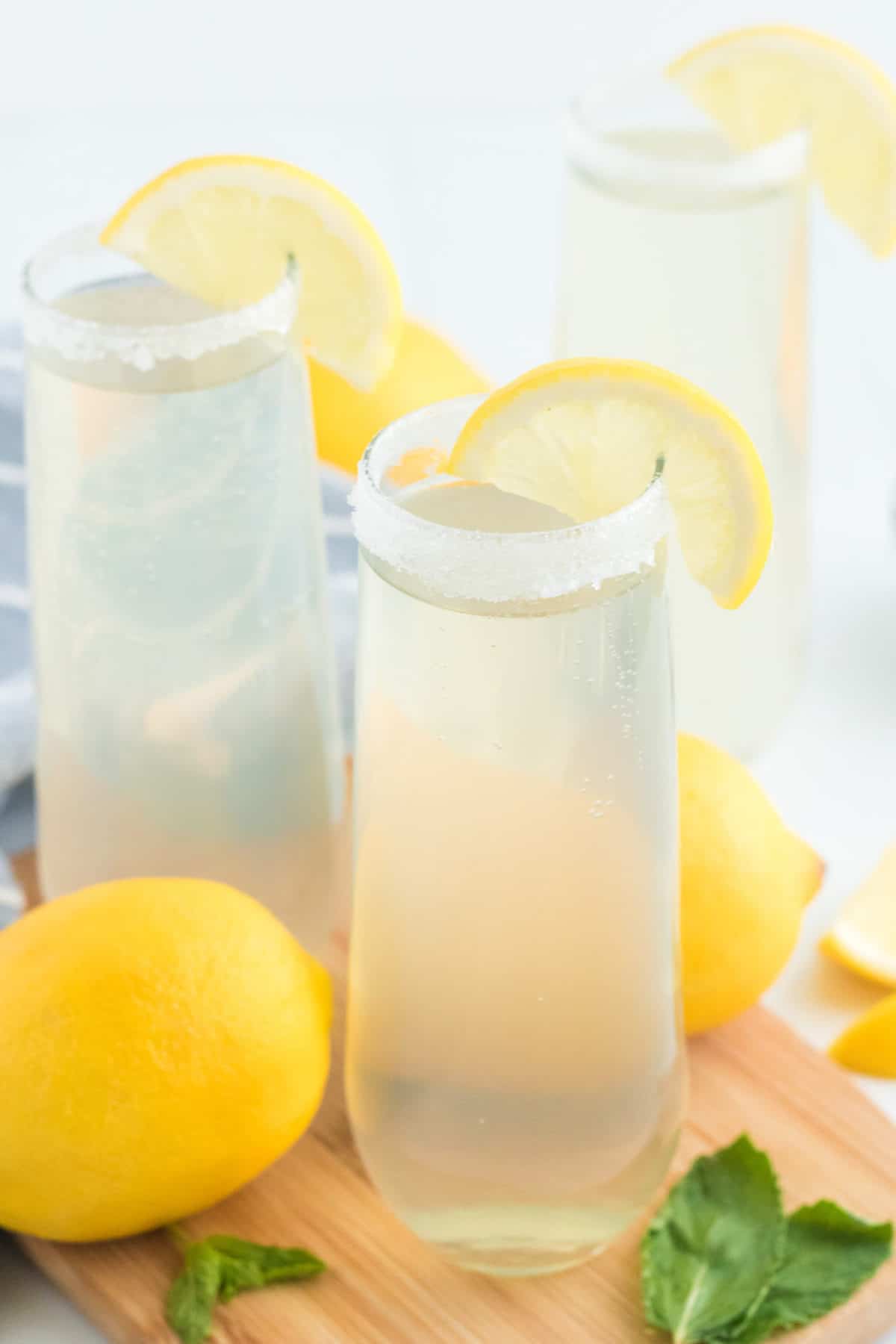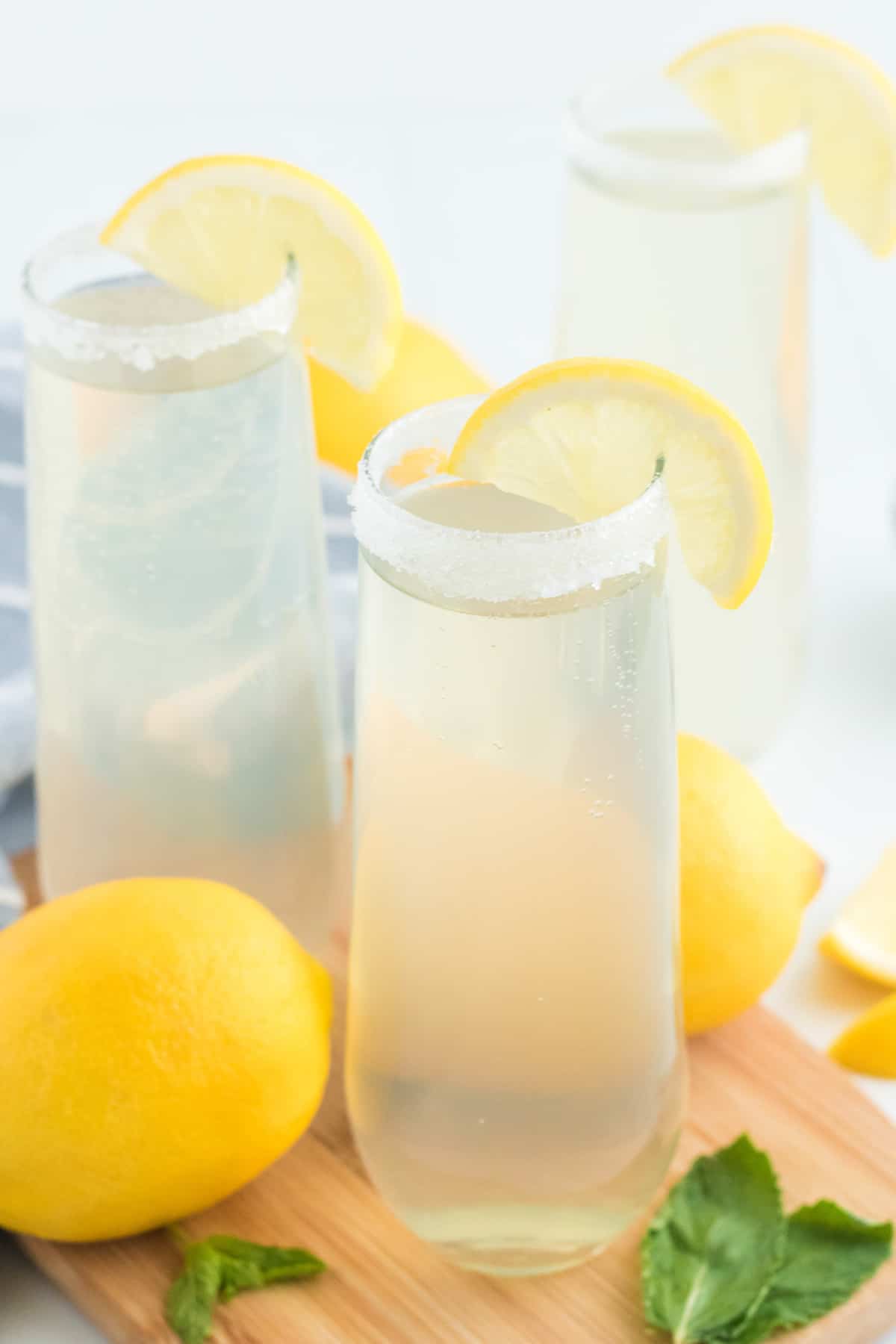 We love a classic mimosa (or a mimosa mocktail!), a mimosa bar for parties, and even a beermosa on occasion, but why does it always have to be orange juice? There's a whole world of citrus fruits out there!
So how about serving up some fizzy lemonade mimosas at your next brunch?
The bright flavor of lemon is perfect for pairing with champagne or your favorite sparkling wine, and you'll find that lemonade mimosas are a touch sweeter than the traditional version, so they're ideal for those of us who like their cocktails on the sweet and fruity side.
About this lemonade mimosa recipe
The success of your lemon mimosa hinges on that perfect lemonade and champagne ratio. We use three parts champagne to one part lemonade, which results in a bubbly cocktail with just enough lemon flavor, but you can do half-and-half or even use three parts lemonade to one part champagne if you want the lemonade to dominate.
Lemonade mimosas are perfect for bridal showers and brunch get-togethers, especially when you sugar the rims of the champagne flutes and garnish with fresh lemon and sprigs of mint. A strawberry on the rim or a few raspberries dropped into the glass are pretty too!
For a picture perfect brunch, try pairing them with mini quiches or a lox bagel board. Don't forget the candied bacon! If you want to offer up a secondary cocktail, you can't go wrong with these fun cotton candy champagne cocktails!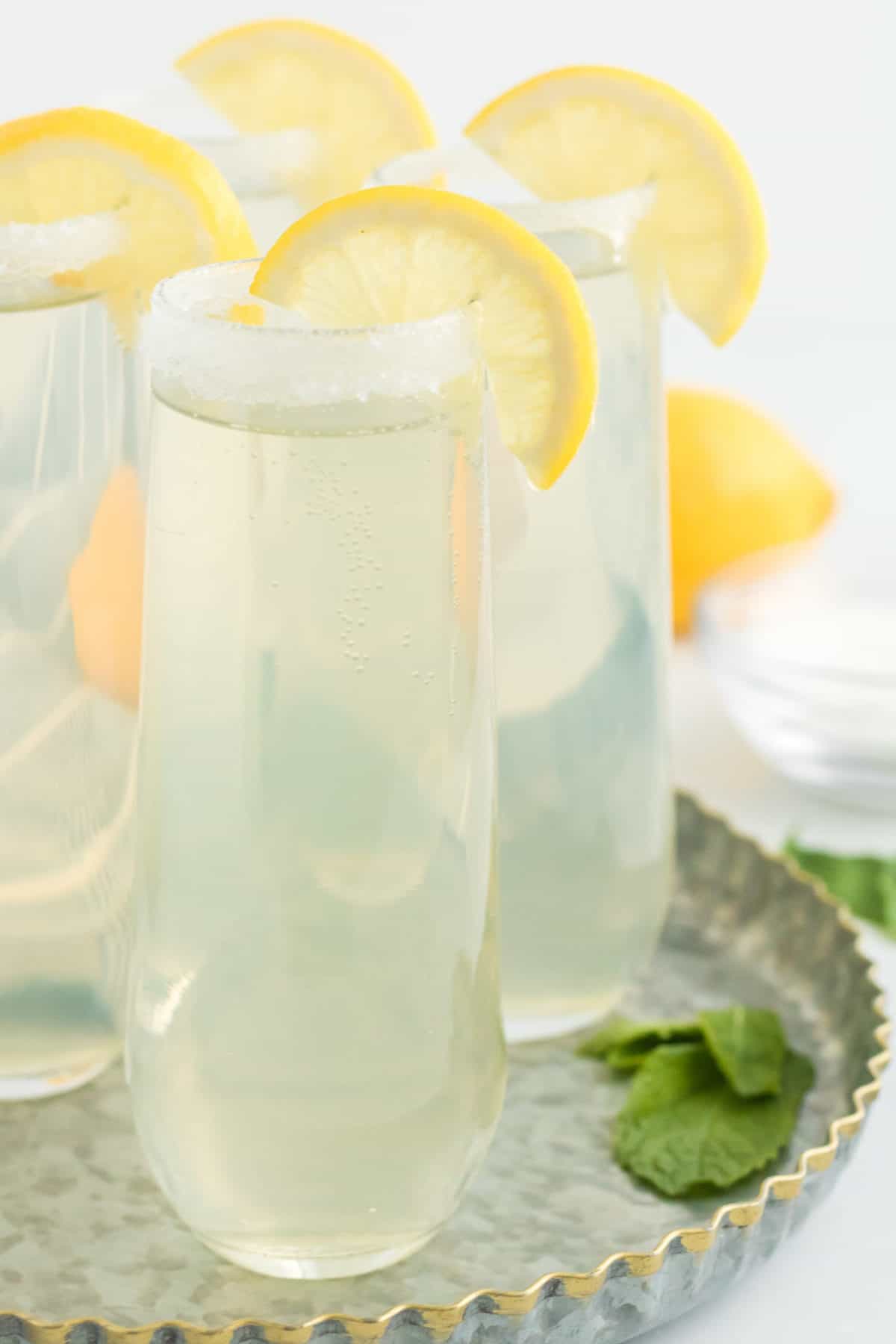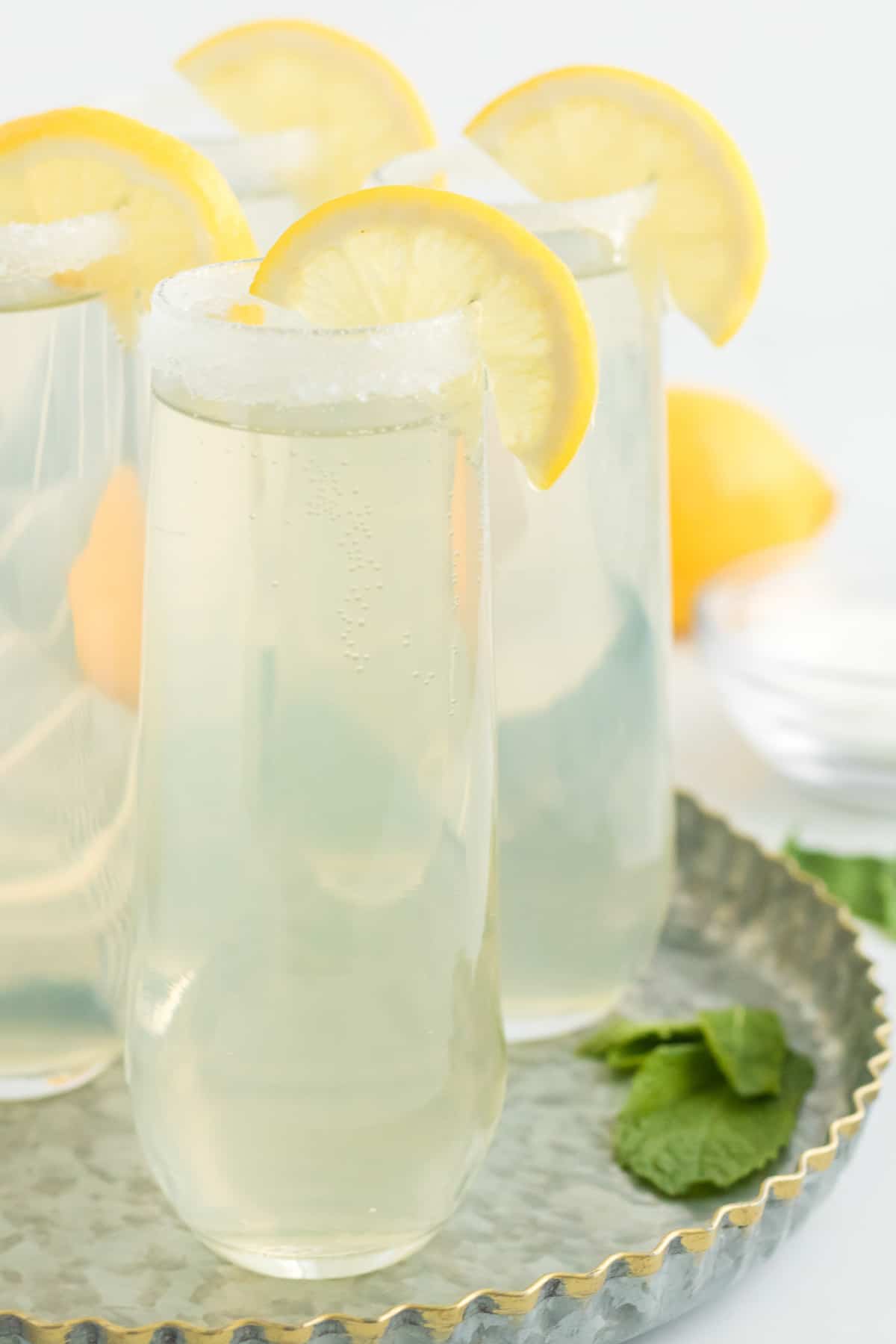 What you need
Lemon – This is for sugaring the rims of the champagne flutes and for garnish, so if you plan on skipping the sugar and garnish or using something different, you don't have to buy one.
Granulated sugar – For a fun twist, try yellow decorative sugar!
Champagne or sparkling wine – Choose a dry sparkling wine to balance out the sweetness of the lemonade. Prosecco is a great choice.
Lemonade – Regular lemonade or pink lemonade both work; pink lemonade mimosas are especially pretty!
Mint leaves – These are optional, but they fancy it up a little!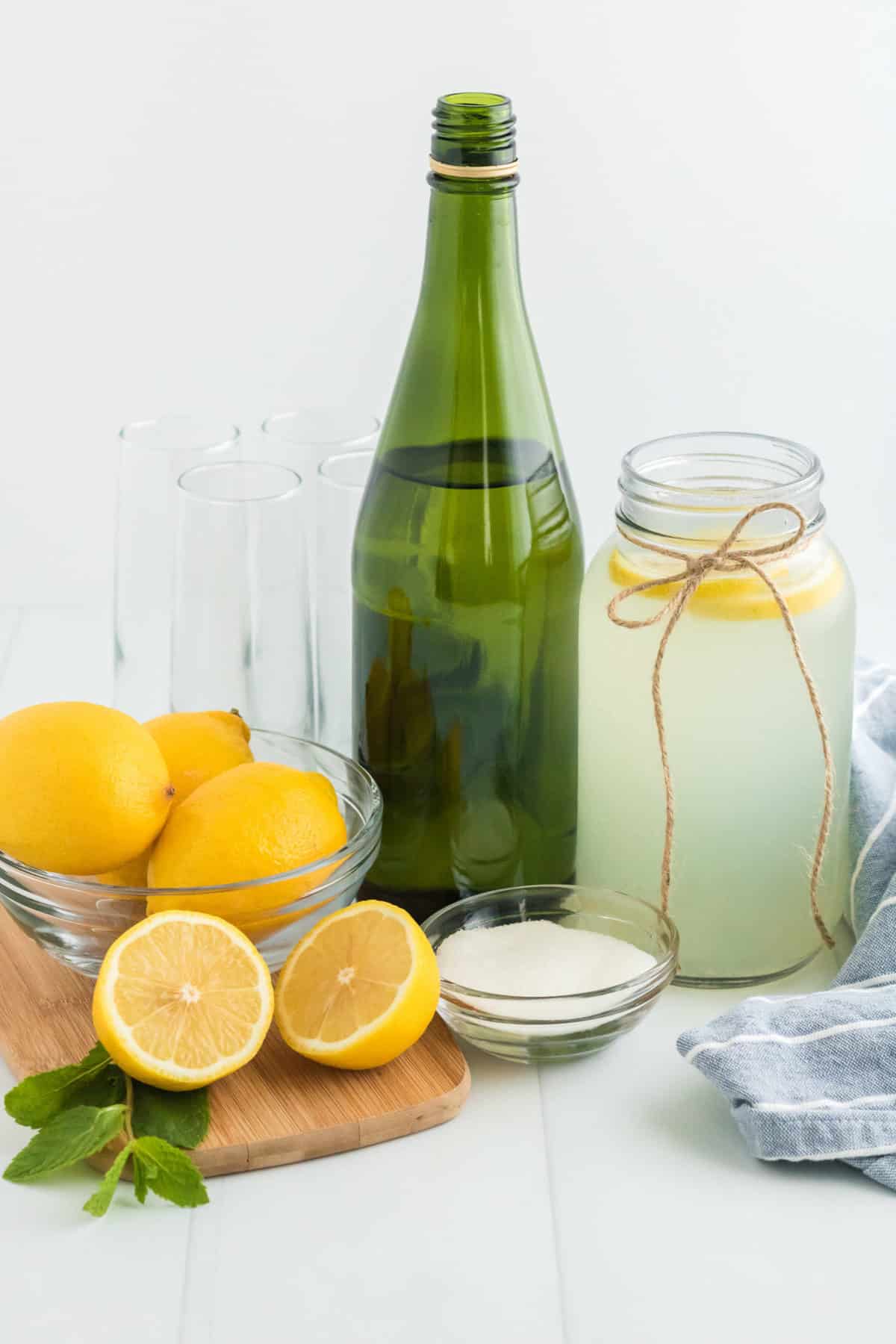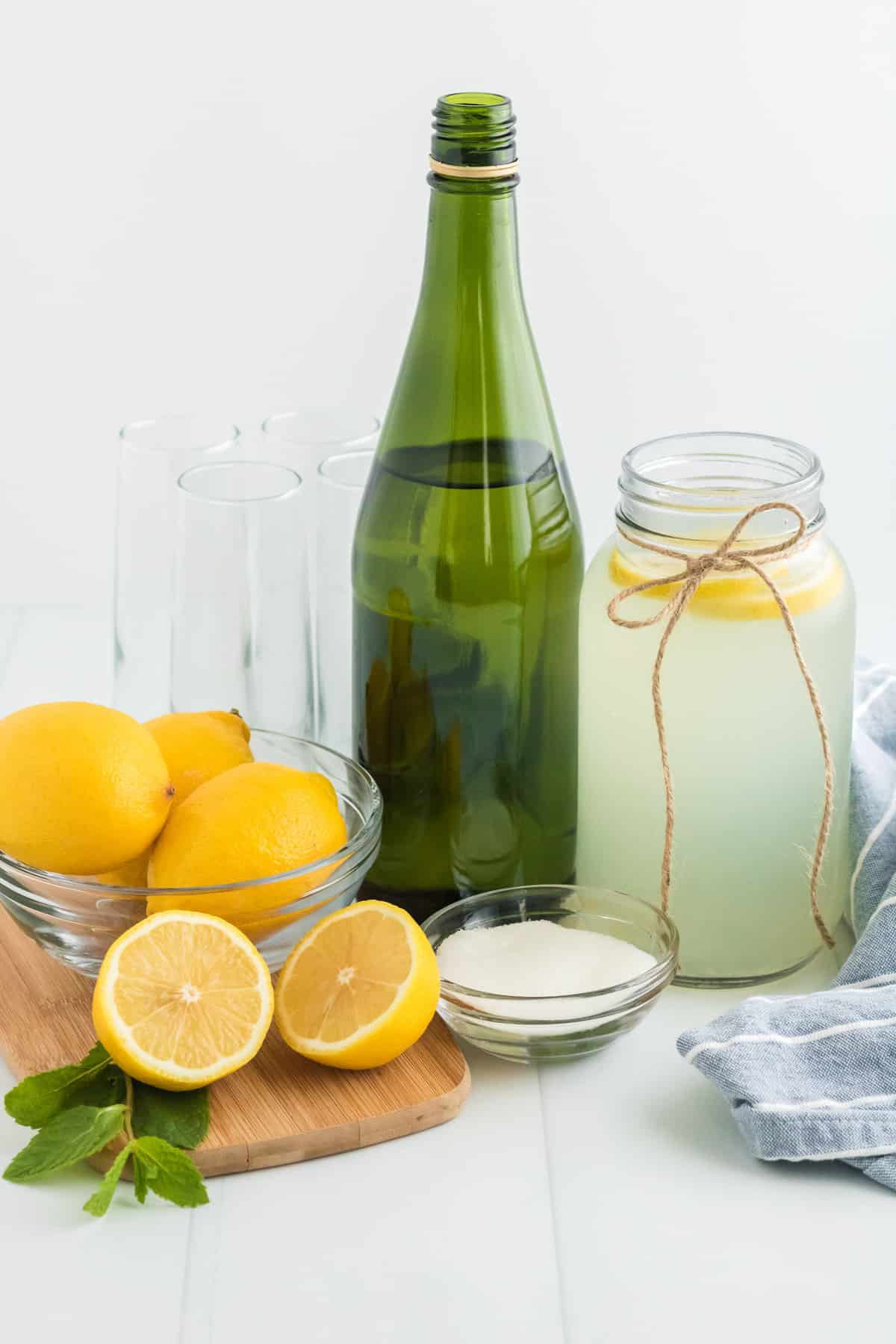 How to make it
Coat the rims of the glasses. Cut the lemon into wedges. Take one of the wedges and run it along the rims of the champagne flutes, then dip this into a shallow dish of sugar to coat the rims.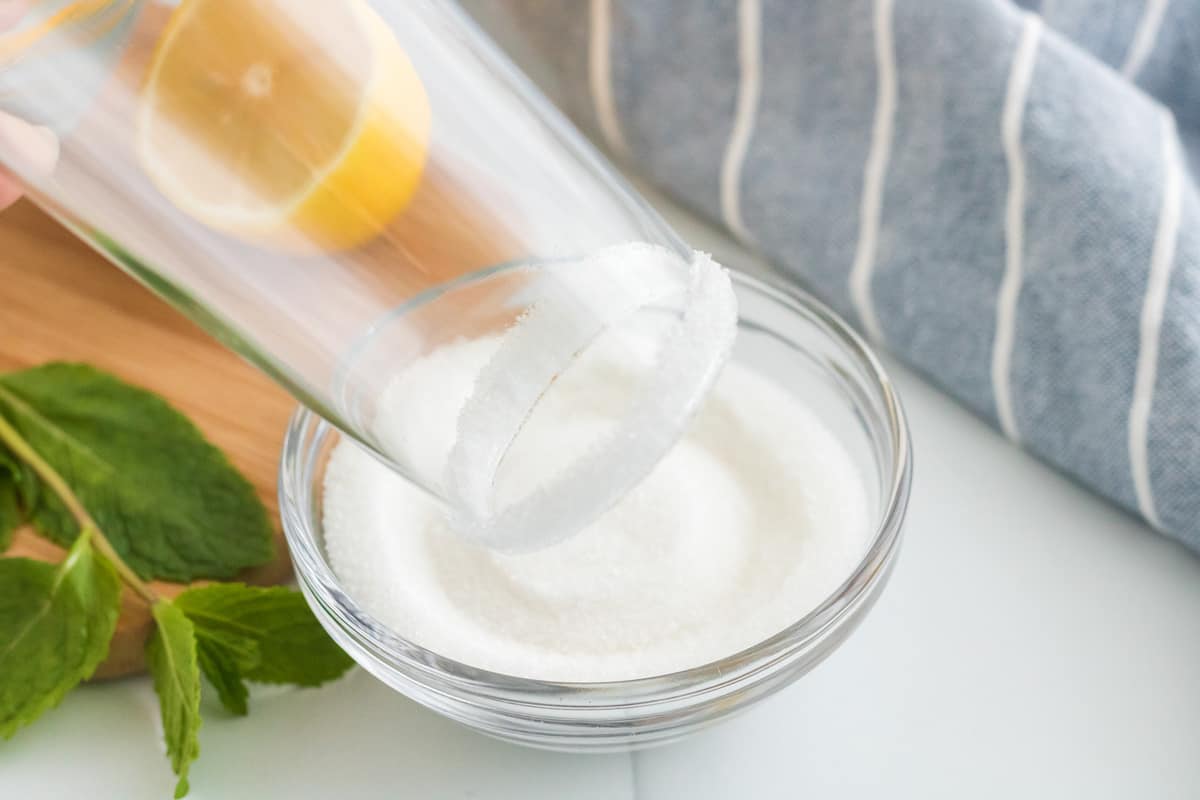 Make the cocktail. Pour the champagne into the flutes about three-quarters of the way and top them off with the lemonade.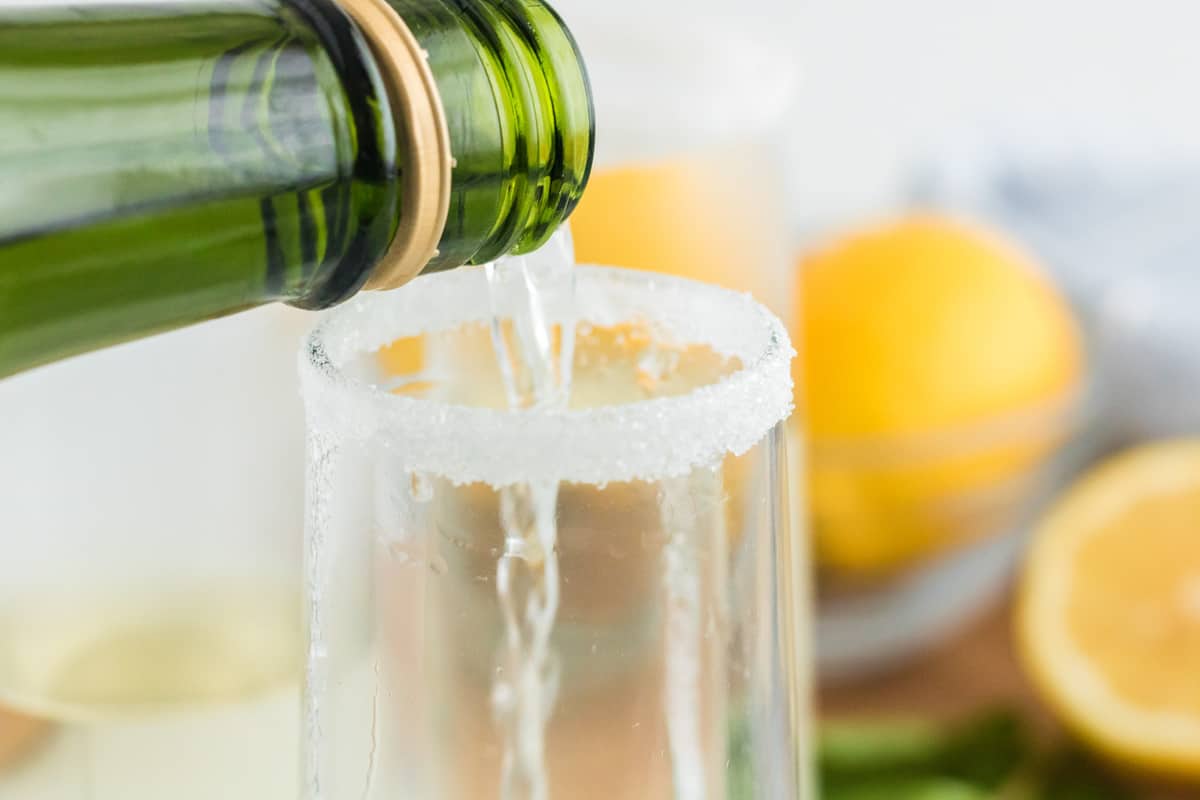 Finish. Garnish the cocktails with lemon wedges and/or a sprig of fresh mint. Serve chilled.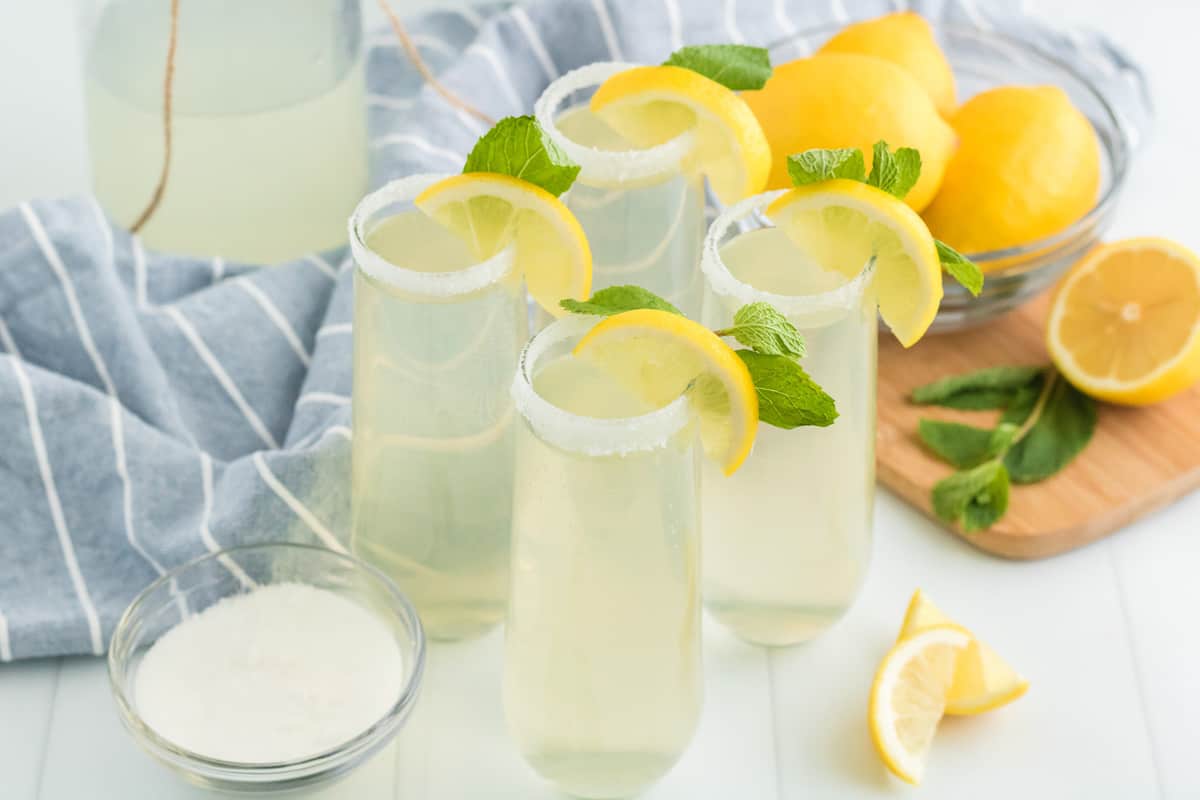 FAQs
What is the difference between Prosecco and champagne?
Champagne is sparkling wine from the Champagne region of France, while Prosecco is sparkling wine from Italy. Prosecco is often a little bit sweeter than champagne.
What juices go well with mimosas?
Just about every juice will go well with a mimosa! Orange juice is the classic choice, but peach puree (like in our peach Bellini recipe), mango, cranberry (see our poinsettia drink), pomegranate, and pineapple are delicious. You can even make apple cider mimosas!
How many mimosas can you make with one bottle of champagne?
The answer to this question depends on how strong you like your mimosas, but 6 to 8 is a good rule of thumb.
How to make these lemonade mimosas your own
Here are some of our favorite ways to customize this lemonade mimosa recipe:
Use flavored lemonade. Strawberry lemonade, blackberry lemonade, watermelon lemonade, and even lemonade made with fresh herbs like thyme or rosemary work well in a lemonade mimosa.
Garnish with candied lemon peel. It adds an elegant touch, and it's a fun edible garnish idea! Another fun idea is a lemon twist!
Make a big batch. You can mix the lemonade and champagne in a pitcher and serve it that way, versus pouring each individual cocktail. Just don't let it sit too long—you don't want the champagne going flat!
Make Ahead Ideas
If you're using homemade lemonade to make your lemonade mimosas, you can make that in advance, but I don't recommend making the mimosas themselves ahead of time.
Storage Suggestions
Leftovers can be stored in the refrigerator for a day or so, but they won't be as fizzy and delicious the second time around.
More recipes for lemon lovers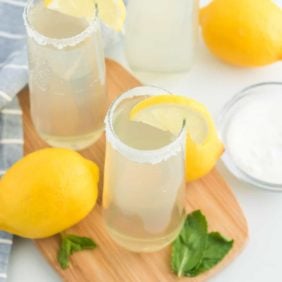 Get the Recipe: Lemonade Mimosa
These lemonade mimosas are a refreshing, summery spin on the classic champagne cocktail!
Ingredients
lemon slices for lining the rims of the glasses (more for garnish)
3 tablespoons granulated sugar
1 bottle (750ml) champagne or sparkling wine
3 cups lemonade
fresh mint leaves for garnish
Instructions
Slice a lemon wedge and run it along the rim of the champagne glass.

Add the sugar to a shallow dish. Dip the rim of the champagne glass into the sugar to coat the rim.

Pour the champagne into the glass about ¾ of the way full.

Fill the remaining ¼ of the glass with the lemonade.

Garnish with lemon wedges and/or mint leaves. Serve immediately.
Notes
You can use pink lemonade for this recipe if you prefer a pink drink.
Try using yellow or pink decorators sugar for a fun look!
Serving: 1mimosa, Calories: 144kcal, Carbohydrates: 22g, Protein: 0.1g, Fat: 0.02g, Sodium: 16mg, Potassium: 110mg, Sugar: 21g, Calcium: 11mg, Iron: 1mg