Unicorn Pancakes
These colorful unicorn pancakes will delight unicorn lovers of all ages! Top them with whipped cream, marshmallows, sprinkles, and unicorn candies for an unforgettable breakfast treat.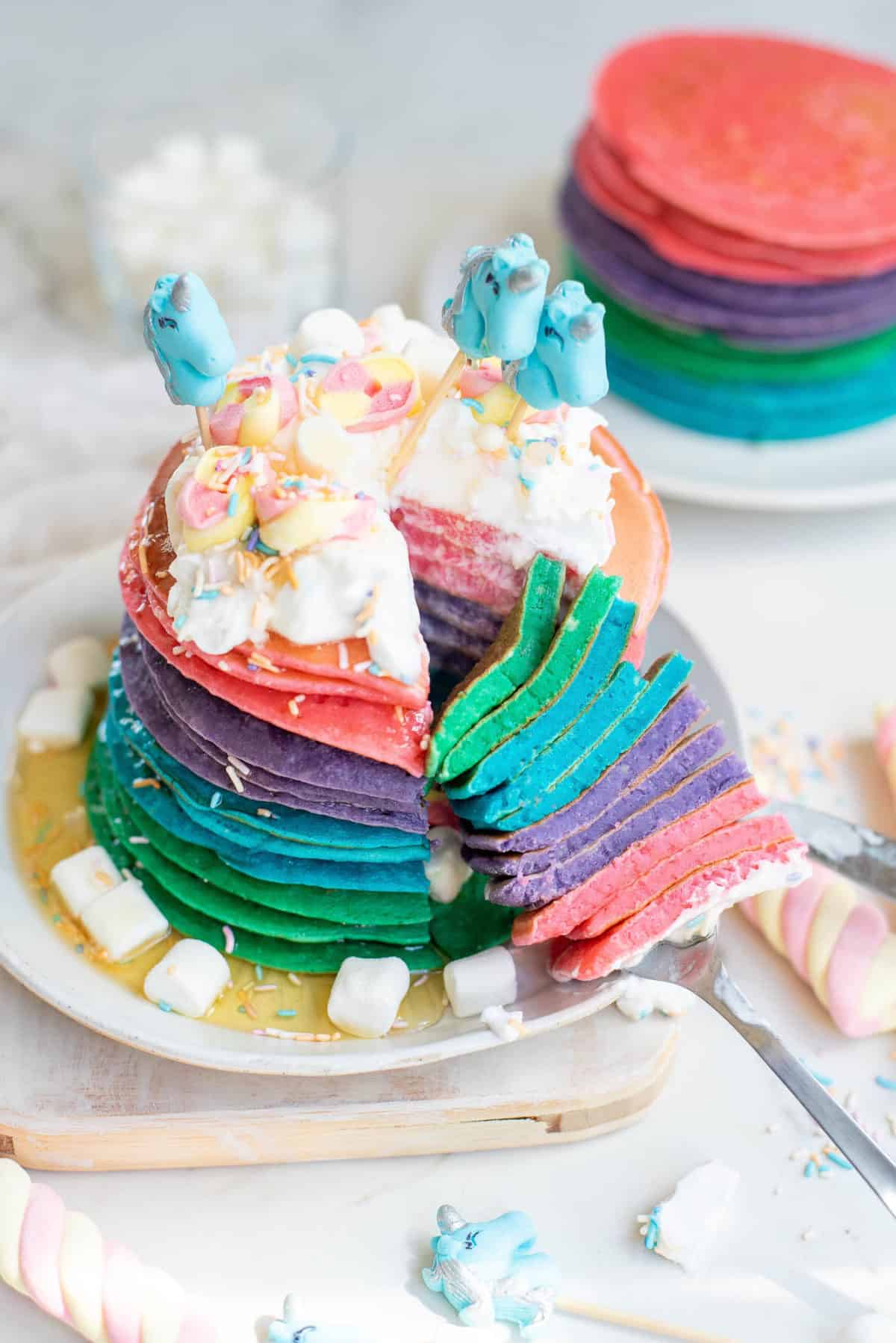 If your kiddo is obsessed with all things unicorn, then they're going to flip for these unicorn pancakes.
A stack of rainbow pancakes? Topped with marshmallows and colorful sprinkles? And there are even little unicorns on top?
Here at Pancake Recipes, we have lots of fun breakfast ideas, from homemade cookie cereal to birthday cake pancakes, but these unicorn pancakes might just be the most fun breakfast of all!
About this unicorn pancake recipe
The pancakes themselves are simply a fluffy, vanilla-flavored buttermilk pancake. You'll color the batter to make them in a variety of shades for that rainbow effect. Decorate the unicorn pancakes with sprinkles, marshmallows, and other toppings and that's all there is to it!
Unicorn pancakes are perfect for a special birthday breakfast, or for serving up as a breakfast for a sleepover. Pair them with glasses of mimosa mocktails or strawberry milk rimmed with colored sanding sugar or rainbow sprinkles to make it a complete unicorn-themed meal!
What you need
Buttermilk substitute: Whole milk, apple cider vinegar
Dry ingredients: All purpose flour, granulated sugar, baking powder, baking soda, salt
Wet ingredients: Vegetable oil, pure vanilla extract, eggs
For coloring the batter: Pink, green, purple, and blue food coloring (or any combination of colors you like!)
Toppings: Whipped cream (we're partial to homemade whipped cream), unicorns (use these or these), mini marshmallows, rainbow sprinkles
How to make them
Make the buttermilk. Whisk together the milk and apple cider vinegar and let the mixture sit for about 5 minutes, or until it curdles. (We have more info on this if you'd like to learn more about making homemade buttermilk.)
Make the batter. In a large mixing bowl, whisk the flour, sugar, baking powder, baking soda, and salt. Then, whisk in the oil, vanilla, eggs, and milk until a batter forms.
Color the batter. Divide the pancake batter evenly into 4 bowls and add a different food coloring to each, adding as much or as little as desired to get the shade you want.
Cook the pancakes. Set a nonstick skillet over medium-low heat and pour about ¼ cup of batter into the skillet for each pancake. Cook one side until you see bubbles form, then flip and cook the other side. Repeat with the remaining batter.
Tip: Normally, you want pancakes to be golden brown, but if we did that in this recipe, it would ruin the look! That's why we cook the pancakes at a lower temperature and skip greasing the skillet.
Finish. Arrange the pancakes in rainbow stacks on plates and serve with whipped cream (or coconut whipped cream), unicorn toppings, mini marshmallows and rainbow sprinkles. For even more fun, try serving with a rainbow smoothie bowl.
FAQs
Is food coloring safe to eat?
There's intense debate about the safety of food coloring and we're not exactly qualified to weigh in on that — our expertise is making super fun pancakes! These days, you can buy natural food coloring derived from plants if you're concerned about artificial colors, and you'll still get beautifully colored unicorn pancakes!
What is the best food coloring?
Gel food coloring is often regarded as the best food coloring because it allows you to achieve deep, bold shades of color without adding a lot of extra liquid to a recipe.
How to make these unicorn pancakes your own
Decorating these pancakes is the best part, and we have some more ideas for you!
Add a unicorn horn. You can dip a sugar cone in colored almond bark or white chocolate, roll it in sprinkles or sanding sugar, let it dry, and then put that on top of the pancakes as a unicorn horn. Or you can buy a candy unicorn horn and use that!
Give it some sparkle. Metallic star sprinkles and edible glitter add some shimmer and sparkle to these unicorn pancakes.
Make them lucky. Swap out the mini marshmallows with Lucky Charms marshmallows for even more magic.
Make Ahead Ideas
If you want to get a head start on this unicorn pancake recipe, make the pancakes and keep them in the fridge for 3 to 5 days, stored in an airtight container.
Storage Suggestions
Leftovers can be refrigerated for 3 to 5 days in an airtight container, or frozen for up to 3 months. If you're freezing unicorn pancakes, keep the colors separate or place parchment paper between the layers.
Reheating Tips
Defrost the pancakes in the refrigerator overnight, then reheat them on the stove on medium-low heat or in the microwave.
More fun kid-friendly breakfast recipes
Get the Recipe: Unicorn Pancakes
Stacks of rainbow pancakes are topped with fluffy whipped cream, rainbow sprinkles, marshmallows, and unicorn candies!
Ingredients
2 ¾ cups whole milk
1 teaspoon apple cider vinegar
3 cups all-purpose flour
⅓ cup granulated sugar
1 tablespoon baking powder
¼ teaspoon baking soda
¼ teaspoon salt
2 tablespoons vegetable oil
1 teaspoon pure vanilla extract
2 eggs
pink, green, purple, and blue food coloring
Toppings
unicorn candies
mini marshmallows
rainbow sprinkles
Instructions
In a bowl, add milk and apple cider. Set aside. It will curdle slightly (this is a replacement for buttermilk)

In a large bowl, combine flour, sugar, baking powder, baking soda, and salt.

Add oil, vanilla, eggs, and milk. Whisk together until a pancake batter forms. Don't overmix.

Separate the pancake batter into 4 bowls. It will be about 2 cups per bowl. Add a color of food coloring to each bowl. Mix until desired color is achieved; pastel or bold, it's up to you!

Heat a nonstick skillet over medium-low heat. Pour about ¼ cup of pancake batter for each pancake. Cook one side until you see bubbles forming then flip and cook the other side for some seconds. You will get about 6 pancakes per color. Repeat until no more batter is left from each color. Cooking more slowly will allow the color to shine through (instead of them turning brown).

Stack the pancakes with different colors. You can mix the colors or use 2 or 3 layers of the same color pancakes to serve.

Serve with whipped cream, unicorn toppings, mini marshmallows and rainbow sprinkles.
Notes
Makes about 24 pancakes.
Toppings not included in nutritional information.
Serving: 6pancakes, Calories: 542kcal, Carbohydrates: 97g, Protein: 18g, Fat: 8g, Saturated Fat: 4g, Polyunsaturated Fat: 1g, Monounsaturated Fat: 2g, Trans Fat: 0.01g, Cholesterol: 102mg, Sodium: 629mg, Potassium: 386mg, Fiber: 3g, Sugar: 25g, Vitamin A: 391IU, Calcium: 409mg, Iron: 5mg