Goat Cheese Waffles with Chives
Made with fresh, tart goat cheese, these savory goat cheese waffles are the perfect simple yet sophisticated dish.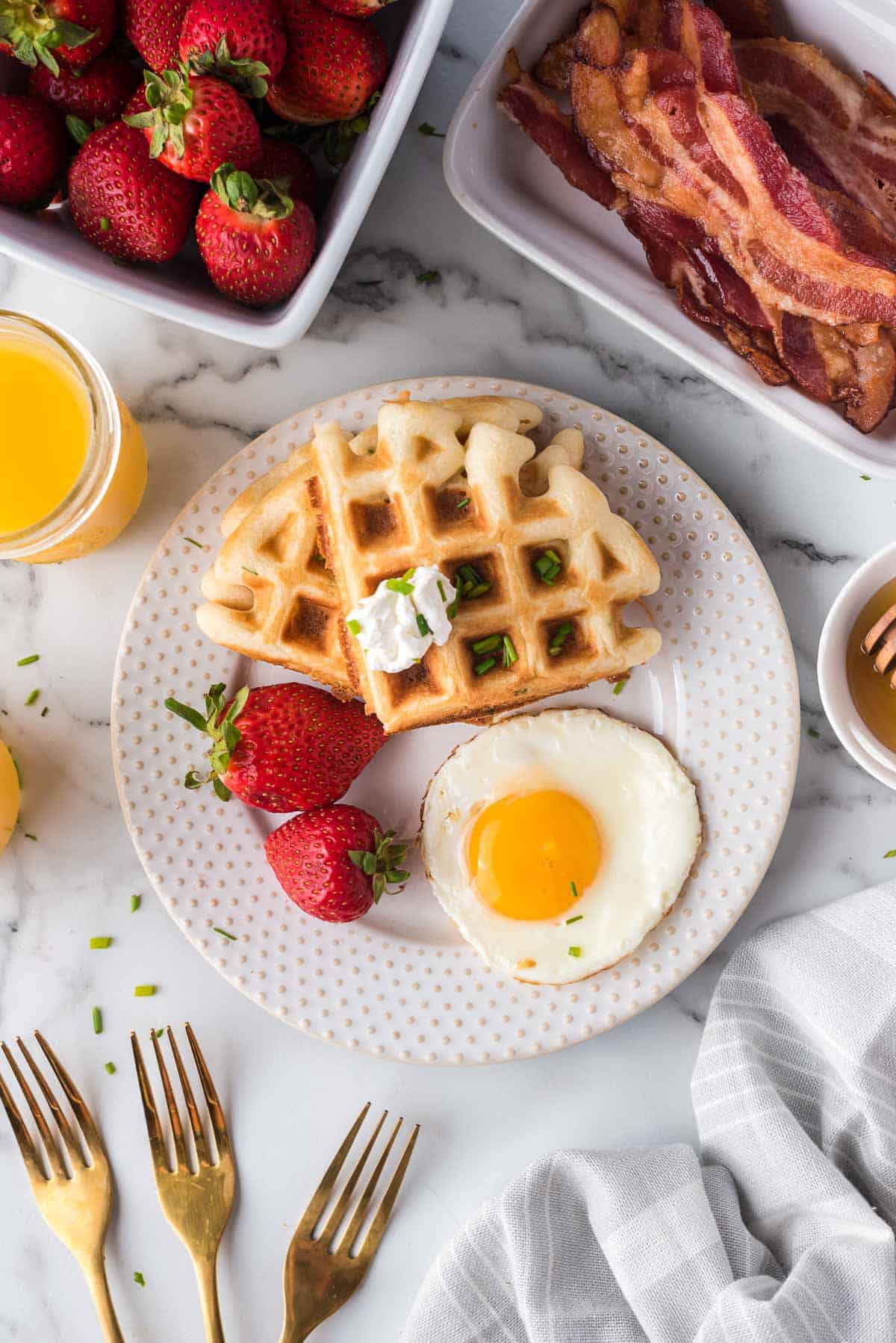 Goat cheese, also called chevre, is a soft, easy-to-spread cheese with a zingy, earthy flavor.
It pairs so naturally with traditional waffle flavors that you may never make waffles without goat cheese again!
It's also easy (and delicious!) to mix herbs and fruit with goat cheese, so you'll likely find a few flavor options at your local grocery store. Popular goat cheese compounds include garlic and herb or blueberry, both of which are fantastic in this waffle recipe.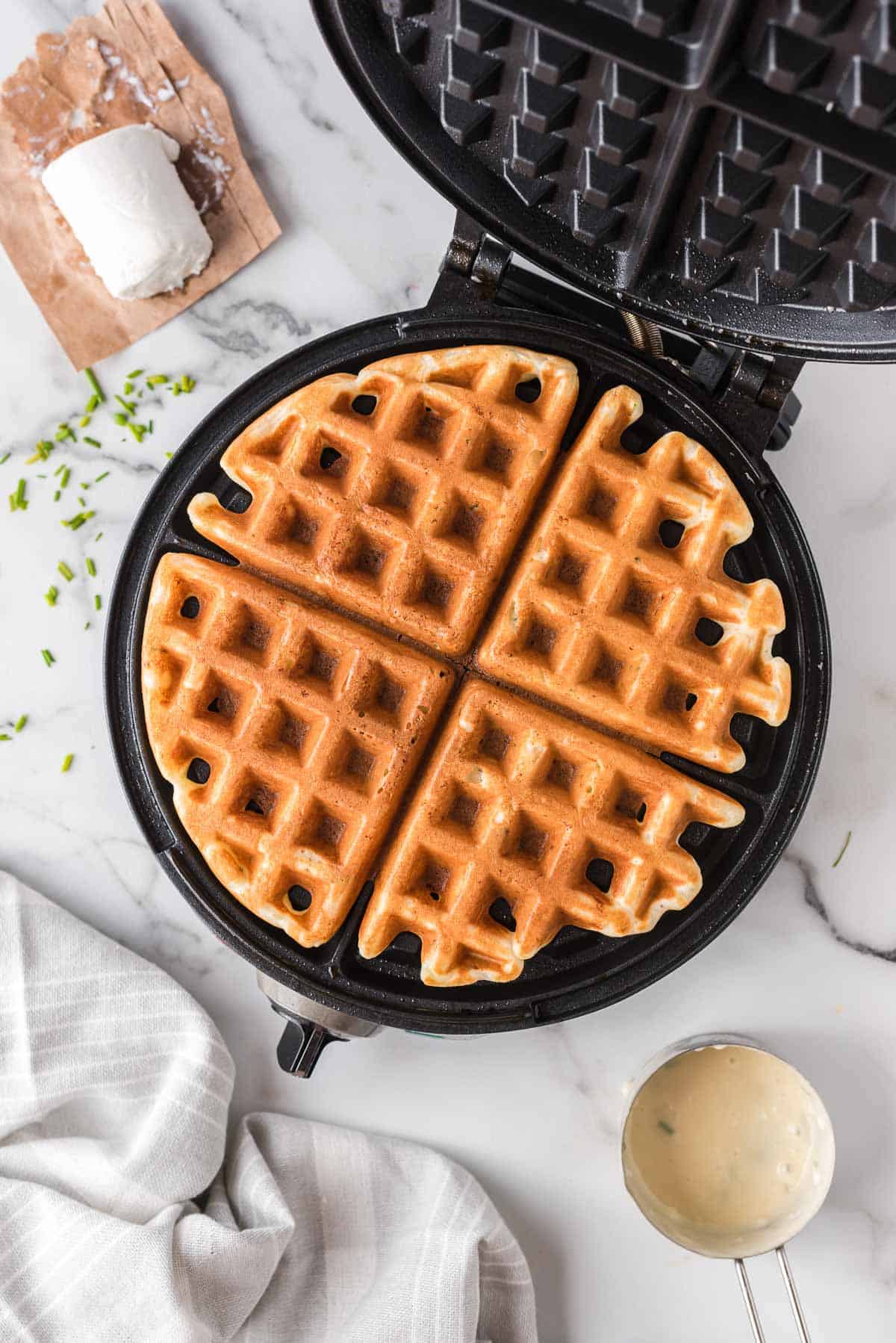 About these goat cheese waffles
Looking for a creative twist on your brunch waffles? This goat cheese waffle recipe is a surefire way to elevate your favorite waffle recipe to a whole new flavor profile. Fresh chopped chives and crumbled goat cheese offer the perfect tart and savory balance to the naturally sweet undertones of waffles.
Goat cheese has become pretty mainstream over the past several years, and you'll find it in the dairy section of many grocery stores. If you've never tried goat cheese, it will remind you of cream cheese in its flavor and texture, but with an extra pop of flavor. If you have tried goat cheese, I bet you're a huge fan already!
You can sprinkle a few chives and crumble extra goat cheese on top of your waffles if you're a goat cheese and chives purist. But you can also tip the savory or sweet scales to your liking by topping your dish with fruit and honey for breakfast, or chopped walnuts and a dab of pesto in the afternoon. If you're looking for a heartier dish, try a handful of cherry tomatoes (sautéed lightly), candied pecans, crisp bacon, and a drizzle of honey or maple syrup.
Whether you prefer them full-on savory or balanced with honey, this is one recipe you'll want to keep on hand. You'll want to serve this luscious fruit salad with poppy seed dressing with the waffles. It's a perfect match.
How to make Goat Cheese Waffles
This is an easy recipe that uses a mix, but feel free to use your favorite waffle recipe (no need to add extra eggs, oil, or milk to it). Just stir in goat cheese and chives!
You can whip up the batter in the time it takes your waffle iron to preheat, so get that going right away!
In a large mixing bowl, combine the waffle mix, egg, milk, oil, goat cheese and chives. That's pretty much it!
Take a few sips of your coffee while the batter rests for just a couple of minutes.
All that's left to do after that is pour the batter in the preheated waffle iron, cook them, and then top with a little more goat cheese and chives!
They're great with a drizzle of honey, too.
How to make these waffles your own
Sweet toppings: Goat cheese waffles (you can skip the chives if you want) are delicious when topped with honey or maple syrup. To lean into the sweet side, try topping with blueberries or blackberries and a few chopped, salted walnuts or pecans. To go super-sweet, use candied pecans and honey.
Savory toppings: To make your savory waffles really savory, try adding your favorite Italian flavors: garlicky pesto and charred tomatoes, seasoned with basil and oregano.
This recipe is highly-adaptable and ready for any seasonal party. Having guests for a fall brunch? Set out fresh cranberry chutney. Wintertime get-together? Serve with honey and a hearty and spiced granola. And in the summer, load up all the fresh fruit you can find and add this easy blueberry sauce!
Make-Ahead, Storage, and Reheating Tips
These waffles are best served fresh, but can be made ahead for a party. To reheat a few, just pop them in the toaster on its lowest setting. To reheat enough to feed a crowd, set them flat on a baking sheet lined with parchment paper, and reheat in the oven at 250ºF until just warmed through.
You can store leftover waffles in the fridge for up to 4 days, or in the freezer for up to 1 month.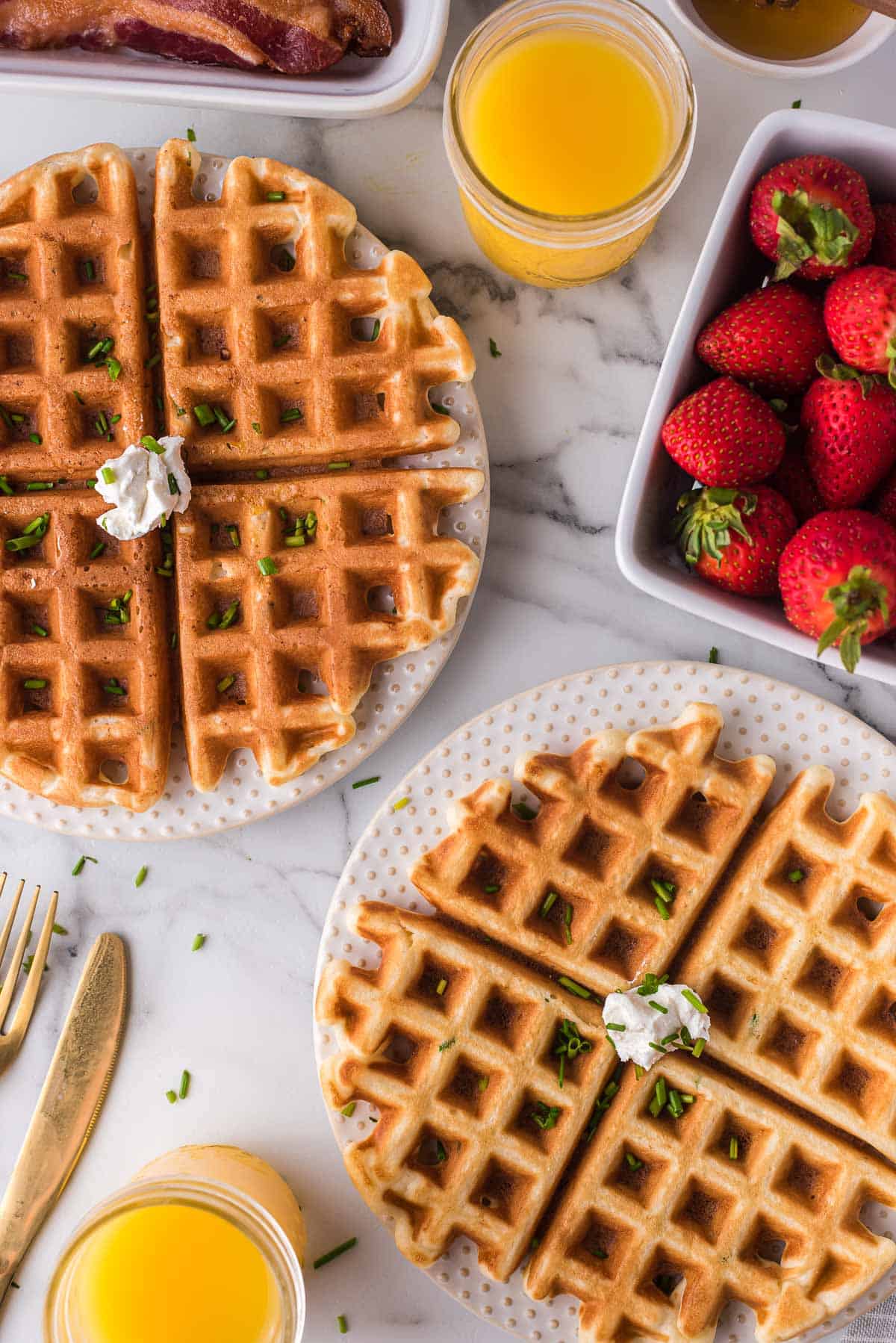 Love a savory breakfast?
Try zucchini fritters with sour cream and chives, jalapeno cheddar cheese pan pancakes, ham and pineapple sheet pan pancakes, or savory pancakes with parmesan and herbs.
Get the Recipe: Goat Cheese and Chive Waffles
Made with fresh, tart goat cheese, these savory goat cheese waffles are the perfect simple yet sophisticated dish.
Ingredients
2 cups complete waffle mix
1 cup milk
1 large egg
2 tablespoons vegetable oil
4 oz goat cheese divided, crumbled
2 tablespoons chopped chives plus more for garnish
Cooking spray
additional crumbled goat cheese, chopped chives, drizzle of honey optional for serving
Instructions
Prepare waffle iron with cooking spray and preheat.

In a large bowl mix together waffle mix, milk, egg, 3 ounces of goat cheese, chives and vegetable oil

Allow the mixture to sit for 2 minutes

Pour mixture into preheated waffle iron, approximately ¾ cup at a time (for a single waffle)

Cook waffle for approximately 3-4 minutes, or according to the waffle iron's instructions.

Repeat with remaining batter.

Serve with remaining crumbled goat cheese and freshly chopped chives sprinkled on top
Notes
This is an easy recipe that uses a mix, but feel free to use your favorite waffle recipe (no need to add extra eggs, oil, or milk to it). Just stir in the goat cheese and chives!
Nutrition information does not include toppings.
Calories: 330kcal, Carbohydrates: 22g, Protein: 14g, Fat: 21g, Saturated Fat: 13g, Trans Fat: 1g, Cholesterol: 106mg, Sodium: 474mg, Potassium: 237mg, Fiber: 1g, Sugar: 3g, Vitamin A: 679IU, Vitamin C: 1mg, Calcium: 256mg, Iron: 2mg