Orange Buttermilk Pancakes with Orange Maple Syrup
Warm cinnamon, bright orange zest, and smooth vanilla come together perfectly in these delicious orange buttermilk pancakes.
Orange buttermilk pancakes are light and fluffy, the kind of pancakes you can eat in stacks every day.
Citrus and cinnamon warm up a basic buttermilk pancake recipe with the flavors of fall.
But that doesn't mean these pancakes are for cold weather only! Paired with yogurt, pineapples, and bananas, this dish is transported right to the middle of summer.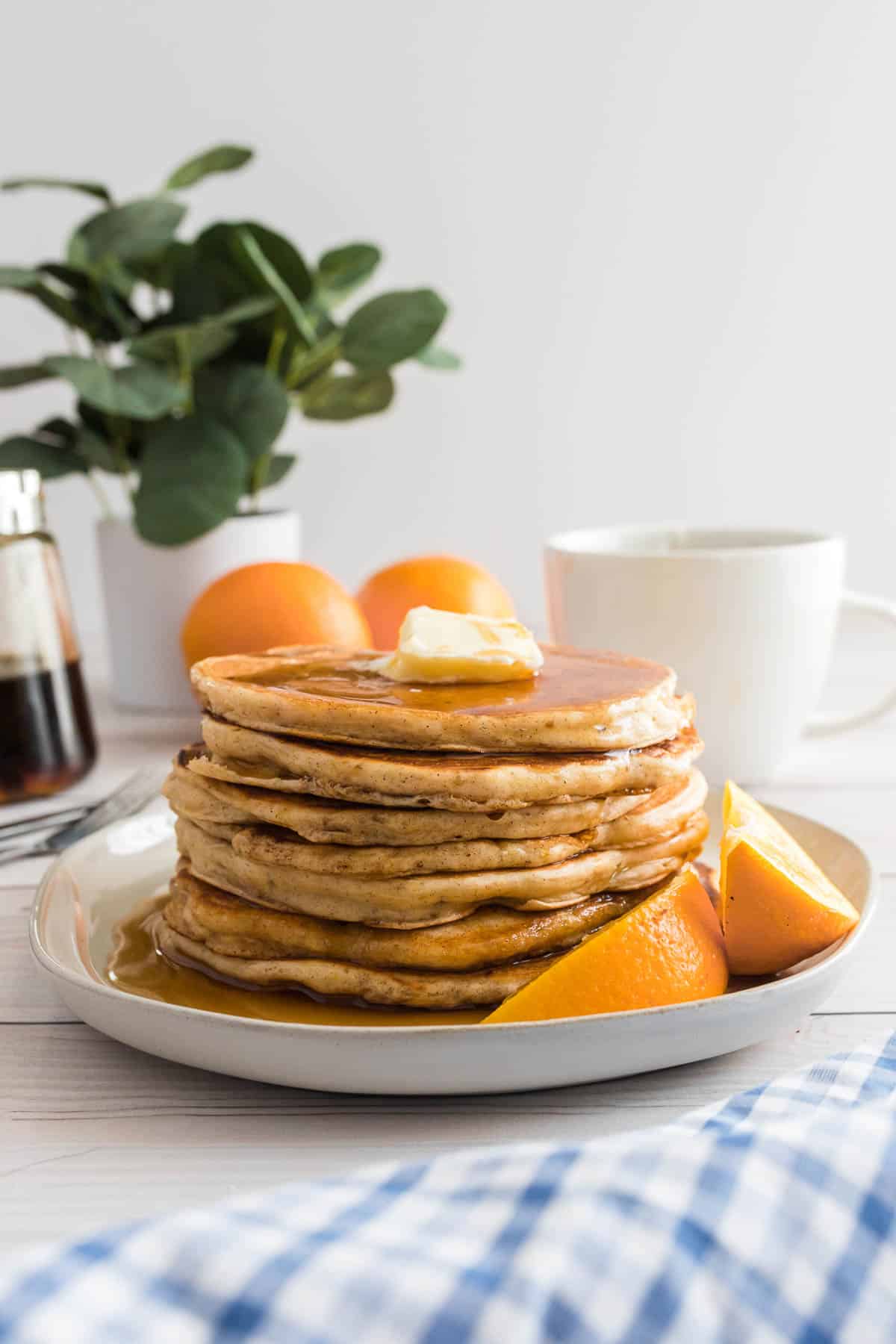 About these orange buttermilk pancakes
Orange buttermilk pancakes are a tasty and healthy way to fill your plate.
This pancake recipe calls for fresh orange juice, fresh orange zest, and a topping of maple syrup sprinkled with extra zest, meaning this is one extra-fresh-tasting dish!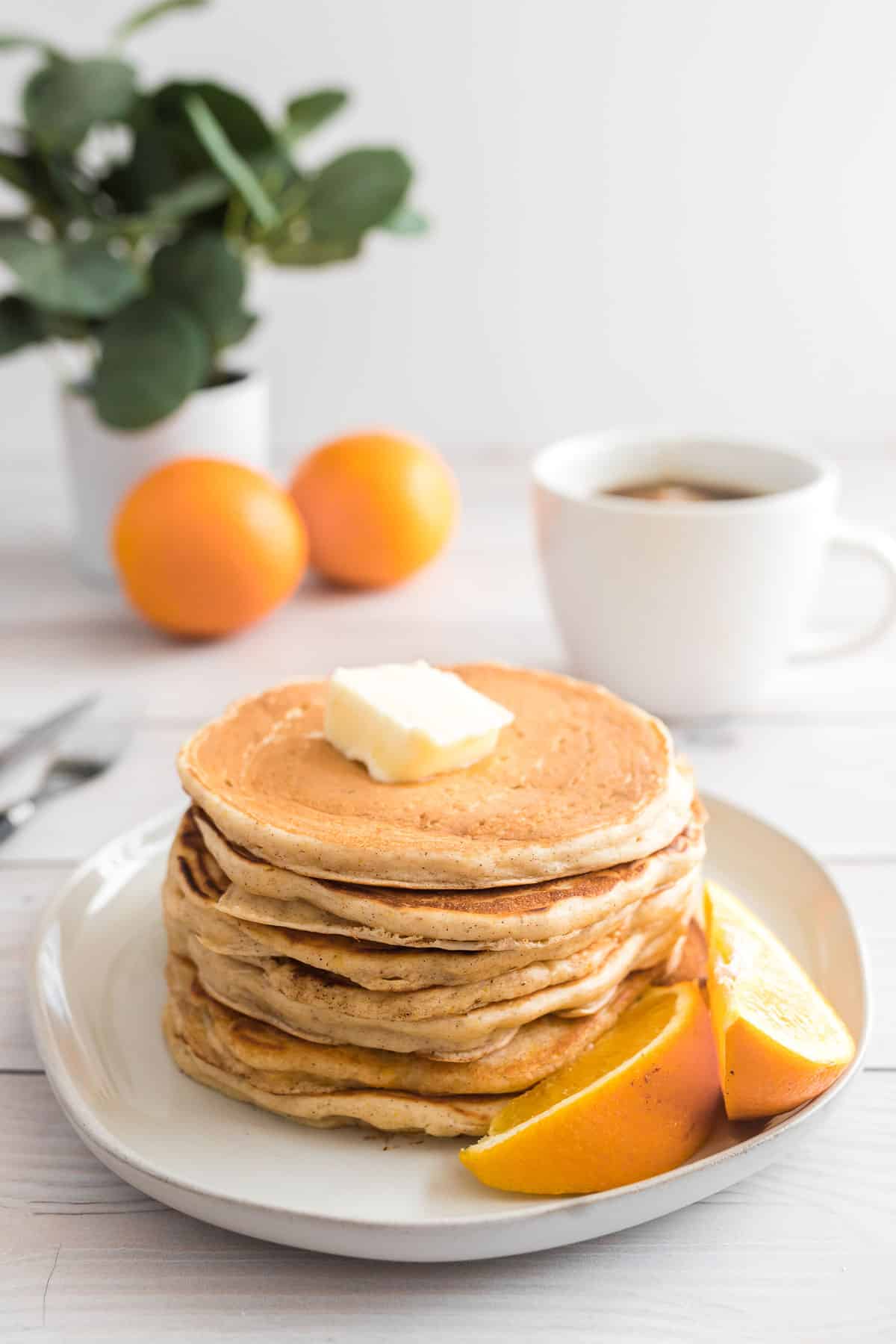 Mixed with fragrant spices like cinnamon and vanilla, these orange pancakes are the perfect breakfast on a chilly morning, or just right when it's time to relax with a good book.
They also pair well with coffee, tea, and bubbly drinks, making them a great choice for entertaining.
If you're looking to transform these pancakes into dessert-mode, a simple vanilla cream cheese glaze is all you need. Try mixing 1 1/2 cups powdered sugar with 1/2 teaspoon of vanilla in a bowl with 2-3 tablespoons of water. Add a little extra water if you want a runnier glaze. Super simple, super delicious! Add a little orange zest for a pop of citrus flavor. You could also make this simple lemon glaze, but use orange instead of lemon.
They're also perfect with orange honey butter!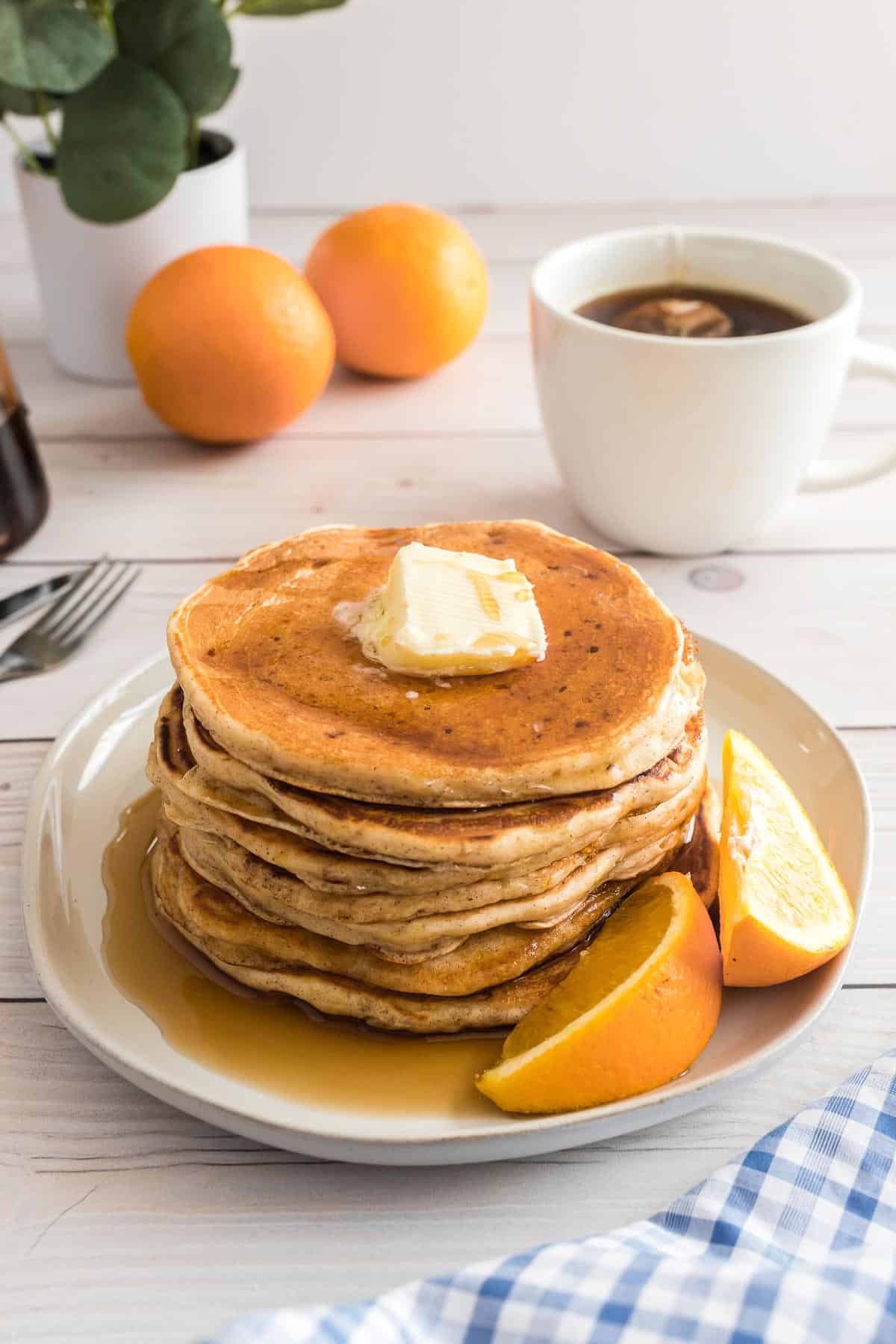 What you need
There is a little more to these pancakes than just oranges and buttermilk, but it's still a very simple, straight-forward recipe.
all-purpose flour (you could also use whole wheat, or your favorite 1:1 gluten-free substitution)
granulated sugar
baking powder
ground cinnamon
salt
eggs
orange juice
vanilla extract
orange zest
For the orange maple syrup, you'll need 1/2 cup maple syrup and a little more orange zest. So easy, but so flavorful!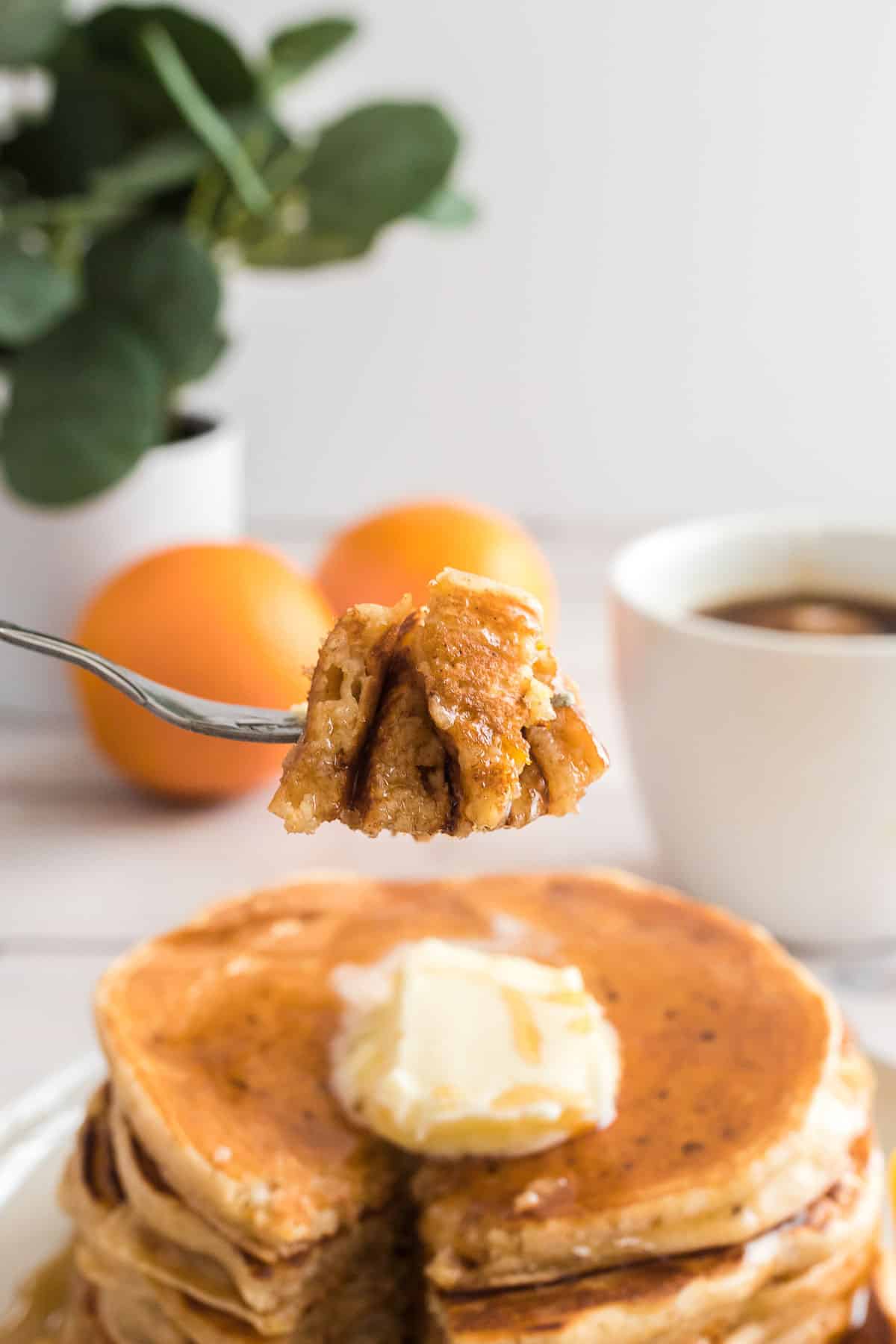 How to make them
It's super simple to make these citrusy pancakes. They'll come together quickly and you'll be eating breakfast in no time at all!
The first step is to mix together all your dry ingredients in a bowl: flour, sugar, baking powder, cinnamon, and salt.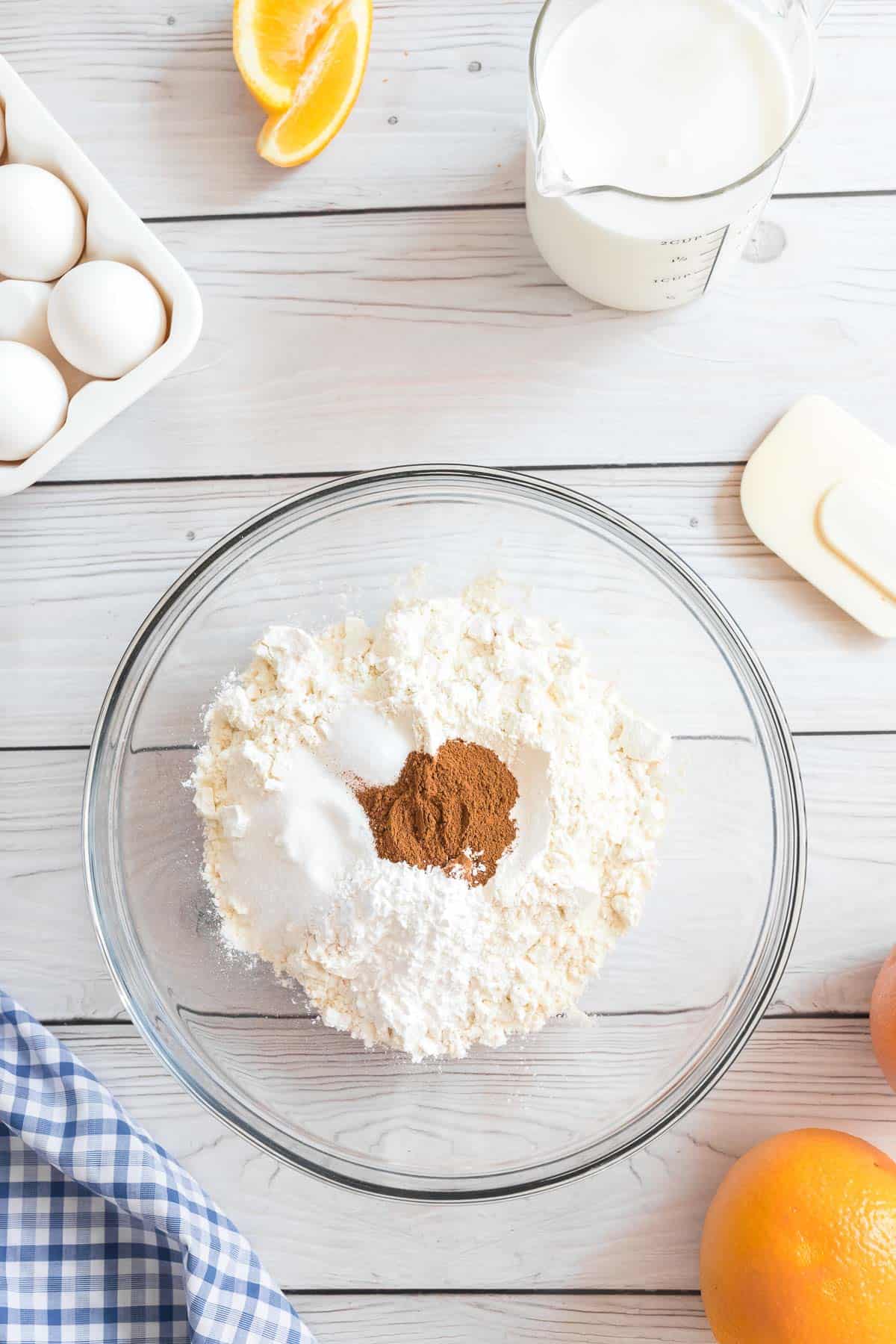 Next you'll add the wet ingredients: buttermilk, eggs, oranage juice, and vanilla.
Here's where the extra burst of orange flavor comes in: fold in the orange zest. We recommend setting aside the whisk and using a spatula for this step, as the zest has a tendency to get all stuck on the whisk otherwise.
You'll cook these on a hot griddle or skillet with a little butter until bubbles appear. Flip them, and cook for a couple more minutes on the other side.
Serve with orange maple syrup for even more flavor!
How to make these orange pancakes your own:
These pancakes are delicious when topped with chopped nuts. Try walnuts, pecans, and almonds.
Satisfy your sweet tooth by adding a frosting, like vanilla buttercream or a cream cheese frosting. Sprinkle an extra dash of cinnamon over the frosting for extra color and finish. They would also be amazing topped with maple cinnamon butter.
Orange pancakes are perfect for your cold-weather cravings. You can swap the cinnamon for allspice to pull in cloves with the orange zest. Enjoy them with hot pumpkin spice tea!
In the summer, consider taking a tropical twist, and topping your pancakes with honey and fresh fruit, or serving with a side of yogurt and pineapple.
Storage Suggestions
Store leftovers in an airtight container for up to 4 days in the refrigerator.
Reheating Tips
Reheating these pancakes is simple. Just pop them in the toaster until heated through!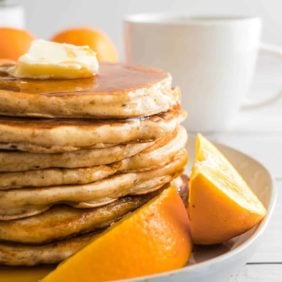 Get the Recipe: Orange Buttermilk Pancakes
Warm cinnamon, bright orange zest, and smooth vanilla come together perfectly in these delicious orange buttermilk pancakes.
Ingredients
2 cups all-purpose flour
2 teaspoons granulated sugar
2 teaspoons baking powder
1 teaspoon ground cinnamon
1/2 teaspoon teaspoon salt
2 cups buttermilk
2 large eggs beaten
3 tablespoons freshly squeezed orange juice from 1 orange
1 teaspoon pure vanilla extract
3 teaspoons orange zest divided
1 tablespoon butter for pan
1/2 cup maple syrup for serving
Instructions
In a medium mixing bowl, add flour, sugar, baking powder, cinnamon, and salt. Whisk together until combined.

Pour in the buttermilk, eggs, orange juice, and vanilla. Stir until combined then add in 2 teaspoons of the grated orange peel and stir.

In a skillet, melt 1 tablespoon butter and then ladle in 1⁄2 cup of batter.

When the edges become solid and small bubbles appear in the batter, flip the pancake and cook the other side.

Repeat with the rest of the batter.

Meanwhile, mix together 1/2 cup of your favorite maple syrup and the remaining orange zest. Pour over your pancakes and enjoy!
Serving: 2pancakes, Calories: 162kcal, Carbohydrates: 29g, Protein: 4g, Fat: 3g, Saturated Fat: 1g, Cholesterol: 32mg, Sodium: 233mg, Potassium: 125mg, Fiber: 1g, Sugar: 11g, Vitamin A: 156IU, Vitamin C: 3mg, Calcium: 109mg, Iron: 1mg