Avocado Toast With Egg
This avocado toast with egg is made with delicious creamy avocado slices and a squeeze of lemon, all sitting on top of a crispy slice of toast!
Avocado toast with egg is one of the best ways to get a high fiber, good fat, protein filled start to your day! It's super simple as a grab and go breakfast to keep you fueled all day long, but it's also nice to have while leisurely sipping on some herbal tea on the back patio.
About this recipe
There's no better way to showcase a beautifully ripe and creamy avocado than preparing a slice of avocado toast, especially when the avocados are perfectly ripe. It's pure and simple with just a squirt of lemon on the slices that sit on a crispy piece of toast. It's topped with an egg, sunny side up, sprinkled with a bit of lemon pepper and cilantro. It's perfect! Eating healthy on a budget is always possible with simple recipes that require just a few wholesome ingredients.
What's the secret to a really good avocado toast? Is it the avocado or the bread? Truth be told, you can't have one without the other! First, you need to know how to pick a ripe avocado (see our FAQs for how to do this!).
Second, you need a really good slice of toast, either whole grain or sourdough. It needs to be sturdy enough to hold everything without getting soggy or falling apart. The egg on top is a little more flexible. It's delicious prepared sunny side up, but if you like yours poached, hard-boiled, or scrambled, that that's exactly what you should do!
There's no right or wrong way to enjoy this quick and easy meal! The only thing that could maybe improve it is to have a nice big blueberry smoothie, iced vanilla latte, or mango smoothie to wash it down!
Feeling festive? Serve it with a mimosa or a bloody mary for brunch time perfection.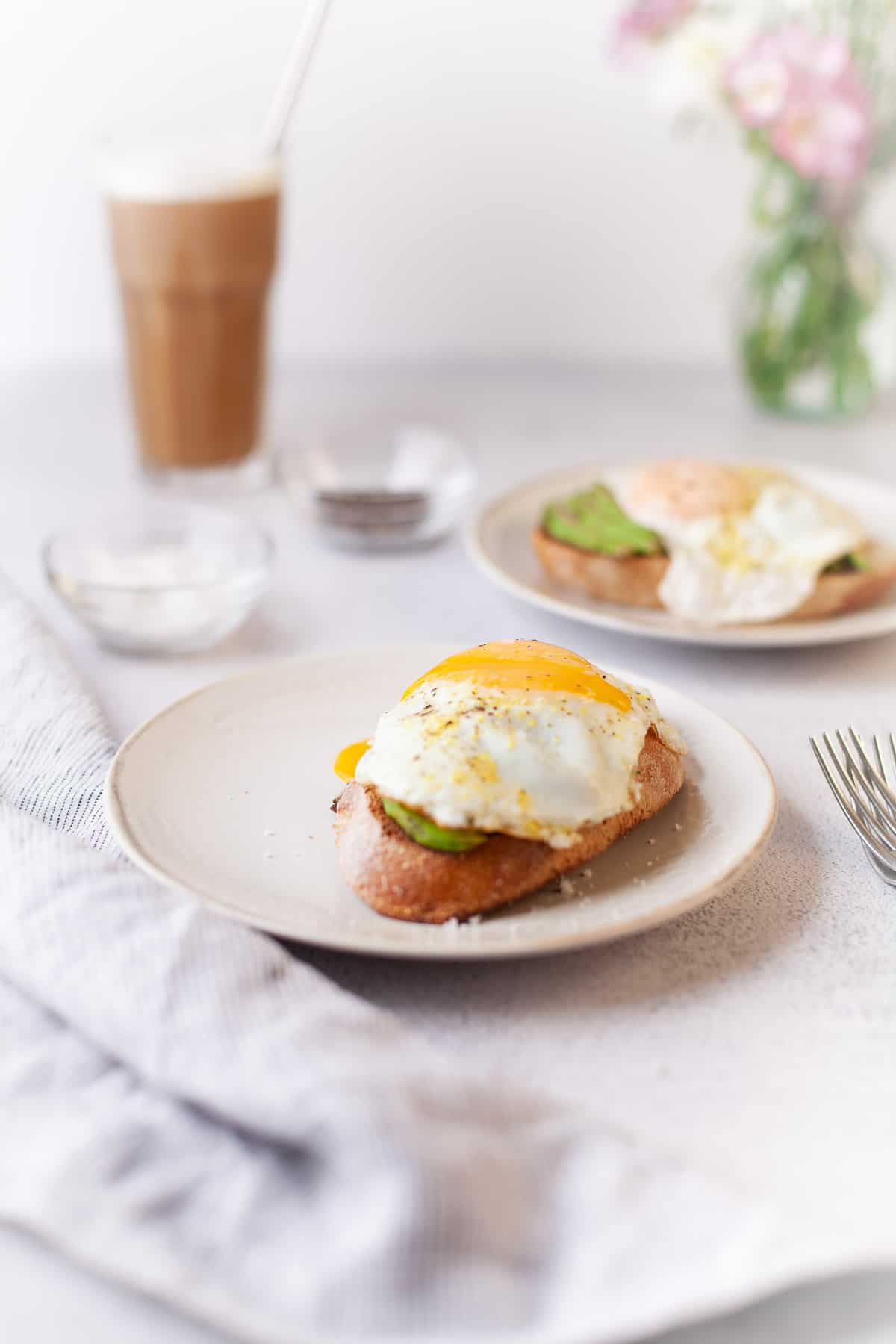 What you need
Eggs – You'll need 2 eggs, one for each serving.
Avocado – A ripe avocado, sliced.
Sourdough bread – Whole-grain bread also works.
Lemon juice – Freshly squeezed, not the bottled stuff!
Olive oil – Or avocado oil to be used for frying the egg.
kosher salt and coarse ground black pepper – To taste.
Optional toppings: Chopped fresh cilantro and lemon pepper.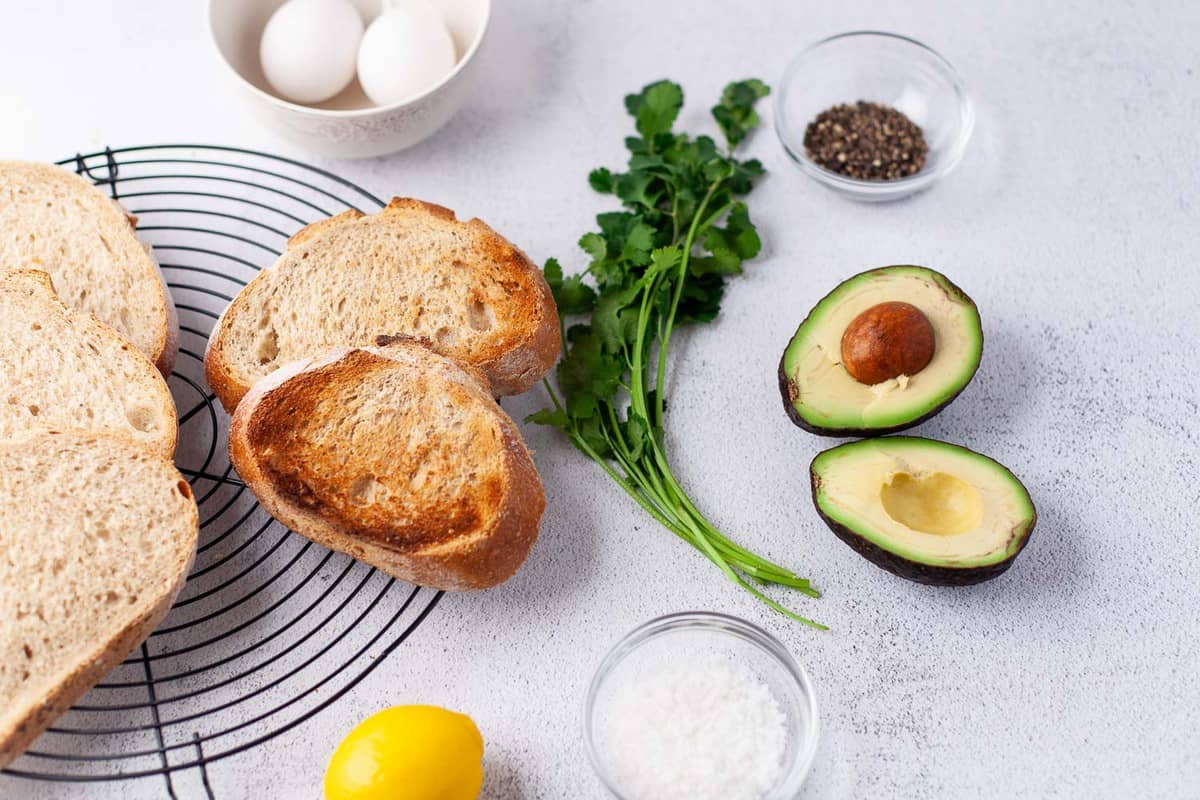 How to make it
Cut the avocado by slicing it in half lengthwise around the pit. You should have two halves, one will contain the seed. Gently remove the pit by tapping it with a sharp knife. It should slide right out. Peel and slice the avocado. Squirt with lemon juice and set aside.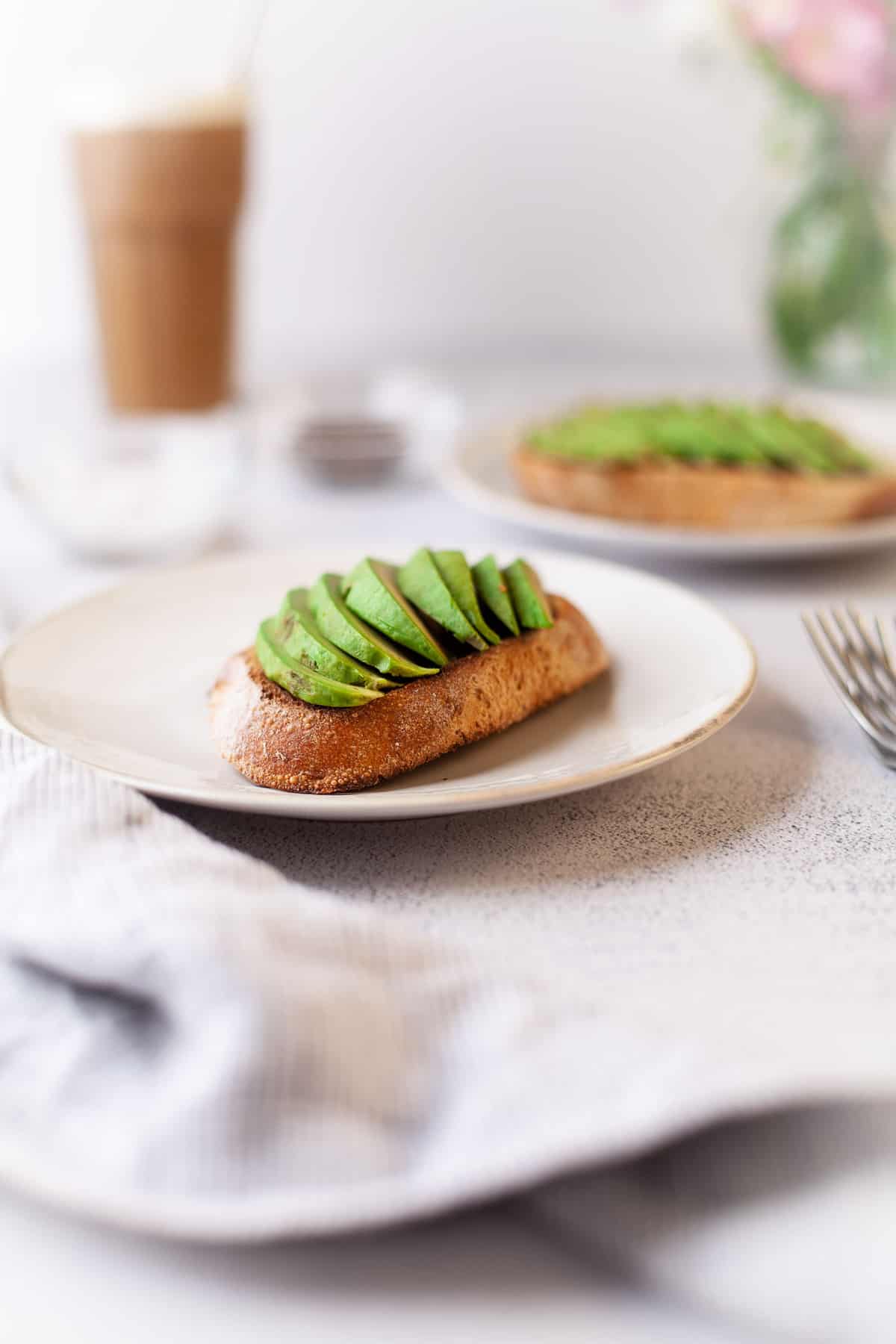 Cook cracked eggs on low heat in a skillet while bread is in the toaster. Egg whites will set but yolk will be runny. For a firmer yolk, cover with a lid once the egg whites have set.
Place sliced avocado on top of toast, followed by the egg and a sprinkling of lemon pepper and cilantro, if desired.
FAQs
Is it good to eat avocado with eggs?
Oh yes! Avocados and eggs are both high in Omega 3s. Eggs are high in protein, vitamins and minerals. Avocados also provide us with an abundance of vitamins and minerals as well as things like potassium and folate.
Eating avocado and eggs in combination is a powerhouse of goodness!
What's the best bread for avocado toast?
As long as it can stand up against the weight of the avocado and additional toppings, the choice is yours. Sourdough and whole grain bread are great, as are bagels, baguettes, crusty bread, and a thick slice of regular white bread can also work (although it's probably the least sturdy of them all!).
How can you tell an avocado is ripe?
One of the best ways to tell if an avocado is ripe is by giving it a bit of a squeeze. It should have a slight give. Too much means it's too ripe, and not enough means it's not ripe enough. Another way is trying to pick off that little stem at the end. If it comes off quite easily and the flesh under it is bright green, it's probably ripe. Avoid any discoloration or funny smelling avocados. A ripe avocado should smell and look like an avocado.
How do I quickly ripen an avocado?
A tried and true trick is to place your avocados and a banana in a brown paper bag and allow them to sit at room temperature overnight. You should notice it getting riper within a day or two.
How to make this avocado toast your own
Use gluten-free, grain-free, or regular white bread if you'd prefer.
Season your avocado as you'd like. A sprinkling of everything bagel seasoning on top is amazing! If you're a fan of everything bagel, don't miss these everything bagel breakfast sliders!
For a little added heat, sprinkle red pepper flakes on top.
Add smashed avocado and tomato to your toast and skip the egg. Or have all 3.
Serve your scrambled egg, poached egg, basted egg, or boiled egg as a side rather than on top.
Turn your open-faced sandwich into a closed sandwich with an extra slice of bread.
For a low-carb option, enjoy your avocado on a grilled sweet potato.
Slice, dice or mash your avocado on top of your toast, there are no rules!
Build on this awesome base by adding additional toppings such as goat cheese, bacon, grilled veggies, caramelized onions, sun-dried tomatoes, roasted garlic, you name it, get creative!
All the avocado toast!
Can't get enough avo toast? Us either. Try caprese avocado toast, pesto eggs on avocado toast, or roasted tomato avocado toast.
How to store avocado
If you happen to have any leftover avocado that's already been sliced or diced, squeeze it with some extra lemon juice and store it in an airtight container for up to 4 days or keep frozen for up to 6 months. Great for tossing in smoothies!
If it's mashed, keep it in a bowl, squeeze some lemon juice on top (some people find keeping the pit in there works too), and cover tightly with plastic wrap, pressing the wrap right next to the mashed avocado. Keep it in the fridge for up to 4 days. Scrape off the brown top layer before using it again.
Other quick breakfast ideas
Get the Recipe: Avocado Toast with Egg
This avocado toast with egg is made with delicious creamy avocado slices and a squeeze of lemon, all sitting on top of a crispy slice of toast!
Ingredients
2 large eggs
1 avocado ripe
2 slices sourdough bread or whole grain bread
juice of 1/2 lemon
1 teaspoon olive oil or avocado oil
kosher salt and coarse ground black pepper to taste
chopped fresh cilantro and lemon pepper optional toppings
Instructions
Pick ripe avocados. It all comes down to the avocado you choose. Try to find an avocado that's ripe, but not over-ripe.

Heat some vegetable oil (or olive oil) in a skillet.

Meanwhile, toast your slices of bread until golden and crispy. (Make sure they are thick enough to hold the egg and avocado.)

Cut the avocado and place the slices on top of the toast. You can add lemon or lime juice.

Break the eggs onto the skillet and reduce the heat to low. Cook them until the whites set and the yolks are runny. If you like the yolk firm, you could cover them up with a lid, once the whites are set.

Once the eggs are ready, place them over the avocado on the toast.

Finish by adding lemon pepper and cilantro if desired for final touches.

Enjoy!
Notes
Use gluten-free, grain-free, or regular white bread if you'd prefer.
Season your avocado as you'd like. A sprinkling of everything bagel seasoning on top is amazing!
For a little added heat, sprinkle some red pepper flakes on top.
Calories: 429kcal, Carbohydrates: 45g, Protein: 15g, Fat: 22g, Saturated Fat: 4g, Trans Fat: 1g, Cholesterol: 164mg, Sodium: 398mg, Potassium: 630mg, Fiber: 8g, Sugar: 2g, Vitamin A: 384IU, Vitamin C: 10mg, Calcium: 65mg, Iron: 4mg