Beet Pancakes
These beet pancakes use beetroot powder to turn light, fluffy buttermilk pancakes the prettiest shade of pink! (And don't worry, beet haters—they don't taste like beets!)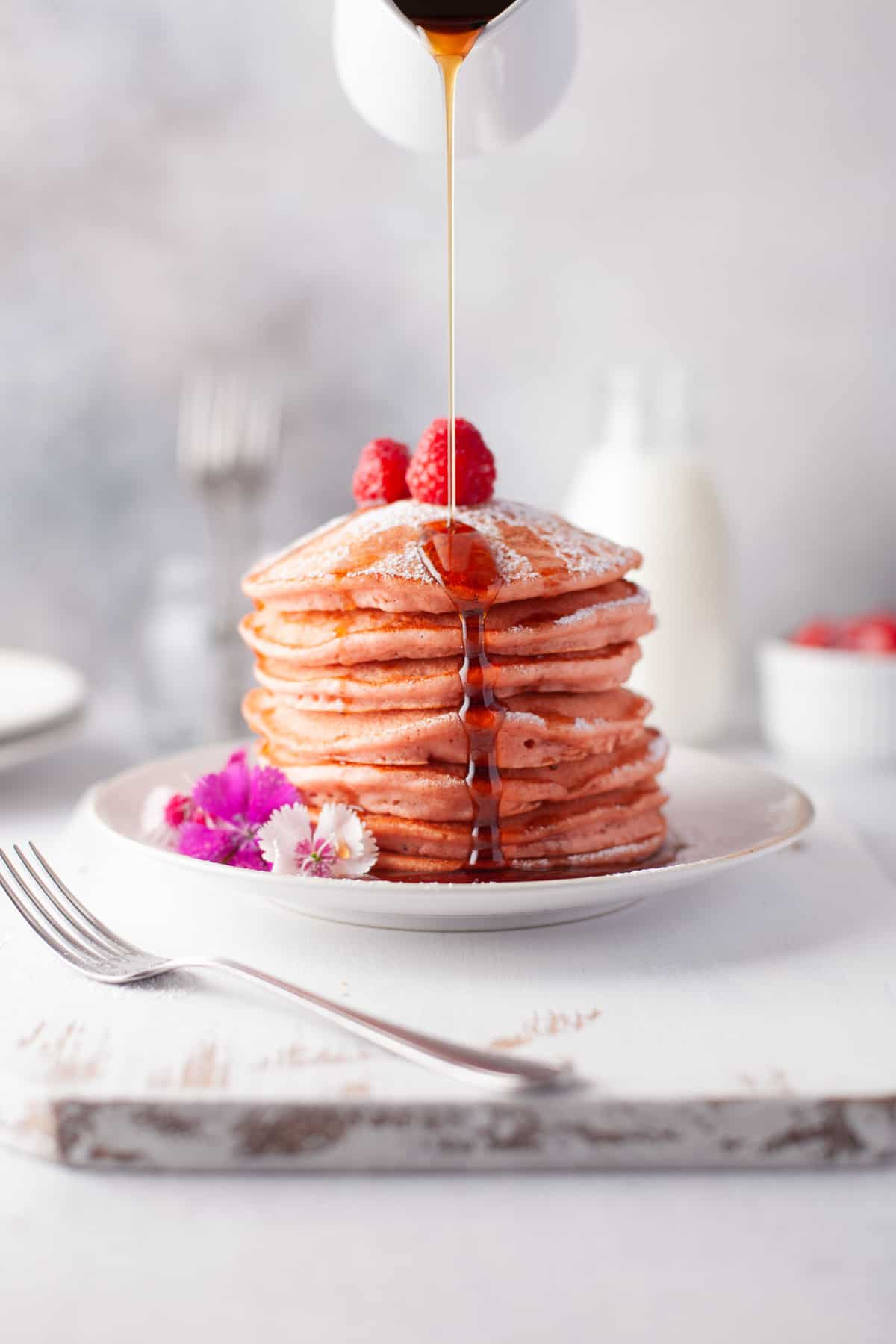 Whether you love 'em or hate 'em, you have to admit that beets are one of the more eye-catching vegetables out there thanks to their deep, dark garnet shade of red. Beets have been used as a natural source of dye and food coloring throughout history, and today we're using them to make pink beet pancakes!
And no, you're not even going to have to turn your fingers red in the process! Instead of working with whole, raw beets here, we use beetroot powder, which is a fantastic (and easy!) way to color foods without the mess of using actual beets.
About this beet pancake recipe
If you want to avoid artificial food coloring, beetroot powder definitely deserves a spot in your pantry. Not only is it a great way to tint cakes, frostings, and pancakes, it also packs a nutritional punch, with lots of vitamins, minerals, and nitrates, which improve vascular function.
The beetroot powder has a subtle sweetness, so when you add it to these beet pancakes, you'll sweeten the batter a bit, but you won't be introducing a strong beet flavor. (So if you're one of those people who think beets taste like dirt, you'll still enjoy these pancakes!)
With their delicate pink color, these beet pancakes are perfect for a baby shower brunch, along with a yogurt parfait bar, mimosa mocktails, and mini quiches. Or you can freeze a batch and enjoy them all week long to take advantage of some of those beet health benefits!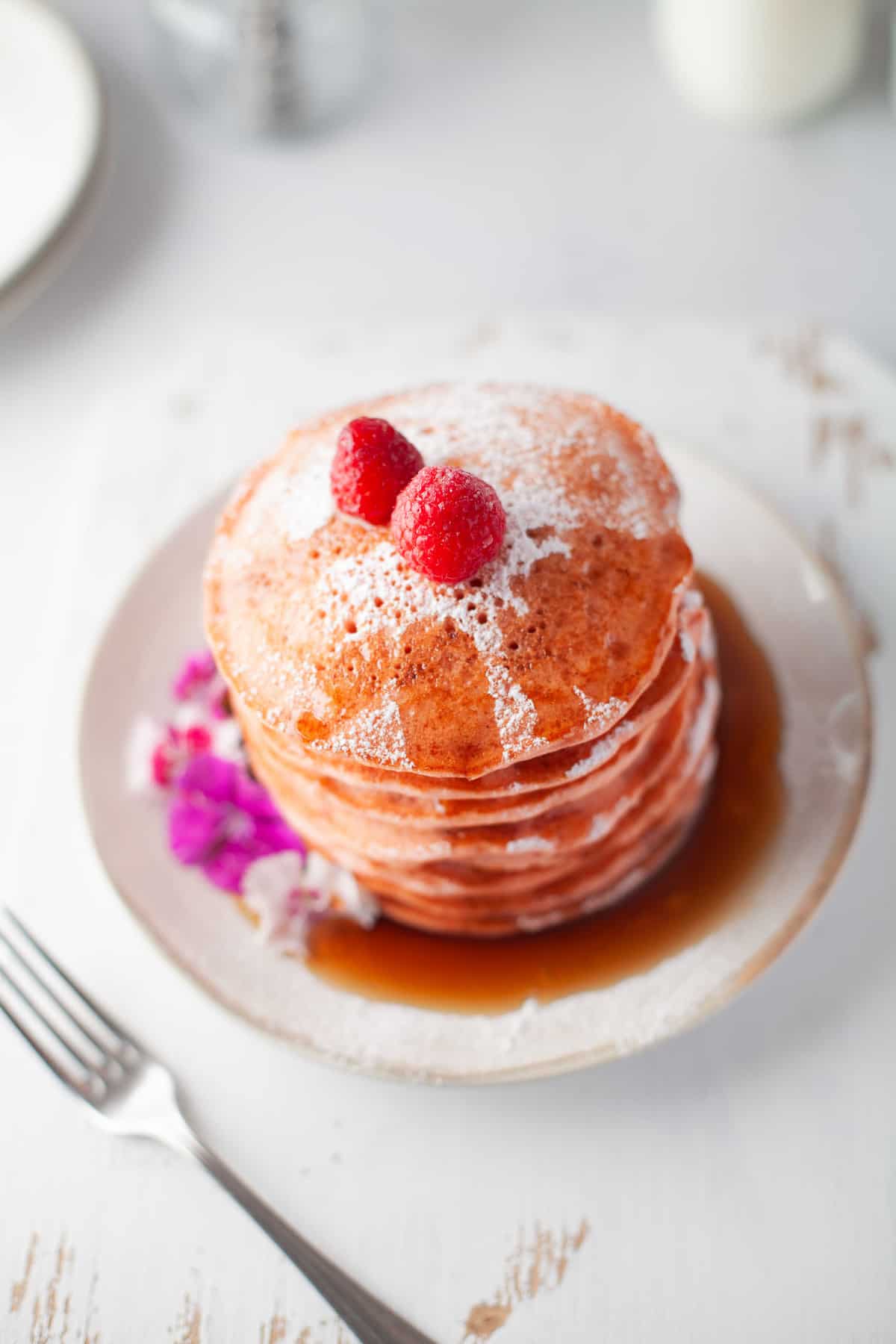 What you need
Wet ingredients: Eggs, buttermilk (here's how to make buttermilk), melted butter, vanilla extract
Dry ingredients: Beetroot powder, salt, granulated sugar, baking powder, baking soda
Toppings: Fresh fruit, butter, edible flowers, maple syrup, confectioners' sugar, honey, whipped cream, etc.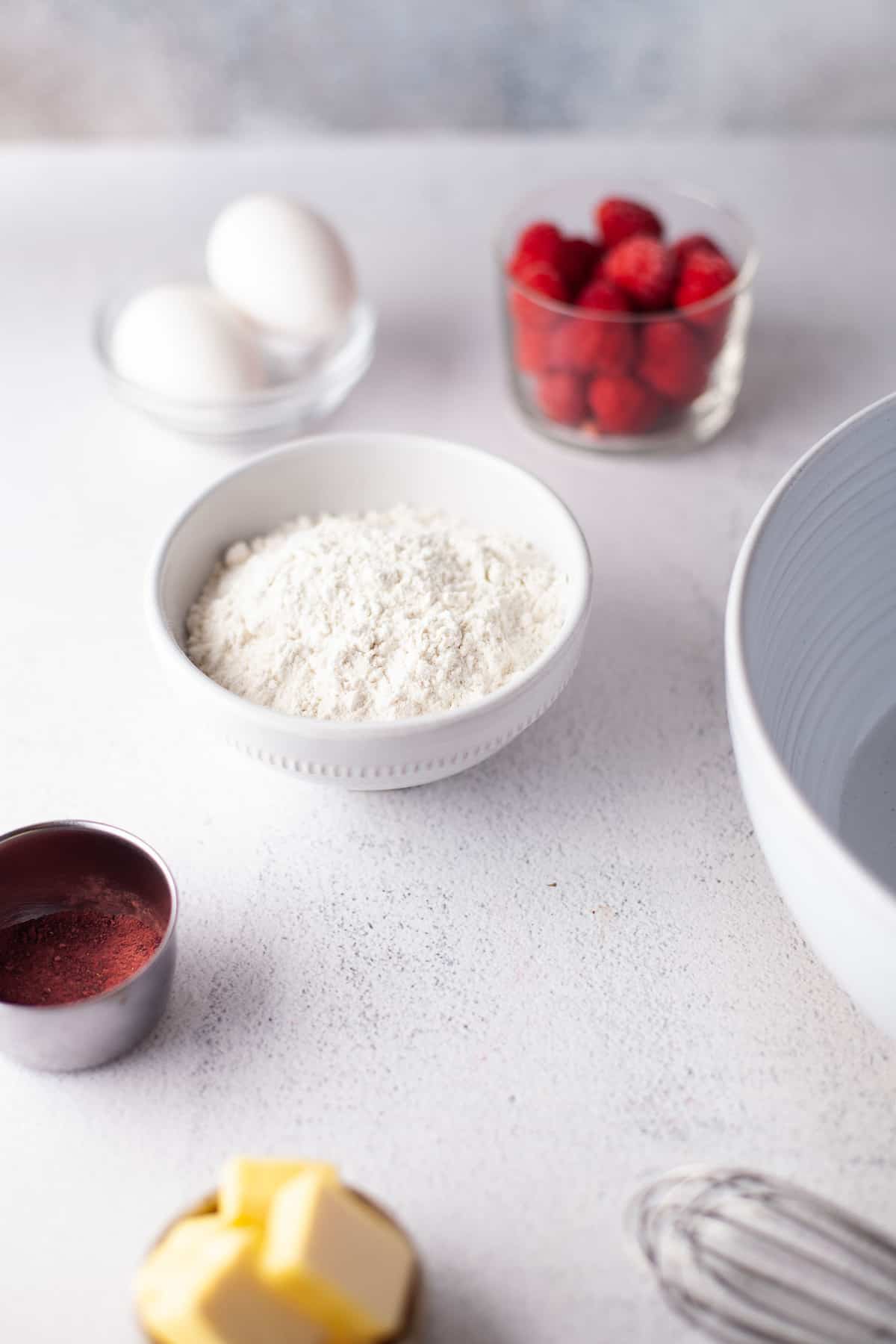 How to make them
Mix the dry ingredients. Whisk together the flour, baking powder, baking soda, sugar, and salt in a large bowl.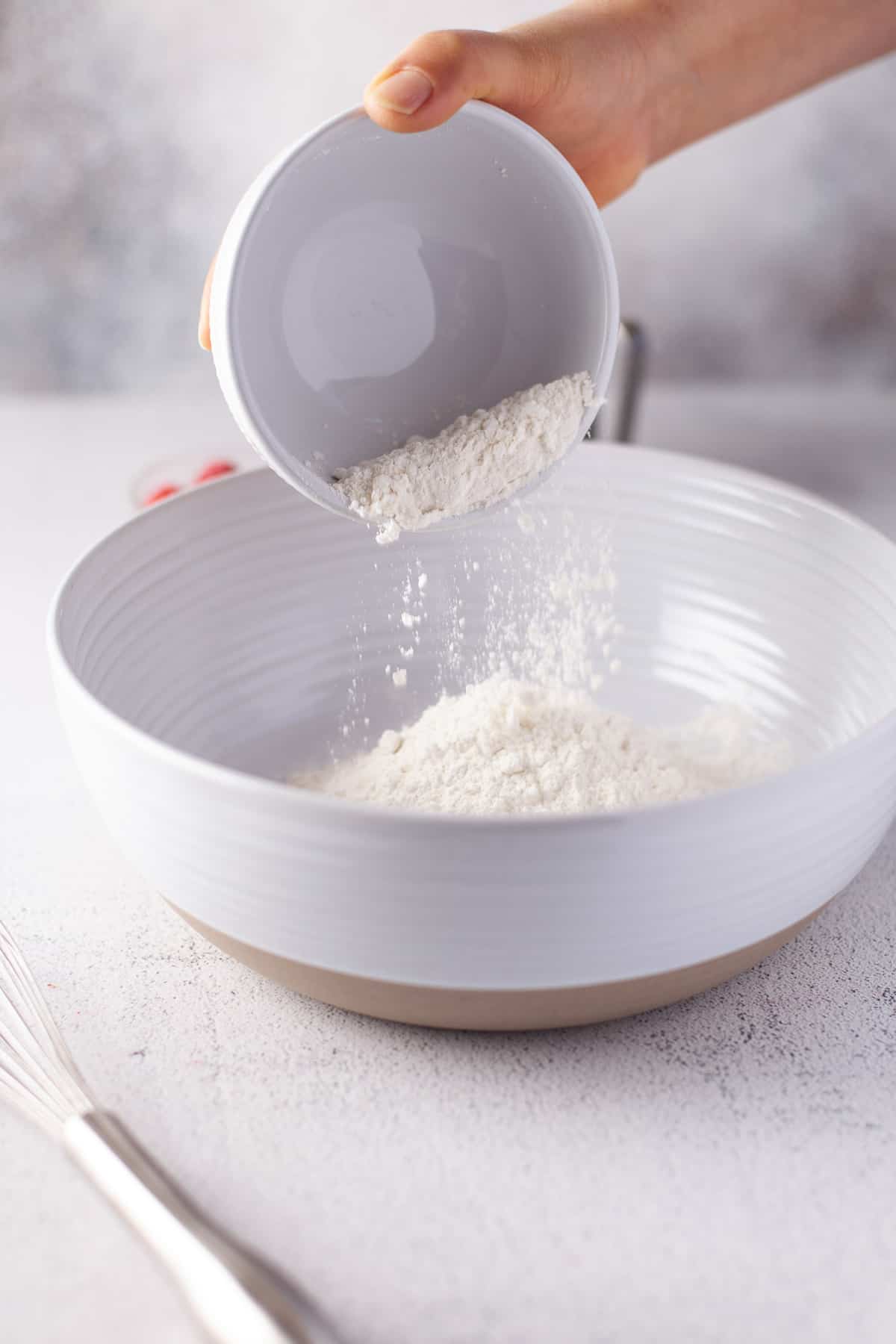 Mix the wet ingredients. Whisk the eggs, vanilla extract, melted butter, and buttermilk in a second bowl.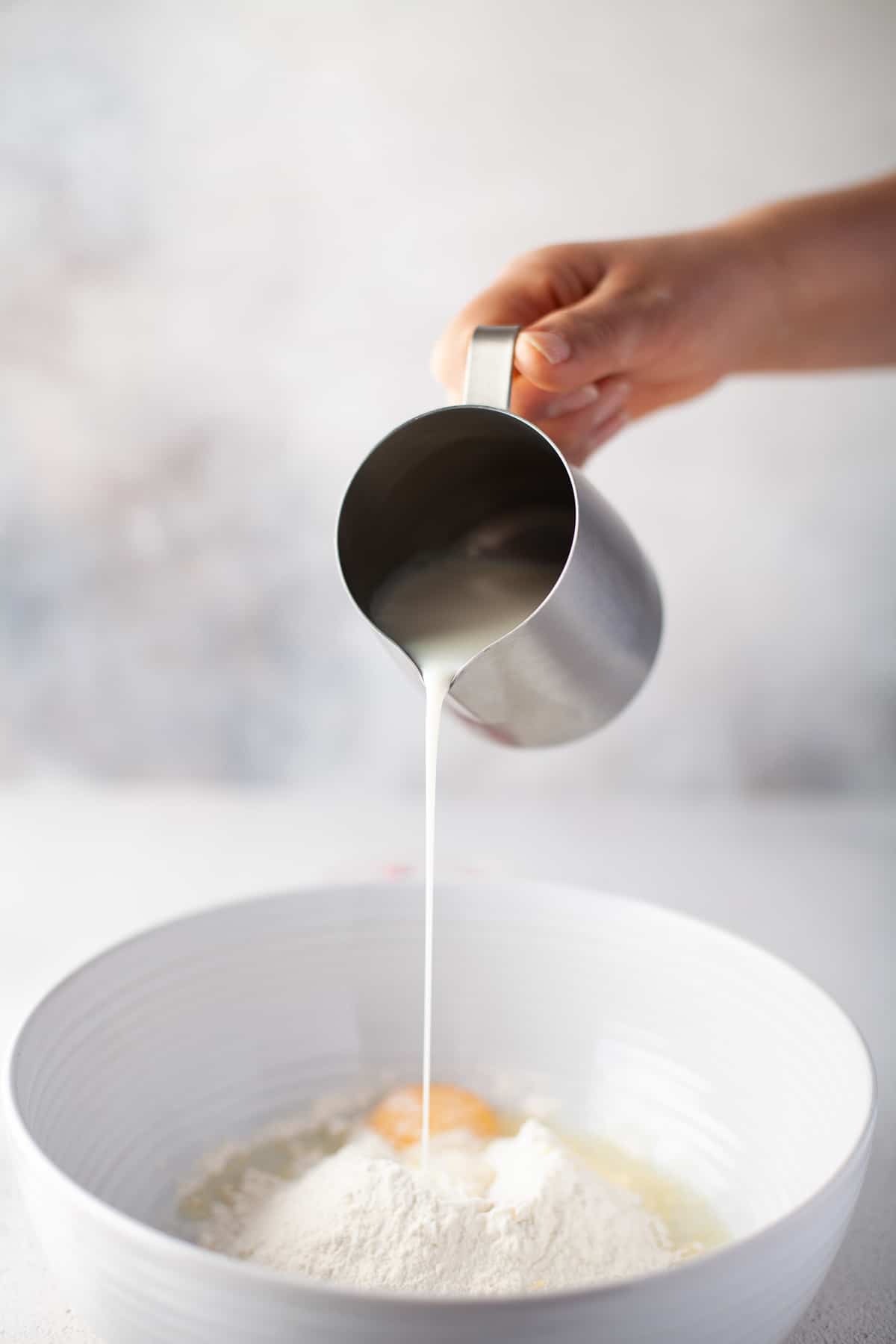 Combine the wet and dry ingredients. Pour the wet ingredients into the bowl with the dry ingredients and stir to combine. Stir in the beetroot powder.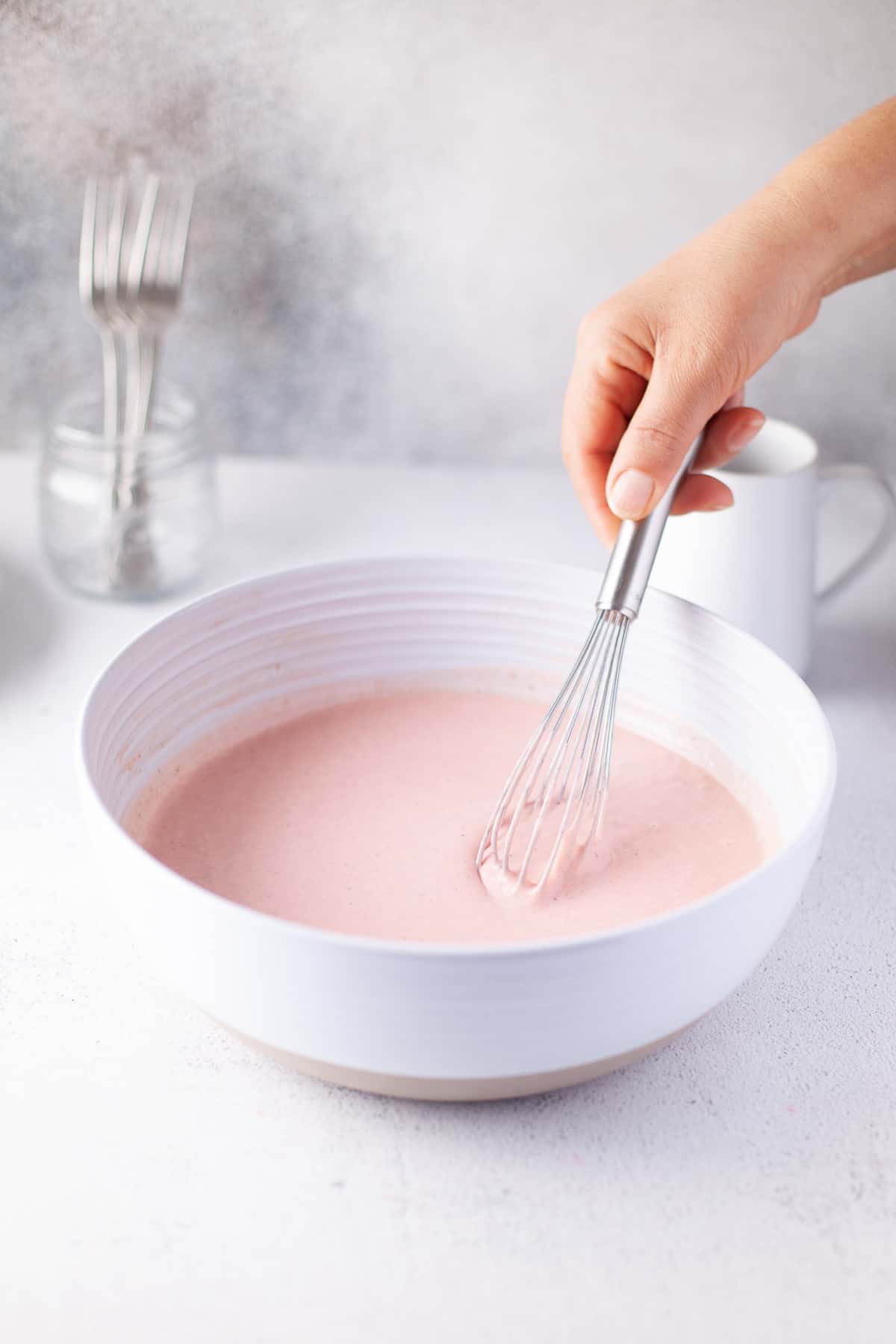 Preheat the skillet. Place a large skillet or griddle over low heat. Once the skillet is hot, grease it with oil or butter.
Cook the pancakes. Pour 1⁄4 cup of batter onto the skillet for each pancakes. Cook until bubbles form in the batter, pop, and leave tiny holes; this should take 1 to 2 minutes. Flip and cook the other side.
Tip: To make the pancakes look pink, it is important not to overcook them. You don't want them to brown, so keep the heat low!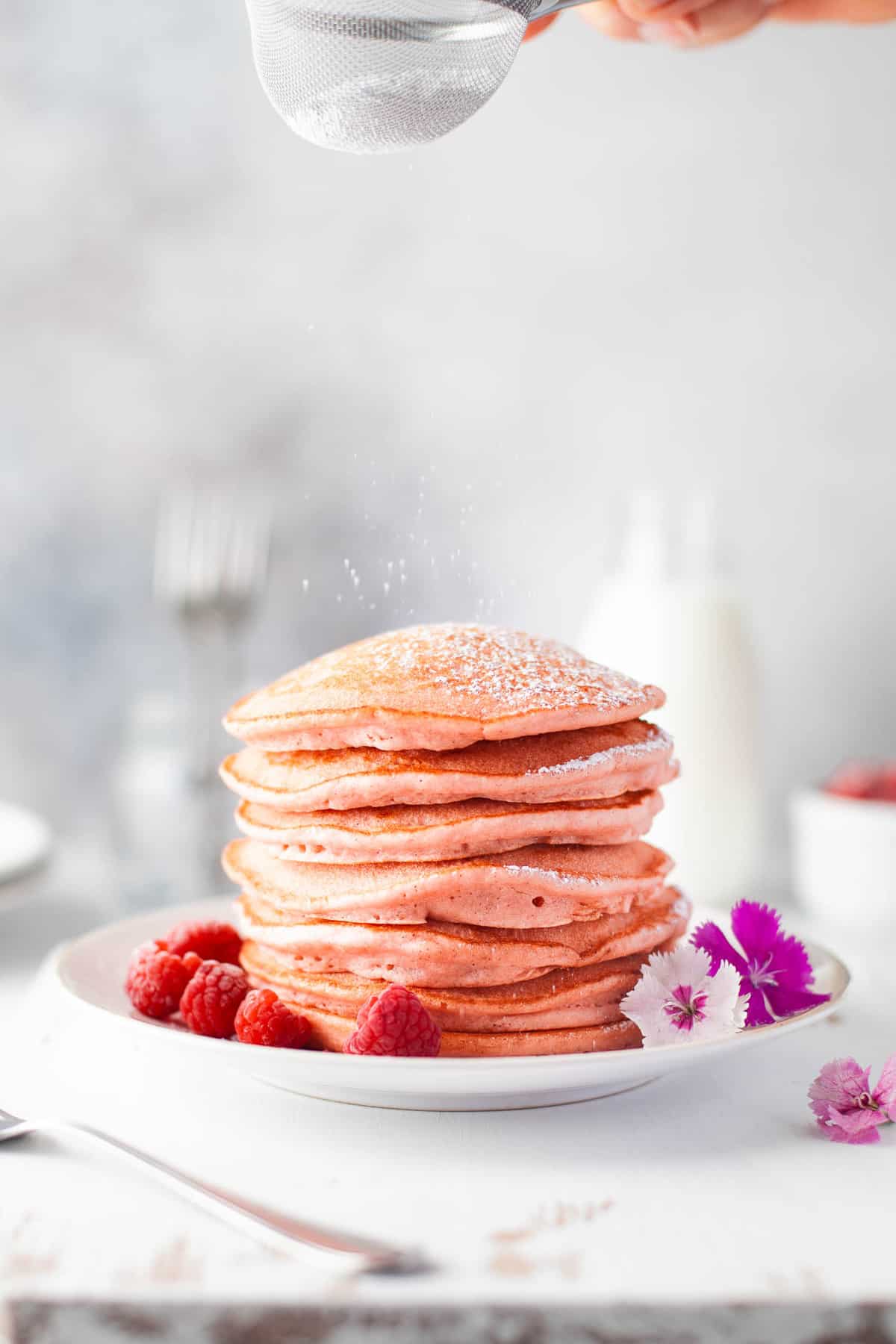 FAQs
Can I mix beetroot powder with water?
Yes, if you buy beetroot powder for this recipe and you're looking for more ways to use it, you can definitely just stir it into water and drink it like beet juice! It's also great in other baked goods, waffle batter, and smoothies—especially pink smoothies like our cherry smoothie.
Are beets high in iron?
Yes, beets are an excellent natural source of iron. Pair these beet pancakes with a cup of orange juice—vitamin C helps your body absorb iron from food better!
Are beets purple or red?
It depends on the variety of the beet; they're usually deep purples, reds, and sometimes even pinks. There are also golden beets, which are a vibrant shade of yellow.
How to make these beet pancakes your own
Here are some ideas for customizing these fluffy beet pancakes: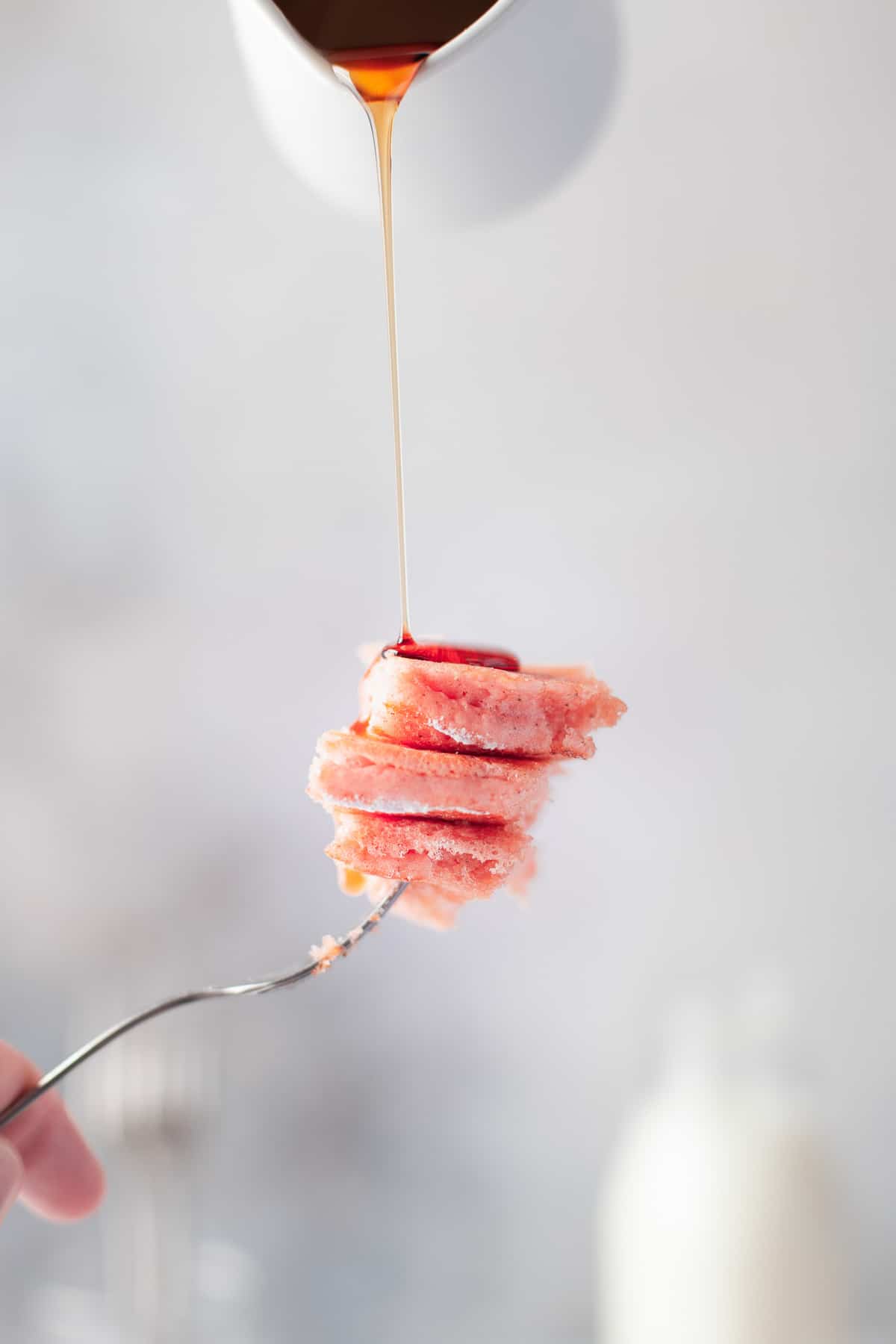 Make Ahead Ideas
Beet pancakes can be made in advance and stored in the refrigerator for up to 5 days, or frozen for up to 3 months.
Storage Suggestions
Freeze beet pancakes in an airtight storage container or a freezer bag with parchment paper between the layers to prevent sticking.
Reheating Tips
Microwave these beet pancakes until they're warmed through, or place them on a sheet pan, cover it with foil, and heat them in a 350ºF oven for about 10 minutes. (Covering the sheet pan with foil keeps the pancakes from getting dry in the oven.)
If you're reheating pancakes from frozen, simply add a few more minutes to the cooking time.
More healthy pancake recipes
Get the Recipe: Beet Pancakes
These beet pancakes use beetroot powder to turn light, fluffy buttermilk pancakes the prettiest shade of pink!
Ingredients
2 large eggs (room temperature)
2 cups buttermilk
2 cups all purpose flour
3 – 4 tablespoons beetroot powder (amount of powder can depend on taste or if you are looking for a particular color for a special occasion, you can adjust the amount)
3 tablespoons melted butter
1/2 teaspoon salt
3 tablespoons granulated sugar
2 teaspoons baking powder
1 teaspoon baking soda
1 teaspoon vanilla extract
Optional: Assorted toppings such as fresh fruit, butter, edible flowers, maple syrup, confectioners' sugar, honey or whipped cream.
Instructions
In a large bowl, mix together the flour, baking powder, baking soda, sugar and salt.

In a separate bowl, whisk the eggs, vanilla extract, melted butter and buttermilk.

Add the wet ingredients to the dry ingredients. Stir only until combined. Add the Beetroot powder until combined without over mixing.

Heat a large skillet on low heat. Once the skillet is hot, grease with oil or butter.

Pour 1⁄4 cup of batter per pancake onto the surface.

Cook until the surface of the pancakes have some bubbles and a few have burst. This could take from 1 to 2 minutes. Carefully flip with a thin spatula, and cook until barely browned on the underside.

Garnish with confectioners' sugar, fresh fruit or any of the toppings mentioned earlier.
Notes
Makes 7-8 pancakes, depending on the size.
Nutritional information does not include toppings.
To make the pancakes look pink, it is very important to cook slowly and not overcook.
Serving: 2pancakes, Calories: 447kcal, Carbohydrates: 63g, Protein: 13g, Fat: 15g, Saturated Fat: 8g, Polyunsaturated Fat: 1g, Monounsaturated Fat: 4g, Trans Fat: 0.4g, Cholesterol: 118mg, Sodium: 1002mg, Potassium: 264mg, Fiber: 2g, Sugar: 15g, Vitamin A: 579IU, Calcium: 280mg, Iron: 4mg