Strawberry Sauce (Topping)
Homemade strawberry sauce is bright and refreshing and adds a pop of summer to any dish. Use fresh or frozen berries!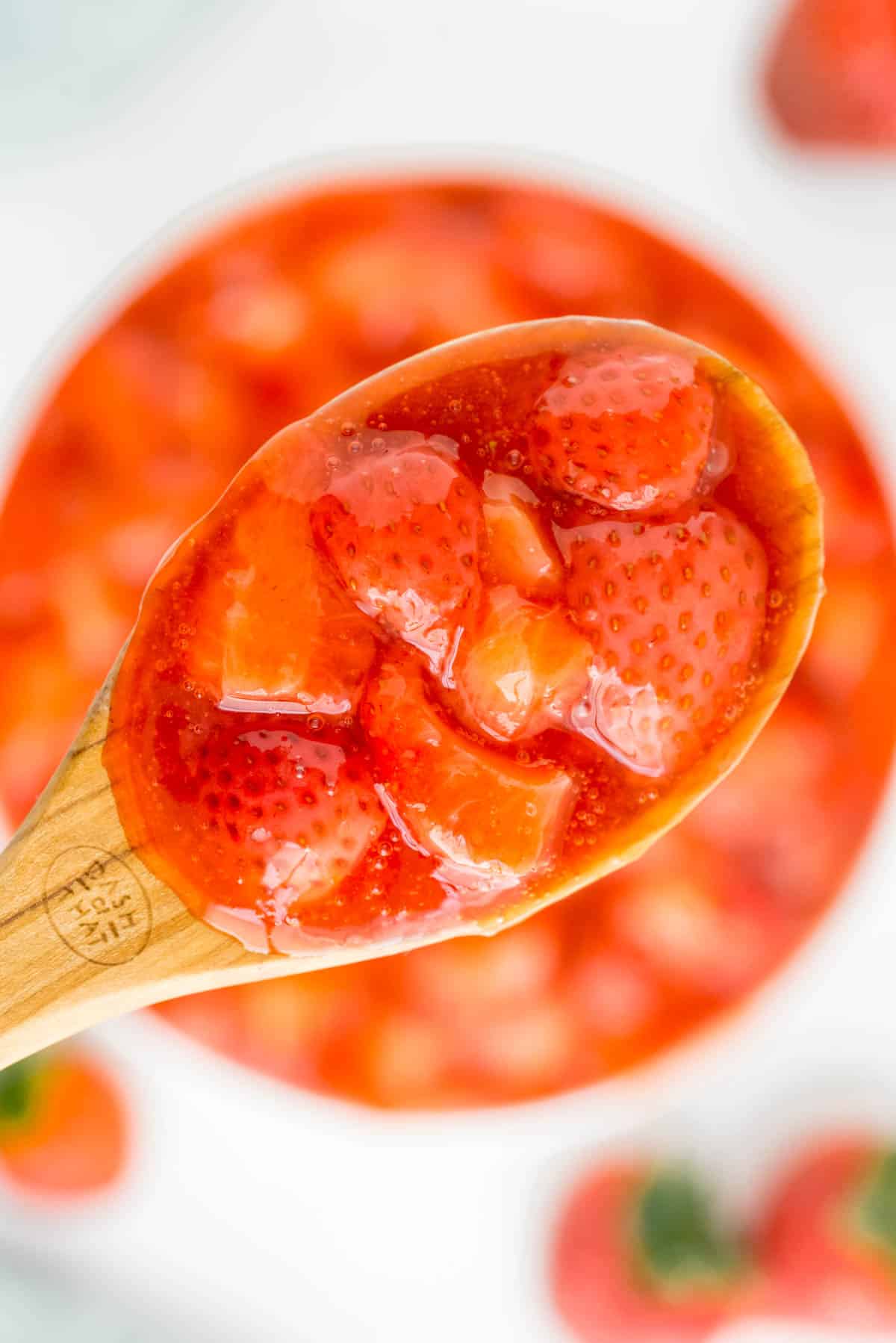 Is there anything better than fresh strawberries in summer? Sweet and juicy, strawberries are the star of summer cooking.
Homemade strawberry sauce captures that fresh taste of summer so it can be enjoyed all year long! Try it on strawberry cheesecake stuffed French toast for an over-the-top delicious breakfast! It's perfect for strawberry waffles and strawberry ricotta pancakes, too!
But you don't need fresh berries to preserve that fresh flavor. This sauce can be made with fresh OR frozen strawberries, so you can serve this refreshing topping regardless of the weather outside.
You can freeze this sauce, too, so it's easy to keep on hand.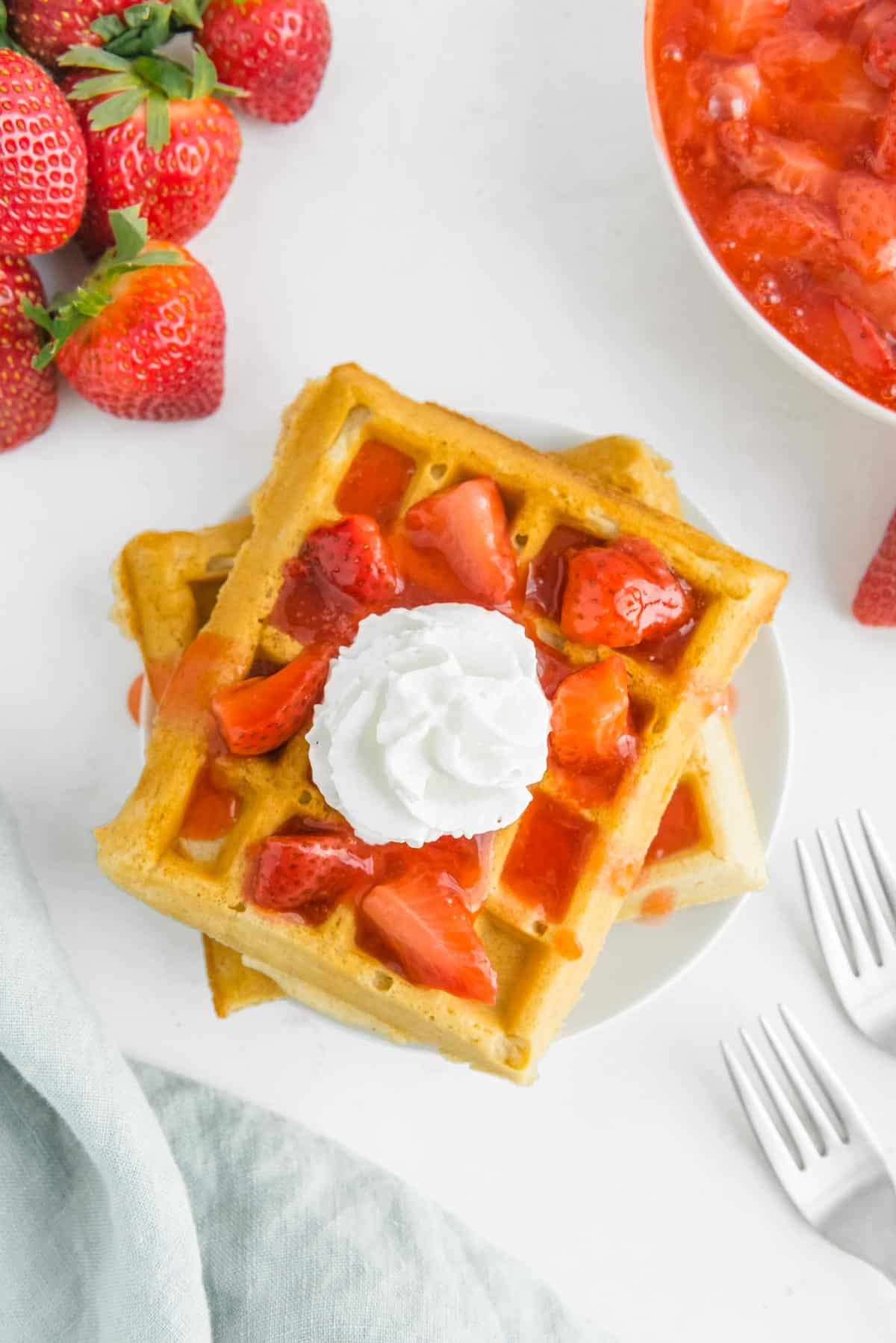 About this sauce
Strawberries are a classic topping for so many reasons, and this sauce is sure to become a favorite in your home as well.
Strawberry sauce adds a bright, fresh zing to a fresh stack of buttermilk pancakes but think beyond pancakes and waffles! The vibrant red color of this smooth strawberry sauce also adds a perfect finish to dessert staples like vanilla ice cream or angel food cake. It's even better paired with a little chocolate syrup!
P.S. If you have a lot of berries on hand, you might also love our healthy mixed berry jam.
Ways To Use Strawberry Sauce
This healthy homemade strawberry sauce takes simple flavors to create a complex and versatile sauce that's great for pancakes and waffles. Top a buckwheat pancake or a gluten-free pancake for a nutritious start to your day.
We love strawberry sauce on chocolate pancakes or even better, chocolate chocolate chip pancakes!
You can also add this sauce to your favorite smoothie recipe! For a healthy snack with plenty of protein, try stirring your homemade strawberry sauce into plain Greek yogurt and topping with fresh fruit, flax, granola, and nuts to make a delicious smoothie bowl.
Stir homemade strawberry sauce into vanilla pudding, yogurt, or ice cream. This sauce adds color and fruit flavor to prepared foods.
This sauce also works perfectly as a fruit dip. Try dipping strips of waffles, french toast, or bites of these peanut butter oatmeal cookies.
However you use it, this is a sauce you'll be making again and again.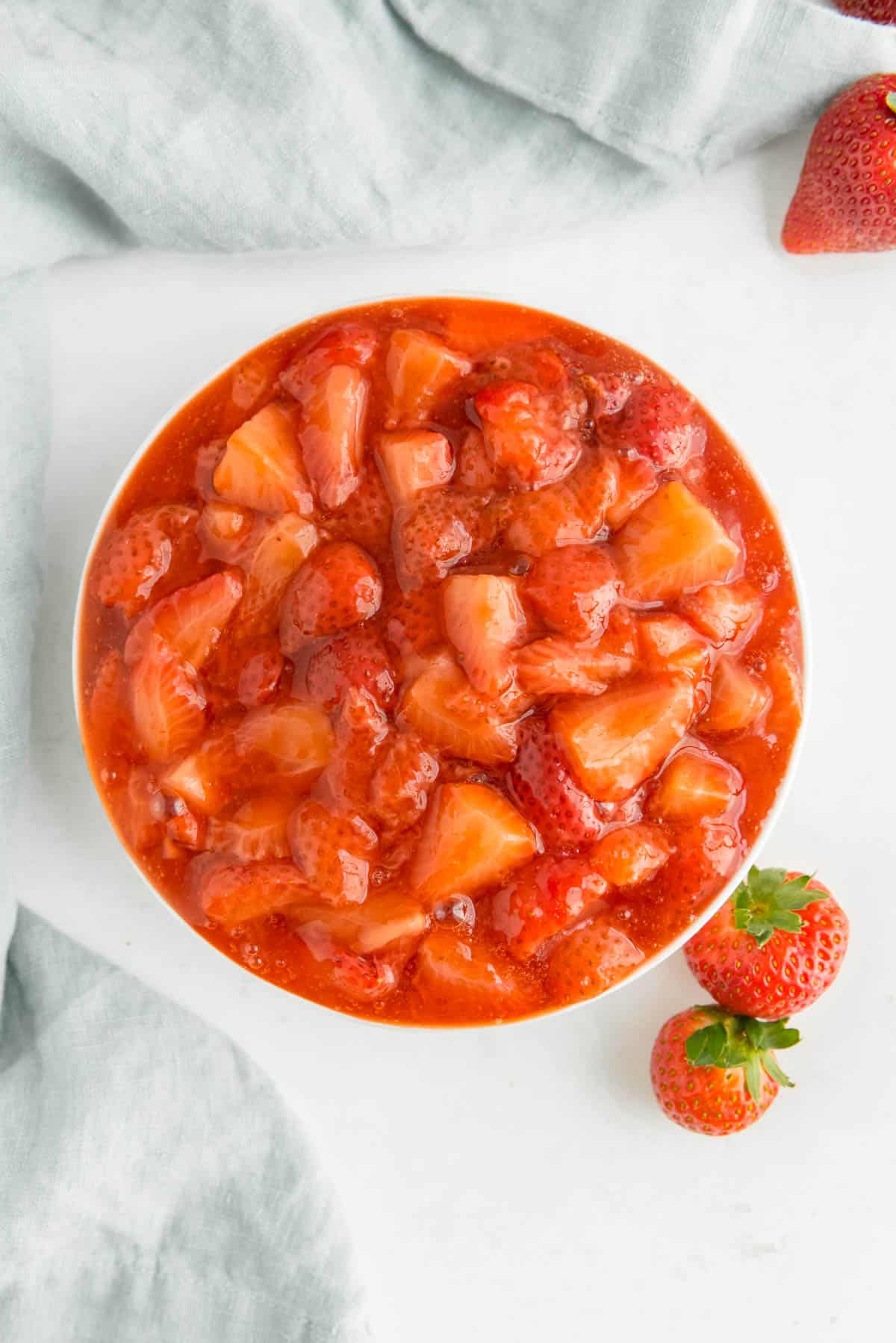 What you need
Only 5 simple ingredients are needed to make this easy recipe! As always, keep scrolling to find the measurements and the printable recipe.
Strawberries – Fresh or frozen work well, but sliced are best. I've used whole berries to make this sauce, and it does work fine, but plan on cooking it quite a bit longer to allow the whole berries to break down a little bit and turn into a nice sauce.
Water + Cornstarch – This combination will make everything turn into a nice thick sauce.
Sugar – I've made this without sugar for a healthier version, and if you're used to things not being as sweet, you can definitely do that. On the other hand, if you want things sweeter, feel free to increase the sugar slightly.
Fresh Lemon Juice – In a pinch, you can skip this, but it brightens up the flavors and adds a nice contrast to the sweetness of the berries.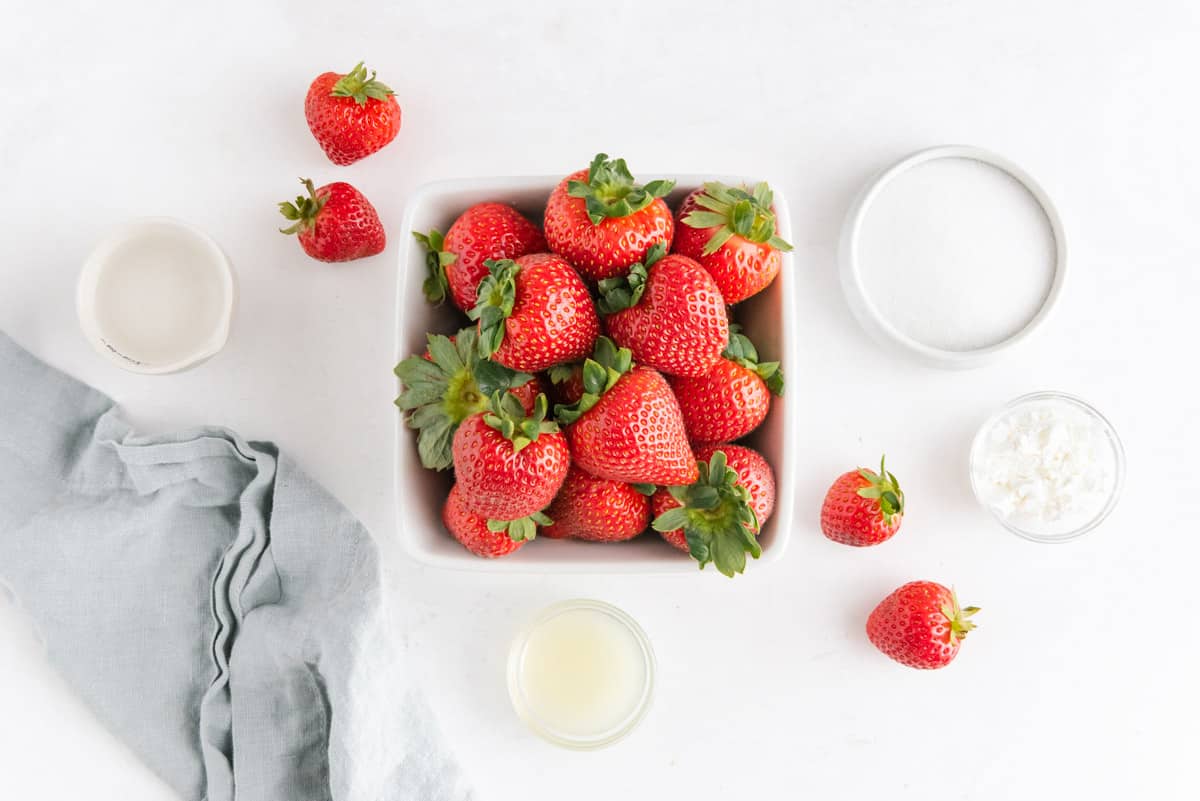 How to make it
This is a super easy recipe! You'll wash your berries and cut them, if they're fresh.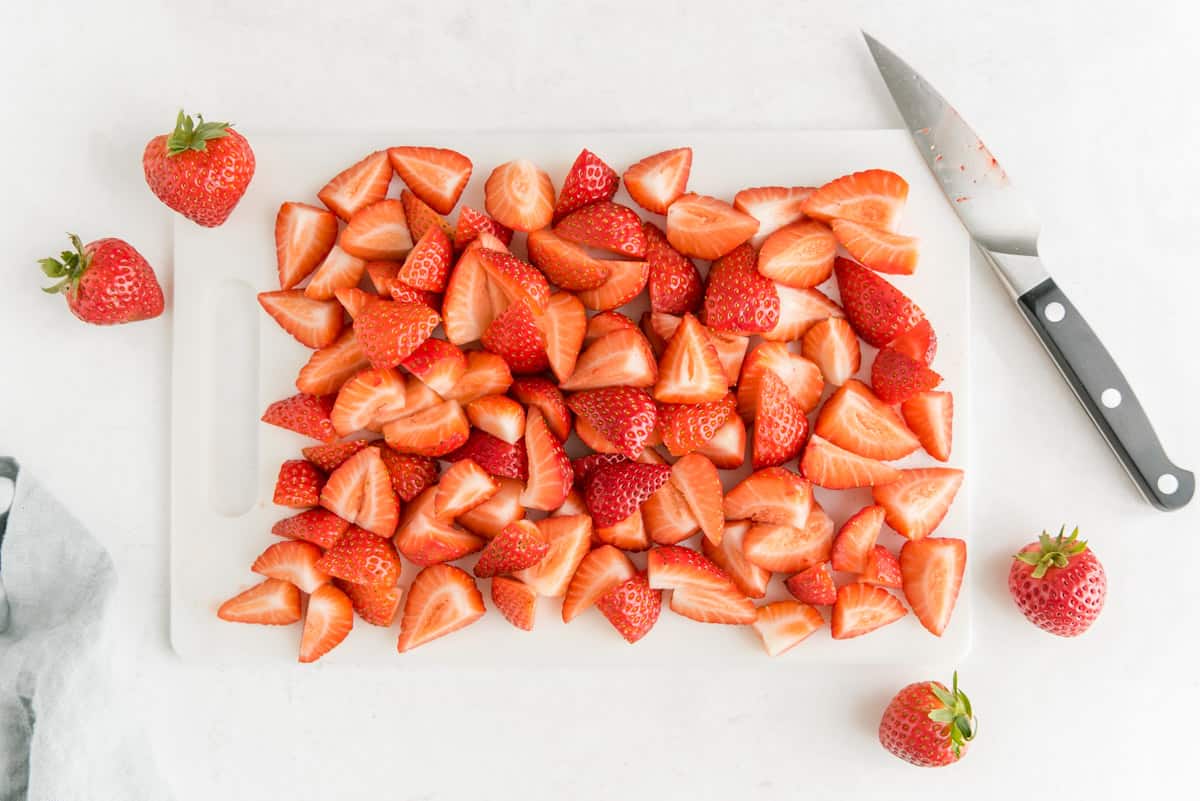 Next, combine everything in a saucepan.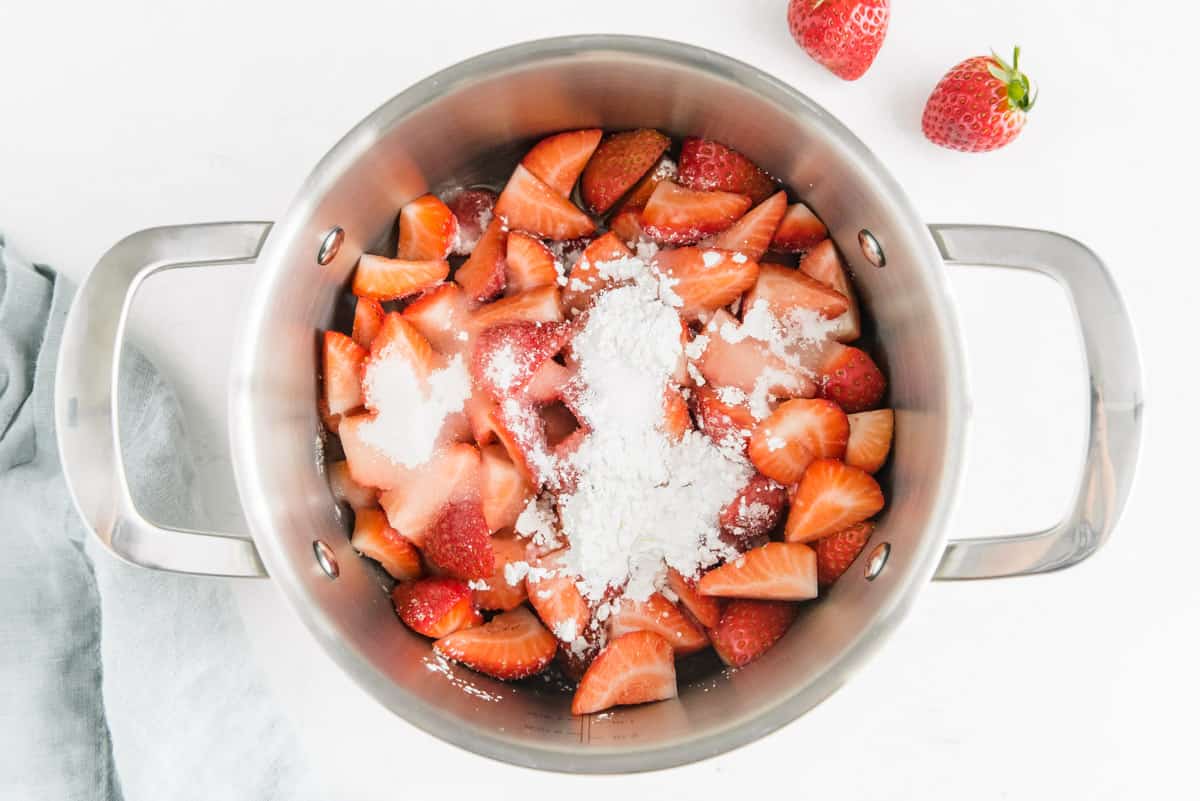 Heat the ingredients over medium heat and cook for 3-4 minutes or until the sauce is thick. Cool slightly before serving.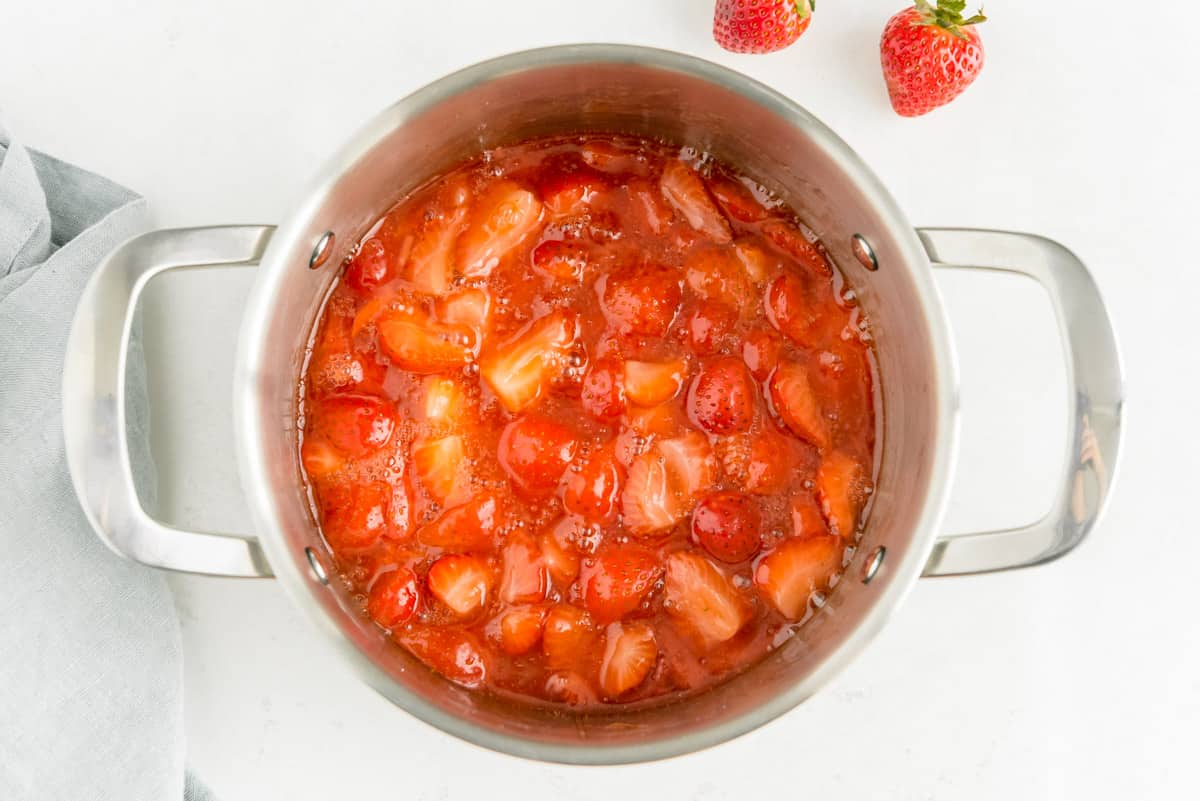 How to make it your own
Add less sugar. You can adjust the amount of sugar to suit your preferences, making it easy to enjoy this sauce more lightly sweetened.
Substitute a natural sweetener. This sauce can also be sweetened with honey or coconut sugar if you prefer to skip the granulated sugar.
Add fresh strawberries after the sauce is cooked. Once your cooked sauce has cooled completely, you can add a handful of chopped fresh strawberries when you're ready to serve the sauce.
Pair it with walnuts. This sauce is great when paired with walnuts. After topping your dish with this strawberry sauce, toss toasted chopped walnuts over top.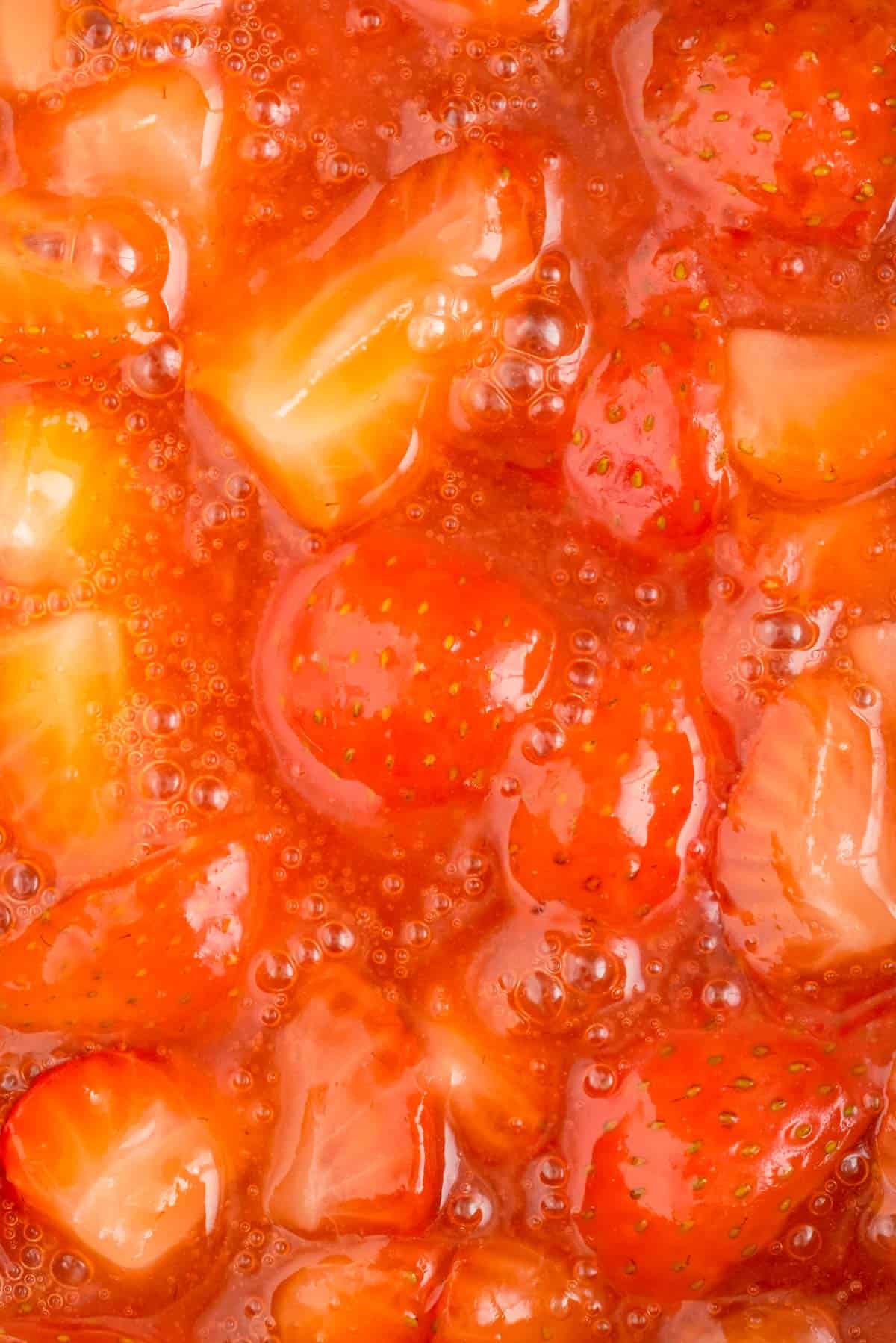 FAQ
How do you make strawberry sauce from scratch?
By using this recipe, you can easily make strawberry sauce from scratch by cooking down strawberries, sugar, cornstarch, and water. A touch of lemon juice brightens the flavors.
What's the difference between strawberry sauce and strawberry syrup?
Strawberry sauce, like this one, contains large pieces of strawberries, whereas strawberry syrup will have no chunks. To make strawberry syrup, you'd want to cool the sauce and puree it in a blender or food processor, and then push it through a fine-mesh strainer.
Does strawberry syrup and strawberry sauce need to be refrigerated?
Yes, this is best stored in the fridge to prevent spoiling.
How do you hull a strawberry?
Hulling a strawberry means to remove the green leafy top of the berry. You can do this with special tools, but a knife works just as well. They are edible, however, the appearance and texture of your sauce will be better if you remove them.
How many strawberries are in a pound?
It varies greatly depending on the size of the berries. You can plan on anywhere between 10 and 20 strawberries in a pound.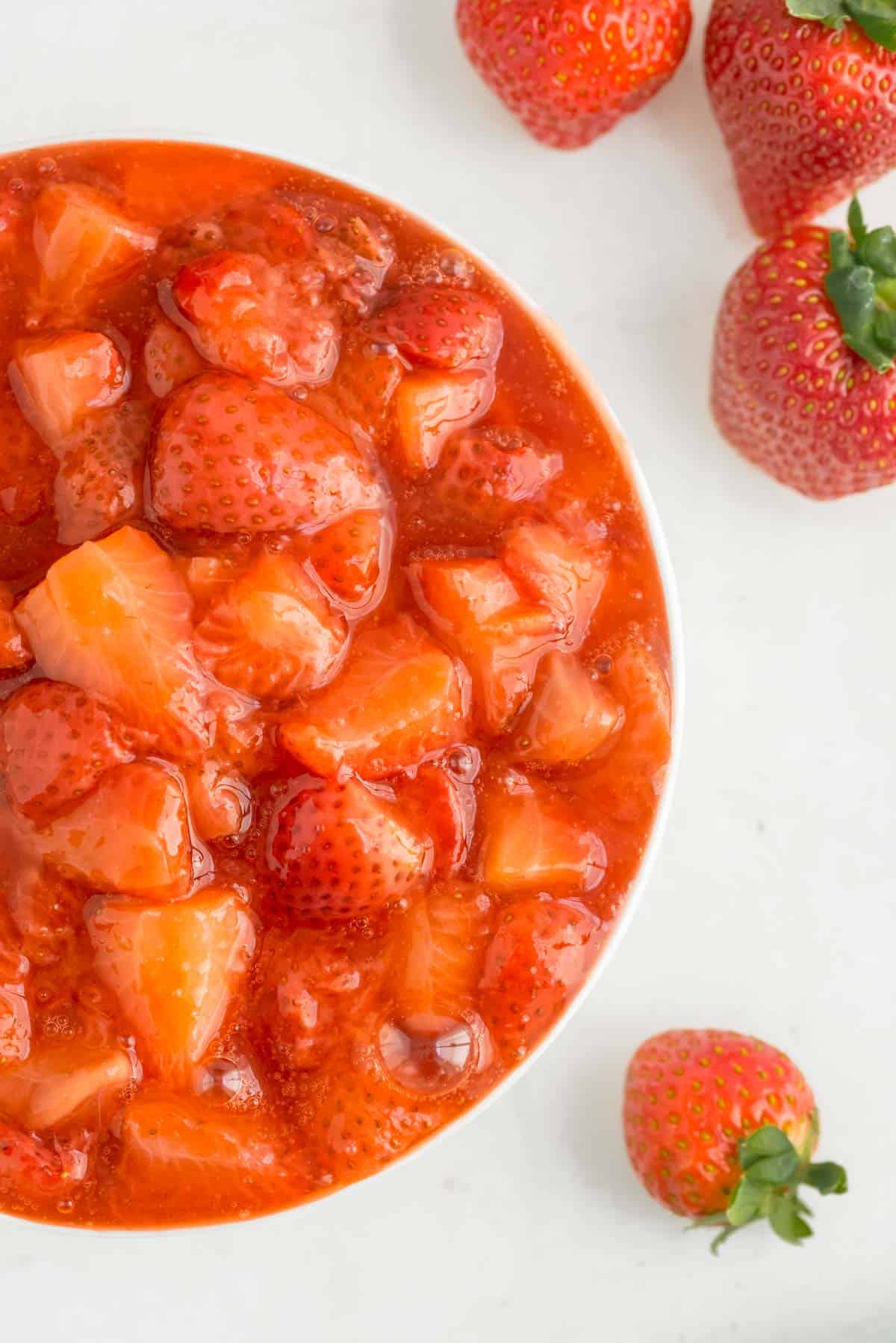 Make Ahead Ideas
This sauce freezes well, so don't be afraid to make a lot of it! If you freeze small portions of this sauce, you can toss them right into lunch bags and they will be thawed and ready to go at lunch time.
Storage Suggestions
Homemade strawberry sauce can be stored in the refrigerator for up to 5 days.
Reheating Tips
To reheat your sauce, you can warm it on low heat in a saucepan, or warm it in a microwave-safe container in the microwave on low. In the microwave, heat your sauce in 10 to 15 second increments, stirring as you go until your sauce reaches the desired temperature.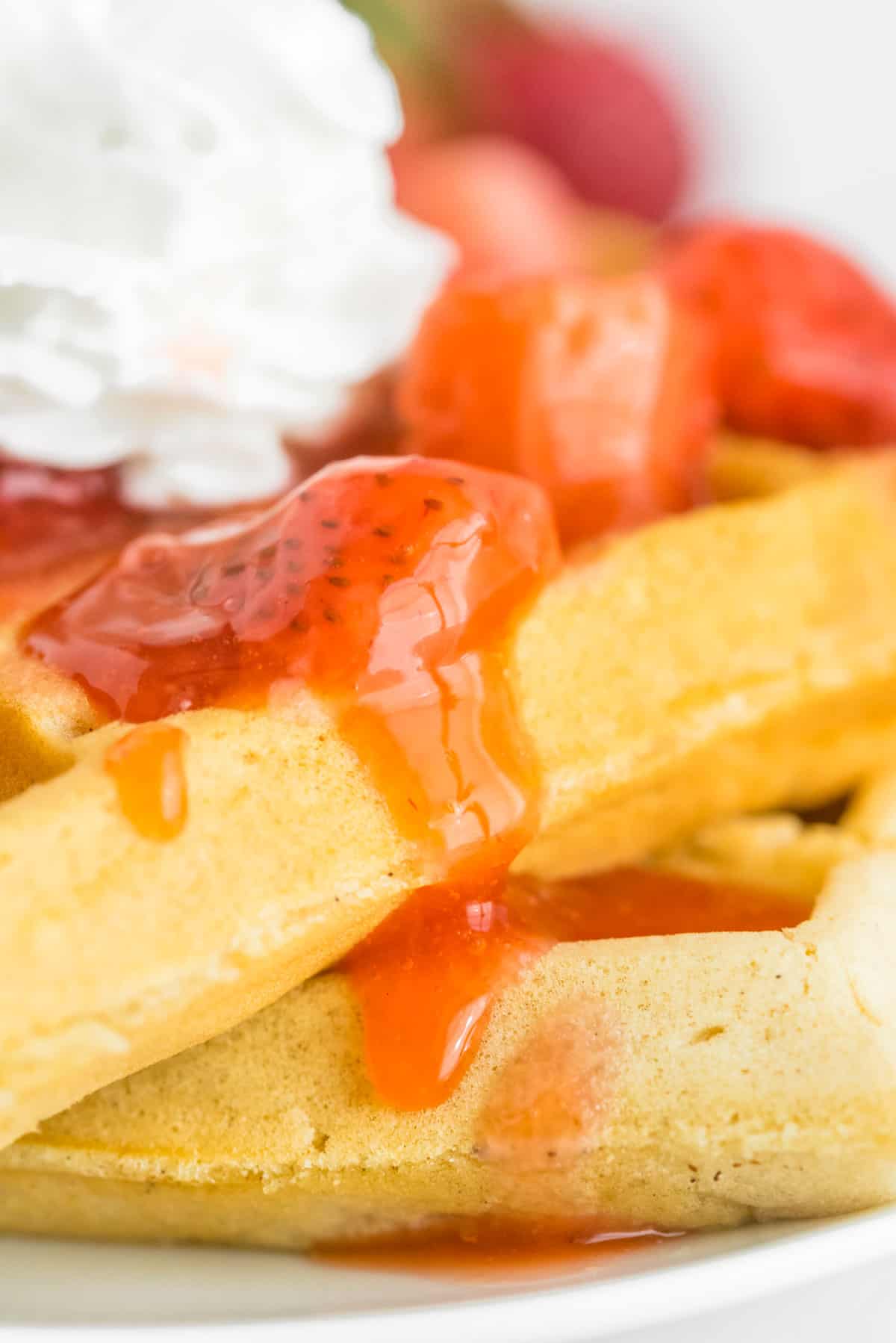 More pancake toppings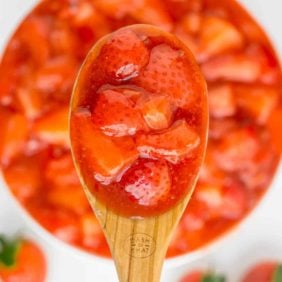 Get the Recipe: Strawberry Sauce
Homemade strawberry sauce is bright and refreshing and adds a pop of summer to any dish.
Ingredients
1 pound strawberries fresh or frozen
¼ cup water
¼ cup granulated sugar more or less to taste
1 tablespoon cornstarch
1 tablespoon lemon juice
Instructions
Add all ingredients to a medium saucepan. Heat over medium-high heat and bring to a low boil, and continue to cook for 3-4 minutes, stirring constantly, or until berries have broken down and sauce has thickened.

Cool slightly before serving.

Store in a covered container in the fridge for up to 5 days.
Serving: 0.5cup, Calories: 186kcal, Carbohydrates: 47g, Protein: 2g, Fat: 1g, Saturated Fat: 1g, Sodium: 4mg, Potassium: 355mg, Fiber: 5g, Sugar: 36g, Vitamin A: 28IU, Vitamin C: 136mg, Calcium: 38mg, Iron: 1mg