Honey Oat Pancakes
These honey oat pancakes are lightly sweetened, perfectly fluffy, and naturally gluten-free! No fancy flours needed, either—just use plain oats!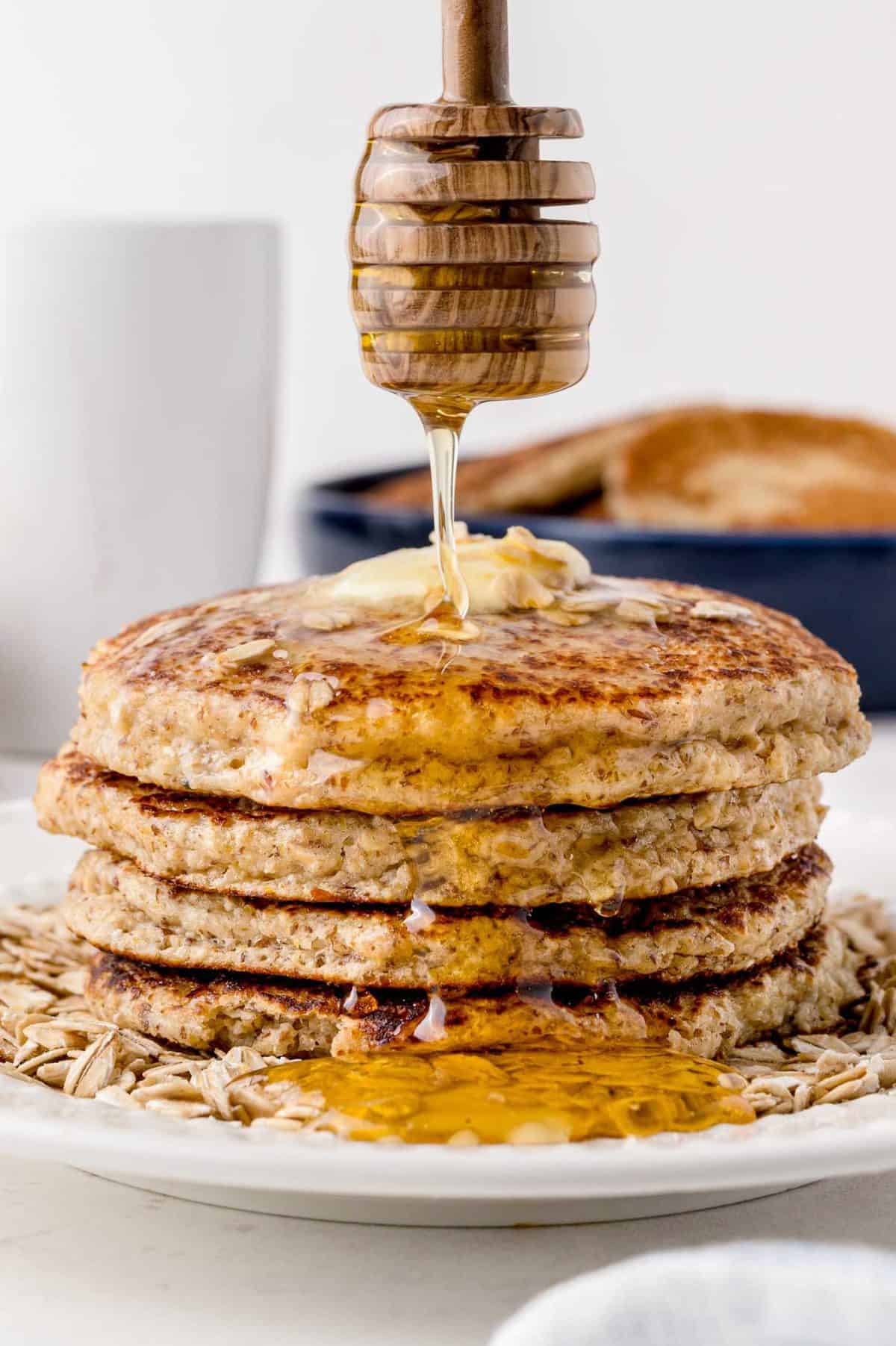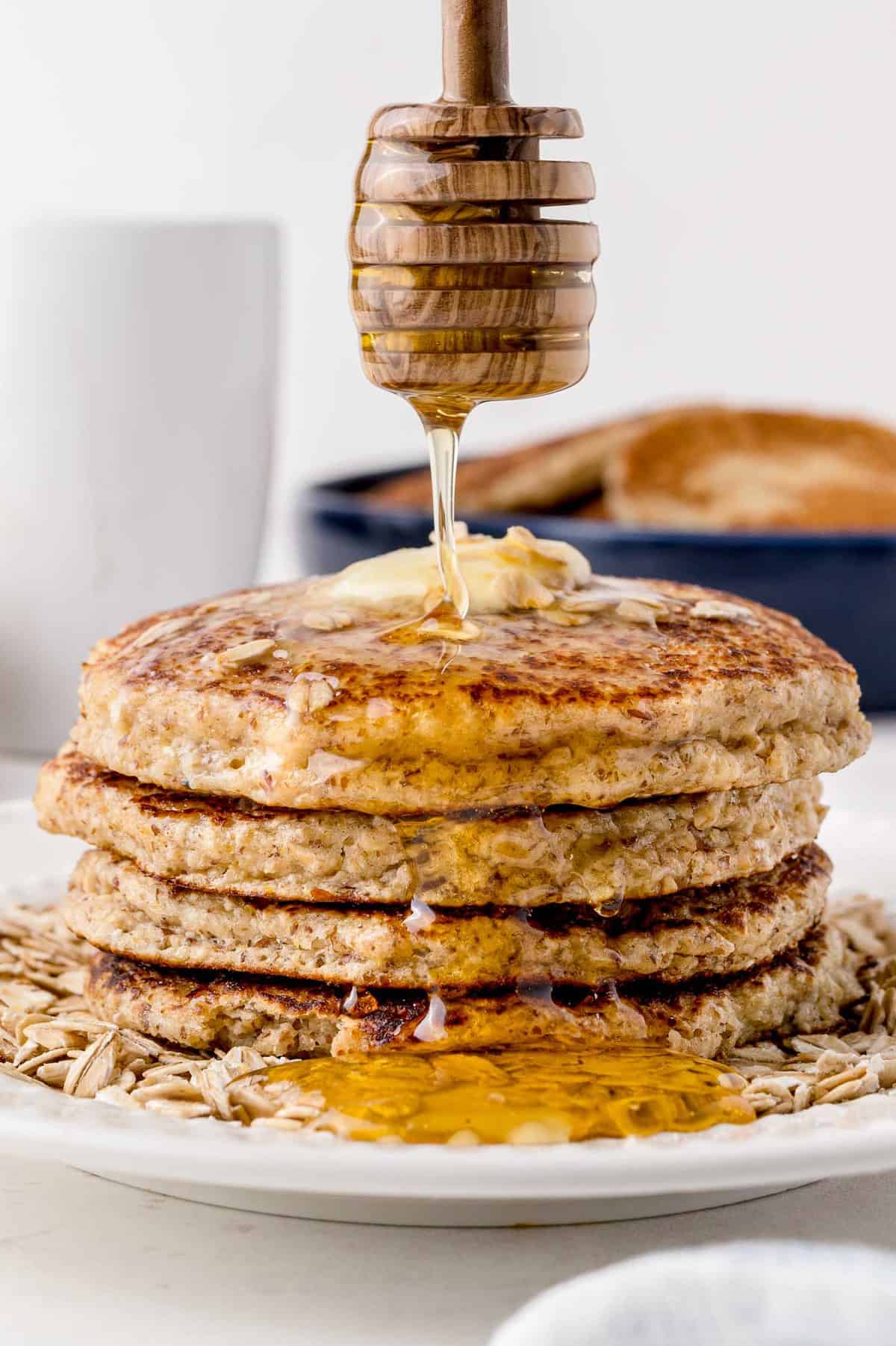 We love gluten-free pancakes, and we have a lot of recipes for pancakes without wheat flour, from keto pancakes to coconut flour pancakes. Just because you can't eat wheat doesn't mean you can't enjoy a pancake breakfast!
And just because you're not on a gluten-free diet doesn't mean you won't enjoy these honey oat pancakes!
You may not have a reason to make gluten-free sheet pan pancakes when you can eat regular sheet pan pancakes, but these honey oat pancakes are worth a try no matter your gluten status. They're healthy, light and fluffy, and they have a taste that will remind you of oatmeal—but in pancake form!
About this honey oat pancake recipe
This is a buttermilk pancake recipe, so it's made with buttermilk for a nice, thick batter that has just a bit of a tang. This is perfectly balanced by the addition of honey. The recipe calls for just two tablespoons, so you'll get a touch of sweetness without having it dominate the flavor of these pancakes.
It's also worth mentioning that, unlike a lot of other gluten-free recipes, you won't need to go out and buy a special flour for these honey oat pancakes. If you have oats, you can just blitz them in your blender until they form flour!
Note that if you or someone you're cooking for has celiac disease, you'll need to use gluten-free oats, like Bob's Red Mill. Oats don't naturally have gluten in them, but they are often processed with the same equipment used to process wheat and other grains that do contain gluten.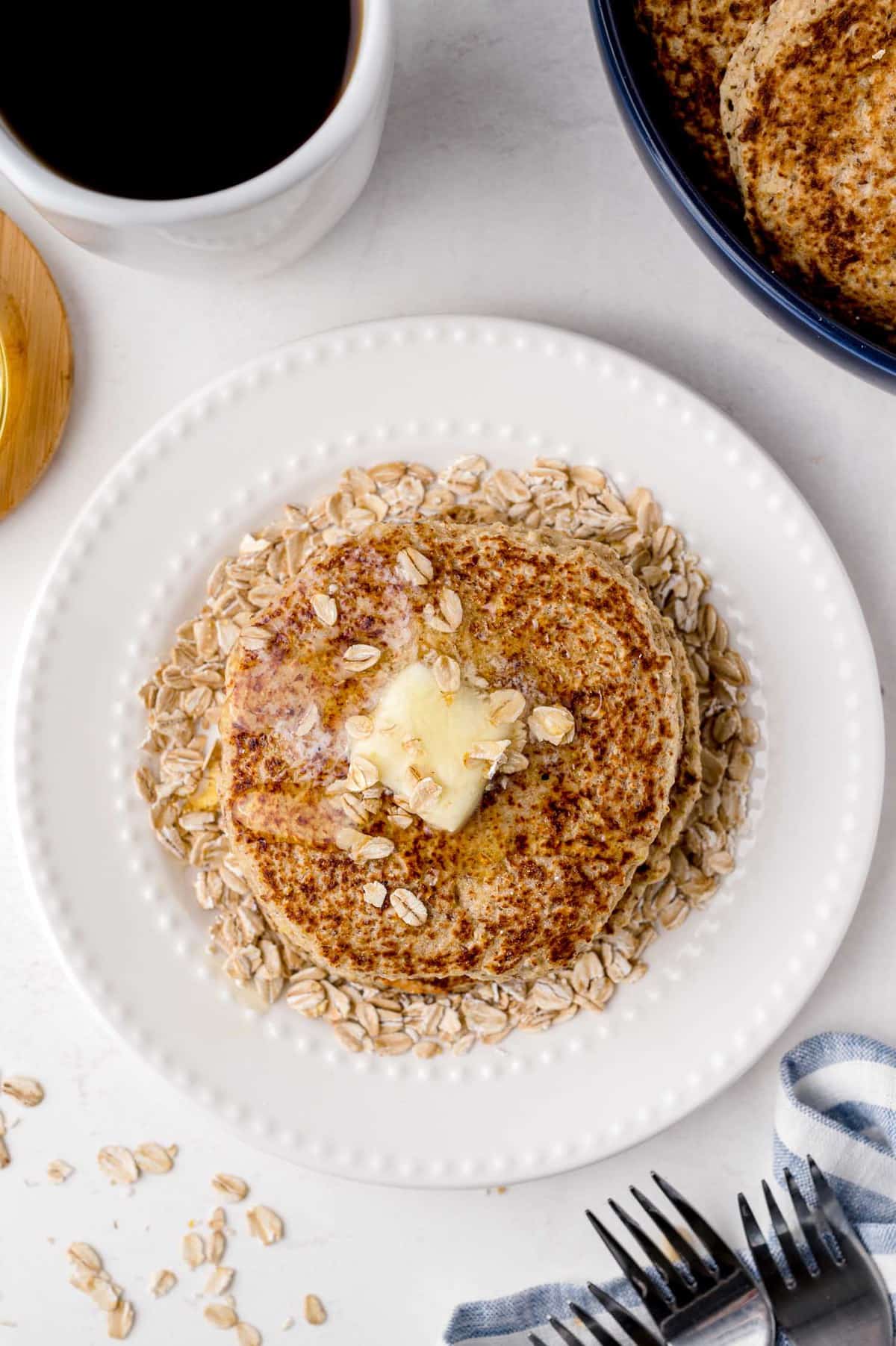 What you need
Tip: If you need to make your own oat flour, about 1 1/2 cups of regular or quick-cooking oats will yield the amount of oat flour needed to make these honey oat pancakes.
How to make them
Prepare. Preheat an electric griddle to 375ºF or set a large frying pan or griddle over medium-low heat. Melt the butter and honey in a small microwave-safe bowl.
Make the batter. Pour the butter and honey mixture into a mixing bowl. Whisk in the egg, followed by the buttermilk.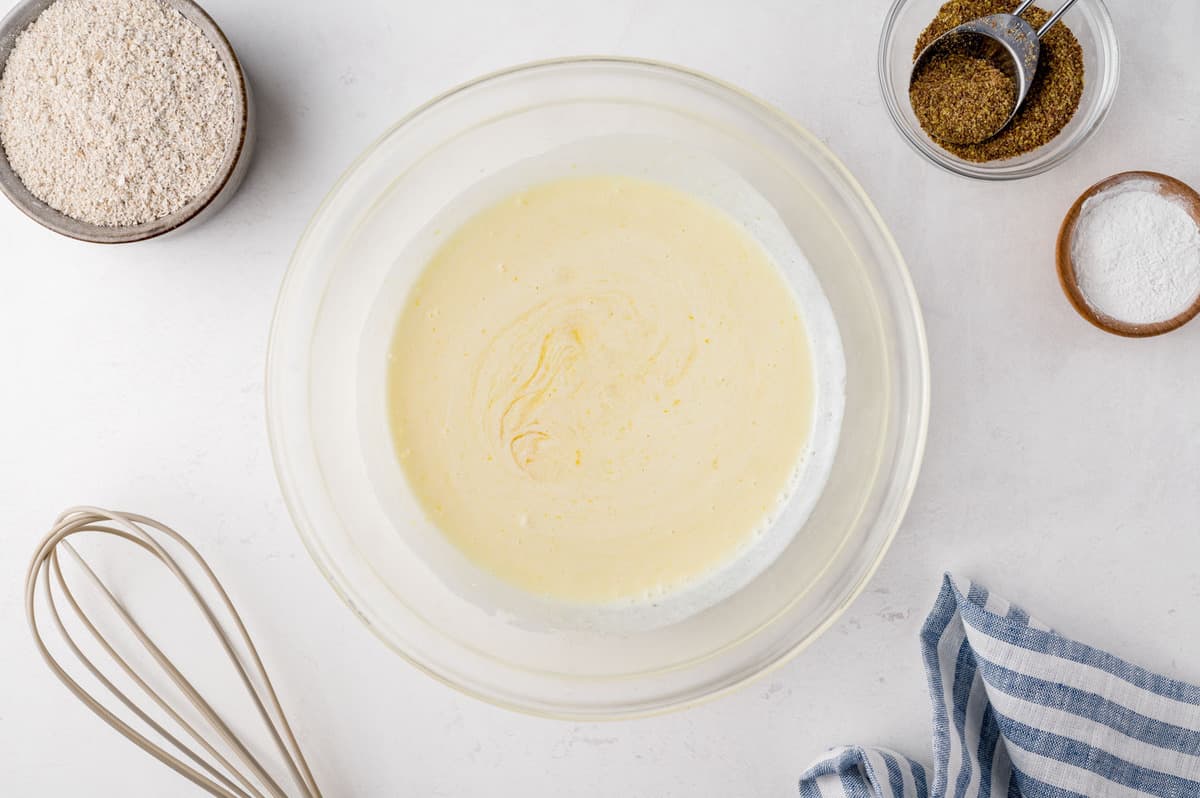 Whisk in the remaining ingredients and let the batter rest for 5 minutes; it will be fluffy and thick.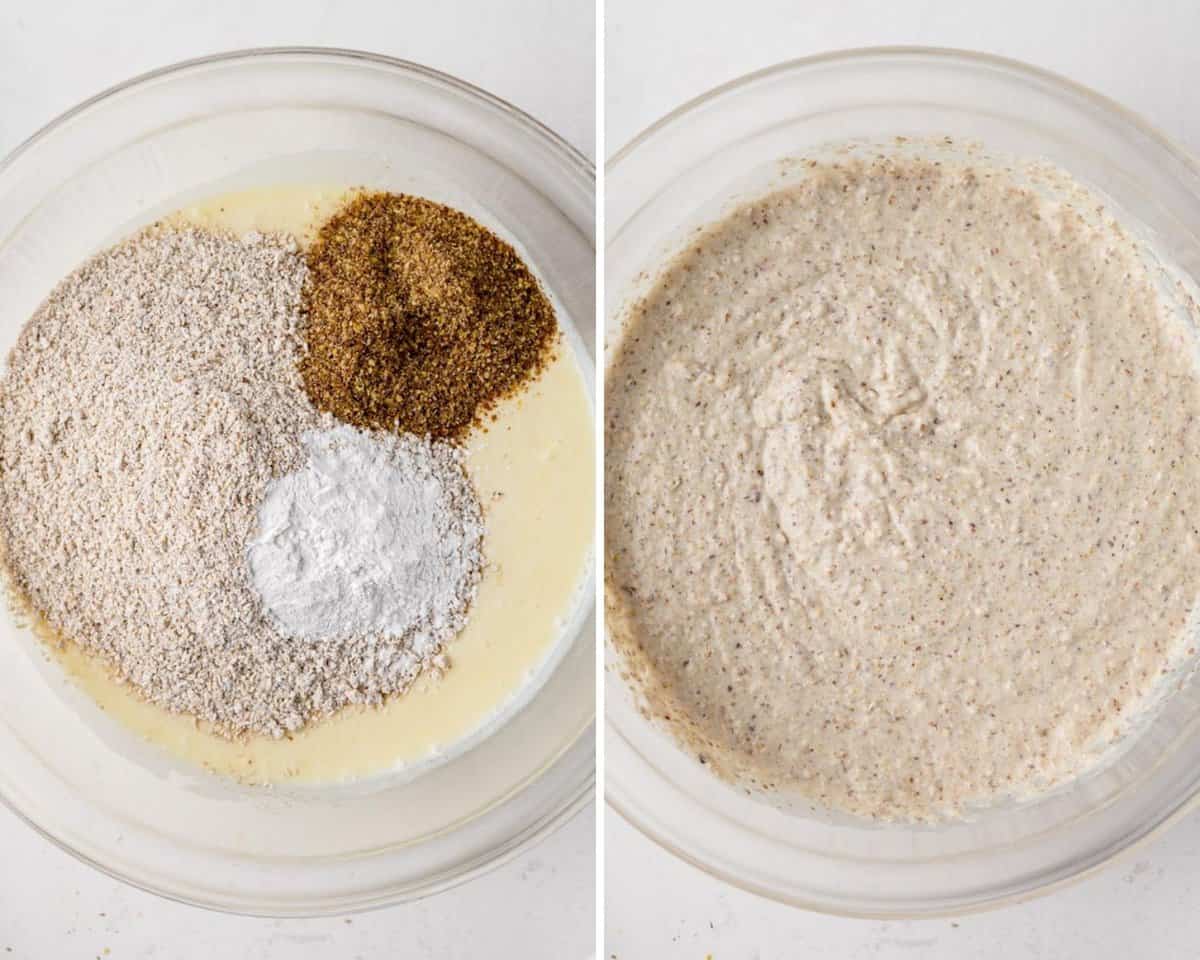 Cook the pancakes. Pour 1/3 cup of batter onto the preheated griddle or pan for each pancake. Cook for about 3 minutes, or until the bottom is medium golden brown, then flip and cook for another minute on the opposite side.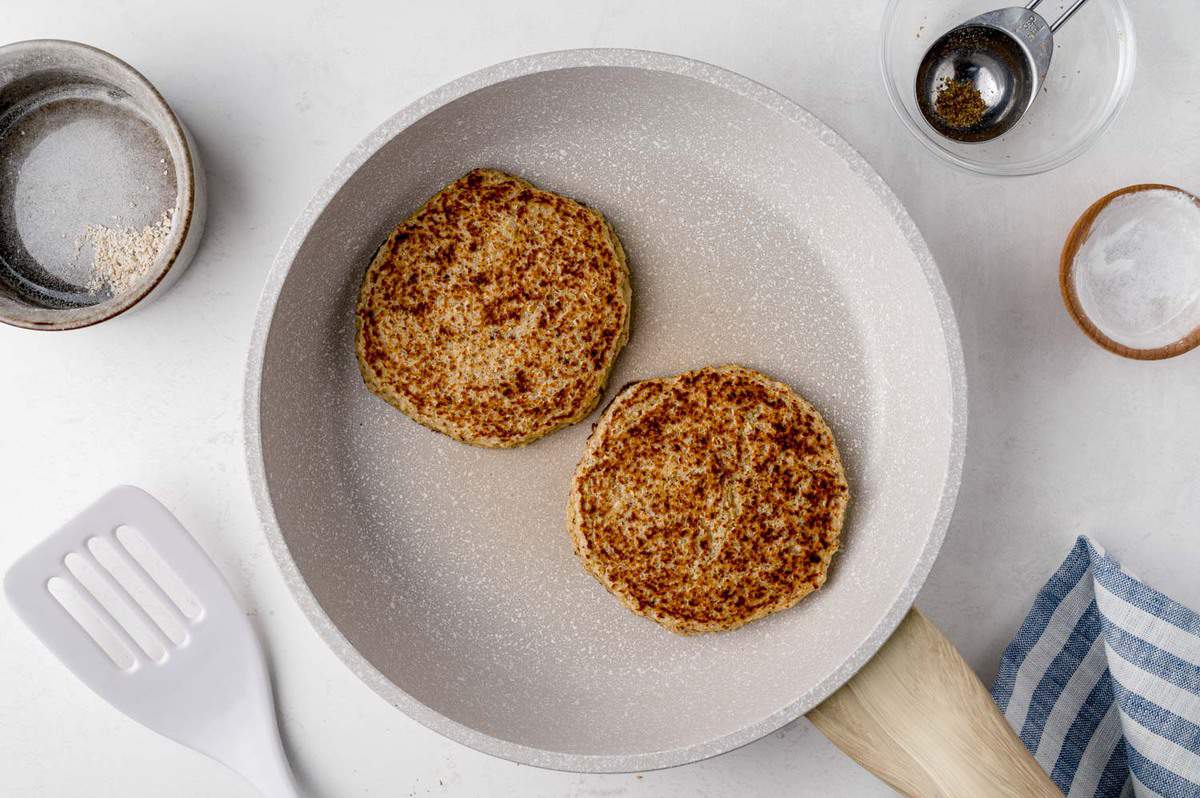 Serve. Remove the pancakes from the pan and repeat with the remaining batter, then serve.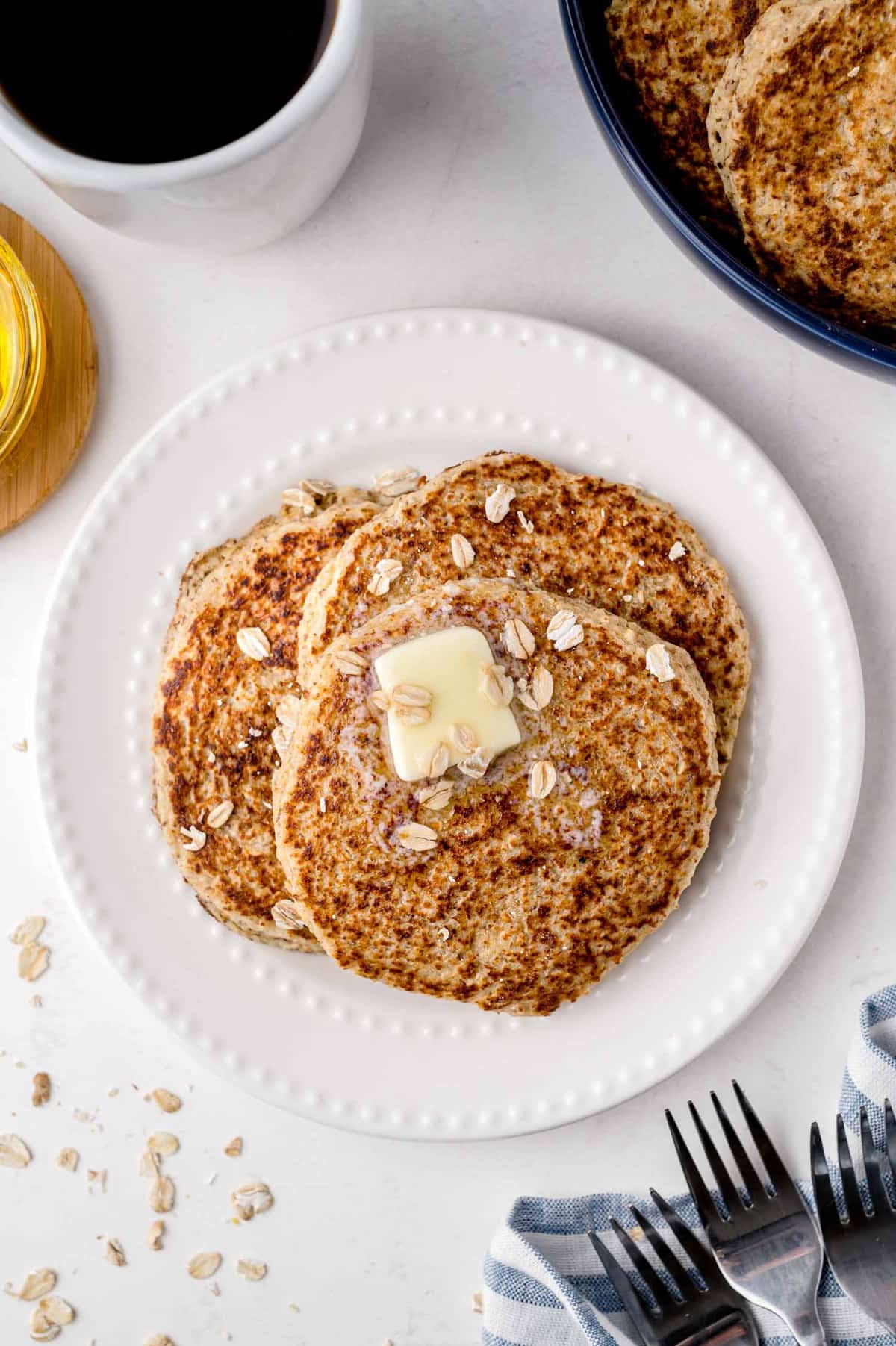 FAQs
How do you make fluffy oatmeal pancakes?
Letting the batter rest for 5 minutes is key to getting fluffy pancakes. As the batter sits, it will thicken, which means it won't spread all over the pan, creating thin pancakes.
Is oat flour healthier than wheat?
Yes, oat flour is healthier than wheat. Oats are high in fiber, rich in a number of minerals, and have many health benefits, from lowering cholesterol to supporting heart health. In contrast, white flour is stripped of most of its nutrition during processing.
How to make these honey oat pancakes your own
One of the great things about this recipe is that the pancakes are so easy to customize! Here are some ideas for switching things up:
Make them fruity. Add diced apple, strawberries, or blueberries to the pancake batter, or top them with fried apples, strawberry sauce, or blueberry sauce!
Amp up the honey flavor. Skip the maple syrup and drizzle your pancakes with honey when you serve them. A sprinkle of homemade granola on top is good too!
More topping ideas. Spoon melted almond butter (or this candied almond butter) on top, along with some sliced bananas. Pile them high with fresh berries and a dollop of vanilla yogurt. Slather them with homemade honey butter. So many possibilities!
Make Ahead Ideas
Honey oat pancakes can be made ahead of time and stored in the refrigerator for up to 5 days, or frozen for up to 3 months.
Storage Suggestions
Freeze honey oat pancakes in an airtight storage container or a freezer bag with parchment paper between the layers to keep the pancakes from sticking to each other.
Reheating Tips
Microwave oat pancakes until they're warmed through, or place them on a sheet pan, cover it with foil to keep them from drying out, and heat them in a 350ºF oven for about 10 minutes.
If you're reheating your pancakes from frozen, simply add a few more minutes to the cooking time.
More oat recipes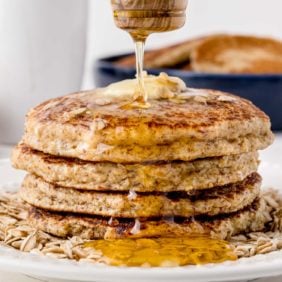 Get the Recipe: Honey Oat Pancakes
These lightly-sweetened honey oat pancakes are healthy, fluffy, and perfect for piling with your favorite toppings!
Ingredients
3 tablespoons butter
2 tablespoons honey
1 egg
1 ⅓ cup buttermilk
1 ¼ cup oat flour (see notes)
2 tablespoons ground flax seed
1 tablespoon baking powder
Instructions
Preheat an electric griddle to 375°F or a large frying over medium-low heat.

Melt the butter and honey in a microwavable bowl.

Then whisk together the butter/honey and the egg in a medium-large mixing bowl. Whisk in the buttermilk.

Add in the oat flour, ground flax seed, and baking powder. Whisk until smooth.

Allow to rest for 5 minutes. The batter will be fluffy and thick.

Pour about ⅓ cup batter onto the preheated griddle/pan. Cook until a medium golden brown on the first side (about 3 minutes).

Flip and cook one minute further.
Notes
If you don't have pre-ground oat flour, you can add regular or quick cooking oats to a blender and blend on low to create an oat flour. Approximately 1 ½ cups oats will yield 1 ¼ cup oat flour.
Serving: 3pancakes, Calories: 459kcal, Carbohydrates: 52g, Protein: 14g, Fat: 23g, Saturated Fat: 6g, Polyunsaturated Fat: 6g, Monounsaturated Fat: 9g, Trans Fat: 1g, Cholesterol: 66mg, Sodium: 700mg, Potassium: 402mg, Fiber: 5g, Sugar: 17g, Vitamin A: 756IU, Vitamin C: 1mg, Calcium: 410mg, Iron: 3mg