Black Pancakes for Halloween (naturally colored!)
Welcome to the dark side with this fun and creative black pancake recipe! They're made with pumpkin spice for flavor and activated charcoal for color. The kids will love them!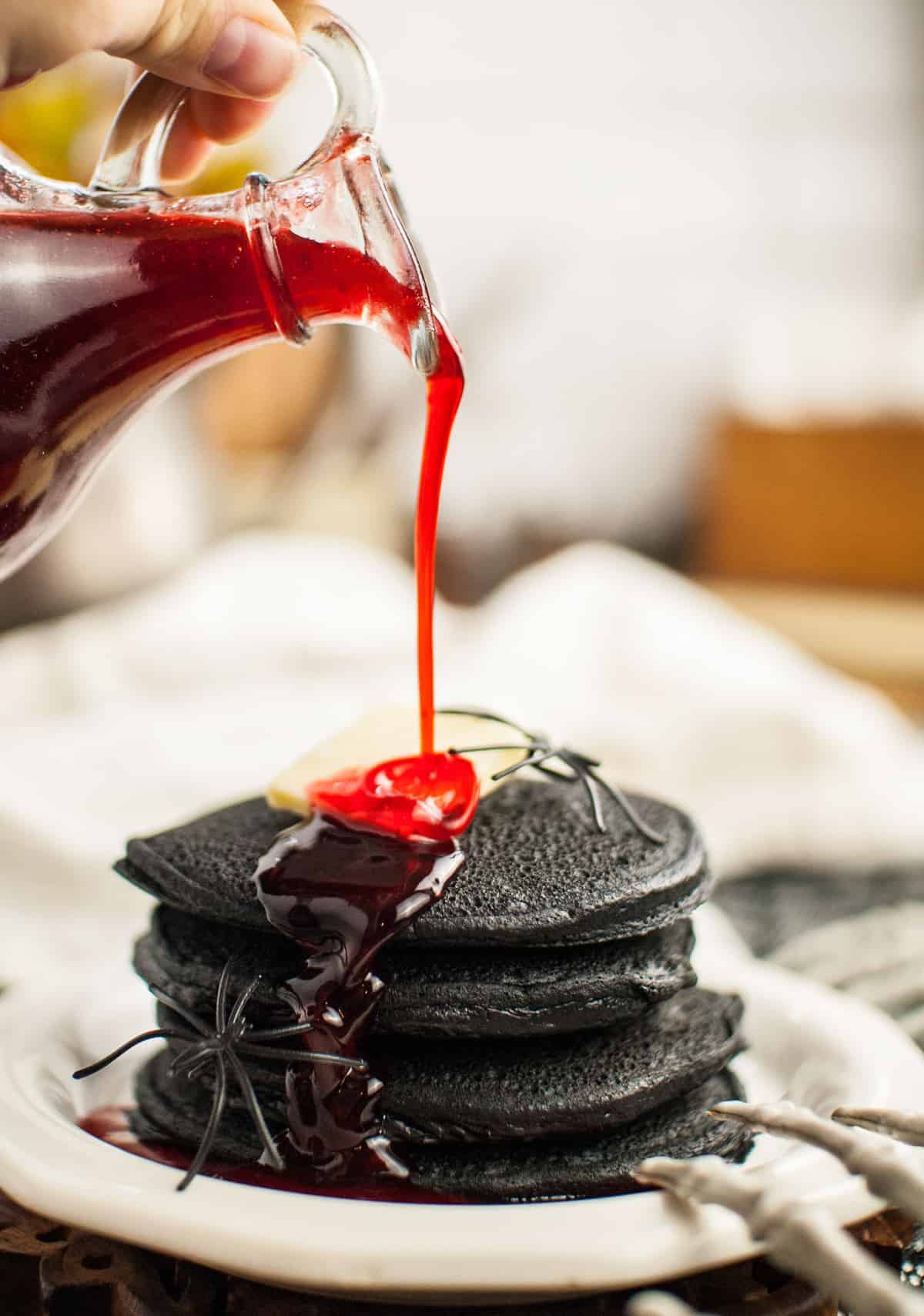 If your family loves to go all out for Halloween, you're going to love these black pancakes! They're so simple to make with your basic pantry staples, but the addition of activated charcoal gives them a deep black color that will wow any crowd! Save the trick-or-treating for the evening because mornings are made for a different kind of treat!
About these spooky black pancakes
These black Halloween pancakes are striking to look at thanks to the addition of activated charcoal. We'll get into what activated charcoal is in a moment, but here are two important things to know:
You can't taste it.
It's not an artificial color!
Aren't they gorgeous and fun?! They're so simple to make, and new recipes for easy homemade pancakes are always welcome, especially when you're on the hunt for something spectacular. Once you've figured out how to make perfect basic pancakes, the sky is the limit to flavor, texture, and color variations. Try red, white, and blue pancakes for the Fourth of July or bright green pancakes for Christmas or St. Patrick's Day!
It's true, they are dark and mysterious, but the familiarity of the signature light and fluffy pancake flavor is what brings a little comfort to the table. They're delicately sweet and filled with pumpkin spice, as any good fall pancake recipe should be. They're the most festive way to start your Halloween celebrations first thing in the morning. Even if it's a school day!
Make a batch of pumpkin spice hot chocolate or a pumpkin spice latte to pair with the pancakes and you'll really have something to celebrate!
FAQs
What is activated charcoal?
Activated charcoal is charcoal that has been processed at extremely high temperatures (unlike the coal you use to light your grill) and the result is a highly porous, very fine powder that is said to be able to absorb toxins and chemicals, purifying whatever it comes into contact with. In the body, it absorbs all the junk in your gut before it gets absorbed. It's been used from everything from emergency use in the medical community to everyday use for teeth brushing! However, there is some debate as to its abilities and whether or not people should be incorporating it into their everyday food consumption. Read more on Healthline.

This recipe isn't meant to be used for health purposes. It's just a fun way to make amazing Halloween pancakes! Of course, if you'd prefer not to use this specialty ingredient for this recipe, you can use food coloring.
What can I use instead of activated charcoal?
If you can't find activated charcoal, black food coloring will do the same. Gel food coloring is more concentrated and will give you a more vibrant color but use whatever you can get your hands on.
What you need
Dry ingredients: All-Purpose Flour, Baking Powder, Baking Soda, and Salt
Whole Milk & Apple Cider Vinegar – Together these two act as a substitution for buttermilk. You can also choose to use store-bought buttermilk if you have it.
Brown Sugar – Brown sugar adds sweetness and goes nicely with pumpkin spice. It also adds more moisture than regular white sugar would.
Eggs – Great for binding the pancake batter once it's cooked. For vegan eggs, you can use an egg replacer or flax egg but keep in mind the texture of the pancake will be different.
Activated Charcoal – Grab a container at your local health food store, at most big chain grocery stores, or online. If you prefer, use black food coloring instead.
Vanilla Extract & Pumpkin Pie Spice – Delicious warm spices that pair well together and add amazing flavor to these pancakes.
How to make them
Combine the milk and apple cider vinegar and let it sit for 5 minutes until it curdles a bit. This is how you make fake buttermilk!
To a large mixing bowl, add all the dry ingredients and mix to combine.
Next, pour in your buttermilk (or "buttermilk" – the milk and vinegar mixture), the vanilla extract, and the eggs and mix until just combined.
Stir in the activated charcoal, or black food coloring. Your batter should be a beautiful deep black color. Be careful not to over mix, as this will result in tough, flat pancakes.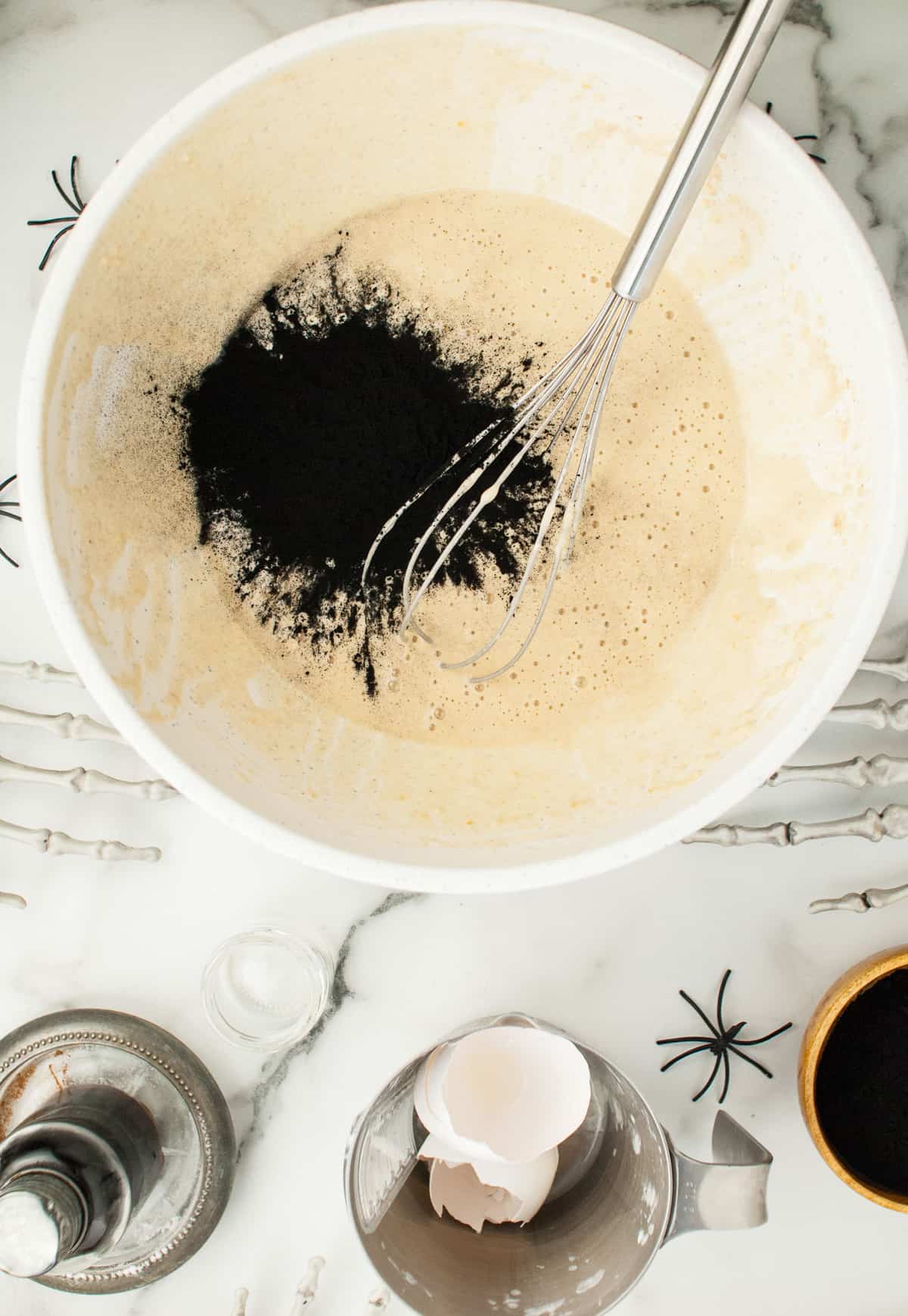 Drop a 1/4 cup of the pancake batter onto a preheated griddle over medium-low heat and flip once the bubbles start to appear and pop.
Cook on the second side for another 1 minute until the pancakes are cooked through. Continue until you've used all the batter.
TIP: Keep your oven on a very low temp (150-200ºF or the warm function) and place pancakes on a cookie sheet to keep warm in the oven until you finish the batch.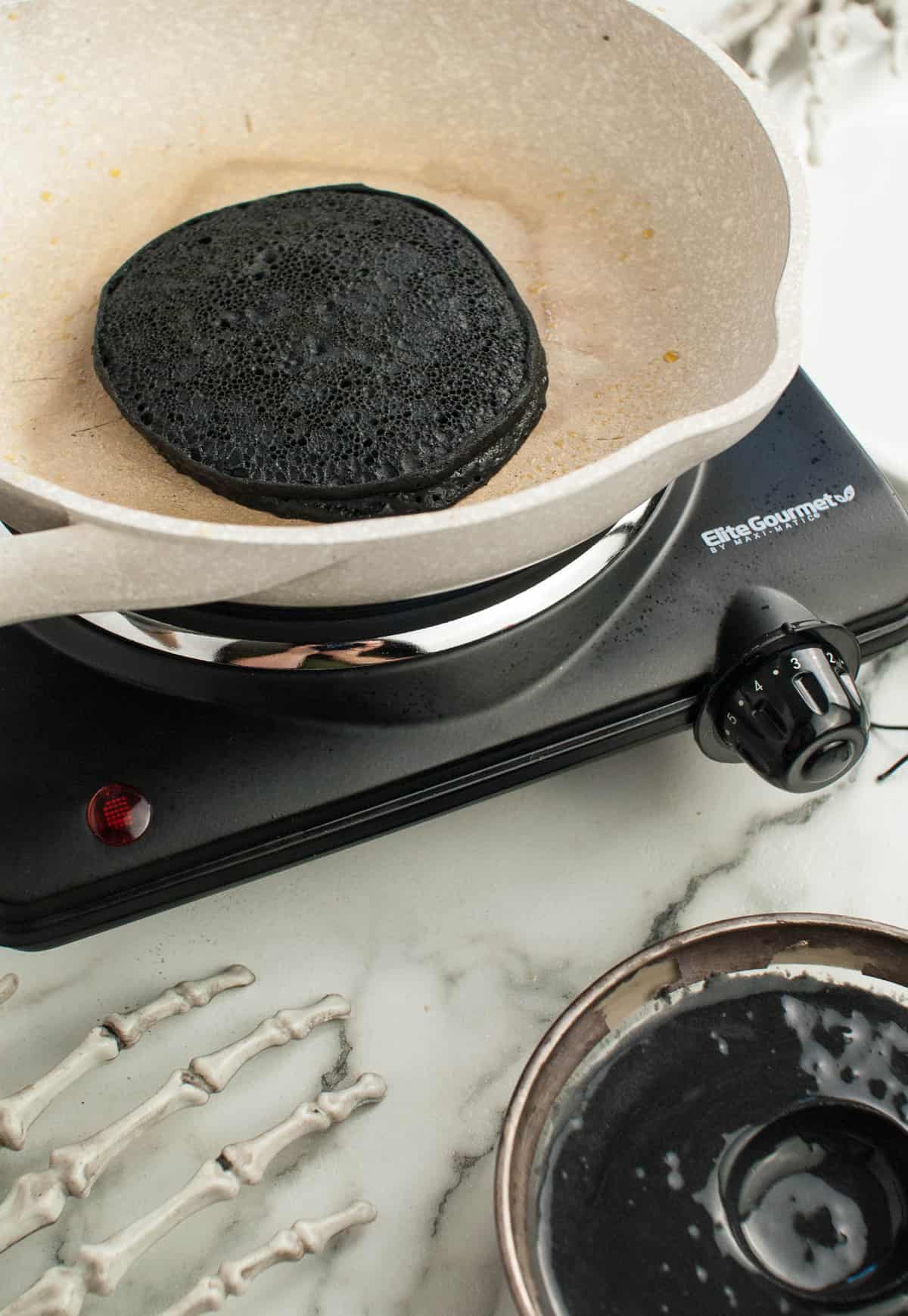 How to make these pancakes your own
For a vampire effect (or just an extra fun topping!), create your own edible blood with strawberry sauce and a little extra red food coloring.
You can also use regular maple syrup or homemade caramel sauce and add food coloring to it. It'll be a bit darker red.
Top with classic whipped cream or add some orange food coloring to your whipped cream to contrast with the black pancakes!
Pour chocolate syrup on top or a chocolate ganache and allow it to drip down the sides of the stack of pancakes. Top with a few fresh raspberries and you're in for a spooktacular morning!
Omit the black coloring and swap for orange food coloring instead. Top with chocolate syrup and you've got a different Halloween pancake idea!
Make Ahead Ideas
Pancake batter is best used right away, but once the pancakes are done, you can allow them to cool and store them in the freezer for later. They'll keep for up to 2 months in the freezer in an airtight container or freezer-friendly bag.
Any of the homemade sauces, like the chocolate syrup, caramel sauce, or strawberry sauce can be made ahead and kept in the fridge for up to a week until you're ready to use them.
Storage Suggestions
Keep pancakes stored in the fridge for up to 4 days. To retain their moisture, make sure to keep them covered.
Reheating Tips
You can reheat these pancakes from frozen or thawed. Pop in the microwave for softer pancakes, or the toaster for a crispier texture.
Get the Recipe: Black Pancakes
Welcome to the dark side with these fun and creative black pancakes ! They're made with pumpkin spice for flavor and activated charcoal for color. The kids will love them!
Ingredients
2 cups whole milk
2 tablespoons apple cider vinegar
2 cups all-purpose flour
3 tablespoons brown sugar
1 teaspoon pumpkin pie spice
2 teaspoons baking powder
1 teaspoon baking soda
½ teaspoon salt
2 large eggs lightly beaten
1 teaspoon vanilla extract
2 tablespoons activated charcoal
Instructions
In a small bowl or measuring cup add milk and two tablespoons of apple cider vinegar. Let this mixture sit for 5 minutes.

In a large mixing bowl, mix together flour, brown sugar, pumpkin pie spice, baking powder, baking soda, and salt. Mix until combined.

After your milk mixture has rested for 5 minutes, add it to the mixing bowl with the dry ingredients.

Add in eggs and vanilla extract, mix everything together until just combined.

Stir in activated charcoal until just combined. Do not over mix.

Heat a skillet to medium low heat and spritz with oil or a little butter. Pour in about 1/4 cup of pancake batter. Let the pancake cook for 2-3 minutes or until the bubbles that begin to appear start to pop. When the bubbles start to pop, use a spatula to flip the pancake over and cook for another 30-60 seconds until cooked through. Remove from the pan and set aside. Continue this process with remaining batter until all of the pancakes have been made.

Serve immediately.
Notes
Makes approximately 16-18 4" pancakes.
Nutrition information does not include toppings.
The milk and vinegar are mixed together to create a fake buttermilk.
For an extra fun topping, create your own edible blood. There are a few ways that you can do this. One way is to use a strawberry pancake syrup and mix it with a little extra red food coloring, or mix a couple tablespoons of strawberry or raspberry jam with some apple juice or water and red food coloring! You can also use regular maple syrup and add food coloring. It'll be a bit darker of a red but also works well!
Pancakes can be frozen and reheated in the toaster! If you keep your oven on a very low temp (150-200ºF), you can keep a cookie sheet in the warm oven and place finished pancakes on the tray as you go to keep them warm while you finish the batch.
Serving: 3pancakes, Calories: 250kcal, Carbohydrates: 42g, Protein: 9g, Fat: 4g, Saturated Fat: 2g, Polyunsaturated Fat: 1g, Monounsaturated Fat: 1g, Trans Fat: 1g, Cholesterol: 63mg, Sodium: 576mg, Potassium: 187mg, Fiber: 1g, Sugar: 10g, Vitamin A: 212IU, Vitamin C: 1mg, Calcium: 193mg, Iron: 2mg