Nature's Cereal – TikTok Cereal
The viral trend known as Nature's Cereal is a bowl of fresh berries swimming in refreshing coconut water and meant to be enjoyed with a spoon. It's as simple, healthy, and delicious as it gets!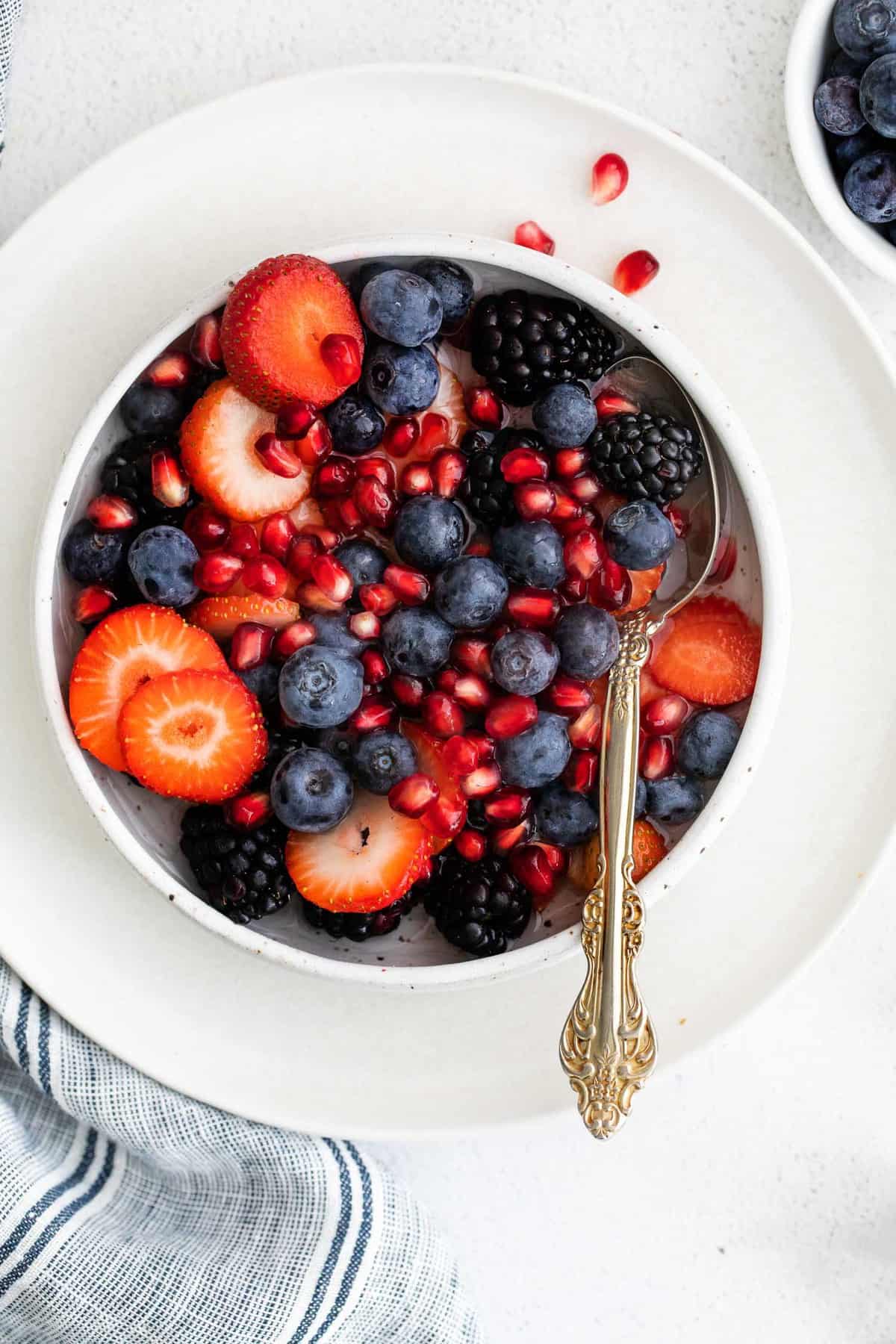 Nature's cereal is probably not what you'd imagine your typical bowl of cereal to look like, but it's a TikTok trend for a reason! It started off as someone posting their idea of the perfect start to their day. It slowly circulated but it wasn't until Lizzo posted about it to her millions of followers that it really took off!
About Nature's Cereal
Nature's cereal is essentially a bowl of berries swimming in coconut water. Seriously, that's it! When people are going crazy over something seemingly so simple, it's definitely worth looking into. Some people like to add ice, too, but it's optional.
So, is this TikTok cereal really cereal? Probably not. I might call it more of a fruit salad, but I'm always slow to jump on trends.
But it is definitely a vitamin-infused, nutrient-dense alternative to the processed cereal we are all used to. No artificial ingredients, no added sugar, gluten-free, dairy-free, and wheat-free are all added benefits to enjoying this trend. Not to mention it's beautiful to look at, loaded with antioxidants, and utterly refreshing!
There is nothing complicated about this recipe, in fact, it's obviously a bowl of berries and coconut water, but anytime there's an opportunity to eat healthier and add in more nutrients to your day, jump on it! It's a versatile idea with so many ways to go about enjoying it.
Lizzo added ice cubes to hers, which would be super refreshing on a hot day. You could also pour it into popsicle molds or blend it into a smoothie or juice and give it to your kids as a cooling summer treat. Whether you're enjoying it in the morning as a kick start to your day or as a refreshing pick-me-up in the afternoon, this "cereal" is berry delightful!
What you need
For nature's cereal, you can really use any combination of fresh fruit, but the most common are berries. We recommend:
Strawberries – You'll want to wash them and slice them.
Blueberries – Wash these, too!
Blackberries – Again, make sure to wash and remove any stems.
Pomegranate seeds – We love to add pom seeds – don't skip these! These add a pop of juiciness but also added crunchy texture. Read this post to learn how to cut a pomegranate if you don't know how!
Coconut water – You can also swap with regular water if you'd prefer.
Some people love adding ice cubes to make it extra cold!
How to make it
This recipe can be made with any combination of fruit you'd like. Just make sure to wash away all of the debris and remove the stems. Then slice any larger fruit so each bite is equal.
Combine all of the fruit into a bowl.
Add coconut water and serve immediately. Double or triple the recipe to make more than one serving.
Tip! When washing berries that have a tendency to become mushy under running water, place them in a colander instead. Submerge the berries into a bowl of water, gently swirling them around. This way you have whole plump berries still intact when they are added to the bowl!
How to make this recipe your own
Add some ice cubes for an extra refreshing cold spoonful!
Add in crushed mint leaves, not only does it look pretty, but eating mint leaves has benefits to your digestion (and your breath!).
Squeeze in a little lemon juice for a pop of citrus.
If you happen to have added berries that aren't the sweetest, a drizzle of honey may do the trick.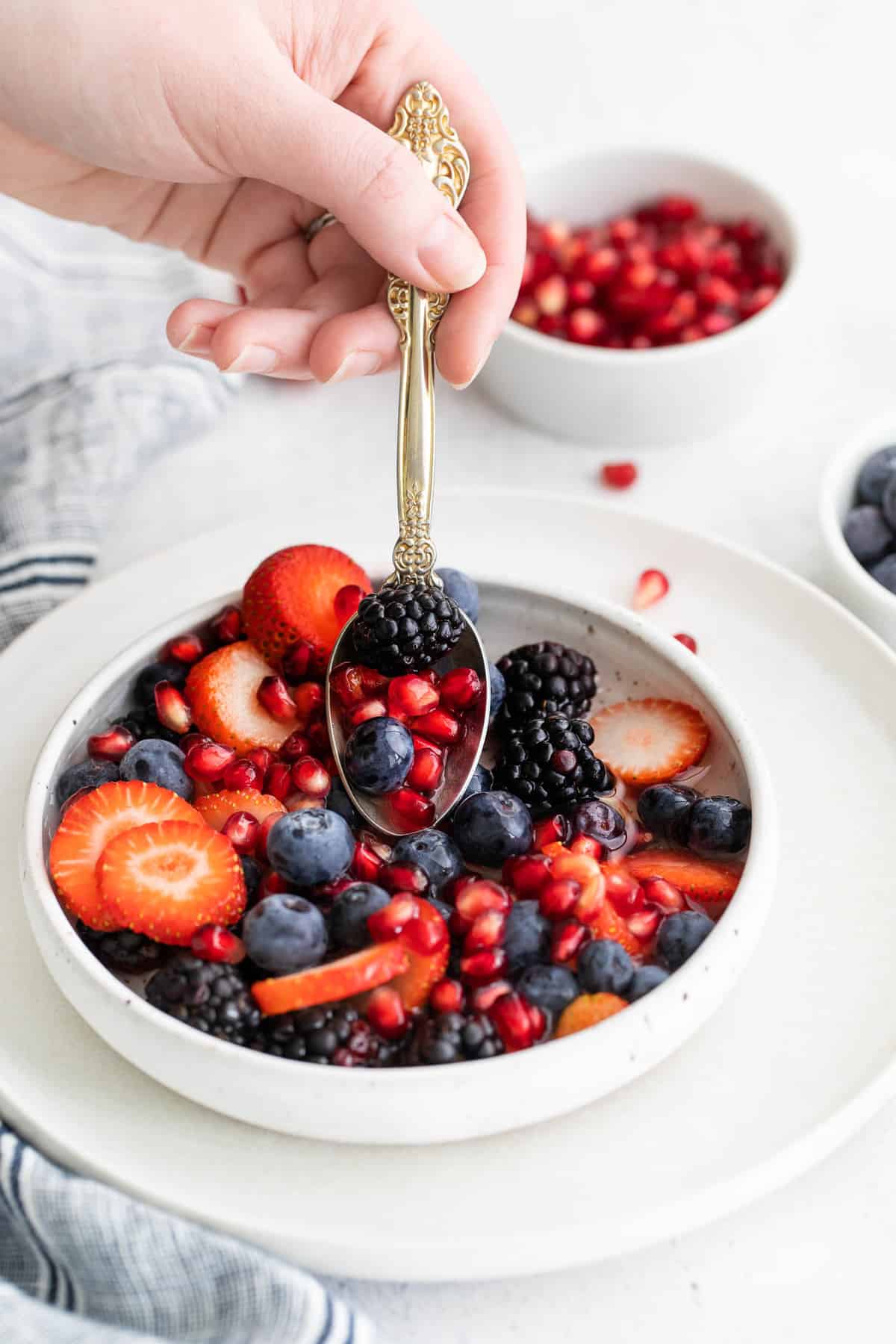 Other TikTok trend recipes
Get the Recipe: Nature's Cereal – Tiktok Cereal
The viral trend known as Nature's Cereal is a bowl of fresh berries swimming in refreshing coconut water and meant to be enjoyed with a spoon. It's as simple, healthy, and delicious as it gets!
Ingredients
1/4 cup sliced strawberries
1/4 cup blueberries
1/4 cup blackberries
2 tablespoons pomegranate seeds
1/3 cup coconut water
Instructions
Combine all of the fruit in a bowl and add the coconut water. Serve immediately.
Notes
You can use any combination of fruit that you like— just make sure to use pomegranates! They help give the crunch that tastes a little more like cereal.
If you don't like coconut water, still water can be substituted.
If desired, add ice cubes to keep it extra cold!
Calories: 88kcal, Carbohydrates: 20g, Protein: 2g, Fat: 1g, Saturated Fat: 1g, Sodium: 86mg, Potassium: 413mg, Fiber: 6g, Sugar: 13g, Vitamin A: 101IU, Vitamin C: 37mg, Calcium: 41mg, Iron: 1mg