Peach Smoothie
This healthy peach smoothie is a complete breakfast in a creamy, sweet, sippable form! It's loaded with protein, whole grains, and flavorful fruit to keep you full and satisfied all morning long.
Smoothies are a delicious, easy breakfast, but they don't always have a lot of staying power. When you blend up a handful of greens with some berries, you're getting lots of vitamins, minerals, and fiber, but it's not exactly a filling meal. But this peach smoothie? It's definitely meal-worthy.
(If you love smoothies for breakfast, be sure to check out our mango pineapple smoothie, pumpkin pie smoothie, nectarine smoothie, and DIY smoothie bar too!)
About this peach smoothie recipe
Of course, this recipe starts with peaches. You'll use a full pound, which means you'll get plenty of peachy flavor in this smoothie. Oats and yogurt make the smoothie creamy and filling, with the yogurt delivering some protein too. (You can amp up the protein even more by adding protein powder!)
Still not enough protein for you? Try pairing it with protein pancakes or chocolate protein pancakes. You can't ever go wrong with a sunny-side up egg or scrambled eggs, either.
If your peaches are ripe and delicious, you don't even have to add any additional sweeteners, but if you'd like, you can blend the smoothie up with maple syrup or another sweetener of your choice.
Looking for more peach recipes? Try peach pancakes with peach sauce, peach streusel muffins, or a peach Bellini.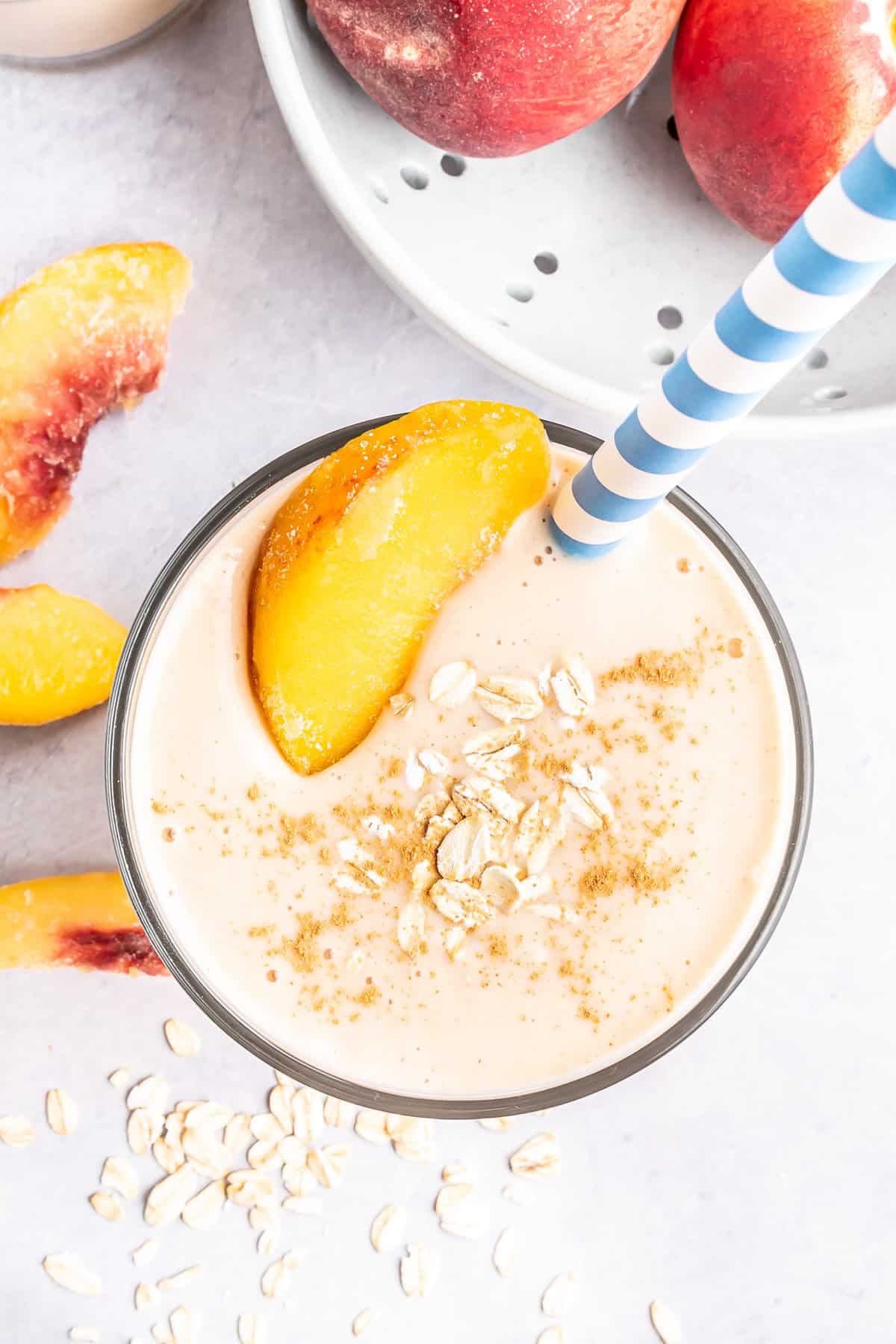 What you need
Frozen peaches – You can use store-bought frozen peaches, or freeze your own. It's a great way to store fresh peaches that are ripening faster than you can eat them!
Rolled oats – Use gluten-free rolled oats if you want your smoothie to be gluten-free.
Maple syrup – This is optional.
Plain yogurt – Make this with yogurt that's vegan for a plant-based smoothie.
Vanilla protein powder – This is also optional, but it's a great way to make your peach smoothie even more filling.
Almond milk – Or your preferred milk to thin the smoothie a bit, if needed.
To make the smoothie without yogurt: You can add half of a banana to your smoothie if you want to make it without yogurt. No banana? Make it with milk instead; it won't be as thick, but it will still be delicious!
How to make it
Assemble. Place all of the ingredients in a blender, starting with yogurt and maple syrup, then the oats, protein powder, and peaches. (Starting with liquids and yogurts on the bottom helps prevent air pockets from forming.)
Blend. Slowly turn the blender to high and blend until the mixture is completely smooth, stopping to stir if needed.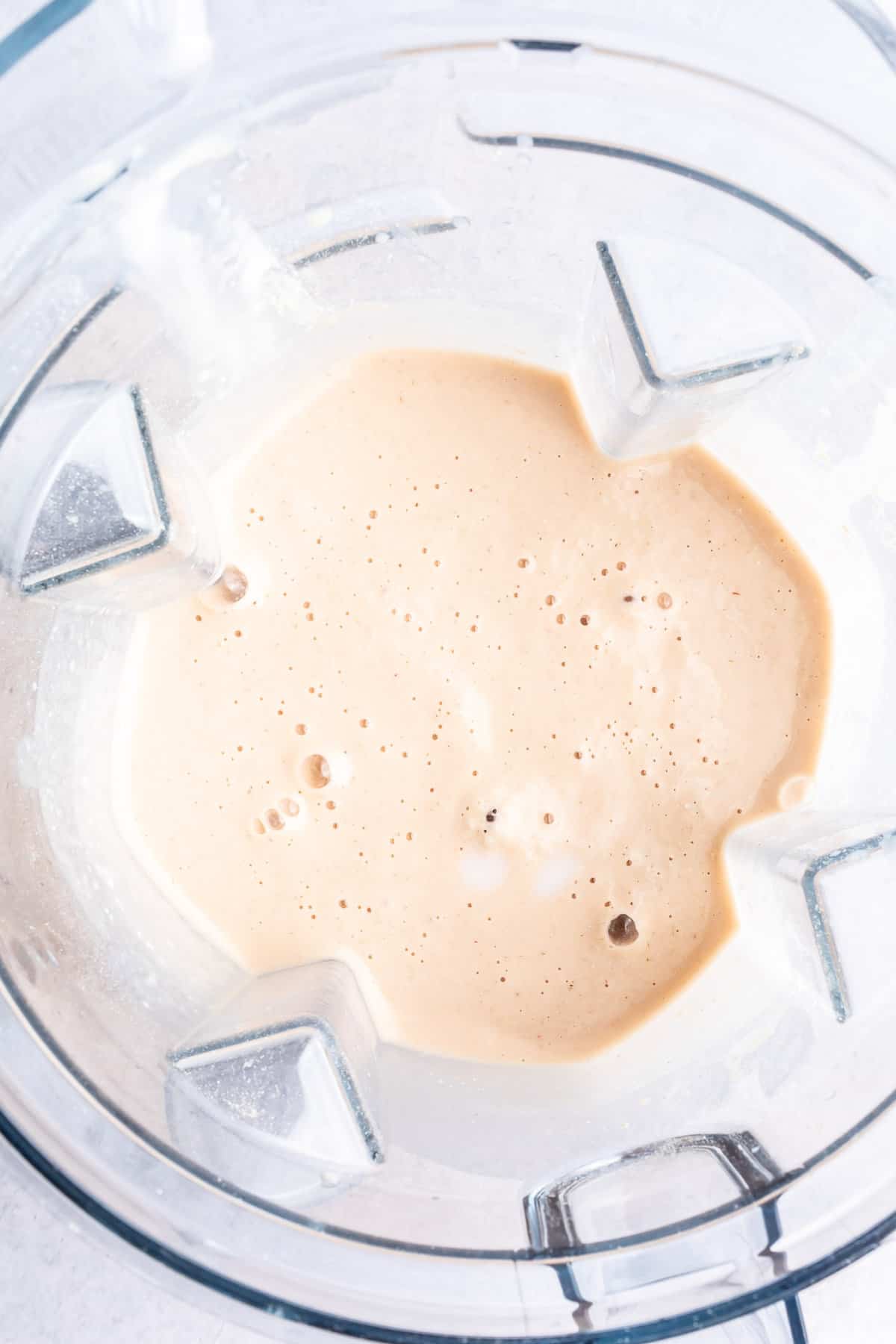 Serve. Divide the smoothie between two glasses and serve immediately.
FAQs
What fruit blends well with peaches?
The best fruits for blending with peaches are other summer fruits like plums, cherries, strawberries, blueberries, and raspberries.
Do I need to peel peaches for smoothies?
It's up to you! If you leave the skin on, it will impact the texture of your peach smoothie and it won't be quite as smooth; this is especially true if you don't have a high-speed blender. If you use frozen peaches, they're already peeled, so if you don't want the hassle of peeling fresh peaches, simply use frozen ones!
How to make this peach smoothie your own
Smoothies are fantastic because you can customize them with your favorite ingredients, and this peach smoothie is no exception! Here are some ideas:
Make it a peaches-and-cream smoothie. Use vanilla yogurt instead of plain and vanilla protein powder for a more pronounced vanilla flavor in your smoothie.
Use nectarines. Nectarines are basically peaches without fuzz (technically speaking, they're a type of peach!), so feel free to use them in this recipe instead of peaches.
Add more nutrition. Hemp seeds, chia seeds, and ground flax can all be added to give your smoothie a boost of nutrition, and a handful of spinach will also add vitamins and minerals without changing the flavor much.
Want to use fresh peaches? More power to you! You can freeze them in advance, or add a little ice to thicken your smoothie.
Make Ahead Ideas
Smoothies aren't really well-suited to making ahead and keeping in the fridge, but they can be frozen.
You can freeze your smoothies in a bag or jar and then take them out of the freezer to thaw overnight before serving.
Alternatively, you can freeze the smoothie mixture in ice cube trays, then pop the smoothie cubes in a freezer bag. When you're ready for a smoothie, blend the cubes with a splash of almond milk.
Storage Suggestions
If you have leftover peach smoothie, you can keep it in the fridge for up to a day. It's likely to separate a bit, so give it a shake or stir before serving.
More healthy smoothie recipes
Get the Recipe: Peach Smoothie
This creamy peach smoothie is a complete meal in convenient sippable form!
Ingredients
1 pound frozen peaches
½ cup rolled oats (gluten-free if desired)
1 tablespoon maple syrup, optional
½ cup plain yogurt (dairy-free if vegan)
2 scoops vanilla protein powder, optional
milk as needed to thin (almond, soy, dairy, oat)
Instructions
Place all of the ingredients in a blender and blend until smooth. Divide between two glasses and serve.
Notes
If you have leftover peach smoothie, you can keep it in the fridge for up to a day. It's likely to separate a bit, so give it a shake or stir before serving.
Calories: 236kcal, Carbohydrates: 46g, Protein: 7g, Fat: 4g, Saturated Fat: 2g, Polyunsaturated Fat: 1g, Monounsaturated Fat: 1g, Cholesterol: 8mg, Sodium: 60mg, Potassium: 467mg, Fiber: 5g, Sugar: 28g, Vitamin A: 800IU, Vitamin C: 10mg, Calcium: 105mg, Iron: 2mg