Raspberry Smoothie Bowl
This raspberry smoothie bowl is the perfect summer breakfast! It's creamy and cold, loaded with fresh fruit, and full of vitamins, minerals, and fiber to fuel your day.
A smoothie bowl is a thicker version of a traditional smoothie that you can eat with a spoon.
Or, if you prefer, it's a thinner, fruity version of ice cream that you can eat for breakfast. (That's definitely the best way to sell it if you're making it for your kids. Breakfast ice cream!)
Because the smoothie base is thicker—and because you're eating it with a spoon—you can add all kinds of toppings to this raspberry smoothie bowl and they won't sink to the bottom. Use fresh fruit and almonds like we did here, or raid your pantry and fridge and use whatever you have on hand. Anything goes here!
About this raspberry smoothie bowl
We've shared a peanut butter banana smoothie bowl, rainbow smoothie bowl, and berry smoothie bowl in the past, but with the bright flavor of raspberries and an array of fresh fruit on top for garnish, this simple raspberry smoothie bowl is made for summer days!
Raspberries are a great source of vitamins and minerals, and the creamy texture of the frozen banana helps make this a deliciously thick smoothie. (Not a banana fan? No worries, we've got options for you below!)
Although they don't get the attention of superfood darlings like acai berries, raspberries bring a lot to the table too. Their benefits include better digestion thanks to their high fiber, blood sugar control, and anti-inflammatory properties. Plus, the antioxidants in raspberries can help protect against cell damage from free radicals.
Basically, this is the best kind of breakfast because it's healthy and it tastes like a dessert. You can't beat that, right?
What you need
Soy milk – Use dairy milk or your favorite plant-based milk if you don't have soy milk on hand. Coconut water works too if you don't want to make this with milk.
Dried cranberry – This enhances the color of the smoothie bowl.
Frozen raspberries – You can buy fresh and then freeze them, or simply buy a bag of frozen berries.
Banana – Freeze this for a thick, creamy smoothie base. It's almost like ice cream!
Toppings – Kiwi, almonds, blueberries, banana slices.
How to make it
Prepare. Slice the fruit for the smoothie bowl toppings.
Blend. Pour the milk into the blender, then add the frozen raspberries. Cut the frozen banana into slices and place them in the blender too.
Tip: To make the process easier, you can peel and cut the banana into slices before freezing it.
Process. Turn the blender on high speed and process until the smoothie mixture is thick and smooth. If the blender is struggling, add more milk a tablespoon or two at a time.
Tip: If you don't have a blender, a food processor will work too.
Serve. Pour the raspberry smoothie into a bowl (or divide it between two bowls) and add the toppings.
FAQs
What's good with raspberries?
Raspberries pair well with bananas, other berries, and peaches. They're also delicious with any kind of chocolate—white, milk, or dark all work. If your raspberries are on the tart side, a drizzle of honey is a great way to sweeten them up a bit.
What makes a smoothie bowl thick?
Bananas and Greek yogurt are two great options for making your raspberry smoothie bowl thick. If you want a vegan option without yogurt or banana, try avocado, frozen zucchini, frozen cauliflower, or even tofu.
What can I use instead of banana in this smoothie bowl?
If you want to make this recipe without banana, it can be made with a medium frozen zucchini instead. Because it's roughly the same size as a banana, you don't need to make any other adjustments to the recipe. To use one of the other thickening options listed above, you may need to tweak the amount of liquid or berries in the recipe as you go.
How to make this raspberry smoothie bowl your own
This raspberry smoothie bowl is perfect just as it's written, but you can switch things up with these add-ins and toppings.
Boost the protein. Add a scoop of your favorite unflavored or vanilla protein powder. Sprinkling chia or hemp seeds on top will also add some extra protein, as will replacing the milk with yogurt. You might also like our protein pancakes!
Switch up the fruit. Swap half the frozen raspberries for frozen pineapple chunks. Try our pineapple mango smoothie or caramelized pineapple if you're a pineapple fan!
Make it sweeter. Add dates to sweeten the smoothie bowl without sugar, or use a drizzle of honey or maple syrup.
Add beets. Roasted beets or beetroot powder will make your raspberry smoothie bowl an even deeper pink color and add some extra nutrition in the process! Try our beet pancakes, too!
Go all-in on the toppings. Homemade granola, cashews, sunflower seeds, a drizzle of almond butter, cacao nibs—you can't go wrong here.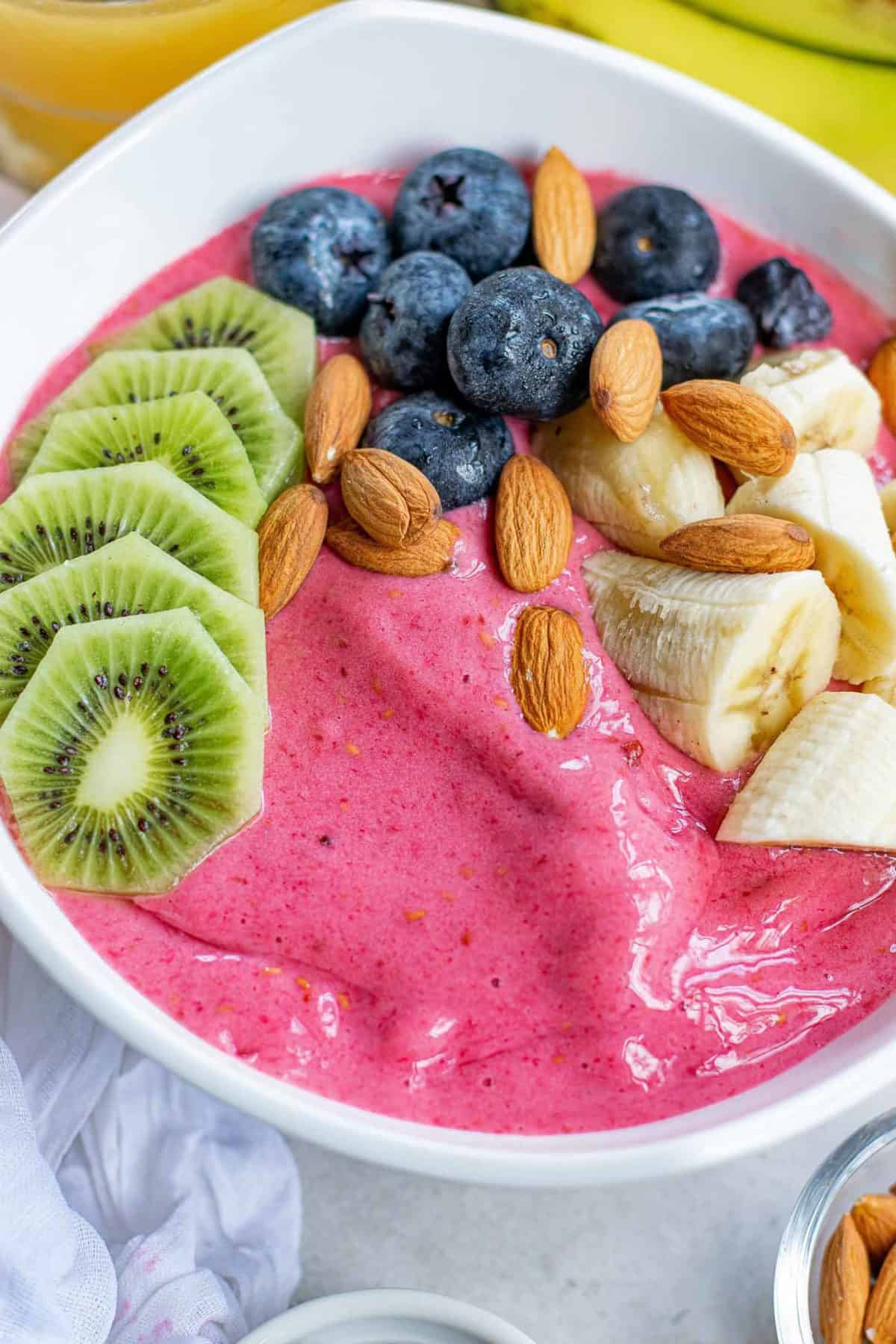 Make Ahead Ideas
You can make this raspberry smoothie bowl ahead of time and then keep in the freezer. Let it sit on the counter for 5 minutes before serving.
Another make-ahead option is to add all of the ingredients except the milk in a zip-top plastic bag and store it in the freezer. The next day, add the milk and blend.
Storage Suggestions
The best way to store leftovers is to freeze them; in the refrigerator, the raspberry smoothie bowl will get thinner, which is fine if you want to drink it, but it doesn't work as well in a bowl.
Transfer leftovers to an airtight container and freeze for up to 2 months.
More smoothie recipes
Get the Recipe: Raspberry Smoothie Bowl
This raspberry smoothie bowl is the perfect summer breakfast! It's creamy and cold, loaded with fresh fruit, and full of vitamins, minerals, and fiber to fuel your day.
Ingredients
Smoothie:
½ cup soy milk (whole milk can be used to if not vegan)
1 tablespoon dried cranberry
2 cups frozen raspberries
1 medium banana, frozen
Toppings:
kiwi, sliced
almonds
blueberries
banana, sliced
Instructions
Add milk and raspberry to a high speed blender with raspberry.

Cut banana slices with a sharp knife and add in the blender. Process on high speed. If you are having difficulties, push the mix on the side with a spoon and add 1-2 tablespoons milk in the blender. Blend again. Only add a little liquid at a time, because smoothie must be thick like ice cream to be able to be eaten from a bowl.

Serve in 2 bowls. Top with your favorite toppings.
Notes
Always add milk first then other ingredients.
Prepare your toppings first, then blend smoothie.
Calories: 177kcal, Carbohydrates: 37g, Protein: 6g, Fat: 2g, Saturated Fat: 0.2g, Polyunsaturated Fat: 1g, Monounsaturated Fat: 0.4g, Sodium: 32mg, Potassium: 588mg, Fiber: 12g, Sugar: 16g, Vitamin A: 319IU, Vitamin C: 43mg, Calcium: 126mg, Iron: 2mg