S'mores Pancakes
These s'mores pancakes have everything you love about s'mores, except the campfire! Fluffy pancakes are studded with mini marshmallows and chocolate chips, then topped with even more chocolate, melted marshmallows, and graham cracker crumbs.
It goes without saying that s'mores are delicious, but we often overlook the fact that they are so darn messy. They ooze! They crumble! And they coat your fingertips with sticky marshmallow! But s'mores in pancake form have all the deliciousness you expect from a s'more, and they deliver it without all the mess.
Even better, you don't have to scavenge around the woods to find a suitable stick to make s'mores pancakes, nor do you have to worry about losing your marshmallow in the flames. S'mores pancakes for the win!
(If you love a pancake breakfast that tastes like a dessert, try these recipes next: Red Velvet Pancakes, Key Lime Pie Pancakes, and Banoffee Pie Pancakes.)
About this s'mores pancake recipe
These pancakes start with a light, fluffy pancake base that swaps some of the flour with graham cracker crumbs. Mini marshmallows and chocolate chips are stirred into the batter, so they get melty and delicious when cooked on the griddle.
As with many of our sweet treat pancake recipes, we go over-the-top when it comes to the toppings—here, we add graham cracker pieces for crunch, chocolate sauce, and mini marshmallows. You can even use a small kitchen torch to melt the marshmallows a bit for that authentic s'mores flavor.
What you need
We recommend using small dehydrated mini marshmallows for these pancakes, around the size you find in hot chocolate mix. Standard mini marshmallows are too large for folding into pancake batter, but if you want to use them, you can cut them into smaller pieces with a knife or kitchen shears. But it will get sticky!
Dry ingredients: All-purpose flour, baking powder, salt, graham cracker crumbs
Wet ingredients: Milk, melted salted butter, egg, granulated sugar, vanilla
Mix-ins: Mini chocolate chips, dehydrated mini marshmallows (you can find those here)
Toppings: Butter, chocolate syrup, mini marshmallows, graham cracker pieces
How to make them
Mix the dry ingredients. Sift the flour, baking powder, and salt into a bowl, then sift them a second time. Whisk in the graham cracker crumbs.
Add the wet ingredients. Make a well in the center of the dry ingredients and pour in the wet ingredients. Mix until just combined.
Finally, fold in the marshmallows and chocolate chips.
Prepare. Let the batter rest for 10 minutes and preheat your griddle to 275ºF.
Tip: Letting the batter rest makes for a thicker, fluffier pancake!
Make the pancakes. Grease the griddle and pour 1/4 cup of batter onto it for each pancake. Flip the pancakes when they're brown on the bottom and bubbly on top, or about 2 minutes, and then cook the other side for about 2 minutes more. Repeat with the remaining batter.
Tip: If you want to keep the finished pancakes warm while you cook the rest, you can place them in a warming drawer or in a 200ºF oven.
Serve. Plate the pancakes and top them with butter, chocolate syrup, marshmallows, and graham cracker pieces. Use a kitchen torch to melt the marshmallows, if desired.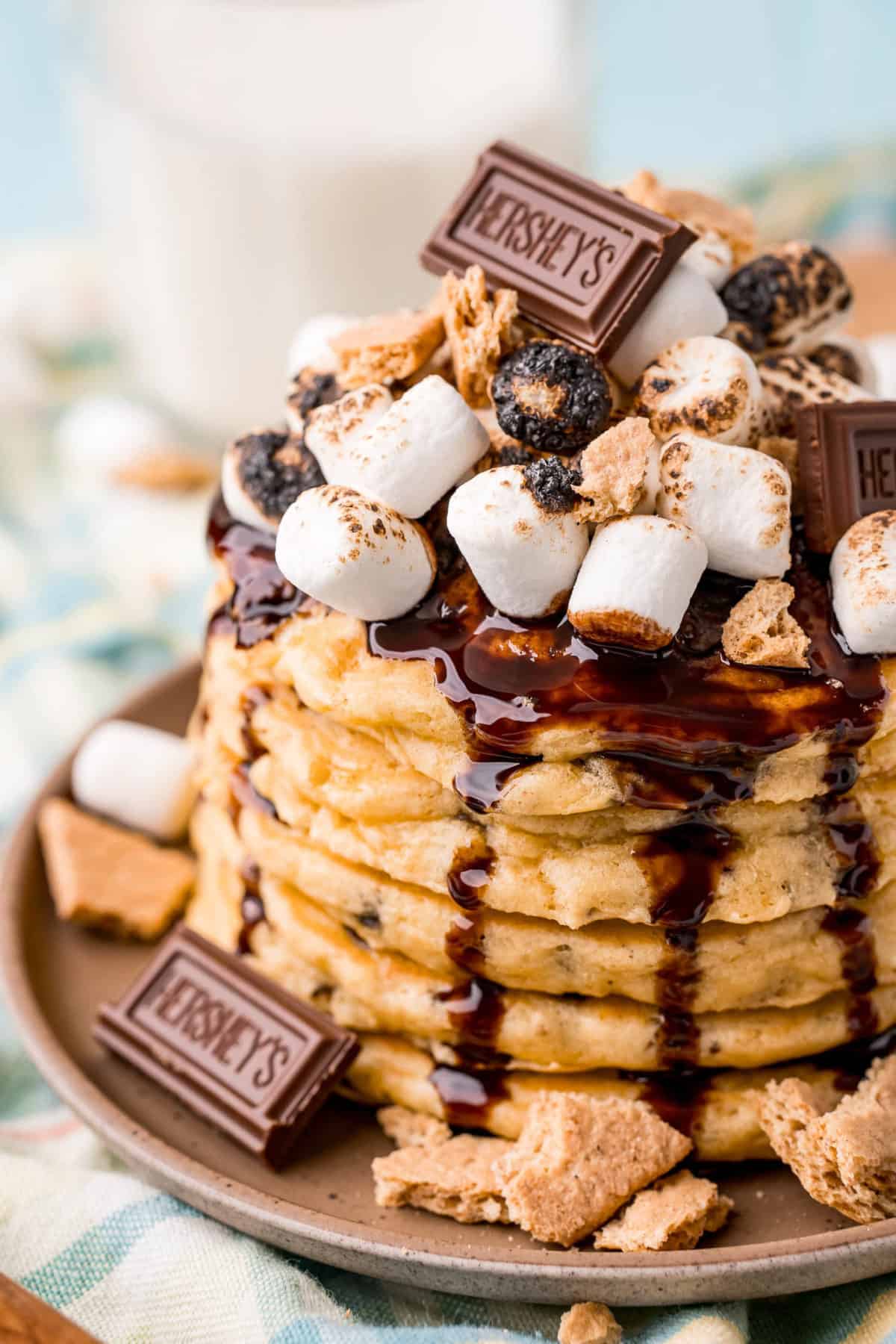 FAQs
Why is a s'more called a s'more?
It's a contraction for "some more" — because when you eat a s'more, you always want some more, right?! What some more s'mores? Try s'mores cereal and s'mores sheet pan pancakes.
What can I use instead of graham crackers for s'mores?
We're partial to graham crackers for s'mores, but a Liege waffle is an excellent option, too. Fudge stripe cookies, wafer cookies, pretzel chips, and Ritz crackers are other common options.
How to make these s'mores pancakes your own
It's pretty hard to beat these s'mores pancakes, but if you want to customize the recipe, here are some ideas!
Switch up the toppings. If you don't have a kitchen torch, you can top the pancakes with marshmallow sauce or marshmallow fluff. (Marshmallow fluff is also good layered between the pancakes!)
Switch up the pancakes. Chocolate pancakes will work for this recipe too, or up the protein with our chocolate protein pancakes. S'mores pancakes are also great with banana pancakes as a base!
Pile on fresh berries. Strawberries and raspberries are excellent toppings for these s'mores pancakes, too. They go well with chocolate, marshmallows, and graham crackers!
Make Ahead Ideas
The s'mores pancakes (without the toppings) can be made ahead of time and stored in the refrigerator for up to 5 days, or in the freezer for up to 3 months.
Storage Suggestions
Store the pancakes in an airtight storage container or a freezer bag with parchment paper between the layers to keep them from sticking together. Don't freeze the pancakes with the toppings!
Reheating Tips
Heat the pancakes in the microwave a few seconds at a time until they're warmed through, or place them on a sheet pan, cover it with foil, and heat them in a 350ºF oven for about 10 minutes. (Covering the sheet pan with foil keeps the pancakes from drying out.) Add the toppings and serve.
To reheat your s'mores pancakes from frozen, simply add a few more minutes to the cooking time.
Other fun chocolatey recipes:
Get the Recipe: S'mores Pancakes
These s'mores pancakes are made with graham crackers, chocolate chips, and marshmallow for that authentic campfire s'mores flavor!
Ingredients
1½ cups all-purpose flour
3 teaspoons baking powder
½ teaspoon salt
¼ cup graham cracker crumbs
1¼ cup milk
3 tablespoons salted butter, melted
1 large egg, beaten
1 tablespoon granulated sugar
1 teaspoon vanilla
⅓ cup mini chocolate chips
Butter, for serving
Chocolate syrup, for serving
Mini marshmallows, for serving
Graham cracker pieces, for serving
Instructions
Sift the flour, baking powder, and salt together twice.

Whisk in the graham cracker crumbs.

Make a small well in the center of the flour mixture and pour in the milk, melted butter, beaten egg, and vanilla. Mix just until combined.

Gently stir in the dehydrated marshmallows and mini chocolate chips then let the batter rest for 10 minutes.

While the batter rests, preheat the griddle to 275°F.

Pour ¼ cup portions of batter onto the greased griddle.

Flip after 2 minutes or until the pancake is golden brown on bottom and bubbly on top. Flip and repeat.

Remove from the griddle and serve with butter, chocolate syrup, marshmallows, and graham cracker crumbs/pieces. If you have a kitchen torch, you can toast the marshmallows for a more s'mores-like flavor.
Notes
Letting that batter rest lets it thicken and creates a fluffier pancake.
Keep pancakes warm in a warming drawer or an oven set to 200°F of a parchment lined baking sheet if you're not ready to serve immediately.
These pancakes freeze great. Just let them cool to room temperature then freeze them in a single layer on a baking sheet for 1 hour before transferring to a freezer-safe container, making sure to squeeze out any excess air.
Calories: 166kcal, Carbohydrates: 24g, Protein: 3g, Fat: 6g, Saturated Fat: 4g, Polyunsaturated Fat: 1g, Monounsaturated Fat: 1g, Trans Fat: 1g, Cholesterol: 14mg, Sodium: 302mg, Potassium: 73mg, Fiber: 1g, Sugar: 8g, Vitamin A: 168IU, Vitamin C: 1mg, Calcium: 122mg, Iron: 1mg