The Best Classic Blueberry Pancakes
Tender and bursting with sweet blueberries, these fluffy blueberry pancakes will start your day off right with fresh fruit and bright flavors.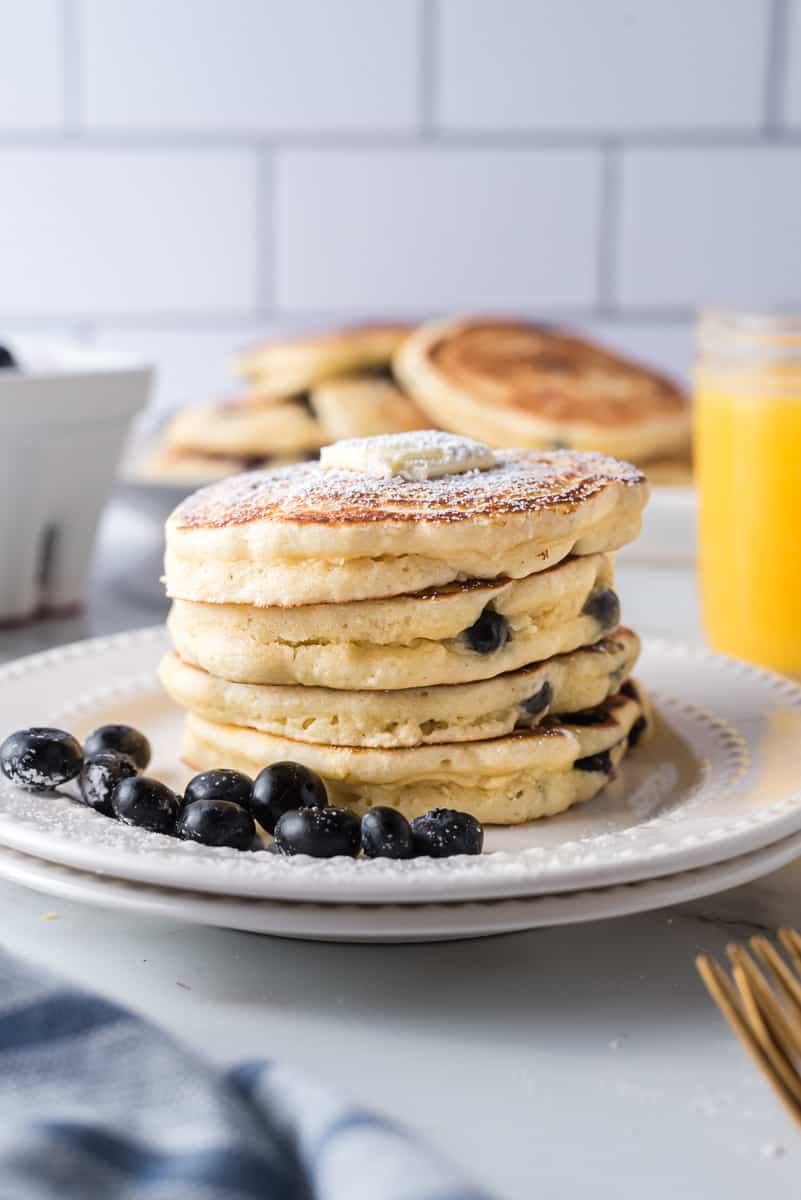 About this blueberry pancakes recipe:
Is there anything better than a tall stack of classic blueberry pancakes?
Sweet and flavorful, blueberry pancakes have just the right balance of fluffy pancake and juicy berries.
This blueberry pancake recipe makes the fluffiest pancakes each time, and you'll love how easy it is to pull together fresh pancakes from scratch.
The simple pancake recipe base is highly customizable to your own diary and flour preferences, and you can make these pancakes without the berries for plain flapjacks, and easily store and reheat leftovers if you're cooking for one.
In other words, this is the ultimate classic and customizable pancake recipe, and that's definitely something to flip over!
For a classic breakfast, try them with whipped cream and blueberry sauce, with an over easy egg and some crispy bacon.
For a simple and fruity breakfast, try them paired with a bowl of nature's cereal.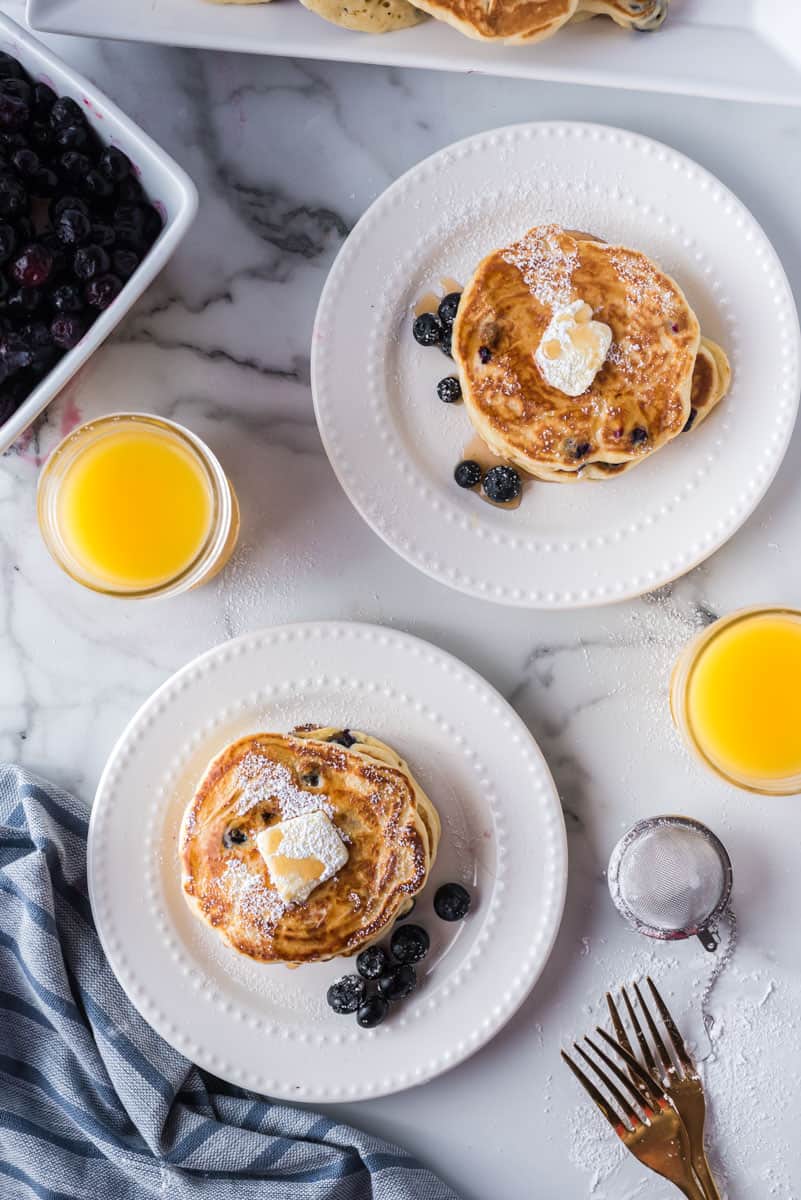 What's in blueberry pancakes?
egg
milk
oil or melted butter
flour
granulated sugar
baking powder
salt
blueberries (fresh or frozen!)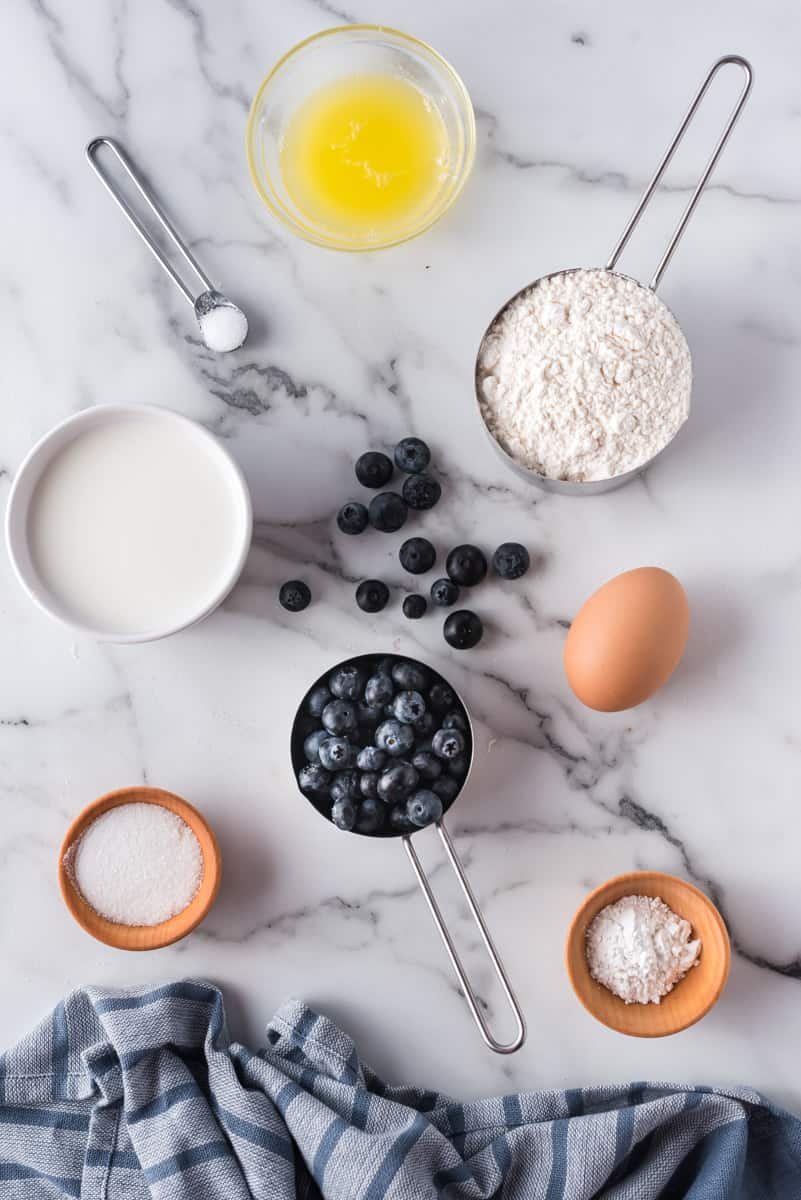 How do you make blueberry pancakes?
Grab a mixing bowl and whisk together egg, milk, and oil (try using melted butter for extra flavor!)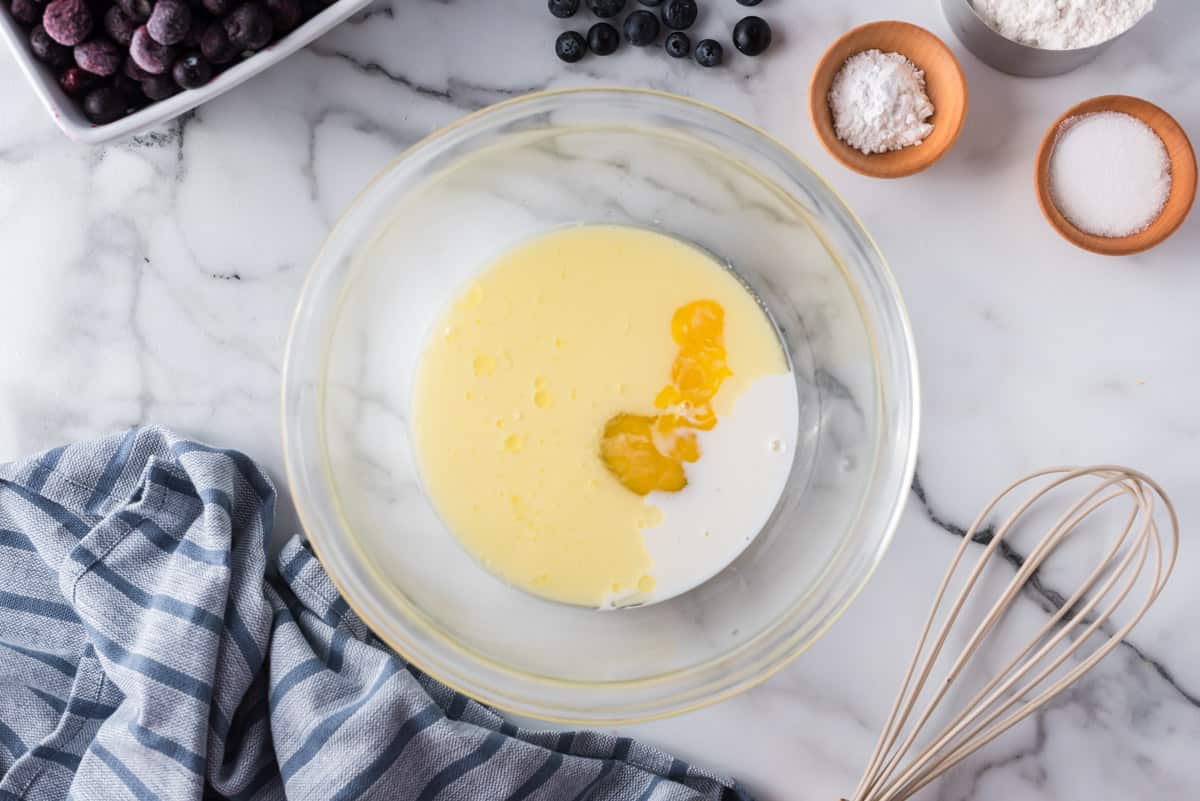 Next comes the dry ingredients. Add in flour, sugar, baking powder, and salt right to the top of the wet ingredients. Mix them together gently before combining them with the wet ingredients.
Mix only until just combined, do not overmix.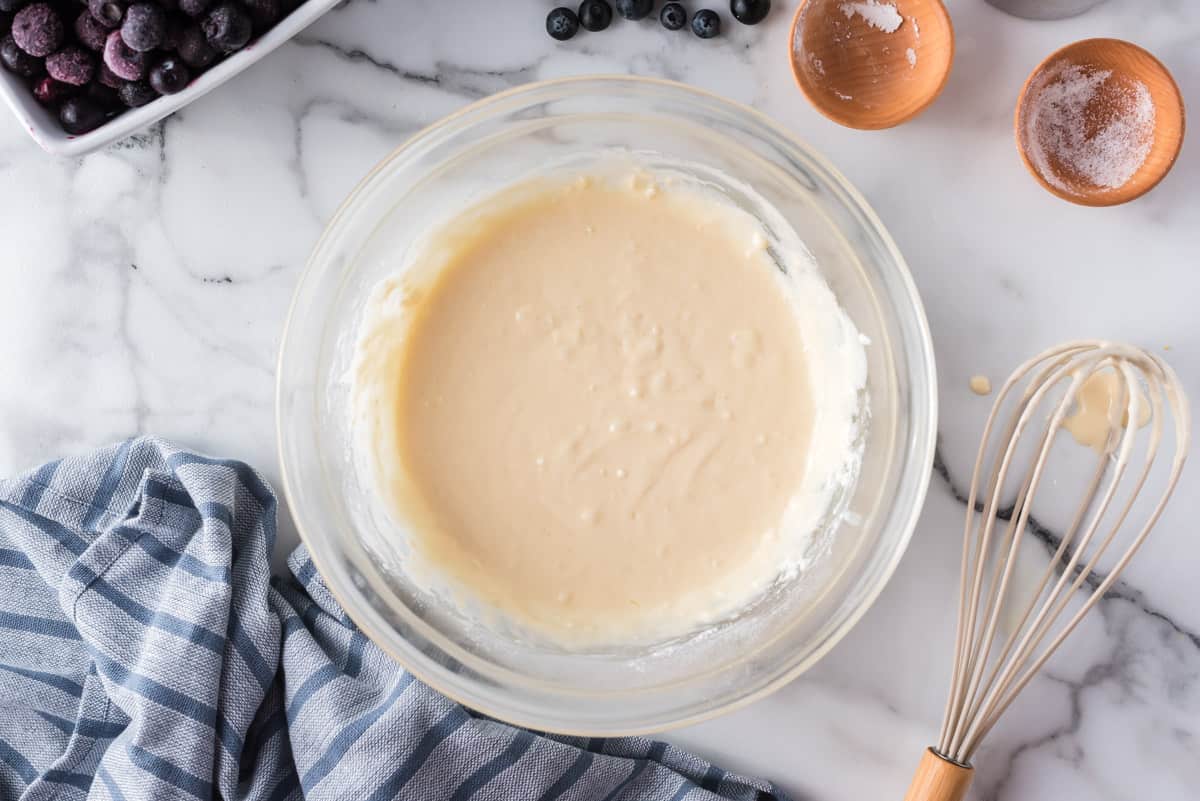 Gently fold in blueberries, or if you prefer, safe them to sprinkle on for uniform distribution.
Pour onto a hot griddle and cook over medium heat for 2-3 minutes per side.
Serve with your favorite pancake toppings! We love these with maple syrup but they're great with nearly anything.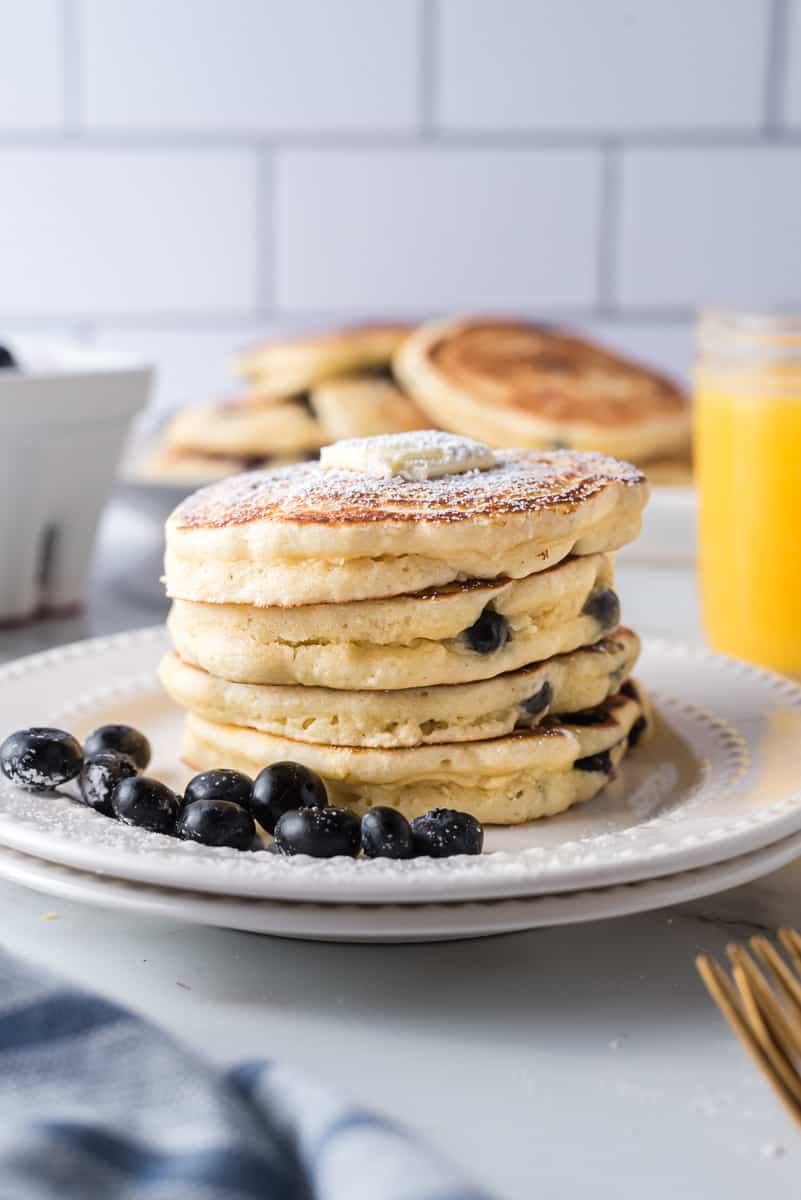 How to make these blueberry pancakes your own:
Easy substitutions: It's super easy to customize this pancake recipe. Try whole wheat flour or almond flour, a flax egg and dairy-free milk and butter, or buttermilk in place of regular milk.
Topping ideas: These classic blueberry pancakes are great topped with this delicious maple cinnamon butter and this amazing blueberry sauce. Of course they always taste good topped with more blueberries and maple syrup too.
Lemon blueberry pancakes: If you're looking for a lemon twist on your blueberry pancakes, try these lemon blueberry pancakes or sheet pan blueberry lemon pancakes.
Leave out the blueberries: If you're using this recipe without the blueberries, try adding ½ teaspoon of pure vanilla extract, ¼ cup chocolate chips, or ¼-½ cup of your add-in of choice. Or of course, you can try our chocolate chip pancake recipe!
Make muffins instead: You can bake this batter in a muffin tin! Blueberry pancake muffins are packable and just right for kids' lunches. Bake for about 14 to 16 minutes at 350 degrees in a regular muffin pan, or about 8 minutes in a mini muffin pan. Be sure to spray your pan with nonstick cooking spray before you pour the batter in. You can freeze the pancake muffins and then just pop one in the lunch box each morning. It will be thawed by lunch time!
Feed a crowd: You can easily double this recipe! As written, it doesn't make a large batch, making it perfect for one or two people, but for a larger family, plan on doubling or tripling this recipe.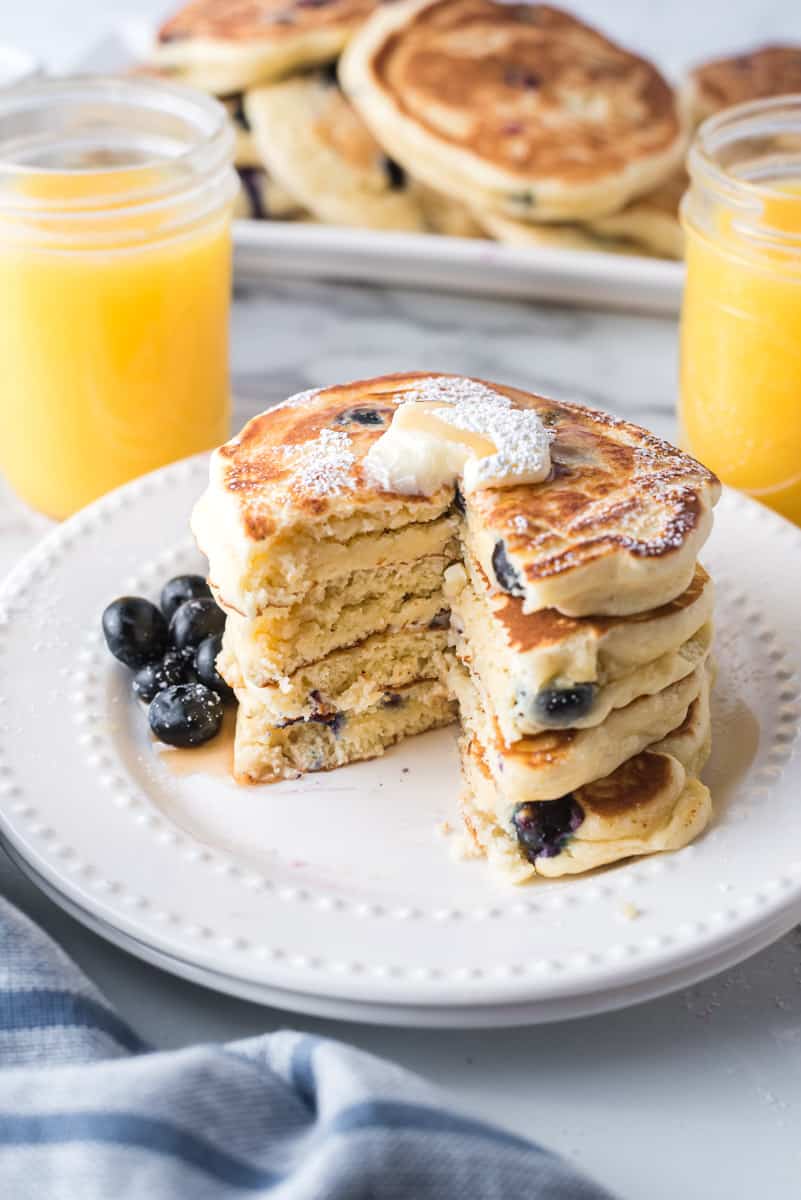 Storage Suggestions
Store leftover pancakes in the refrigerator for up to 3 to 4 days.
Reheating Tips:
Reheat them on a griddle or pan to prevent blueberries from dropping into your toaster.
Can you use frozen blueberries in blueberry pancakes?
Yes! These pancakes come together easily with frozen blueberries! Just add frozen berries right to the pan or griddle once you pour the batter. If you add them directly into the batter in your bowl, they will start to thaw and color your batter blue.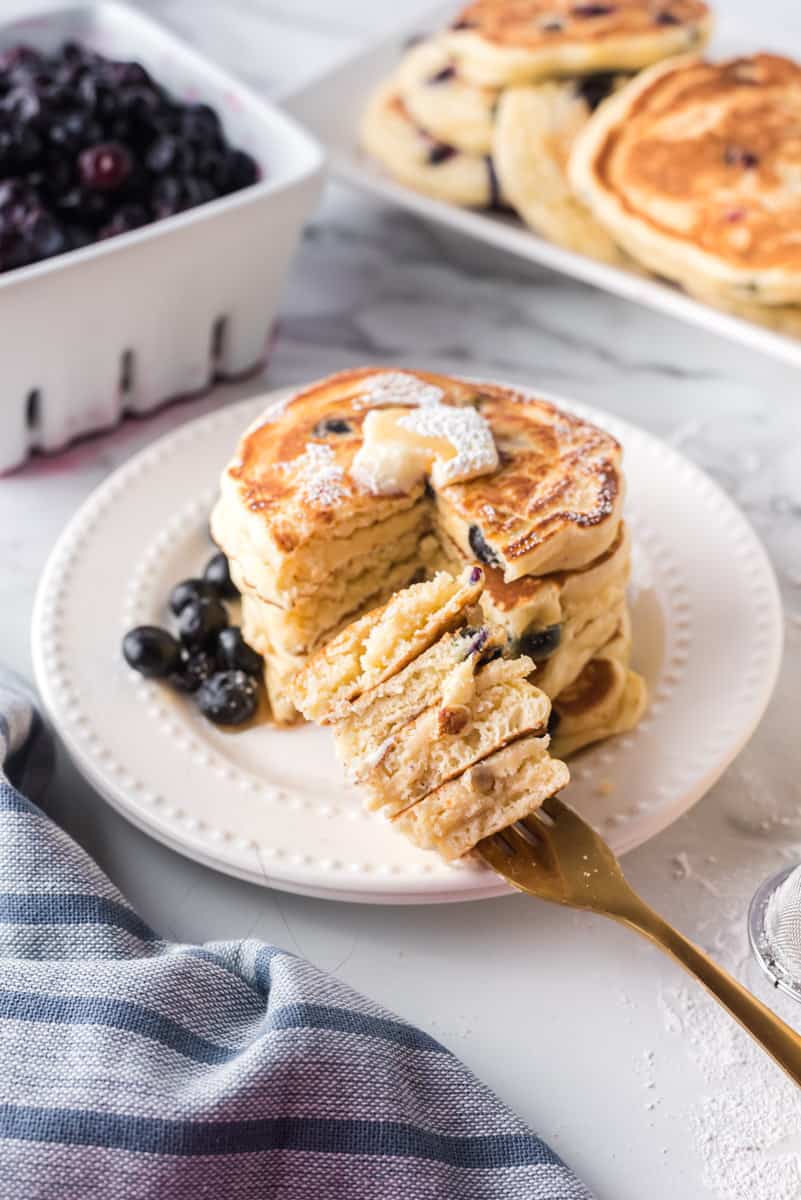 Tip!
You can also leave fresh blueberries out of the batter and place them on the pancake batter once it's on the griddle so you can ensure an even distribution of berries in each pancake.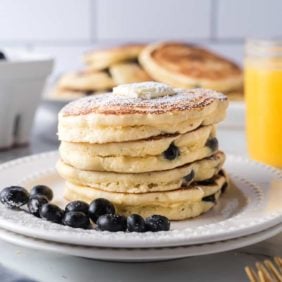 Get the Recipe: Classic Blueberry Pancakes
Tender and bursting with sweet blueberries, these fluffy blueberry pancakes will start your day off right with fresh fruit and bright flavors.
Ingredients
1 large egg
2/3 cup milk
2 tablespoons oil or melted butter
1 cup all-purpose flour
1 tablespoon granulated sugar
2 teaspoons baking powder
1/4 teaspoon salt
1/2 cup blueberries
Instructions
In a mixing bowl, whisk egg, milk, and oil until well combined.

On top of wet ingredients, add flour, sugar, baking powder, and salt. Toss together lightly before stirring into wet ingredients.

Mix only until just combined, do not overmix. Fold in blueberries (see note).

Heat a griddle over medium heat. If desired, grease with butter, oil, or nonstick cooking spray. Add batter to griddle by about 1/4 cup scoops.

Cook for 2-3 minutes or until bubbles appear and don't disappear. Flip and cook for another 2-3 minutes or until golden brown and cooked through.

Serve immediately with desired toppings.
Notes
You can leave blueberries out and sprinkle them on after pouring batter onto griddle if you prefer a more uniform distribution of the berries.
Makes about 8 pancakes
Serving: 2pancakes, Calories: 238kcal, Carbohydrates: 32g, Protein: 6g, Fat: 10g, Saturated Fat: 7g, Cholesterol: 45mg, Sodium: 391mg, Potassium: 117mg, Fiber: 1g, Sugar: 7g, Vitamin A: 125IU, Vitamin C: 2mg, Calcium: 174mg, Iron: 2mg