Cannoli Pancakes
Cannoli pancakes are fluffy, soft, and loaded with cinnamon and chocolate chips! Topped with creamy ricotta filling with flecks of more mini chocolate chips, they're just like the ones at IHOP, only better!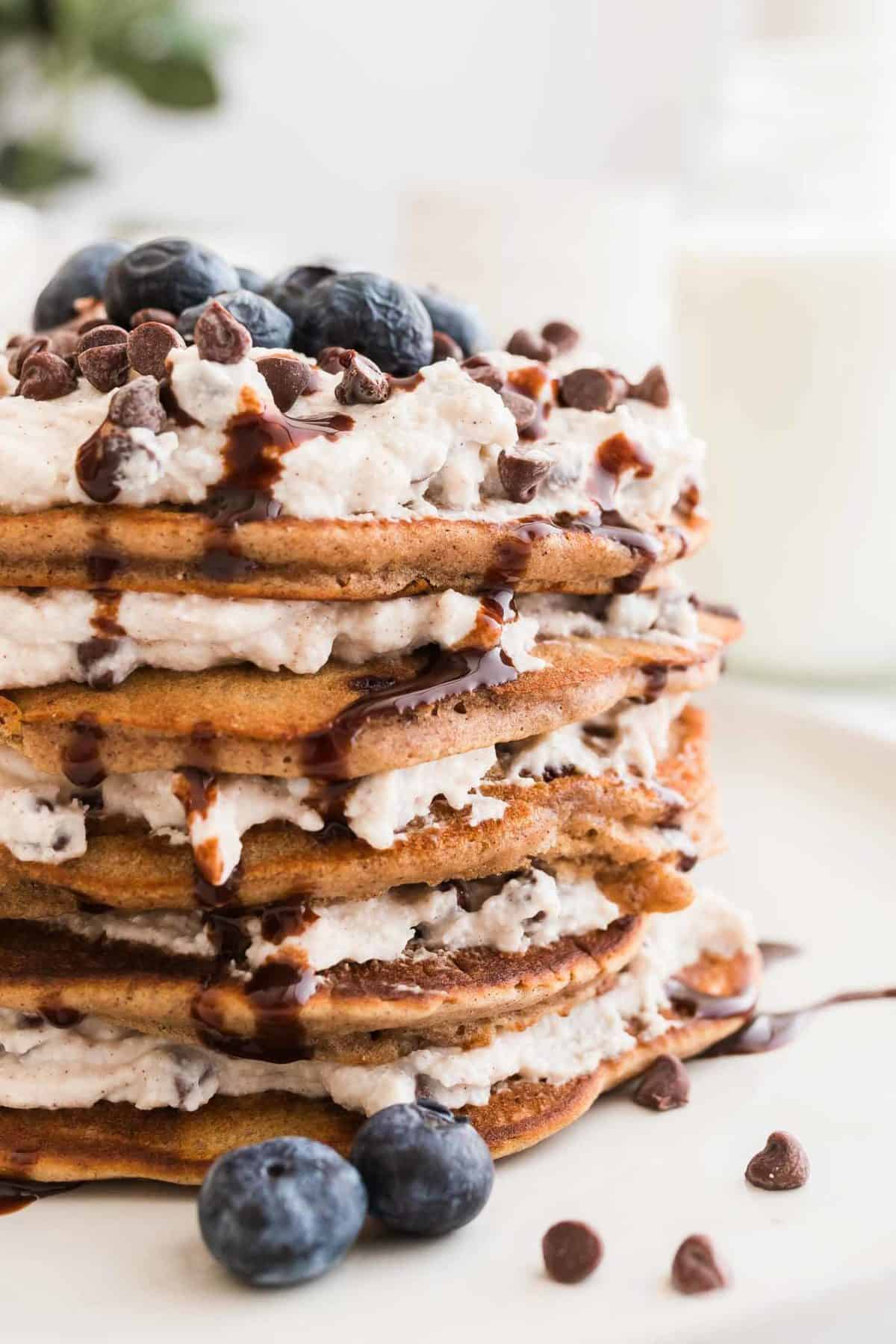 Spruce up your weekends with a decadent stack of delicious cannoli pancakes layered with thick cream and topped with some extra chocolate chips. Some might even choose to eat with their hands, rolling up their pancakes and biting into it like a real cannoli!
About This Recipe
Cannoli pancakes are a copycat version of what they serve at IHOP, and they couldn't be easier to make at home. They have all the flavors of a classic cannoli dessert which means cannoli for breakfast is officially a thing! We're all about dessert for breakfast here at Pancake Recipes, as evidenced by brownie pancakes, german chocolate pancakes, banoffee pie pancakes, churro pancakes, banana cream pie pancakes, and tiramisu pancakes.
These homemade pancakes are light and fluffy and are made with oat milk and rum extract, along with basic pancake ingredients. (You can definitely use any type of milk that you like, though!) These flavorful pancakes act as a vessel (much like its crispy fried counterpart) for the luscious sweet ricotta cream filling which is spread generously atop each delicious pancake.
Ricotta, as you know, can be used in so many ways like in these blueberry ricotta waffles or lemon ricotta pancakes.
Some of the ingredients are flexible so you may already have what you need on hand. You can use any milk you'd like, play around with the amount of cinnamon, use the rum extract or leave it out. Whatever you decide to do, make them the way you want to eat them!
So, what exactly is cannoli?
Cannoli is a popular Italian dessert originating in Sicily. It's made from pastry that's formed into a tube and then deep-fried and filled with a creamy (sometimes flavored) filling that usually contains ricotta or mascarpone. The exposed ends are then dipped into yummy add ons like mini chocolate chips, crushed pistachio, or candied fruit, just to name a few. The entire cannoli are dusted in powdered sugar and eaten by hand in all their sweet, crunchy, creamy, delicious glory.
The fact that we can take these elements and make them into a breakfast pancake is amazing!
What you need
A detailed, printable list of ingredients is in the recipe card. Here is a summary of what you need:
For the Pancakes
All-Purpose Flour – Serves as the foundation for the structure of the pancakes. Sturdy and strong yet light and fluffy! If you're looking for a slightly healthier choice, try white whole wheat flour.
Oat Milk – A light, non-creamy milk that is dairy-free. Feel free to use any milk you've got in the fridge, buttermilk included!
Egg – You'll need just one large egg for binding the ingredients and adding texture.
Rum Extract – Rum extract is optional and adds an additional flavor punch.
Vegetable Oil – A fat needed to bring everything together and create a bit of moisture. If you prefer, you could use melted butter or coconut oil.
Baking Soda & Baking Powder – They work together to get the pancakes to rise nicely.
Ground Cinnamon – A delicious warm spice that adds a ton of flavor to these pancakes. Cinnamon also pairs nicely with the ricotta filling.
Salt – Enhances flavor as well as brings balance to the sweetness.
Granulated Sugar – Sugar is needed to sweeten the pancakes because they are, after all, created with a dessert in mind!
Mini Chocolate Chips – Chocolate chips are folded in to make chocolate chip pancakes, giving them the feel and taste of a dressed up cannoli.
For the Cannoli Cream
Ricotta Cheese – A mild soft cheese that whips, blends, and creams nicely.
Powdered Sugar – Use powdered sugar for the cream rather than granulated sugar so it blends more smoothly, without any residual graininess.
Ground Cinnamon & Vanilla Extract – Common flavors that pair so well with ricotta in all kinds of desserts!
Mini Chocolate Chips – Bits of crunchy chocolatey chips in the ricotta cream is just heaven.
How to Make Them
In a large bowl, mix the dry ingredients.
Add the oat milk, egg, and vegetable oil to the dry ingredients and mix until combined. Fold in your mini chocolate chips, but make sure not to over mix!
In an oiled heated pan or griddle over medium heat, spoon 1/2 cup of pancake batter. Cook each pancake for about 1-2 minutes on each side. Set aside until all pancakes are made.
For the topping, grab a small mixing bowl and combine ricotta, powdered sugar, ground cinnamon, and vanilla extract. Once combined, add in your mini chocolate chips!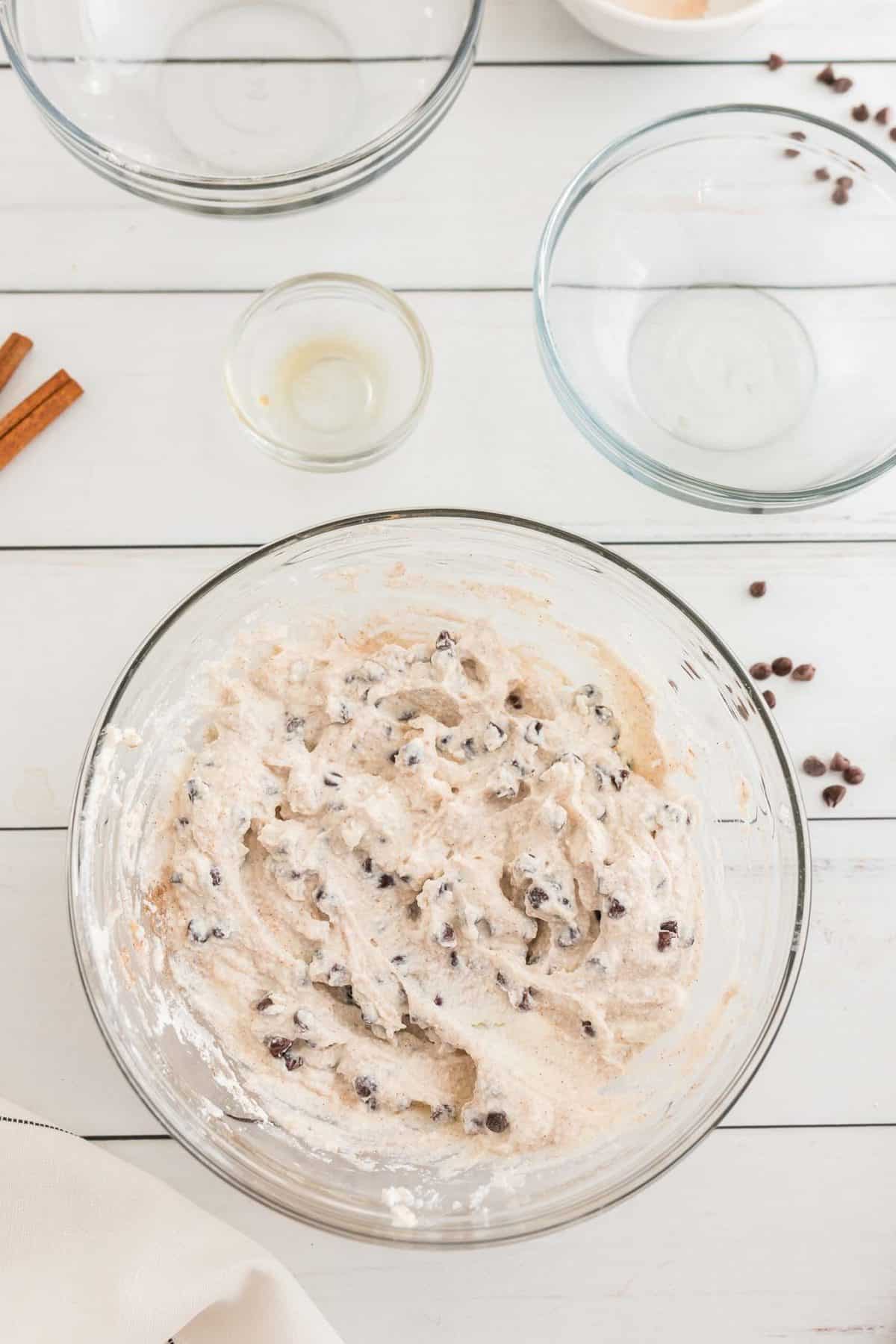 Assemble your pancake stack by layering a generous amount of cream filling in between each pancake. Enjoy!
FAQs
What is cannoli filling made of?
Traditionally it's just a mix of ricotta and powdered sugar; however, there are variations such as mascarpone and whipped cream for a lighter, less sweetened version. You can also find fillings that have added flavors, like strawberry, orange, and chocolate. Yum!
Is a cannoli served hot or cold?
Traditionally, cannoli is enjoyed at room temperature or even cold. It's not served warm, as the cannoli shell needs to cool before the filling is added, otherwise, the filling will melt and start to run.
Is cannoli made with ricotta or mascarpone?
It can be made with either one. Ricotta is the more traditional classic version, but mascarpone is a delicious option as well.
How to Make These Pancakes your own
Use buttermilk instead of oat milk for a little extra flavor. The acid from the buttermilk will react nicely with the baking powder and baking soda, giving the pancakes a more fluffy rise.
Add a tablespoon of bourbon or Grand Marnier to the filling.
Serve with strawberry sauce, chocolate syrup, or cinnamon whipped cream as an added topping.
Try making this homemade Bisquick mix and use it in place of the dry ingredients in the pancake recipe.
Swap the chocolate chips with chopped pistachios.
Top with fresh fruit like raspberries, strawberries, or cherries.
Add a little orange zest to the ricotta filling. Orange pairs really well with both chocolate and ricotta.
Make Ahead Ideas
The entirety of this recipe, including the filling, is best served and enjoyed immediately. If you do make the filling in advance, it needs to be kept covered in the fridge for no more than 2 days. Give it a good stir before using it. You may want to bring it to room temperature before spreading it on your pancakes.
Storage Suggestions
Keep pancakes without filling stored in an airtight container in the fridge for up to 4 days. If you have filling on them, you probably won't want to store them, as they will get soggy. Unless of course, you are saving them for dessert later on 🙂
Reheating Tips
Reheat pancakes in the microwave at 20-second intervals. Whip up a quick filling to enjoy all over again or fill with delicious homemade whipped cream!
Other Dessert-Like Pancake Recipes
Get the Recipe: Cannoli Pancakes
Cannoli pancakes are fluffy, soft, and loaded with cinnamon and chocolate chips! Topped with creamy ricotta filling with flecks of more mini chocolate chips, they're just like the ones at IHOP, only better!
Ingredients
For the pancakes:
1 cup all-purpose flour
1 cup oat milk
1 large egg
1/2 teaspoon rum extract
2 tablespoons vegetable oil
1 teaspoon baking soda
1 teaspoon baking powder
1 teaspoon ground cinnamon
1 teaspoon salt
1 tablespoon granulated sugar
1/2 cup mini chocolate chips
For the cannoli cream:
1 cup ricotta cheese
1/4 cup powdered sugar
1 teaspoon ground cinnamon
1/2 teaspoon vanilla extract
1/2 cup mini chocolate chips
Instructions
Pancakes:
In a large bowl, mix together flour, baking powder, baking soda, salt, and ground cinnamon.

Add the oat milk, egg, vegetable oil, and sugar to the dry ingredients. Mix until combined. Fold in 1/2 cup mini chocolate chips. Make sure not to over mix.

In an oiled heated pan, spoon 1/2 cup of pancake batter. Cook about 1-2 minutes on each side on med/low heat.

Once your pancakes are made, set aside while you make the filling.
Filling:
In a small mixing bowl, combine ricotta, powdered sugar, ground cinnamon, and vanilla extract. Once combined, add remaining 1/2 cup mini chocolate chips.
To Serve:
When preparing your pancake stack, place one pancake on your plate and spoon a generous amount of cannoli cream and spread out onto your pancake. Repeat on however many pancakes you'd like in your stack.
Notes
Instead of an egg, you can substitute 1/4 cup unsweetened applesauce or use a flax egg.
Instead of oat milk, you can substitute cow's milk, cashew milk, or almond milk.
In the pancakes, instead of rum extract you can substitute vanilla extract.
Calories: 540kcal, Carbohydrates: 74g, Protein: 15g, Fat: 20g, Saturated Fat: 12g, Polyunsaturated Fat: 1g, Monounsaturated Fat: 3g, Trans Fat: 1g, Cholesterol: 79mg, Sodium: 1088mg, Potassium: 148mg, Fiber: 3g, Sugar: 44g, Vitamin A: 560IU, Vitamin C: 1mg, Calcium: 346mg, Iron: 3mg