Blueberry Sauce – fresh or frozen berries
Sweet, smooth and endlessly customizable, this delicious blueberry sauce is perfect for dipping and drizzling. You'll love it with cake, waffles, ice cream, pancakes, cheesecake, and more!
If you've never made your own blueberry sauce, then you are in for a serious treat!
It's just about the easiest thing you'll ever make, and if you're wondering what to do with blueberry sauce, rest assured that you'll find a million uses for it immediately.
Need a sauce for ice cream or for cheesecake? Boom. Blueberry sauce.
Need a dipping sauce for fresh donut or cake bites? This one is a no-brainer.
Looking for a healthy sauce for your breakfast pancakes or waffles? Look no further.
Feeding a crowd and looking for simple make-ahead sauces? You got it: blueberry sauce.
About this homemade blueberry sauce:
Homemade blueberry sauce adds a special touch when you serve it to your family and friends, and it's so easy to make.
How easy?
It requires only five ingredients and a single saucepan, and you really just add the ingredients together and let the berries cook down for a few minutes. That's it!
The result is a smooth, thick sauce that's full of fresh blueberry flavor, even when you make this recipe with frozen berries. You'll enjoy it served hot over a fresh stack of warm pancakes or cold over your favorite ice cream dessert.
You can also adjust the amount of sugar, making this a health-conscious sauce that's sure to satisfy your sweet tooth.
You can use this sauce pretty much anytime you would typically use syrup, and it's especially good poured over sweet cream pancakes, lemon blueberry pancakes, lemon ricotta pancakes, lemon poppy seed pancakes, or even apple cinnamon skillet pancakes. Really, if you have any tart or fruit-filled cake in the works, you need this blueberry sauce.
Can't get enough blueberries? Try this sauce on classic blueberry pancakes. Buttermilk pancakes are always a good choice, too, and why not go the extra yard, and make blueberry buttermilk pancakes?
If you have extra berries, try our healthy mixed berry jam too!
What's in blueberry sauce?
Simple, easy to find ingredients, and only five of them! Four if you don't count the water.
blueberries, obviously! PS: you can use fresh or frozen berries for this recipe!
water
sugar
cornstarch
lemon juice
And truthfully, you could totally leave out the lemon juice. We just love the brightness it adds to this sauce but have also made it countless times without the juice and it's still delicious.
How to make blueberry sauce:
It really couldn't be easier! As always, head to the recipe card for full, printable step-by-step directions. Here's how you do it…
Combine all ingredients in a medium sized saucepan.
Bring to a boil, and cook for 2-3 minutes after it boils, or until it thickens.
That's it! Cool slightly before serving so you don't burn yourself, okay? I know it's hard to resist.
How to make this blueberry sauce your own:
This sauce is great made with fresh berries, frozen berries, or a combination. Because you're going to cook them down, the berries don't need to be uniform in size, color, or temperature.
You can adjust the amount of sugar to taste, making this a diet-friendly sauce. You can also skip the sugar altogether by substituting honey or maple syrup.
This sauce travels well in small containers, making it a great choice for school or work lunches. Pack leftover pancakes, waffles, or french toast sticks, and include this sauce for dipping!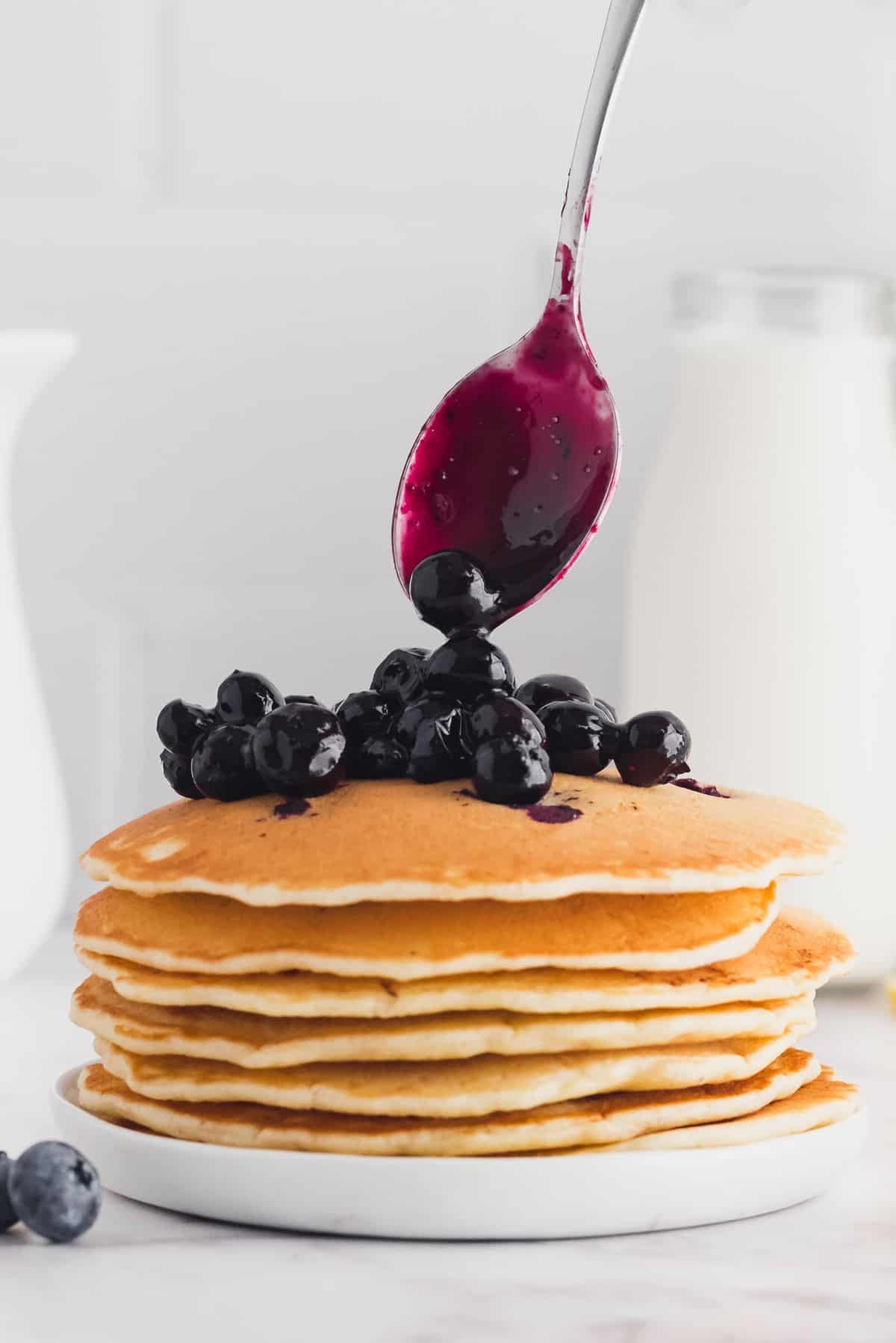 Make-Ahead, Storage, and Reheating Tips
This sauce can be stored in an airtight container in the refrigerator for 4-5 days.
If you know you'll be packing this sauce to enjoy on-the-go, you can portion it into small containers right from the saucepan for a super-easy meal prep solution.
Craving more?
Love the toppings almost as much as the pancakes? Us too! Try this maple cinnamon butter!
Get the Recipe: Blueberry Sauce
Sweet, smooth and endlessly customizable, this delicious blueberry sauce is perfect for dipping and drizzling. You'll love it with cake, waffles, ice cream, pancakes, cheesecake, and more!
Ingredients
4 cups blueberries fresh or frozen
¼ cup water
¼ cup granulated sugar more or less to taste
1 tablespoon cornstarch
1 tablespoon lemon juice
Instructions
Heat all ingredients in medium saucepan.

Bring to a boil, and continue to boil for 2-3 minutes or until slightly thickened. Cool slightly.

Serve immediately after cooling slightly, or store in a covered container in the fridge for 4-5 days.
Serving: 1g, Calories: 94kcal, Carbohydrates: 24g, Protein: 1g, Fat: 1g, Saturated Fat: 1g, Sodium: 2mg, Potassium: 76mg, Fiber: 2g, Sugar: 18g, Vitamin A: 53IU, Vitamin C: 11mg, Calcium: 6mg, Iron: 1mg