Mocha Frappuccino
This creamy, chocolatey, frozen Mocha Frappuccino is just as good as the coffeehouse version—and it's so much less expensive! Here's how to make a copycat version at home.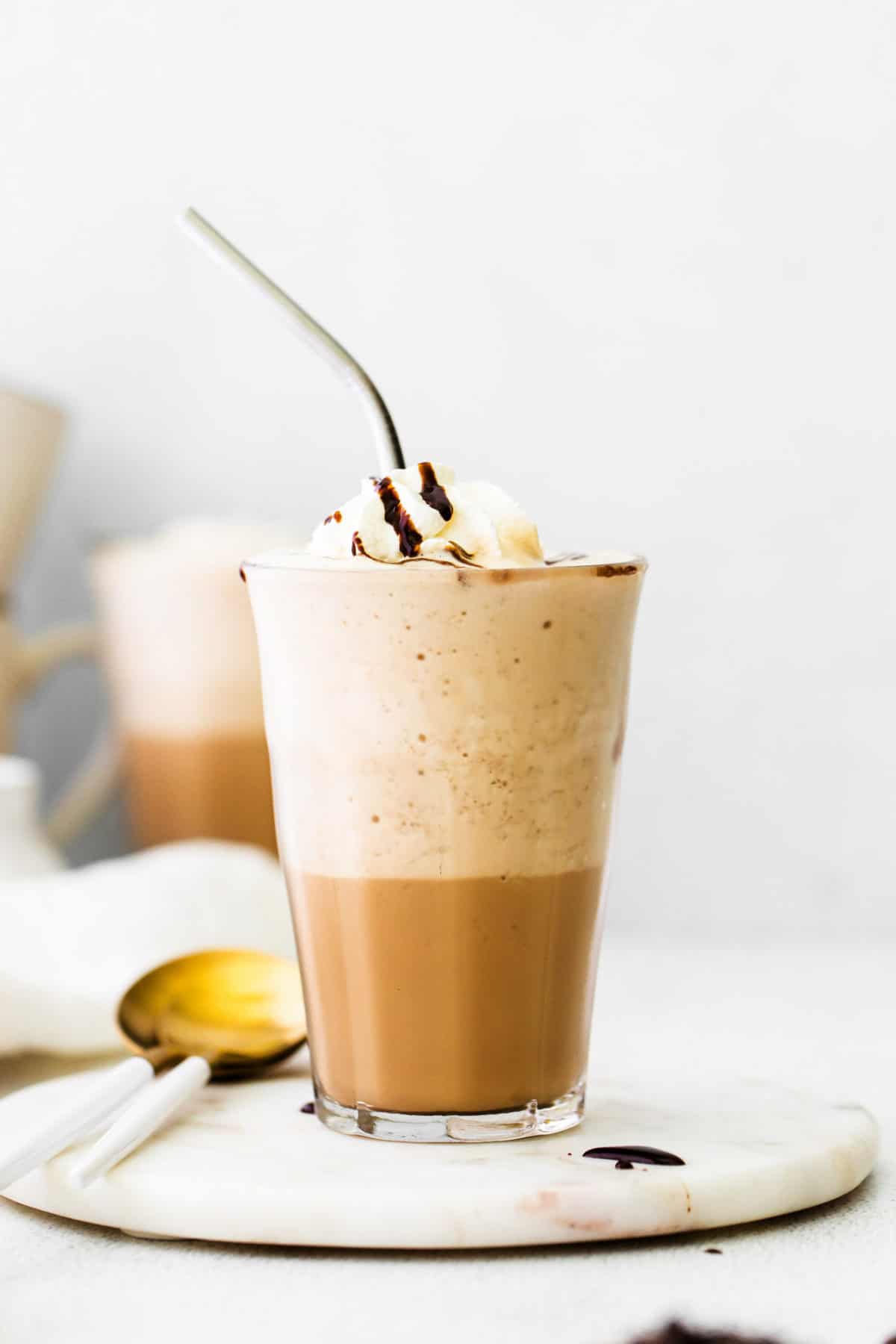 If you've clicked on this post, you probably know exactly what a mocha frappuccino is and you want to know how to make it at home.
But, in case you've never had one before, here's the scoop—mocha frappuccinos are a Starbucks favorite that has since found its way to virtually every coffeeshop in the country. Everyone has their own version of this coffee drink, which includes espresso, milk, and chocolate whipped up with ice cubes into creamy, dreamy, and smooth.
It's basically like a caffeinated milk shake. Who doesn't need that in their life?!
While there are many different varieties of frappuccino these days, the mocha frappuccino is probably the most beloved because you can never go wrong with coffee and chocolate. (Need proof? See our: Mocha Pancakes and Mocha Chocolate Chip Pancakes!)
About this mocha frappuccino
There are a few good reasons to make a copycat version of Starbucks' mocha frappuccino.
First: the price! If you have a Starbucks habit, the cost of a few frappuccinos a week can really start to add up. Making your own frappe at home is a fraction of the price, and this recipe isn't all that hard either.
And, second, you can make your frappuccino a little bit lighter when you DIY it. Mocha frappuccinos are notorious for being calorie bombs, but you can go easy on the chocolate syrup and whipped cream when you make it at home, and use any kind of milk you like.
(If you love making your own fancy coffee drinks at home, be sure to try our caramel iced coffee and pumpkin spice latte, too!)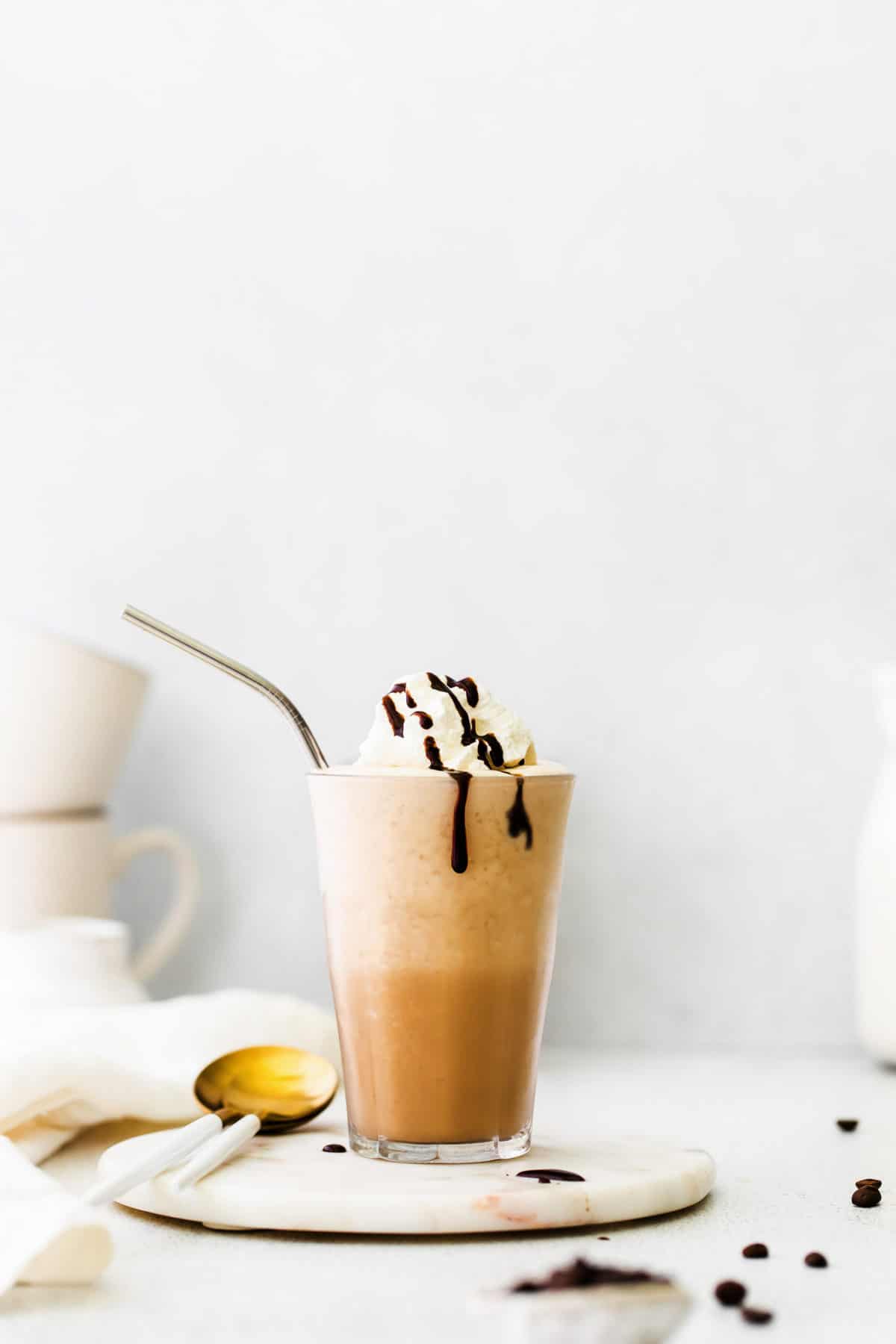 What you need
Ice
Milk – Use whole milk or canned full-fat coconut milk (if you want to make a vegan frappe) for the creamiest results.
Espresso or strong coffee – If you have leftover chilled coffee or cold brew coffee in the fridge, this is the best way to use it!
Chocolate syrup – You can use store-bought or make your own chocolate syrup.
Whipped cream – Again, store-bought or homemade whipped cream! You can even use one of our flavored varieties like coffee whipped cream or chocolate whipped cream.
How to make it
Blend. Place the ice, milk, espresso, and chocolate syrup in a blender. Blend until the mixture is completely smooth.
Tip: A high-powered blender is best here. If you don't have one, you might want to strain your frappuccino before serving to catch any big chunks of ice.
Serve. Divide the mocha frappuccino into 2 glasses. Top with whipped cream and chocolate syrup, then enjoy!
FAQs
Do mocha frappuccinos have coffee?
Yes, mocha frappuccinos are made with coffee and chocolate syrup, along with milk, ice, and whipped cream.
Is mocha frappe the same as a mocha frappuccino?
Yes, they're the same thing! Frappe is just a shortened word for frappuccino in Starbucks lingo. (Fun fact: originally, the word "frappe" was a French term used for any chilled drink.) Starbucks has the term "frappuccino" trademarked, so a lot of small coffee shops use the term mocha frappe instead.
What is the healthiest frappuccino?
The healthiest frappuccino is one you make yourself! That way, you can control what goes into it and know exactly what you're getting. Of course, if you're ordering at Starbucks, getting a frappuccino with sugar-free syrups and sweeteners, along with a lower calorie milk option and no whipped cream, may be your best bet depending on your health goals. As always, talk to a doctor or dietician if you have questions about your health and/or diet.
How to make this mocha frappuccino your own
Here are some ideas for customizing your mocha frappuccino:
Add caramel. Chocolate and caramel always go well together, especially when there's coffee involved. Use homemade caramel syrup in the frappe itself and drizzle it over the top.
Make it plant-based. Use your favorite plant milk and coconut whipped cream to make a vegan mocha frappuccino. Try that one with vegan caramel!
Try different flavors. Instead of mocha, switch things up! Pair the espresso or coffee with raspberry sauce, white chocolate sauce, or brown sugar cinnamon coffee syrup. You can also swap the espresso for matcha or strongly brewed chai tea.
Storage Suggestions
Mocha frappuccinos don't store very well—they'll get too hard in the freezer, but they'll begin to thaw in the fridge. The best way to store leftovers is in the refrigerator, but keep in mind that after a few hours, it won't be quite as good!
More coffee drink recipes
Get the Recipe: Mocha Frappuccino
Here's how to make your favorite coffeehouse blended drink at home!
Ingredients
1 cup ice
½ cup milk
2 shots espresso or strong brewed coffee, chilled
1 tablespoon chocolate syrup (or to taste)
whipped cream and chocolate syrup for serving (optional)
Instructions
Add the ice, milk, espresso, and chocolate syrup to a blender. Blend until smooth– about 30 seconds.

Pour into your glass and garnish with whipped cream and chocolate syrup, if desired. Enjoy immediately.
Notes
You can use any kind of milk in this recipe– dairy or non-dairy will work!
Make sure to use a high powered blender if you have one. You don't want any big pieces of ice in your frappuccino.
Calories: 65kcal, Carbohydrates: 9g, Protein: 2g, Fat: 2g, Saturated Fat: 1g, Polyunsaturated Fat: 1g, Monounsaturated Fat: 1g, Cholesterol: 7mg, Sodium: 36mg, Potassium: 114mg, Fiber: 1g, Sugar: 8g, Vitamin A: 99IU, Vitamin C: 1mg, Calcium: 80mg, Iron: 1mg