How to Make Honey Butter
Honey butter is a little something special to add to your pancakes, biscuits, waffles, and toast! It's easy to make, it tastes heavenly, and we include a secret ingredient to make sure it turns out perfectly!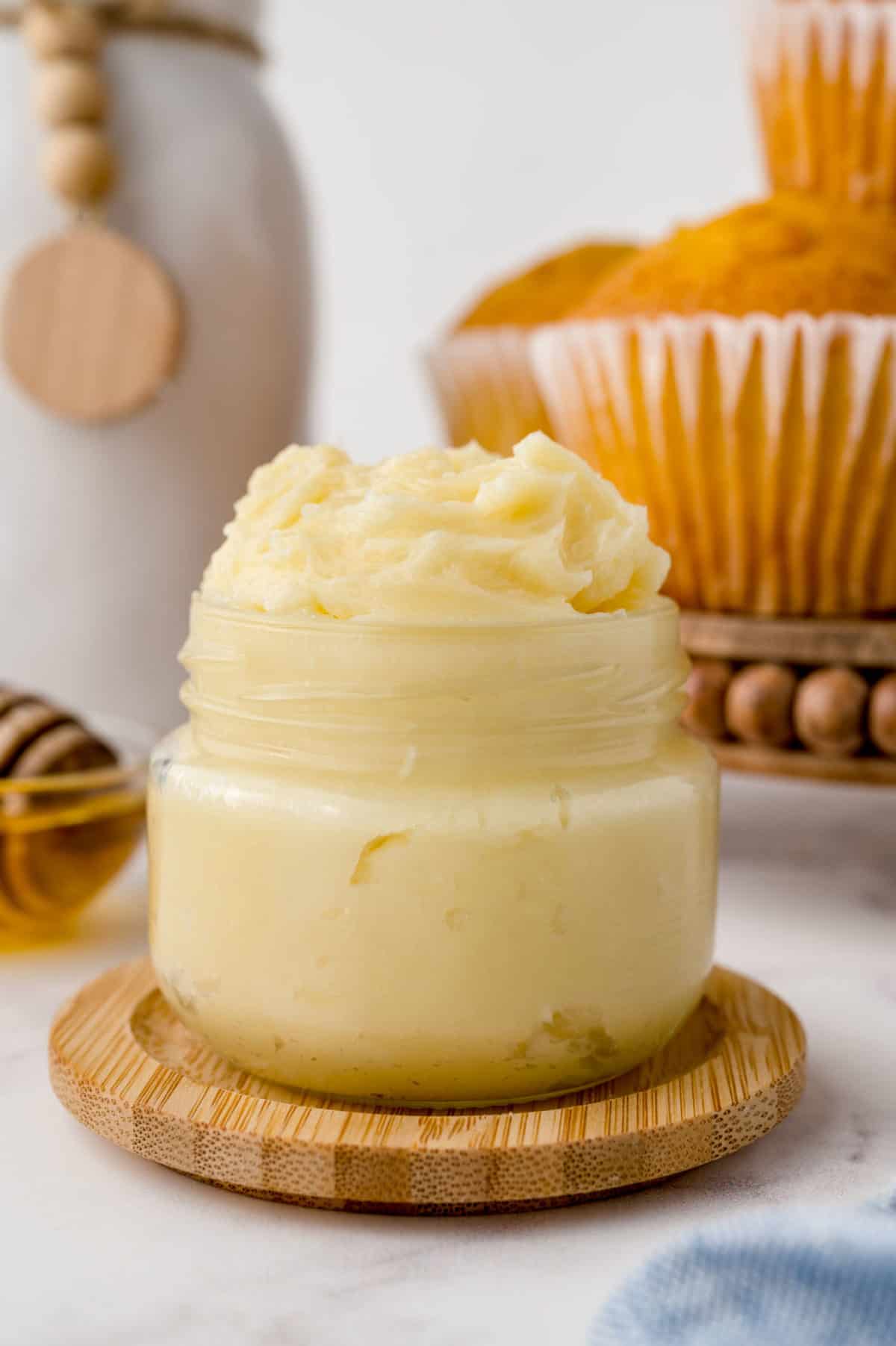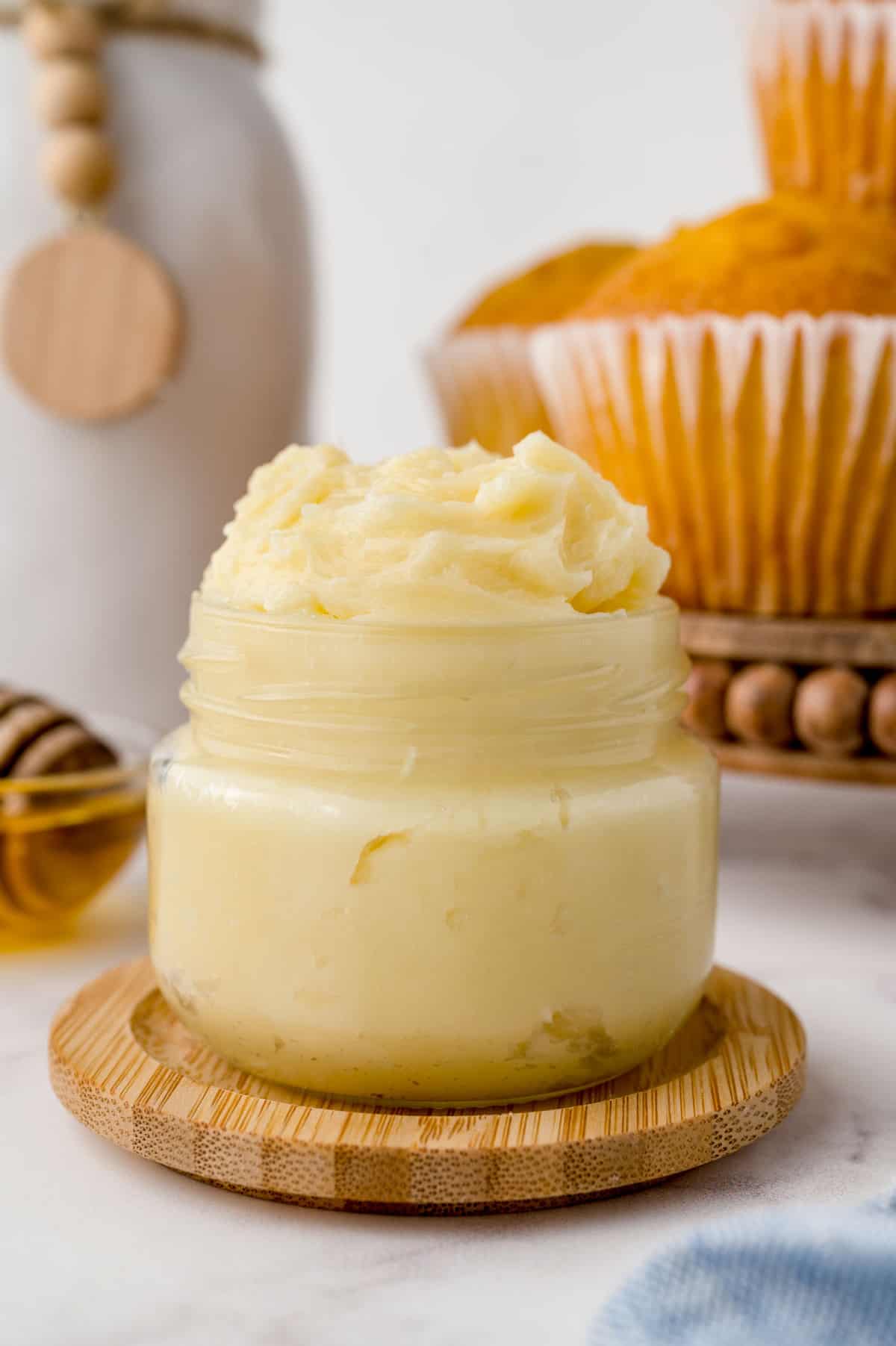 Homemade honey butter is creamy, sweet, and it goes well with just about everything. (Sure, this is a breakfast blog, but have you ever put honey butter on corn-on-the-cob? Amazing. Of course, the same applies to corn fritters!)
This honey butter is wonderful on warm waffles because it collects in all those little squares, melts into liquid, and infuses every bite with flavor. It's perfect on pancakes, terrific on toast, beautiful of biscuits, fantastic on French toast… we have a dozen more alliterations where these came from, but the bottom line is, honey butter belongs on every breakfast table!
Okay, just have to share a couple more ideas – try it on honey oat pancakes, lemon pancakes, and pistachio pancakes.
About this honey butter recipe
While you might assume you just need to mix honey and butter to make honey butter, there's a crucial ingredient that not everyone knows about: confectioners' sugar.
The sugar keeps the honey and butter from separating and ensures a smooth texture. The honey is still the dominant flavor here, but sugar does a lot of the heavy lifting when it comes to getting that lovely spreadable, creamy consistency. Don't skip it!
Another ingredient you may not expect is a pinch of salt. This brings all the flavors into balance!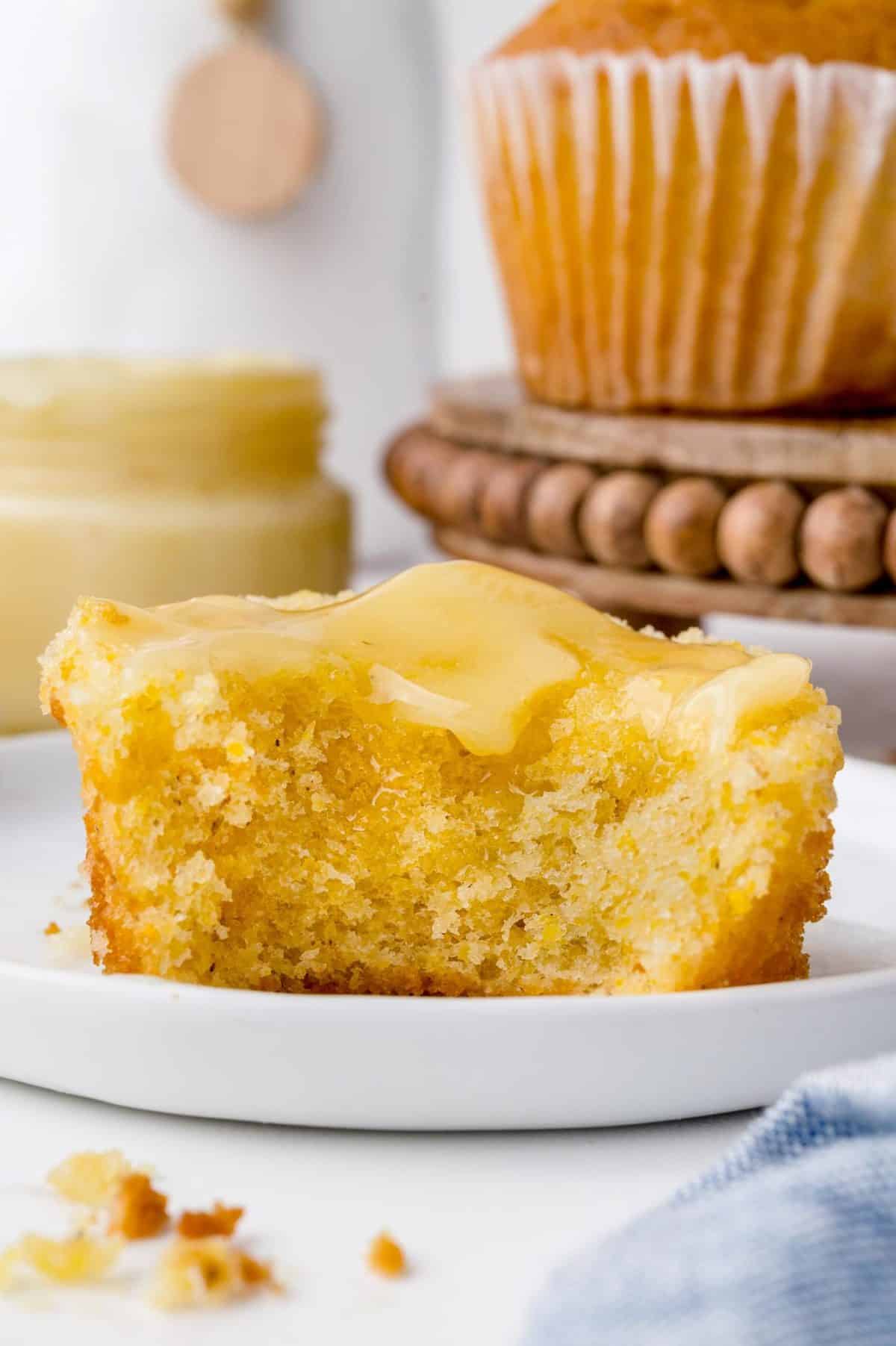 What you need
Unsalted butter – Let this soften to room temperature so it can be whipped with the honey and powdered sugar. You can also use salted butter, but then you'll want to leave that pinch of salt out.
Honey – Pick your favorite variety! For this recipe, make sure it is liquid at room temperature and not crystalized.
Confectioners' sugar – This will help everything blend together nicely. Without it, the butter and honey have a tendency to separate a bit.
Pinch of salt – As mentioned above, you can leave this out if you use salted butter instead of unsalted, but it balances out the sweetness of the honey and sugar perfectly.
How to make it
Mix ingredients. Place all four ingredients in a mixing bowl and beat them with an electric mixer or fork until the mixture is smooth.
Tip: An electric mixer will incorporate some air into the butter, so you'll get a lighter, fluffier spread than if you simply use a fork. However, you might need to double the batch for the mixer to have enough butter to work with.
Chill. If you're not serving the butter immediately, scoop it into an airtight container and store it in the refrigerator.
Serve. Take the honey butter out of the fridge for an hour or two before you plan on serving it so it has some time to soften up.
FAQs
What is honey butter good on?
From bread to croissants and muffins, anything you'd normally spread regular butter onto is good with honey butter, too. Cornbread is a classic pairing (try this with our cornmeal pancakes!), as are buttermilk biscuits. It's also good on corn, baked sweet potatoes, and roasted squash.
What does honey butter taste like?
It tastes like honey and butter together! The butter mellows the flavor of the honey, so even if you're not a fan of eating honey by the spoonful, you'll probably enjoy honey butter.
Can I use salted butter instead?
Yes, you can use salted butter and then omit the kosher salt in the recipe.
How to make this recipe your own
Here are some of our favorite uses for this sweet butter, along with a few ways to customize this recipe!
Add some more flavors. A pinch of cinnamon will make cinnamon honey butter. A dash of cayenne or red pepper flakes and you have hot honey butter. Finely minced sage or thyme adds an herbaceous note that's excellent when spread on flaky buttermilk biscuits or zucchini fritters.
Make individual pats for a party. If you're hosting a brunch, you can divide the cinnamon butter into silicone candy molds, chill them, and your guests can have their own perfect pats of butter. You can find molds in the shape of hearts, stars, circles, and more!
Use vanilla bean. Scrape the seeds from a vanilla bean into the honey butter before mixing it to infuse it with the flavor of vanilla.
Make an epic stack of pancakes. Start with our classic buttermilk pancakes, gluten-free pancakes, or banana pancakes, drizzle them with strawberry sauce or blueberry sauce, then top them with a pat of honey butter.
Make Ahead Ideas
This compound butter is great for making in advance because it will last in the fridge up to a month. You can also freeze it for 3 to 4 months.
Storage Suggestions
Store leftover butter in an airtight container or, if you prefer slicing it, you can scoop it onto a piece of plastic wrap, roll it into a log, and store it like that.
More pancake topping recipes
Get the Recipe: Honey Butter
Here's how to make perfect honey butter at home!
Ingredients
1/2 cup unsalted butter, softened
2 tablespoons honey
2 tablespoons confectioners sugar
pinch salt
Instructions
In a bowl, combine all ingredients with an electric mixer or a fork. Blend until smooth.

Serve immediately or store in fridge. Take out 1-2 hours before serving so that it can soften.
Notes
The confectioners' sugar helps ensure a super smooth texture and keeps it from separating.
Honey butter can be stored in the fridge for up to a month. You can also freeze it for 3 to 4 months. Store your honey butter in an airtight container or, if you prefer slicing it, you can scoop it onto a piece of plastic wrap, roll it into a log, and store it like that.
Serving: 1tablespoon, Calories: 118kcal, Carbohydrates: 6g, Protein: 0.1g, Fat: 12g, Saturated Fat: 7g, Polyunsaturated Fat: 0.4g, Monounsaturated Fat: 3g, Trans Fat: 0.5g, Cholesterol: 31mg, Sodium: 2mg, Potassium: 6mg, Fiber: 0.01g, Sugar: 4g, Vitamin A: 355IU, Vitamin C: 0.03mg, Calcium: 4mg, Iron: 0.02mg