Vanilla Butter
A pat of vanilla butter will give your next stack of pancakes an instant upgrade! It's easy to make and loaded with real vanilla bean flavor.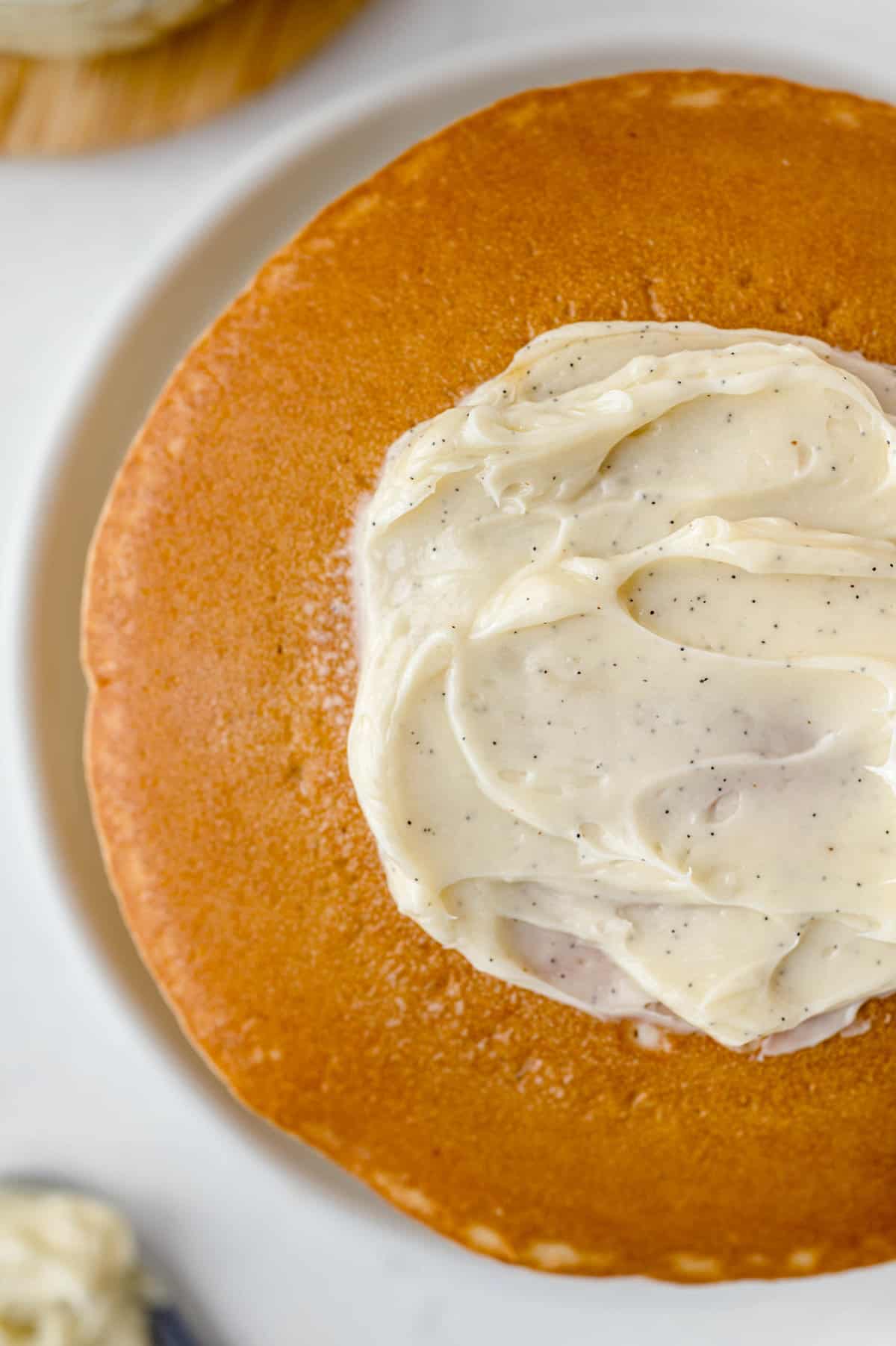 Somehow "vanilla" has become synonymous with boring, but anyone who's enjoyed ice cream or creme brûlée flecked with real vanilla bean knows that vanilla has a complex aroma and flavor all its own. And this vanilla butter is the perfect way to enjoy the deliciousness of vanilla for breakfast!
Like our honey butter, chive butter, and maple cinnamon butter recipes, this vanilla butter is a simple compound butter made by combining softened butter with other ingredients for flavor. A bit of confectioners' sugar gives the vanilla butter just enough sweetness, along with the perfect texture for topping your favorite pancakes and waffles.
About this vanilla butter recipe
Vanilla butter is the perfect way to level up your breakfast or impress your guests when you're hosting a brunch. Whether it's lemon pancakes or a pumpkin Dutch baby, everything tastes even better with a pat of vanilla butter on top!
Just like other types of compound butter, you can chill your vanilla butter in a jar or roll it into a log and wrap it with plastic, but if you're making it for a party, you can refrigerate it in silicone candy molds and then give your guests a perfectly shaped pat of vanilla butter with their brunch.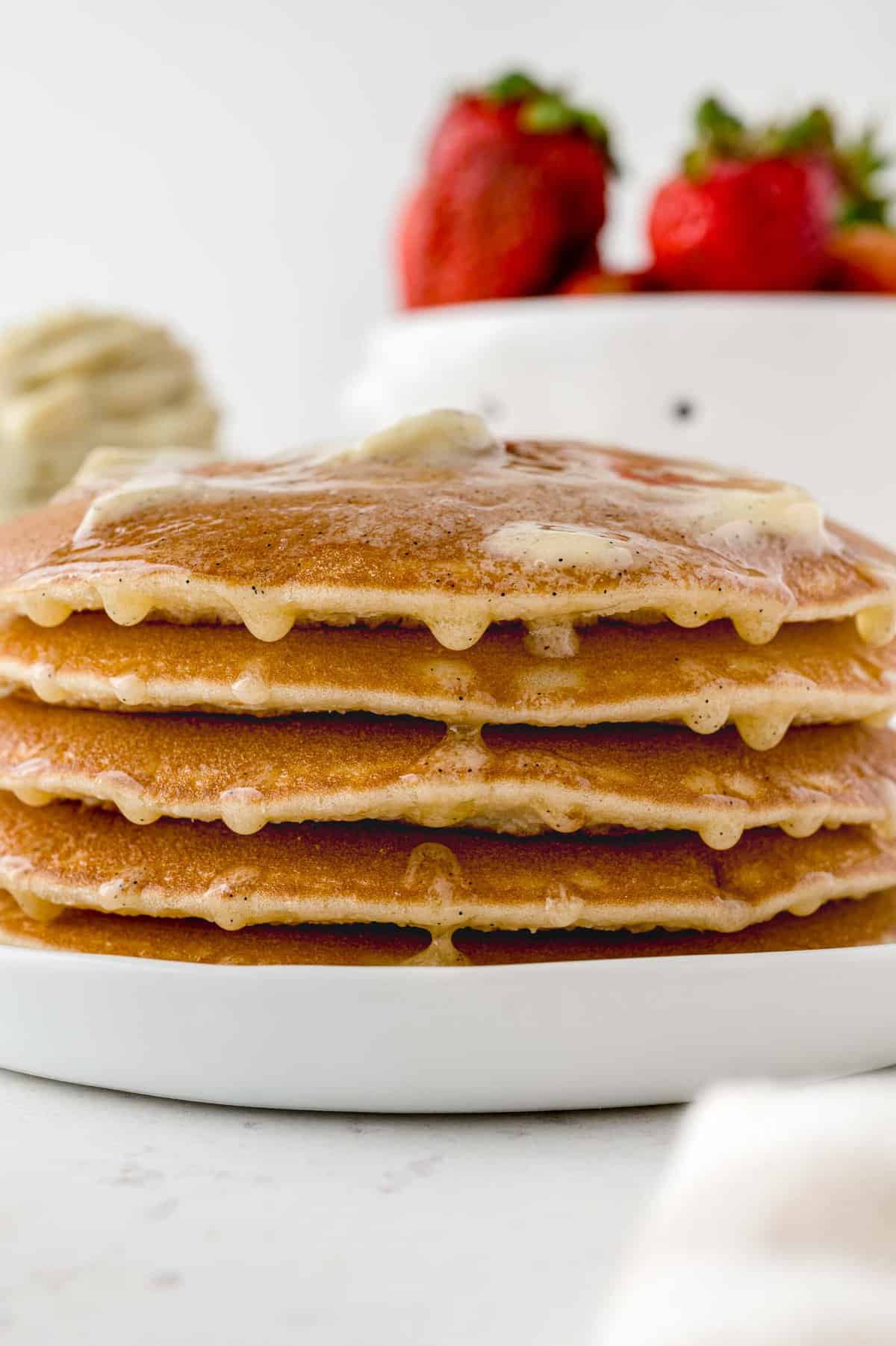 What you need
Unsalted butter – If you happen to have salted butter on hand, you can use that instead; just omit the pinch of salt from the recipe.
Vanilla bean paste – Vanilla bean paste is a great choice for this recipe because unlike extract, it won't add liquid and it's easier and more economical than using vanilla beans.
Confectioners' sugar – You can make this recipe low carb by using a powdered sugar substitute like Swerve.
Salt – Just a pinch to balance the flavors in your vanilla butter.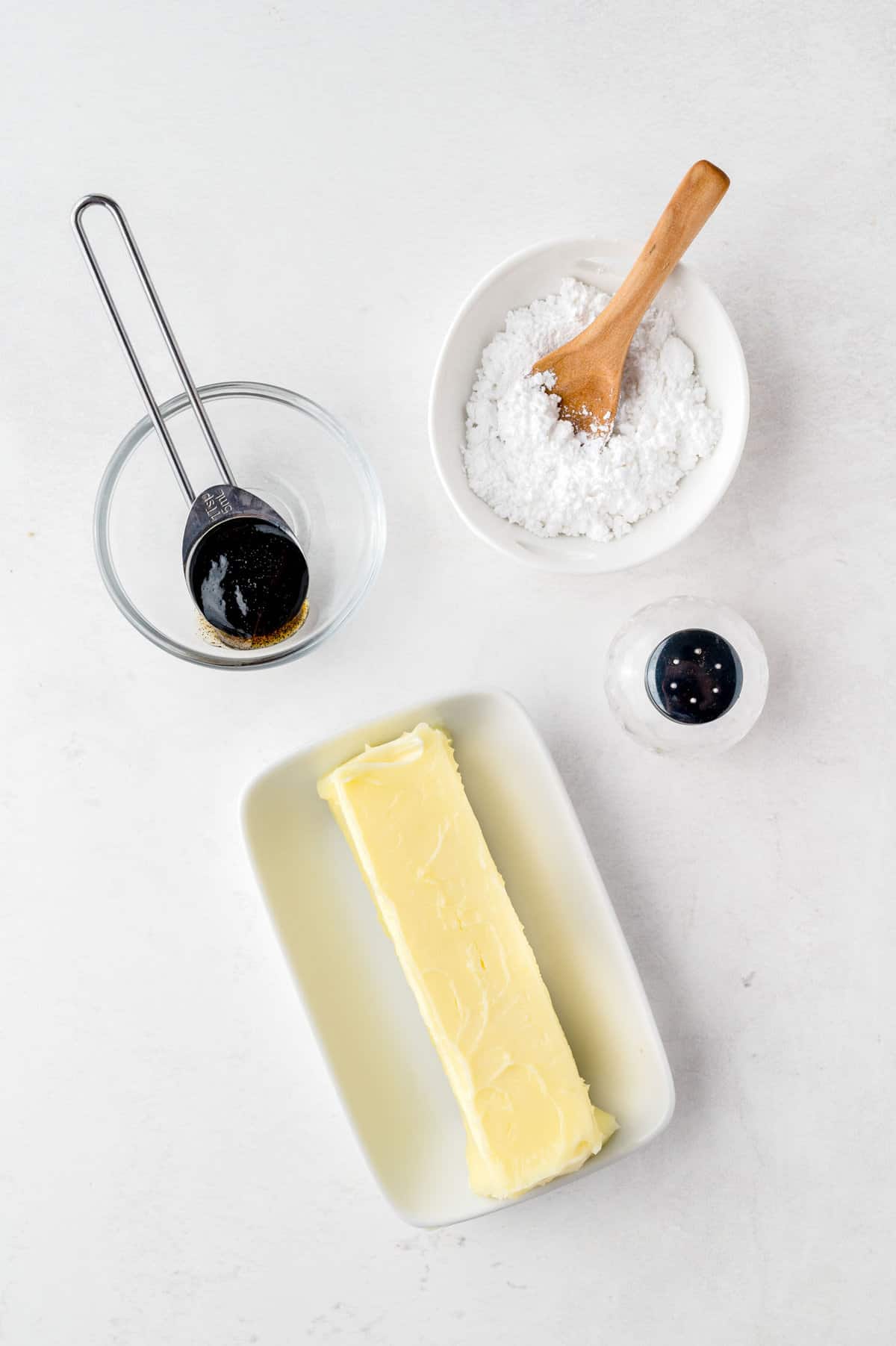 How to make it
Prepare. Take the butter out of the refrigerator and let it sit at room temperature for at least 30 minutes.
Make the vanilla butter. Place all of the ingredients in a large mixing bowl.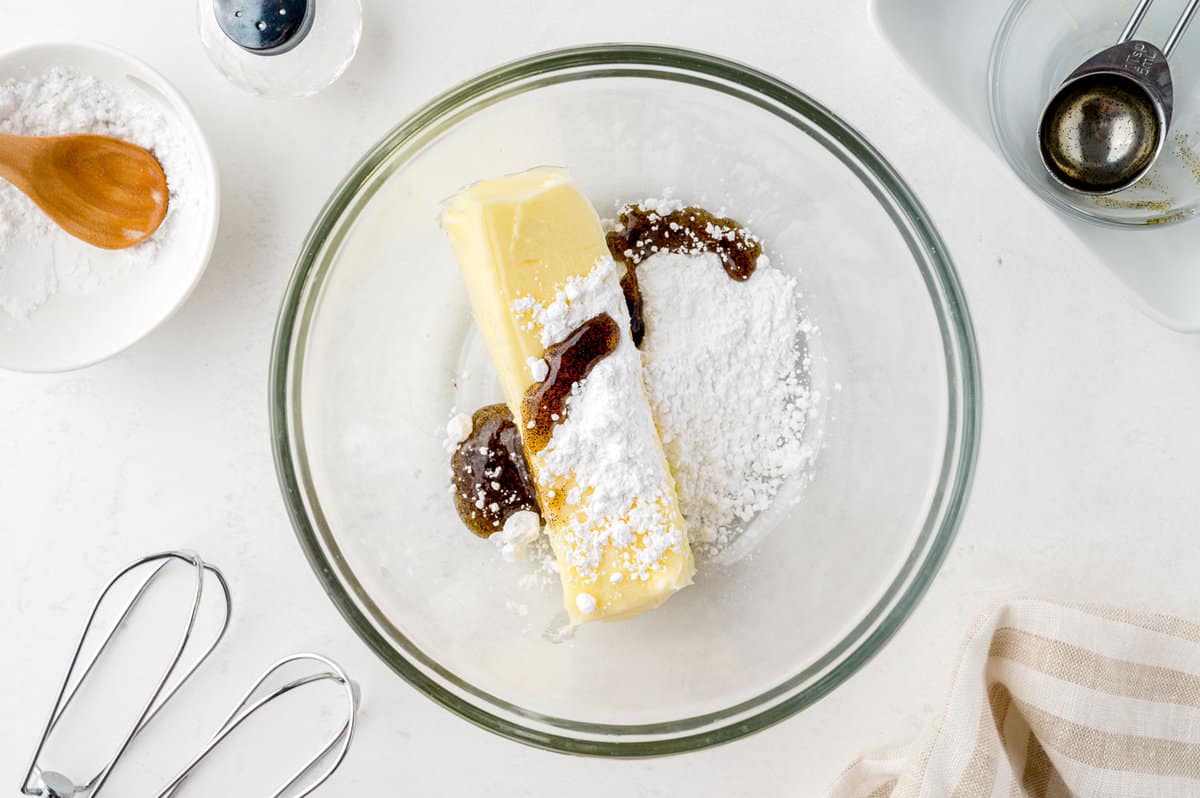 Use an electric mixer to beat them together, until the mixture is smooth, without any lumps.
Tip: If you don't have an electric mixer, you can use a fork instead. You may want to let the butter soften longer if you're using a fork to make mixing easier.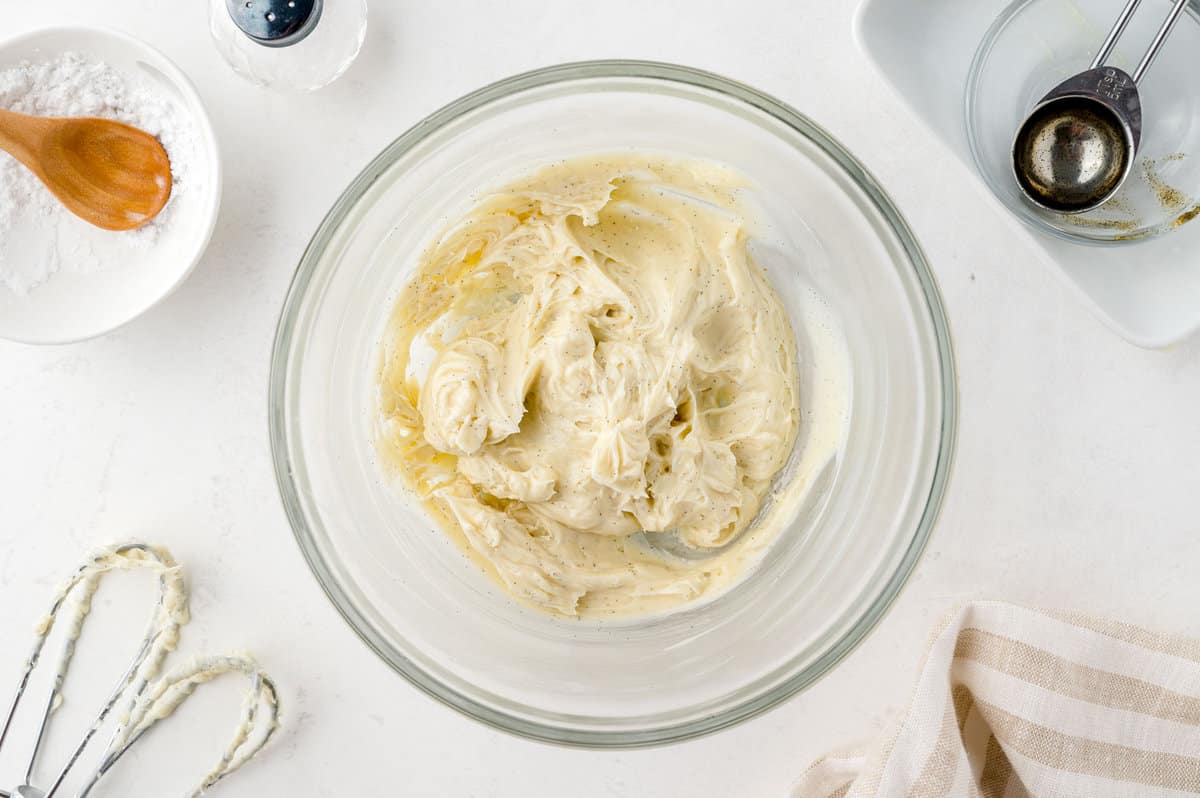 Use or store. Serve the vanilla butter immediately, or transfer it to an airtight container and refrigerate it until you plan on using it. Remove it from the fridge an hour or two before serving.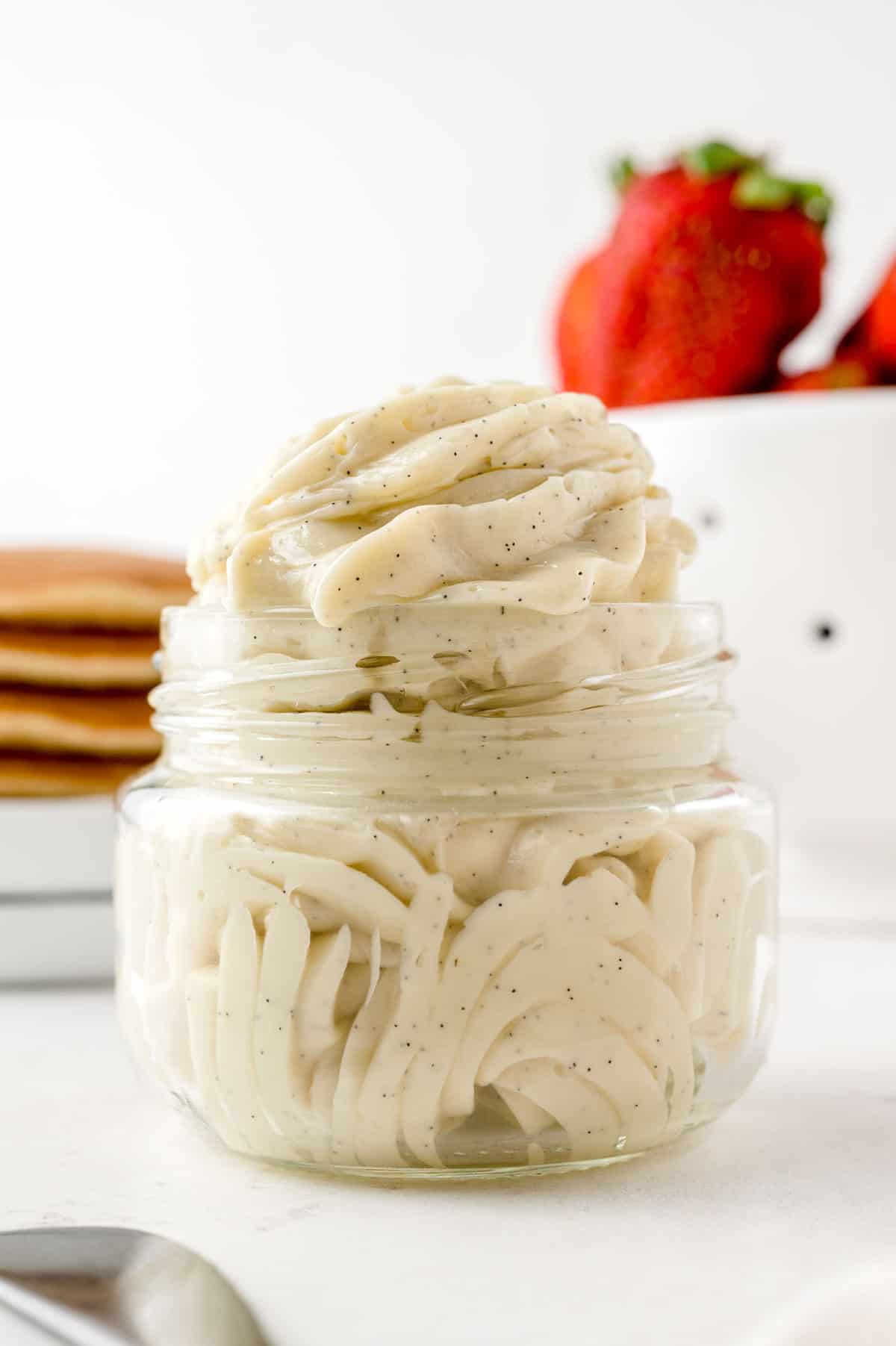 FAQs
How do you use vanilla butter?
Vanilla butter is a delicious way to add flavor to your breakfasts and desserts. You can use it in place of regular butter on toast, biscuits, muffins, or bagels. It's also delicious on pancakes and waffles!
What is the difference between vanilla bean paste and vanilla extract?
Vanilla bean paste is made from vanilla beans that have been ground into a paste. It has a stronger flavor than vanilla extract and can be used in place of it in any recipe.
Does vanilla have any health benefits?
Yes, vanilla does have some surprising health benefits. Vanilla is a good source of antioxidants and has anti-inflammatory properties. Studies also show that the aroma and flavor of vanilla may reduce added sugar intake.
How to make this vanilla butter your own
Here are some simple variations to try with this vanilla butter recipe.
Add some spice. Cinnamon, ginger, cardamom, or even pumpkin pie spice would be delicious.
Make it vegan. Simply swap the dairy butter with your favorite vegan butter substitute.
Give it a citrusy zing. Finely grated lemon or orange zest adds citrus flavor without overpowering the vanilla.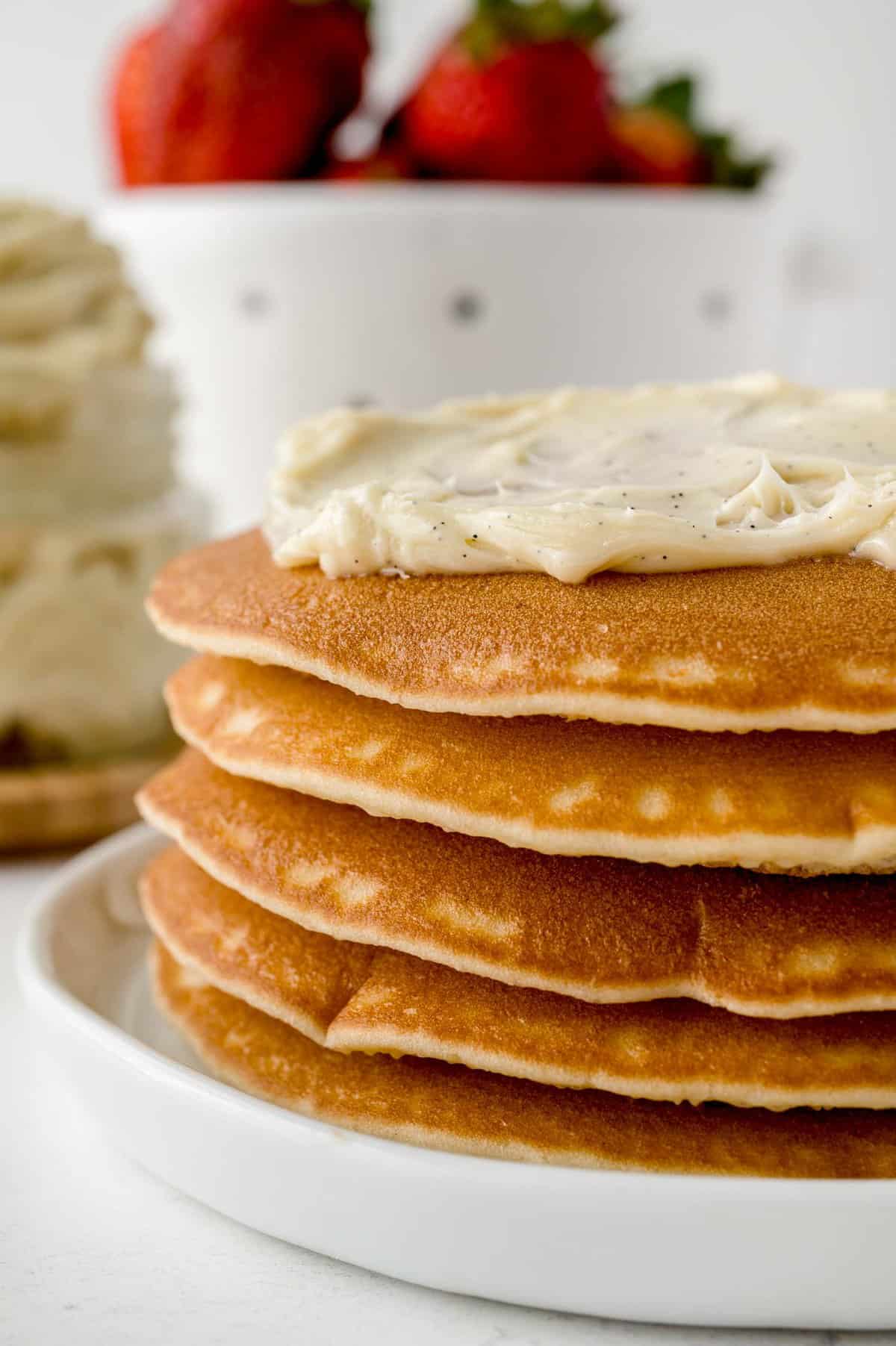 Make Ahead Ideas
You can make vanilla butter up to a week in advance, but be sure to take it out of the fridge so it can soften to room temperature before serving. If you've stored it in a jar or rolled it into a log, an hour or two at room temperature should do the trick.
Storage Suggestions
Vanilla butter can be refrigerated in an airtight container for up to a week. It can also be frozen for up to 3 months.
Reheating Tips
If you freeze vanilla butter, let it thaw in the refrigerator overnight before serving.
More pancake topping recipes
Get the Recipe: Vanilla Butter
A pat of vanilla butter will give your next stack of pancakes an instant upgrade! It's easy to make and loaded with real vanilla bean flavor.
Ingredients
½ cup unsalted butter, softened
1 tablespoon vanilla bean paste
2 tablespoons confectioners sugar
pinch of salt
Instructions
In a bowl, combine all ingredients with an electric mixer or a fork. Blend until smooth.

Serve immediately or store in fridge. Take out 1-2 hours before serving so that it can soften.
Notes
If you'd like to use salted butter, omit the salt in the recipe.
Serving: 1tablespoon, Calories: 109kcal, Carbohydrates: 3g, Protein: 0.1g, Fat: 12g, Saturated Fat: 7g, Polyunsaturated Fat: 0.4g, Monounsaturated Fat: 3g, Trans Fat: 0.5g, Cholesterol: 31mg, Sodium: 2mg, Potassium: 3mg, Sugar: 1g, Vitamin A: 355IU, Calcium: 3mg, Iron: 0.003mg