Easy Eggs Benedict with Blender Hollandaise
Easy Eggs Benedict with blender hollandaise sauce is as simple as it gets. A toasted English muffin is topped with a slice of Canadian bacon and a poached egg, then smothered with a rich hollandaise sauce. A restaurant-style breakfast made right at home!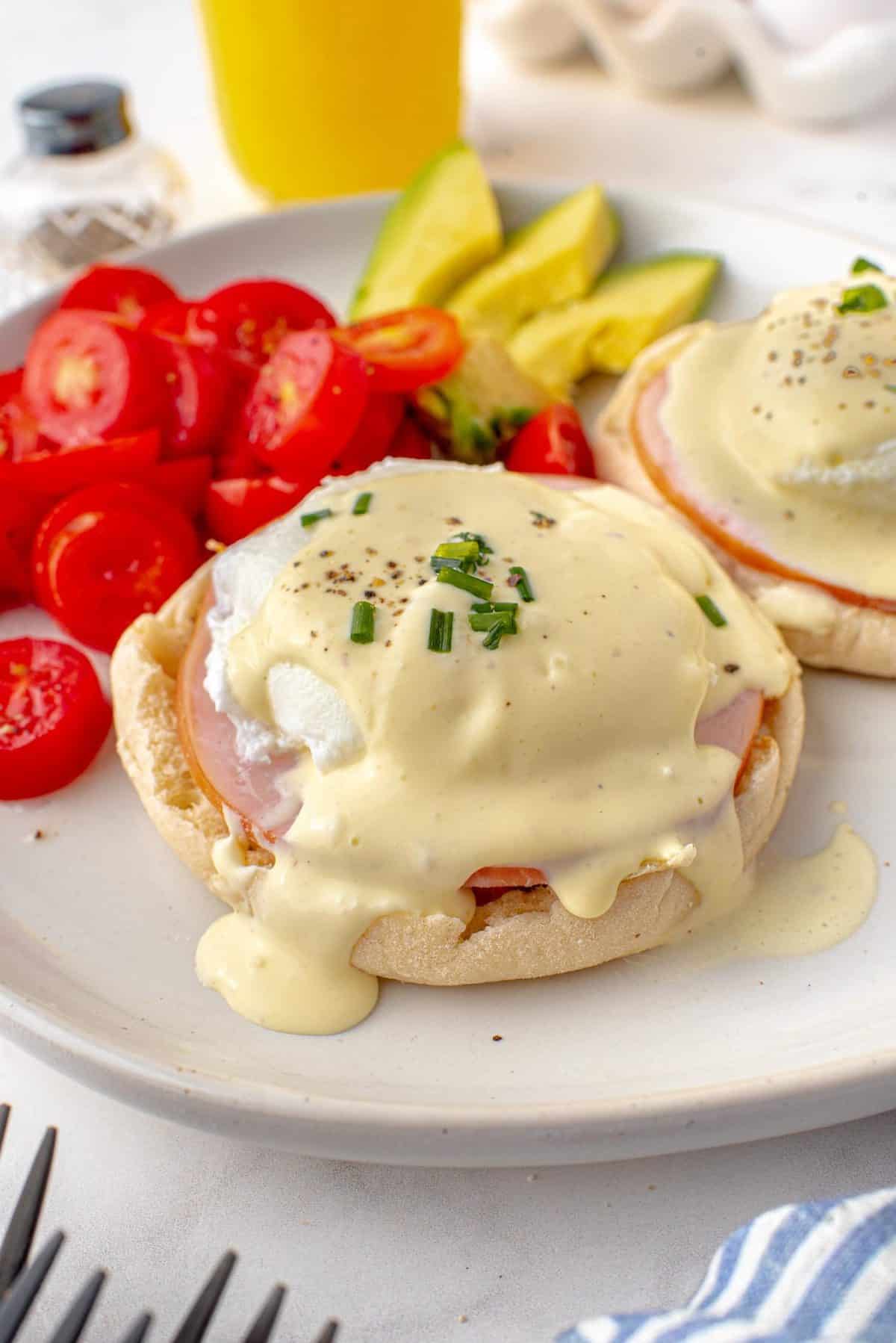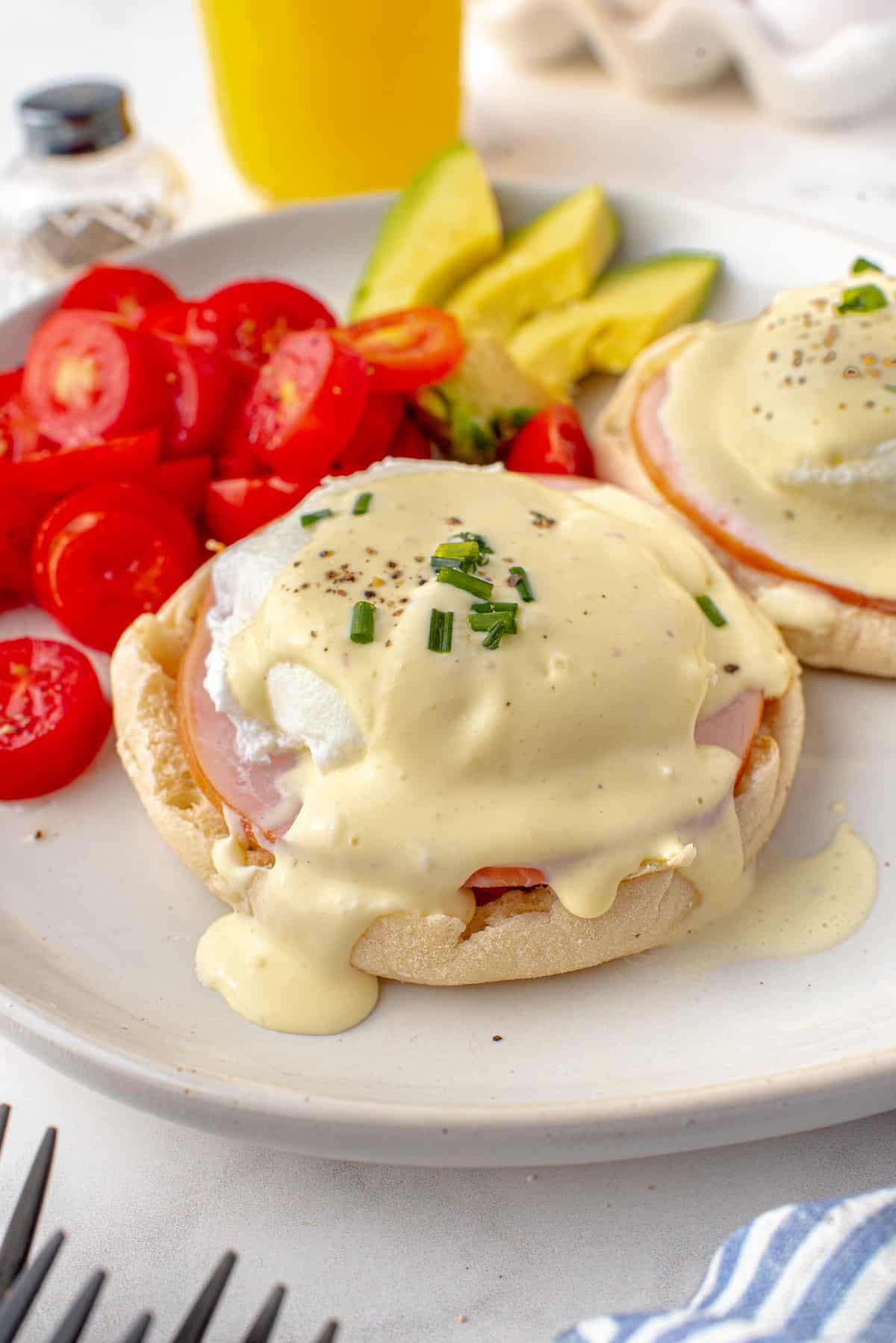 Eggs Benedict is one of the most delicious menu items at any breakfast joint. Making this dish at home is super simple, even if you've never poached an egg in your life! This easy recipe gives you step-by-step instructions, and soon you'll be making them like a pro!
About This Recipe
If you love ordering yourself eggs benny when you go out to eat, you're going to be pleasantly surprised at how much better it tastes homemade.
A crispy toasted English muffin is topped with a slice of Canadian bacon that has both a sweet and salty note, a signature of delicious ham. Eggs Benedict are traditionally topped with a poached egg but it's your show! If you prefer fried (over easy, over medium, or over hard) or scrambled, that's an easy swap. Basted eggs are my personal favorite way to prepare eggs!
All of that is smothered with the most luscious hollandaise sauce, made easy in a blender. Topped with freshly cracked black pepper and/or herbs for a herbaceous finish and pretty presentation, this dish is sure to please any crowd!
It's a super satisfying breakfast all on its own so it doesn't need much in terms of sides. It's great with fresh tomato slices, avocado slices, or a side of fresh fruit. Bacon is always a good idea too, but then again so is a simple refreshing cherry, nectarine, or blueberry smoothie.
Be sure to try my English muffin breakfast pizzas and easy breakfast sandwiches with egg, too!
What You Need
English Muffins – Slice them using a serrated knife. English muffins are firmer than a regular piece of bread and are the traditional choice for eggs Benedict.
Canadian Bacon – This type of bacon tastes much more like ham than it does the strips of bacon we're used to. It comes fully cured and cooked and has a salty sweetness to it. It's also quite thick. Oh, and delicious.
Eggs – See instructions below for perfectly poached eggs. Of course, you can prepare the eggs any way you like them.
Vinegar – Adding vinegar to boiling water helps firm up the egg whites quickly so they don't fall apart into a big mess in the water. It keeps them nicely shaped and intact to allow the yolks to cook slowly inside.
Salt – Adding salt to the water adds flavor, in much the same way you boil pasta in salted water.
Blender Hollandaise – See below for easy blender instructions.
Ingredients for Blender Hollandaise:
Egg – Using a high-power blender (ie. A Vitamix or Blendtec) will help to heat the egg to a safe temperature for consumption. If you're not comfortable with that, or your blender doesn't go to such a high speed, substitute a pasteurized egg instead.
Lemon Juice – The flavor of lemon juice adds a beautiful tartness that balances the creaminess of the sauce.
Dijon Mustard – For a little kick!
Salt & Freshly Ground Black Pepper – Simple seasoning to bring out the flavors.
Salted Butter – Melted butter is added slowly into the sauce to bring everything together into a smooth, silky mixture.
DID YOU KNOW? The original hollandaise sauce is made with just the egg yolks. Using the whole egg means it can be made using less butter and in much less time!
How to Make It
To begin, add vinegar and salt to a wide pot or deep frying pan of boiling water. Turn the heat down to medium.
Once no longer at a rolling boil, but a simmer, crack an egg into a small cup or measuring cup and gently slide it into the water. Repeat with remaining eggs leaving space in between each one.
Cook the egg according to how you like your yolk:
Softer yolks: 2-3 minutes
Firmer yolks: 3-4 minutes
Completely cooked yolks: 5-6 minutes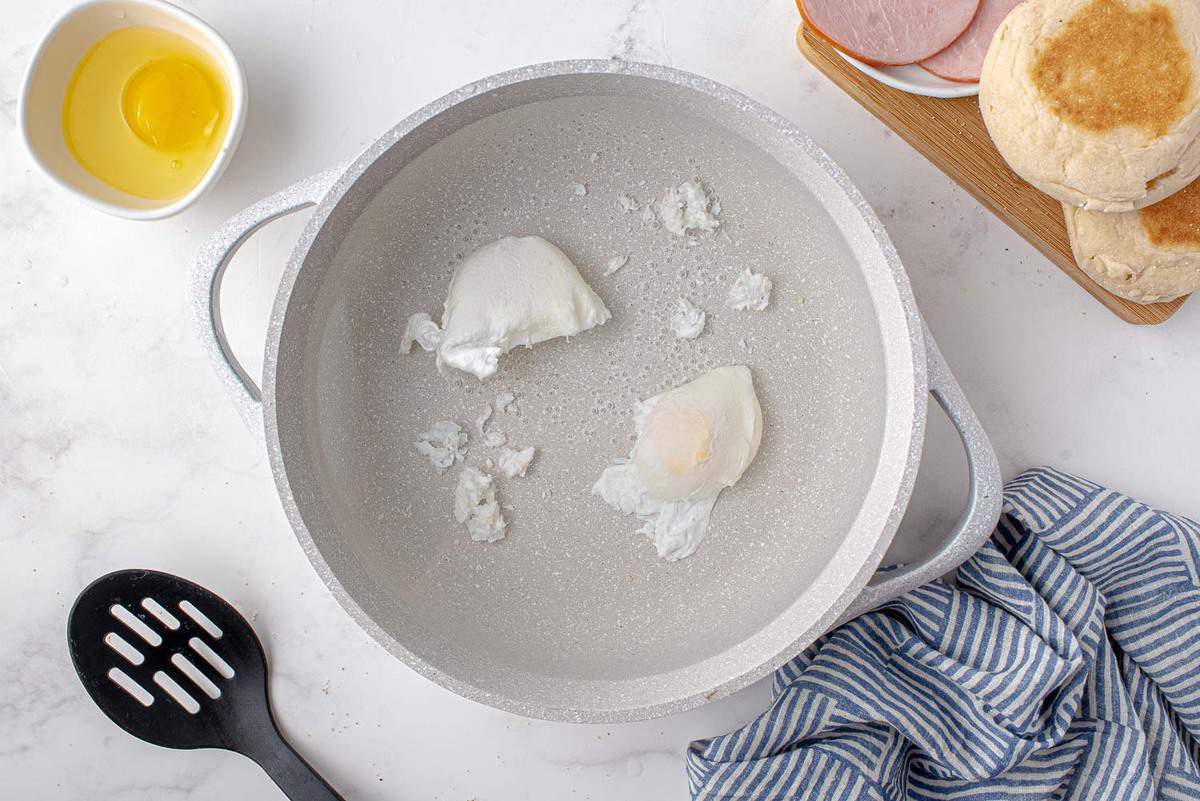 Toast your English muffin, butter it if you desire, and lay a slice of bacon on each half.
Remove the poached eggs with a slotted spoon and place on top of the prepared English muffin.
To make the hollandaise sauce, blend egg, lemon juice, mustard, salt, and pepper in a blender on low speed for 20 seconds.
Gently drizzle in the melted butter then slowly increase the speed to high and blend until the mixture heats up from the friction of the blades.
Pour on top of poached egg and enjoy with a sprinkling of fresh black pepper!
FAQs
What can I use instead of hollandaise sauce?
If you're not a fan of hollandaise sauce (say what?), you can substitute mornay sauce, which is a cheese sauce, biscuit or sausage gravy, or creamy avocado/guacamole.
Is there a difference between eggs Florentine and eggs Benedict?
There is a difference, even if just a small one (or more than that depending on who you ask). Originally, it is said that eggs Florentine was made much the same way as eggs Benedict, with a half of an English muffin, topped with steamed spinach instead of bacon, then a poached egg covered with mornay sauce (cheese sauce).However, some people believe that the two dishes are the same except for the addition of steamed spinach.
What sides go with Eggs Benedict?
It's such a complete breakfast on its own that it doesn't need much to complete it. It has the bread, the meat, the eggs, and a rich sauce. Something lighter on the side like sliced cherry tomatoes, or sliced avocado is great. Fresh fruit, a smoothie, or even fried potatoes are also good choices.
How to Make This Eggs Benny your own
Vegetarian: Replace the bacon with spinach and avocado, a slice of tomato and avocado, or just enjoy the poached egg on an English muffin with the best hollandaise on top! For a simpler version try this avocado toast with egg.
More Meat Choices: Swap smoked salmon or chorizo for the bacon. So good! If you can't get your hands on Canadian bacon, substitute deli ham or regular bacon. It won't be traditional, but will be delicious nonetheless!
Extra Flourishes: Top with parsley and chives for a lovely herbed finish. Briny capers add a salty finish.
Bread Alternatives: For a little something non-traditional, use a different kind of bread. A biscuit, a slice of toast, or for a low-carb version, skip the bread altogether.
Make Ahead Ideas
There are a couple of ways you can plan and prepare some of the components ahead of time. The poached eggs can be made and kept in the fridge for up to 2 days before. To reheat them, slide them into boiling water for no more than a minute. Keep in mind, the yolk may not be as runny as it once was.
You can also make the hollandaise sauce ahead of time. It may be thicker after having sat for a while.
Storage Suggestions
Once this is made and put together, it is best consumed right away! Storing leftovers once already assembled isn't recommended because it tends to get soggy.
More egg recipes
Get the Recipe: Easy Eggs Benedict with Blender Hollandaise
Easy Eggs Benedict with blender hollandaise sauce is as simple as it gets. A toasted English muffin is topped with a slice of Canadian bacon and a poached egg, then smothered with a rich hollandaise sauce. A restaurant-style breakfast made right at home!
Ingredients
For the Eggs Benedict
2 English muffins, cut in half
4 slices Canadian bacon, cooked (see note)
4 eggs
1 tablespoon vinegar
1 pinch salt
1 batch blender Hollandaise (see below)
For the Blender Hollandaise
1 egg (see note)
1 tablespoon lemon juice
½ teaspoon Dijon mustard
½ teaspoon salt
⅛ teaspoon freshly ground black pepper (more to taste)
½ cup salted butter, melted
Instructions
To Poach the Eggs
Fill a deep frying pan or wide pot with 2 to 3" of water and bring to a boil.

Add the vinegar and a dash of salt to the boiling water, then turn down to medium.

Once the water is down to a simmer (not a rolling boil), carefully slide each egg into the water, spaced out.

Allow to cook for 2 to 3 minutes for softer yolks, 3 to 4 minutes for firmer yolks, and 5 to 6 minutes for completely cooked yolks.

Remove the poached eggs with a slotted spoon. Some of the egg whites may have drifted away from the rest of the egg. That's typical; you can scoop that up and add it to the eggs.
To make the hollandaise sauce:
Place the egg, lemon juice, mustard, salt and pepper in a blender.

Blend on low speed for about 20 seconds.

Keeping the blender on low, slowly drizzle the melted butter in.

Slowly turn the speed up to high and blend until the mixture heats up by the friction of the blender blades.
To assemble the eggs benedict:
Toast the English muffin halves.

Add a slice of bacon or ham and one poached egg.

Top with hollandaise sauce and freshly cracked black pepper.
Notes
You can substitute deli ham for the Canadian bacon, and while it won't be 100% true to the original, it is still 100% delicious!
Use ¼ cup pasteurized whole eggs if you don't have a high powered blender and don't feel confident your blender will heat the sauce to a food safe temperature.
Recipe was tested using a high powered Vitamix blender.
Calories: 396kcal, Carbohydrates: 14g, Protein: 15g, Fat: 31g, Saturated Fat: 17g, Polyunsaturated Fat: 2g, Monounsaturated Fat: 9g, Trans Fat: 1g, Cholesterol: 280mg, Sodium: 978mg, Potassium: 223mg, Fiber: 1g, Sugar: 1g, Vitamin A: 1007IU, Vitamin C: 1mg, Calcium: 56mg, Iron: 1mg