Peach Bellini
A peach Bellini is a refreshing sparkling cocktail made for brunch! Sweet peach puree pairs perfectly with bubbly Prosecco, but we have simple swaps to make it a mocktail, too!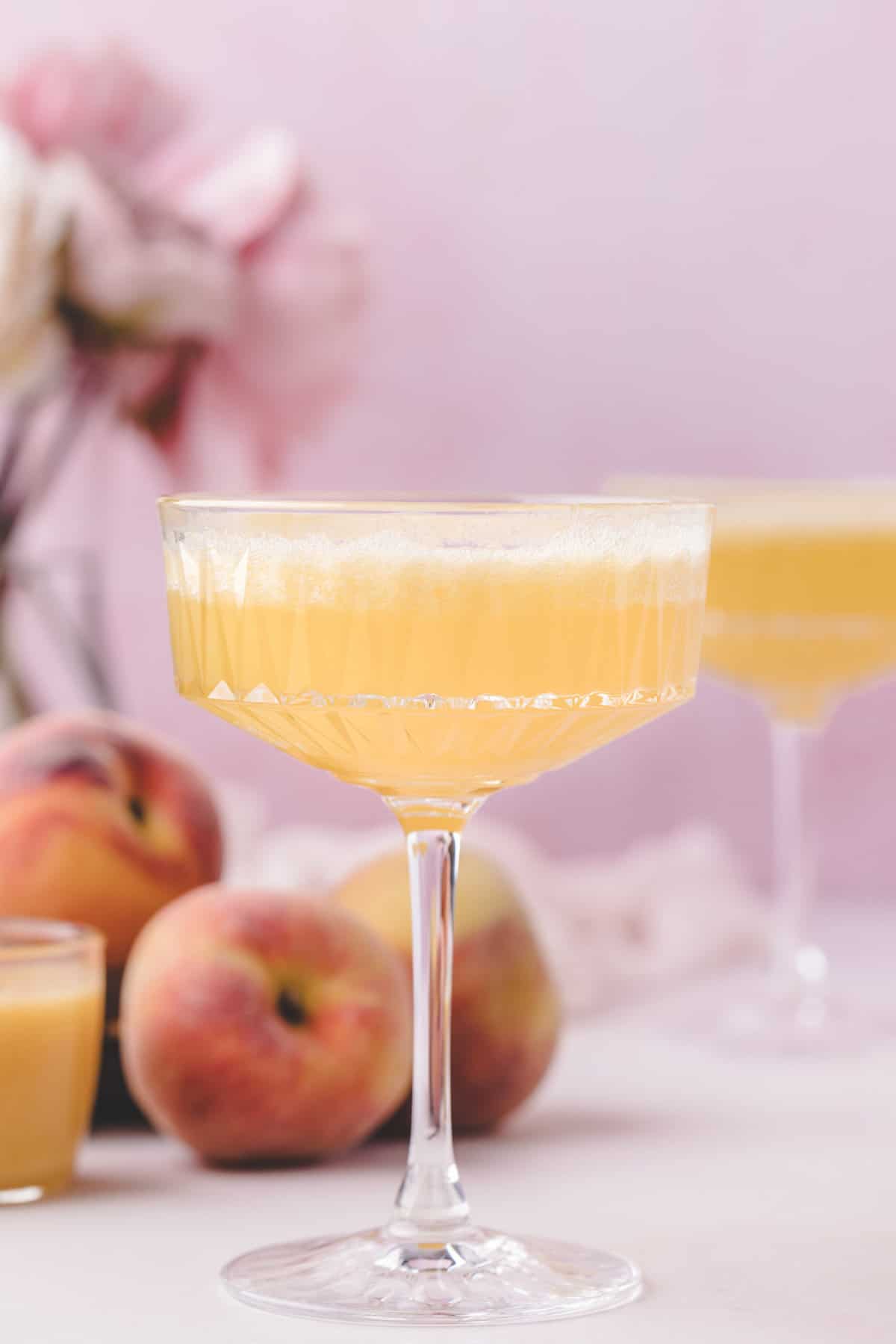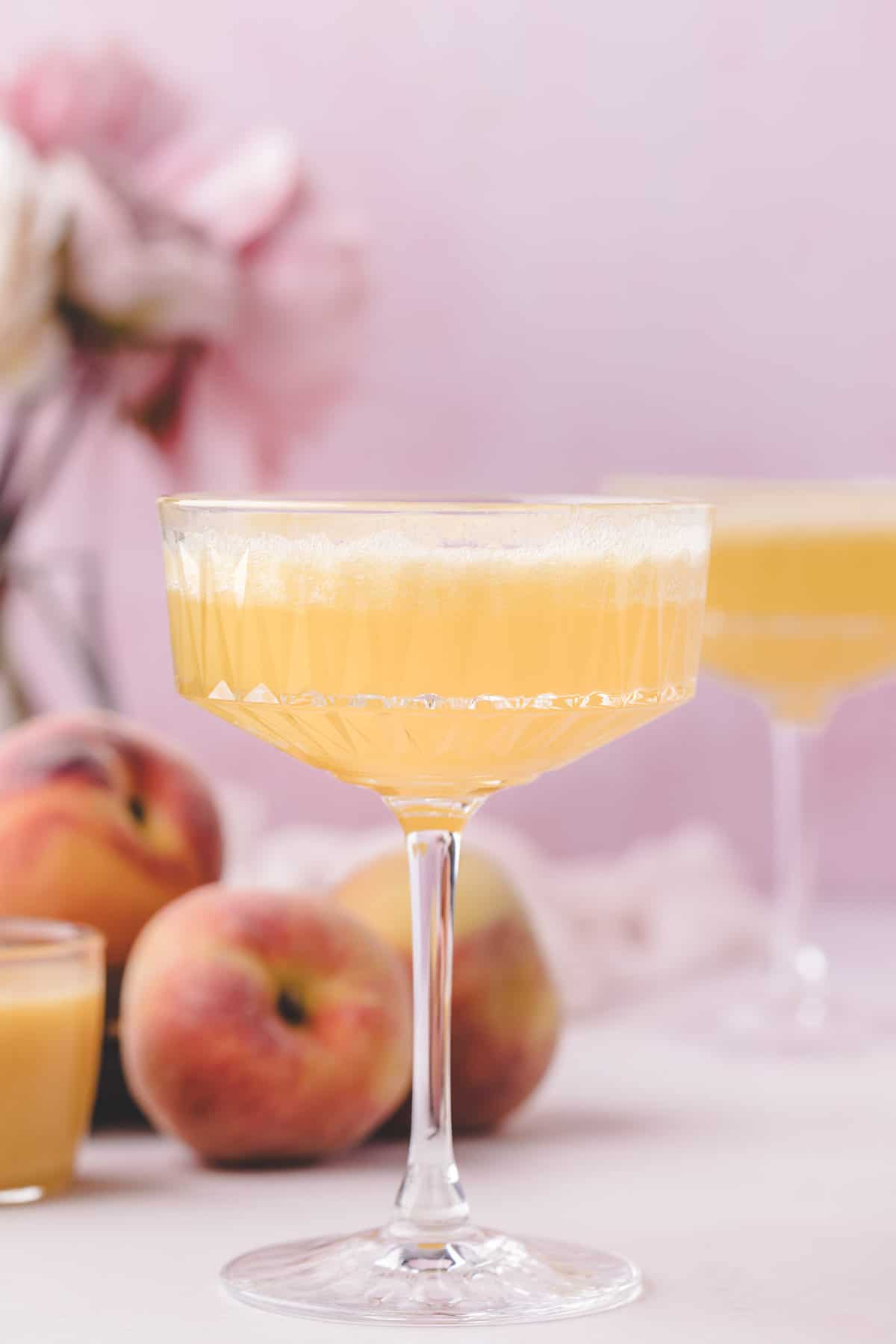 If you love a classic mimosa (or a beermosa), then odds are, you're going to love a peach Bellini too. It's an Italian cocktail made by combining fresh peach puree or nectar and Prosecco. If this sounds delightful, you're absolutely right!
Basically, it's a mimosa made with peaches, and it's usually a touch sweeter because peaches don't have the natural acidity of oranges. And, because it's made with peach puree, a Bellini is a little bit thicker, too.
When you're planning a summer brunch or bridal shower, peach Bellinis are the perfect addition to your cocktail menu. They're easy to make, always a hit, and, well, they're pretty easy to drink, too!
About this peach Bellini recipe
A peach Bellini pairs well with a wide range of brunch-y foods, from savory options like mini quiches and eggs Benedict to strawberry ricotta pancakes, white chocolate pancakes, candied bacon, and crème brûlée French toast. We like to double up on the peaches with peach streusel muffins or peach pancakes with peach sauce!
While there are no rules when you're making these for yourself, if you're serving peach Bellini cocktails at a get-together, I'd recommend pairing them with refined dishes—they're more of a slice-of-quiche type of drink than a bacon, over-easy eggs, and sausage type of pairing. (For that, I recommend a Bloody Mary!)
What you need
Ripe peaches – There's no dressing up rock hard, unripe peaches, so be sure to buy them ripe if you're making your Bellinis right away. Use white peaches if you can find them for a pretty blush color, but yellow peaches are fine too (and that's what we used here).
Granulated sugar
Water
Chilled Prosecco – Prosecco is the traditional choice for a peach Bellini, but champagne and other dry sparkling wines also work.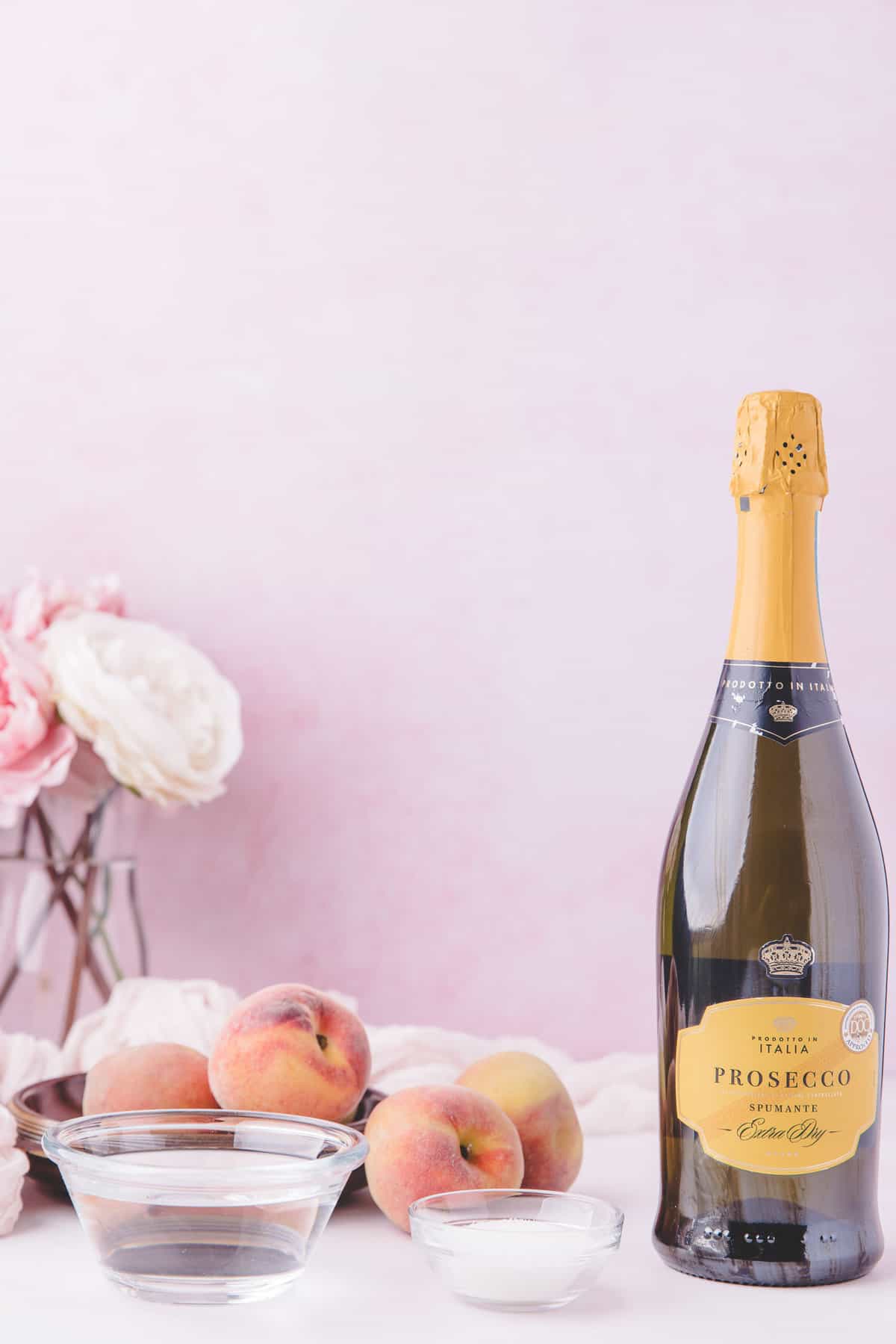 How to make it
Make the peach puree. Peel, pit, and roughly chop the peaches. Place them in a blender with the sugar and water; blend until the mixture is smooth.
Tip: While you're making the puree, place the glasses in the freezer.
Assemble. Divide the peach puree into the chilled glasses. Slowly pour in some Prosecco, then stir and top off the cocktails. (This keeps them from bubbling up over the glasses and making a mess!)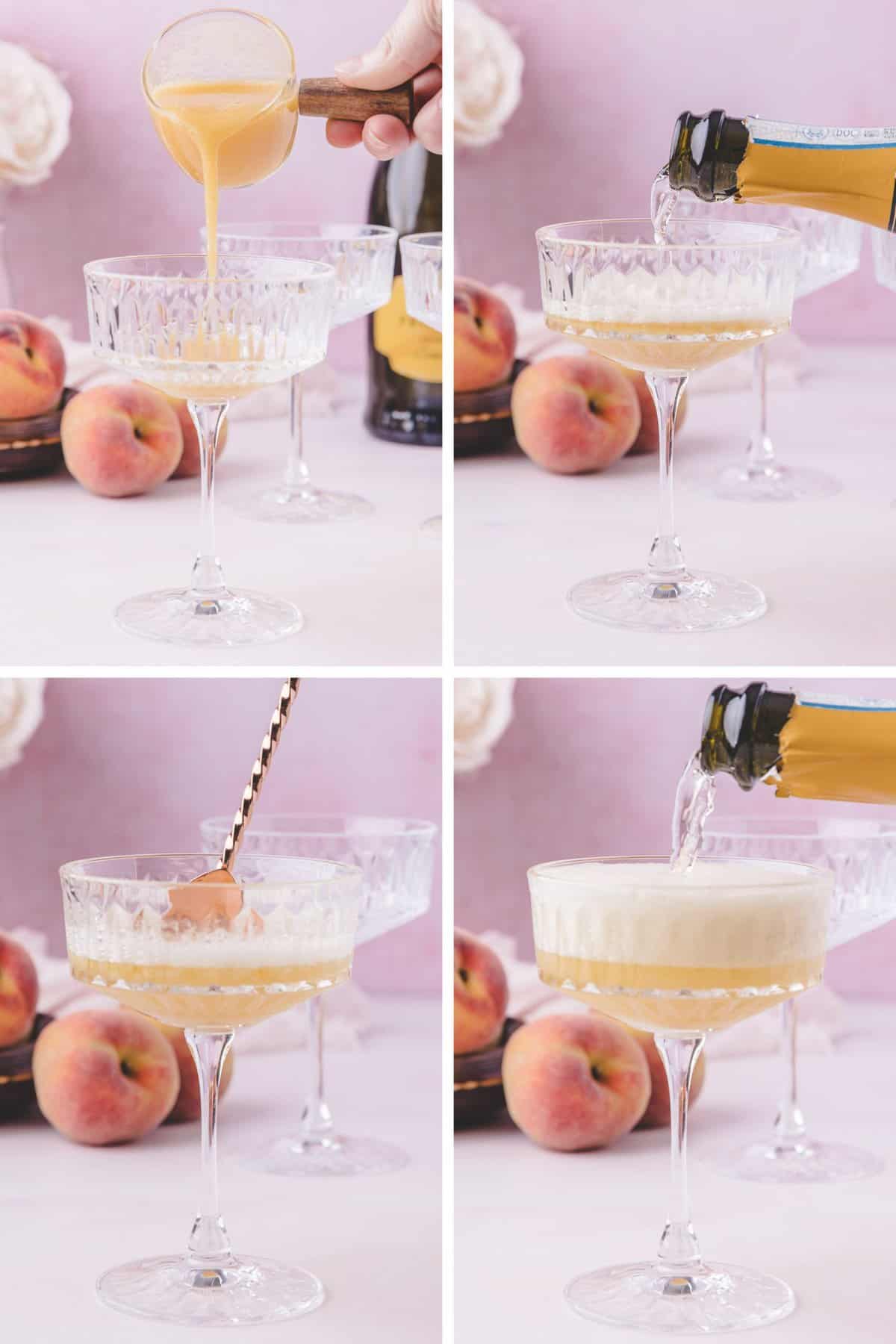 Serve. Enjoy your peach Bellini cocktails as-is, or garnish with a slice of peach, a strawberry, or a spring of fresh mint.
FAQs
What is the difference between a mimosa and a Bellini?
Classic mimosas are made with orange juice and champagne, while Bellinis are made with peach puree and Prosecco. Because peaches are naturally sweet (and sugar is usually added to the puree), Bellinis tend to be sweeter; they're also thicker because they're made with puree instead of juice.
Does a Bellini have a lot of alcohol?
Because there's no hard liquor in a Bellini and the Prosecco is diluted by the puree, they're a nice, light, low-proof cocktail, averaging 7 percent alcohol by volume.
How to make these peach Bellinis your own
Peach Bellinis are an easy recipe to customize! Here are some ideas:
Add raspberries. Raspberries and peaches go so well together, and they're especially good in a Bellini! Replace half the peaches in the puree with a pint of raspberries. If you want it to be seedless, make sure to push it through a fine mesh strainer.
Make it with vodka. Add vodka (or peach vodka) to the Prosecco and peach puree for a stronger cocktail.
Freeze it. You can make a frozen Bellini by using frozen peach slices and blending them with the Prosecco.
Make it a mocktail. Use sparkling white grape juice to make a peach Bellini mocktail. Sparkling apple or pear juice also work here—basically, you want something that won't muddy the color of the peach puree. You might also like our mimosa mocktail!
Make Ahead Ideas
You can make the peach puree ahead of time to get a jump start on this recipe, but I don't recommend assembling your peach Bellinis in advance.
Storage Suggestions
The peach puree will last in the fridge for a day or two when stored in an airtight container.
More drink and cocktail recipes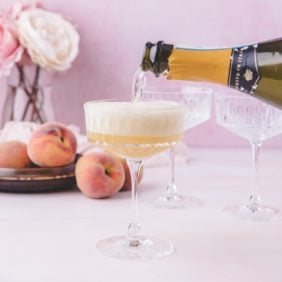 Get the Recipe: Peach Bellini
Peach bellinis pair fresh fruit puree with Prosecco for a light, refreshing cocktail.
Ingredients
4 ripe peaches
2 tablespoon granulated white sugar
1/4 cup water
1 bottle chilled Prosecco
Instructions
Begin by making the peach purée. Remove the skins from the peaches and cut the flesh away from the pits. Roughly chop and add to a blender along with 2 tablespoons sugar and 1/4 cup water. Blend until puréed.

Add a couple of tablespoons of peach purée to a chilled coupe glass (or a champagne glass). Pour over a little Prosecco, stir, then top off with more Prosecco.

Serve immediately and enjoy!
Notes
Traditionally the peach purée for Bellini cocktails is made from white peaches. However, they are hard to come by! We used yellow peaches which work just as well.
The flesh of 4 peaches will yield enough purée for at least one bottle of Prosecco.
For a well-chilled drink, make sure to use a chilled bottle of Prosecco and pop the coupe glasses into the freezer while you make the purée.
It's a good idea to add the Prosecco slowly, stir it with the purée and then top it up – otherwise the cocktail will bubble up over the top of the glass.
Prosecco is a standard choice for a Bellini, however, any dry sparkling wine will work perfectly – even champagne!
Calories: 173kcal, Carbohydrates: 23g, Protein: 1g, Fat: 0.4g, Saturated Fat: 0.03g, Polyunsaturated Fat: 0.1g, Monounsaturated Fat: 0.1g, Sodium: 33mg, Potassium: 339mg, Fiber: 2g, Sugar: 21g, Vitamin A: 489IU, Vitamin C: 6mg, Calcium: 22mg, Iron: 1mg