Banana Split Waffles
These banana split waffles are a fun breakfast for kids, and adults too! The banana-infused waffles start with a boxed white cake mix, which means they're super easy to make! Finish them with fluffy vanilla whipped cream and your favorite banana split toppings.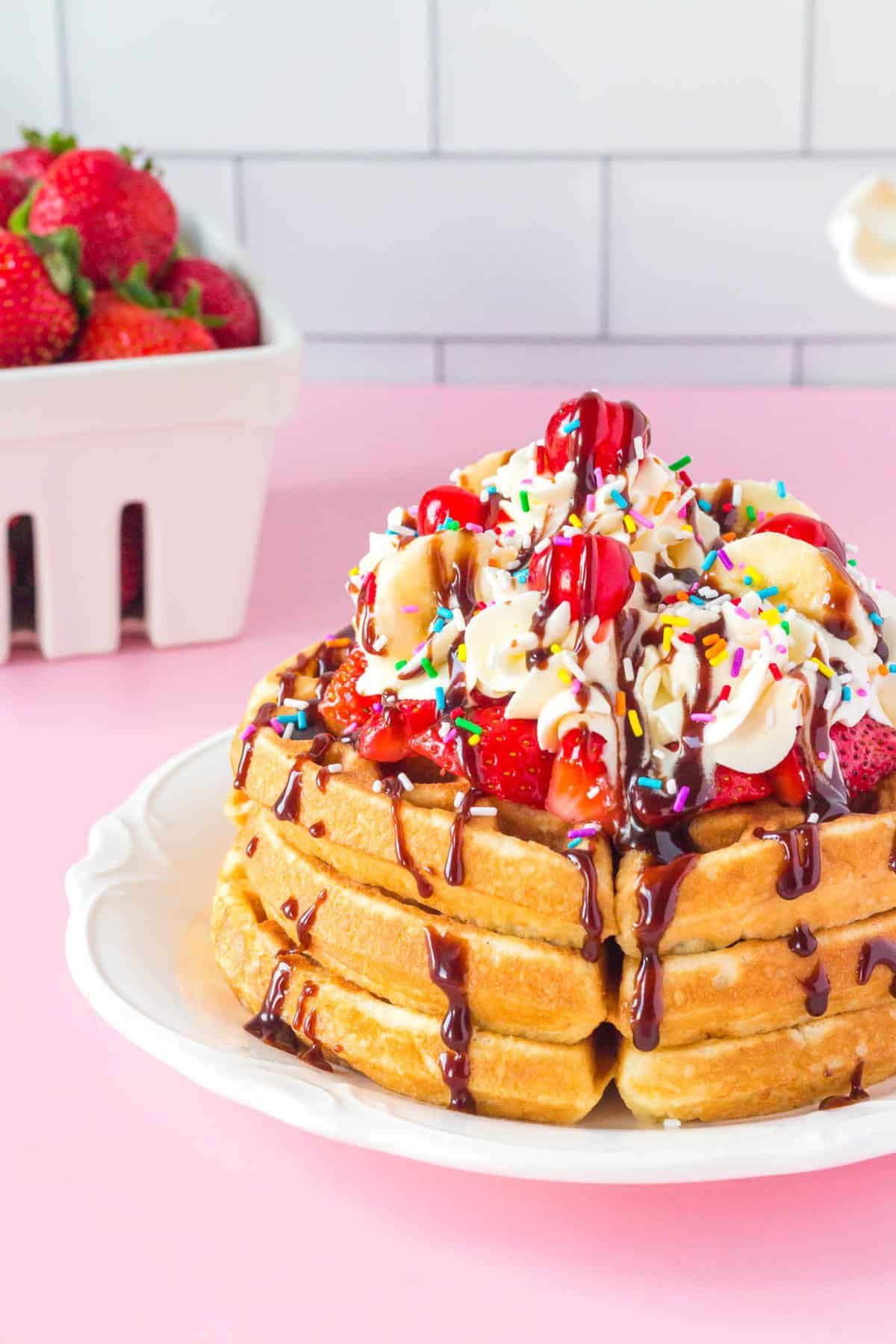 There's a lot to love about this recipe for banana split waffles.
First: banana splits. For breakfast. Oh yes. We're big fans of making classic desserts into breakfast recipes (see our cherry pie pancakes, german chocolate pancakes and snickerdoodle pancakes), so naturally, taking banana split flavors and incorporating them into fluffy waffles is going to be a winner.
And then there's the waffles themselves. These aren't just plain waffles! They're made with bananas, so they're the perfect base for a banana split breakfast.
Best of all, they're made with cake mix! This means the waffles are a cinch to whip up—there's no need to haul out a bunch of ingredients from your pantry and wash a sink full of bowls, measuring cups, and spoons.
About this banana split waffle recipe
When it comes to the toppings, you can mix things up and add whatever you like on a banana split, but don't skip the whipped cream! While we love our chocolate whipped cream and coconut whipped cream recipes, this vanilla whipped cream is the bee's knees.
Adding instant pudding mix gives the topping a fabulously fluffy texture and an assertive vanilla flavor, just like a good vanilla ice cream—you know, the kind with the flecks of vanilla bean in it?
These banana split waffles are a great birthday breakfast (so are our birthday cake pancakes!) but they're easy enough that you can whip them up just because!
If you're looking for more super fun and playful recipes, check out s'mores cereal or froot loop pancakes!
What you need
For the waffles: Boxed white cake mix, water, vegetable oil, eggs, ripe banana
Ripe bananas aren't just sweeter; they also have more banana flavor. A nice, dark banana—the kind you use in banana bread—is ideal for this recipe, as it will guarantee that your waffles taste like bananas!
For the whipped topping: Heavy cream, dry vanilla instant pudding mix, granulated sugar, vanilla extract. The vanilla pudding not only adds flavor, but it also helps to stabilize the whipped cream so it lasts longer.
Optional toppings: Strawberries, bananas, maraschino cherries, chocolate syrup, sprinkles
How to make them
Make the waffle batter. Beat all of the waffle ingredients in a large bowl with an electric mixer until everything is incorporated.
Tip: If the banana is ripe, you'll be able to beat it into the batter without mashing it first. For a less-ripe banana, mash it in the bowl with a fork, then add the other ingredients and beat everything with the mixer.
Cook the waffles. Heat your waffle maker and generously coat it with non-stick cooking spray. Pour the batter into the waffle maker (consult your manual for the amount), close the lid, and cook for 2 to 3 minutes, or until your waffle maker indicates that the waffle is ready. Repeat with the remaining batter, adding more cooking spray between each waffle.
Tip: You'll want a thin layer of batter spread evenly onto the waffle iron, but don't put too much batter close to the edges or it will overflow.
Make the whipped topping. Use an electric mixer to beat all of the topping ingredients together on high until soft peaks form; this should take about 5 minutes.
Tip: For best results, use a cold bowl and beaters for this.
All that's left to do is to put together your waffles! Have fun with toppings!
FAQs
What is the purpose of the vanilla instant pudding mix in the whipped topping?
The vanilla instant pudding mix acts as a stabilizer for the whipped topping to help it hold its shape better. It will be a thicker whipped topping that won't immediately melt when scooped onto the warm waffles.
What is a banana split made of?
A traditional banana split starts with a banana that's halved lengthwise. On top of this are scoops of vanilla, chocolate, and strawberry ice cream, which are then topped with pineapple, chocolate syrup, and strawberry sauce, whipped cream, chopped nuts, and maraschino cherries.
How to make these banana split waffles your own
Just like its ice cream namesake, these banana split waffles are highly customizable! Start with the banana cake mix waffles, then add your choice of toppings, or try these ideas:
Make them healthier. Use vanilla Greek yogurt as the topping, then add fresh strawberries, bananas, and pineapple, along with some finely chopped dark chocolate.
Make them without a waffle maker. You can use a grill pan to make waffles if you don't have a waffle iron. You'll have to flip them over to cook both sides, and they won't have those cool little pockets that form in waffles, but they're still delicious!
Make them more chocolatey. Add some chopped chocolate or mini chocolate chips to the waffle batter for a little bit of chocolate in every bite!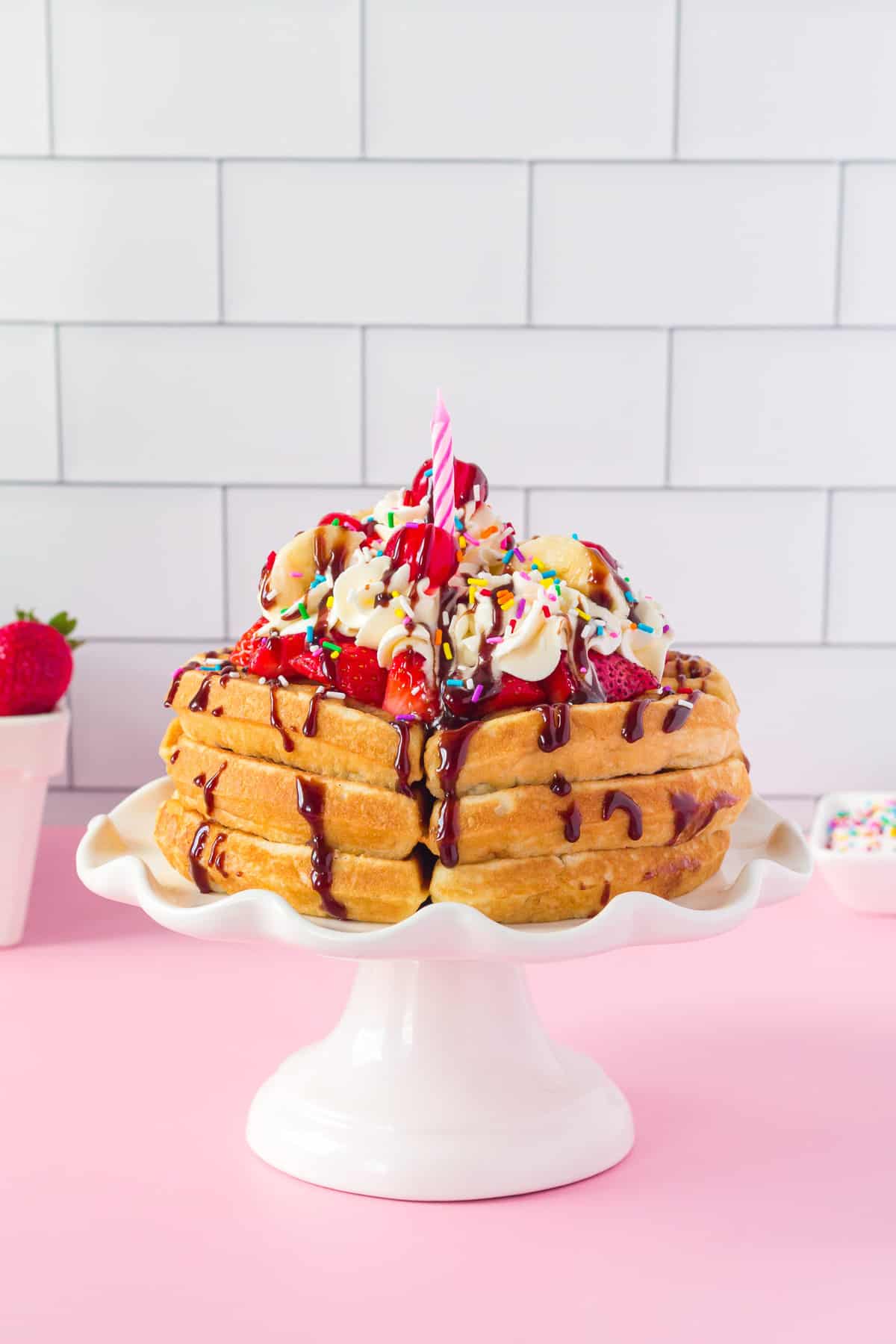 Make Ahead Ideas
You can make the waffles and whipped topping in advance, then assemble the banana split waffles when you're ready to serve them.
Storage Suggestions
The banana waffles can be wrapped in plastic wrap and stored in the fridge for 3 to 4 days or frozen for up to 3 months. The whipped topping can be made a day ahead of time and stored in an airtight container.
Reheating Tips
These waffles can be reheated in the microwave, warmed up in a 350ºF oven, or simply eaten at room temperature. They won't fit in a standard toaster, but a toaster oven will work.
More waffle recipes
Get the Recipe: Banana Split Waffles
Light, fluffy banana cake mix waffles are topped with vanilla whipped cream and all your favorite banana split fixings!
Ingredients
Waffles:
(460 g) boxed white cake mix
1 cup water
¼ cup vegetable oil
3 large eggs
1 ripe banana
Whipped Topping:
1 ½ cups heavy cream
1 ½ tablespoons dry vanilla instant pudding mix
1 ½ tablespoons granulated sugar
½ teaspoon vanilla extract
Optional Toppings:
strawberries
bananas
maraschino cherries
sprinkles
Instructions
Waffles:
Combine all waffle ingredients into a large bowl and beat with electric mixer until fully mixed. If the banana is very ripe, it will easily beat into the other ingredients. If the banana isn't really ripe, you'll want to mash the banana before adding it to the other ingredients.

Heat waffle maker and spray well with non-stick cooking spray.

Pour some batter into the waffle maker – the amount will depend on the size of your waffle maker. You'll want a thin layer spread evenly but be careful not to put too much batter close to the edges or it will overflow out of the waffle maker when baking. Waffle is ready within about 2 to 3 minutes. Most waffle makers have an indicator light to let you know when the waffle is ready.

Repeat steps (including spraying the waffle maker with non-stick cooking spray between each waffle) until all waffles are cooked.
Whipped Topping:
Beat all whipped topping ingredients together on high until soft peaks form (about 5 minutes).
Notes
It is recommended to use a cold bowl and beaters for the whipped topping. If you can, place the empty bowl and beaters into the freezer for 10 minutes before making the whipped topping.
Serving: 1waffle, Calories: 483kcal, Carbohydrates: 64g, Protein: 7g, Fat: 23g, Saturated Fat: 14g, Polyunsaturated Fat: 1g, Monounsaturated Fat: 6g, Trans Fat: 0.3g, Cholesterol: 128mg, Sodium: 518mg, Potassium: 177mg, Fiber: 1g, Sugar: 36g, Vitamin A: 862IU, Vitamin C: 2mg, Calcium: 190mg, Iron: 2mg