Brown Sugar Pancakes
If you love the caramel-like flavor of brown sugar, these brown sugar pancakes are going to be a new favorite! They're light, fluffy, and a fun twist on the classic pancake recipe.
Do you love brown sugar? I mean really love brown sugar? When you're making chocolate chip cookies, do you steal a pinch of sugar for yourself? Do you pack your measuring cups as tightly as possible just to make sure you get maximum brown sugar flavor in all of your baking? Well! This brown sugar pancake recipe is for you.
Brown sugar isn't a supporting player here. It's the star of the show!
About this brown sugar pancake recipe
These easy, fluffy pancakes are made with dark brown sugar, which, as all brown sugar aficionados know, is the best brown sugar. (The darker the sugar, the higher the molasses content!) They're beautifully browned, just a little bit chewy, and perfect for pairing with all your favorite pancake toppings (we love them with caramel sauce!).
The brown sugar in this recipe brings a rich, caramel-like flavor to the table, along with a more pronounced sweetness than you'll find in a basic buttermilk pancake recipe. Whether you enjoy them on their own, topped with butter and warm pancake syrup, paired with fresh fruit or decadent toppings, there's no better way to start your day than with a hot stack of brown sugar pancakes.
(Want to infuse your coffee with brown sugar too? Try our brown sugar cinnamon coffee syrup!)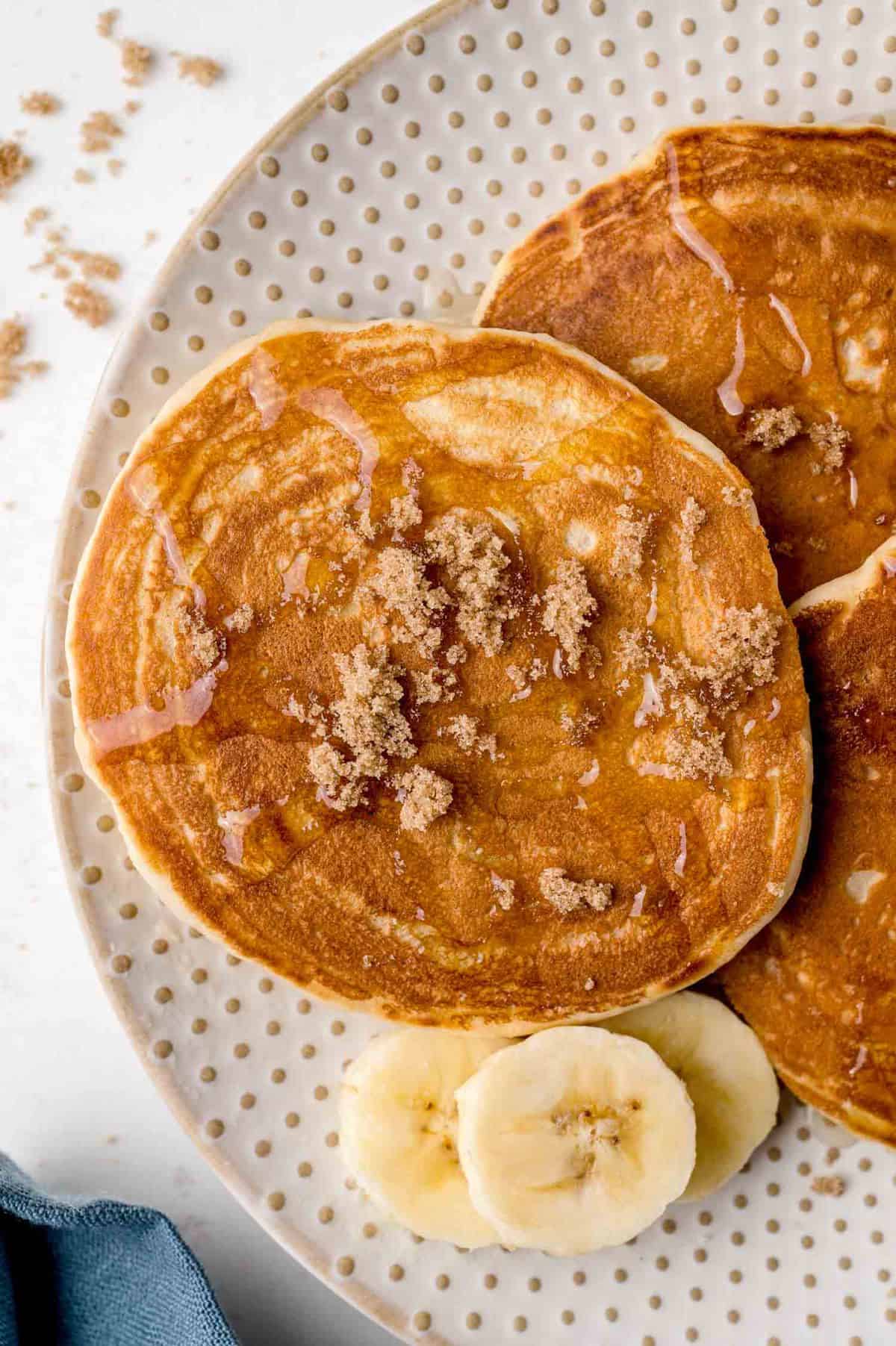 What you need
Wet ingredients: Egg, milk, oil or melted butter, dark brown sugar (technically not wet, but it does get mixed with the wet ingredients!), and pure vanilla extract
Dry ingredients: All-purpose flour, baking powder, salt
A note about the brown sugar: While light brown sugar will work in a pinch, if you really want that deep, caramel-y brown sugar flavor in these pancakes, use dark brown sugar. It has nearly double the molasses content!
How to make them
Make the pancake batter. Whisk the egg, milk, oil, brown sugar, and vanilla in a mixing bowl until the egg is beaten and the rest of the ingredients are well-combined. Add the flour, baking powder, and salt on top of the wet ingredients, toss them together, then stir them into the wet ingredients.
Tip: Adding the dry ingredients on top of the wet ones means you have one less mixing bowl to wash!
Start the pancakes. Set a griddle or large skillet over medium-low heat. If desired, grease the cooking surface with butter, oil, or nonstick cooking spray. Spoon the batter onto the griddle, using about two tablespoons per pancake.
Cook the pancakes. Cook for 2 to 3 minutes, or until bubbles form in the batter, pop, and leave little holes. Flip the pancakes and cook for another 2 to 3 minutes on the opposite side, or until they're golden brown and cooked through.
Tip: These pancakes cook at a lower temperature than many other pancake recipes because the brown sugar makes them brown faster. Don't be tempted to raise the heat—low and slow is the way to go!
Serve. Plate the pancakes and top them, then serve.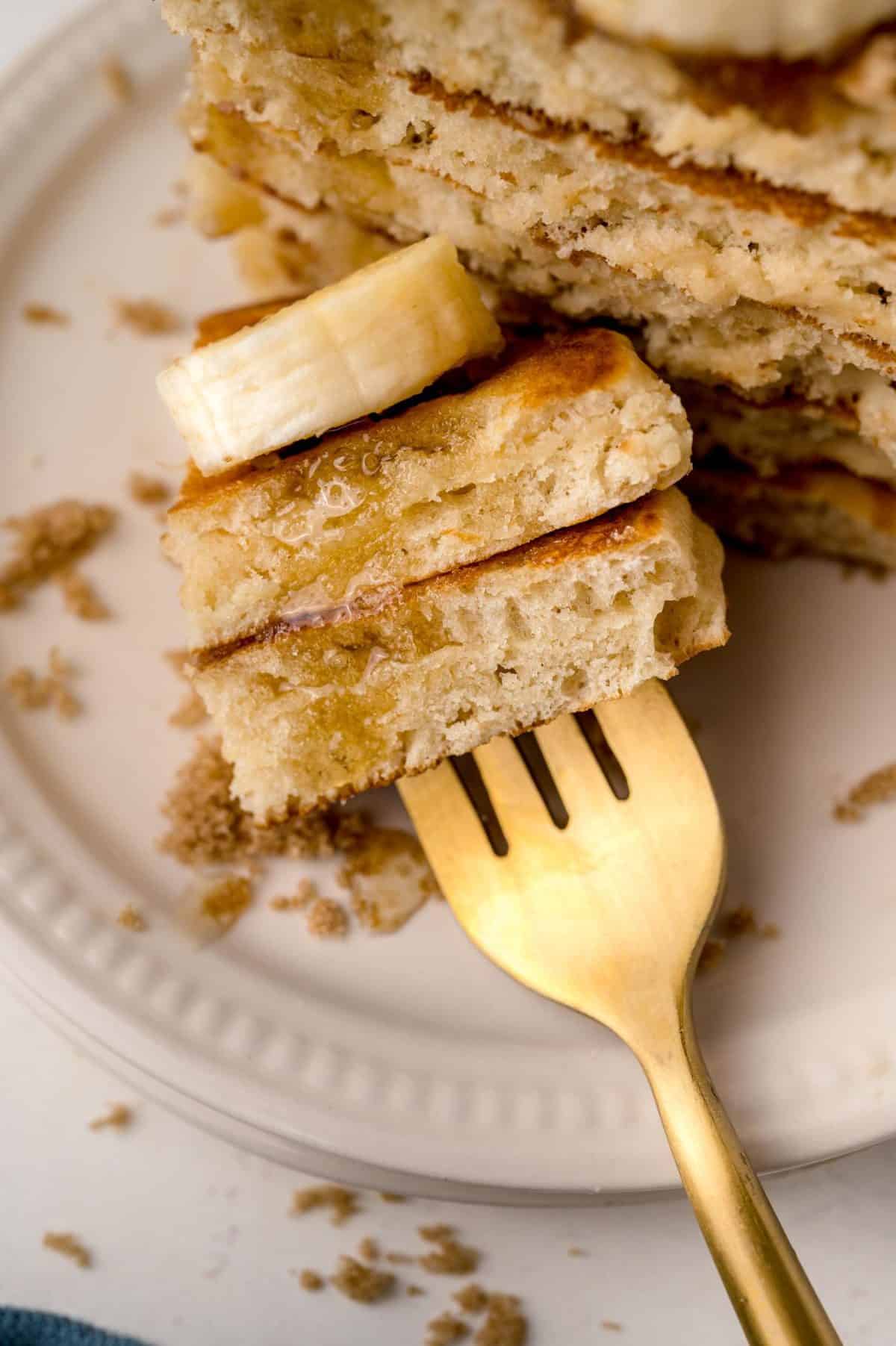 FAQs
What can be used instead of sugar in pancakes?
In this recipe, brown sugar is a key player; if you want to get that brown sugar flavor without using actual sugar, try a brown sugar substitute like Swerve. Coconut sugar also has brown-sugar like qualities. In a typical pancake recipe, you can swap the sugar for stevia, honey, maple syrup, monk fruit, or any number of sweeteners. (Looking for a sugar-free pancake recipe? Try our low carb pancakes and keto pancakes!)
What is brown sugar made of?
Brown sugar is actually just white sugar with molasses added to it! This means if you're ever out of brown sugar, you can make it at home if you have sugar and molasses on hand.
Is brown sugar healthier than white sugar?
Brown sugar isn't any healthier than white sugar. The molasses does add some minerals, but not enough for there to be any significant health benefit.
How to make these brown sugar pancakes your own
There are so many ways you can customize and dress up these brown sugar pancakes! Here are some of our favorite ideas:
Make Ahead Ideas
These brown sugar pancakes can be made ahead of time and stored in the refrigerator for up to 5 days, or in the freezer for up to 3 months.
Storage Suggestions
Freeze your pancakes in an airtight storage container or a freezer bag with parchment paper between the layers to keep them from sticking together.
Reheating Tips
Heat these brown sugar pancakes in the microwave 15-20 seconds at a time until they're warmed through, or place them on a sheet pan, cover it with foil, and heat them in a 350ºF oven for about 10 minutes. (Covering the sheet pan with foil keeps the pancakes from drying out.)
To reheat your pancakes from frozen, simply add a few more minutes to the cooking time.
More easy pancake recipes
Get the Recipe: Brown Sugar Pancakes
These light, fluffy pancakes are full of rich brown sugar flavor!
Ingredients
1 large egg
2/3 cup milk
2 tablespoons oil or melted butter
3 tablespoons dark brown sugar
1 teaspoon pure vanilla extract
1 cup all-purpose flour
2 teaspoons baking powder
1/4 teaspoon salt
Instructions
In a mixing bowl, whisk egg, milk, oil, brown sugar, and vanilla until well combined.

On top of wet ingredients, add flour, baking powder, and salt. Toss together lightly before stirring into wet ingredients.

Mix only until just combined, do not overmix.

Heat a griddle over medium-low heat. If desired, grease with butter, oil, or nonstick cooking spray. Add batter to griddle by about 2 tablespoon scoops.

Cook for 2-3 minutes or until bubbles appear and don't disappear. Flip and cook for another 2-3 minutes or until golden brown and cooked through.

Serve immediately with desired toppings.
Notes
These brown fairly quickly due to the brown sugar. Keep heat low and cook slowly.
Makes about 10 pancakes.
Serving: 2pancakes, Calories: 141kcal, Carbohydrates: 28g, Protein: 4g, Fat: 1g, Saturated Fat: 1g, Polyunsaturated Fat: 1g, Monounsaturated Fat: 1g, Cholesterol: 4mg, Sodium: 301mg, Potassium: 87mg, Fiber: 1g, Sugar: 9g, Vitamin A: 53IU, Calcium: 144mg, Iron: 1mg